When you need to make a gluten free pie crust, this dough is a great choice. It's flaky, buttery, and easy to work with. You can even make a lattice pie with it! Also, you can hardly distinguish that it's gluten free!
I have just added a few revisions, adding substitutions that you can make for the gluten free flours. I'm still unable to find Ryze Gluten Free Flour Mixes, and many of my recipes were written with this blend.
Hope you enjoy this one!
~Laura
(revised 3/20/23 to add substitution flours)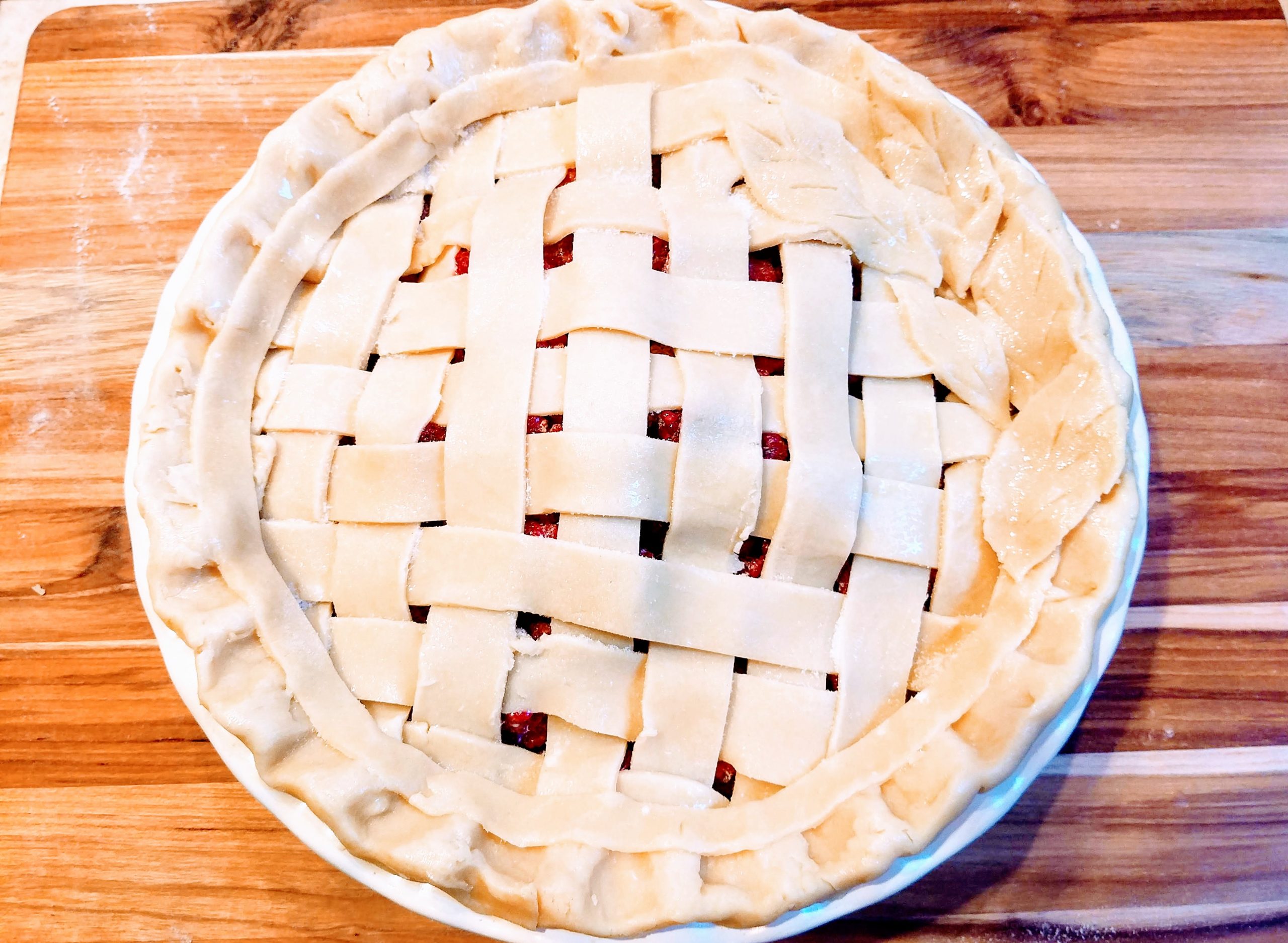 Flaky Gluten Free Pie Crust
This Flaky Gluten Free Pie Crust is easy to work with, even when you are creating a lattice topped pie!
Ingredients
1/2 cup

millet flour, gluten free

or sorghum flour, gf

1/2 cup

Ryze Gluten Free Flour Mix

or 1/4 cup sweet rice flour, gf plus 1/4 cup brown rice flour, gf

1/2 cup

Bob's Red Mill 1 to 1 Gluten Free Flour

or Cup 4 Cup blend

3/4 cup

tapioca starch

gluten free

12 tablespoons

salted butter

cut into very small pieces and chilled in freezer 20 – 30 minutes (if using unsalted butter add a 1/4 teaspoon salt)

3/4 cup

powdered sugar

gluten free brand if celiac

2

large

egg yolks

1 teaspoon

apple cider vinegar

2 tablespoons

whole milk

(or a dairy free milk substitute)
Instructions
Using a stand mixer bowl or a large mixing bowl (if you prefer to cut the butter in by hand), add the millet flour, Ryze Gluten Free Flour MIx, Bob's 1 to 1 Gluten Free Flour, tapioca starch, and powdered sugar in the stand mixer bowl or other mixing bowl. Mix on low on the stand mixer or stir by hand until combined.

Add butter pieces and mix on medium or cut in the butter by hand with a pastry cutter or two knives until the butter is in small pea sized or smaller pieces. Add egg yolks, vinegar, and milk to the bowl. Mix to combine on medium low speed (or stir together by hand) until the dough starts to come together. Use your hands to press together into a ball.

Divide the dough into two equal pieces. Using a piece of cellophane for each, press each dough ball into a 1 inch thick circle and wrap completely. Refrigerate for 1 to 2 hours (or overnight).

When ready to use, remove from refrigerator. Preheat oven to 400 degrees, with the rack position just above the center of oven.

Roll out the dough, on a parchment piece with flour, and a piece of parchment over the dough, one dough ball for a galette or bottom crust of a two crust pie. Be sure to roll out large enough to leave an overhang over the pie plate for the bottom crust, about 13" for the bottom crust, or 12" for a galette. Remove the parchment from the top of the crust. Pick the parchment up with the dough stuck to it and invert onto a 9" pie plate or deep dish pie plate for a pie, or a baking stone or round cookie sheet lined with a circle of parchment, for a galette. Pull the top parchment gently off the dough. For a pie, cut around the rolled dough on the outside of the pie plate leaving ½" overhang the edge of the pie crust. For a galette, cut the edges of the outside of rolled out dough to have a smooth edge. 
For Making a Pie:
If making a pie with a top crust, roll out the second crust on a floured parchment with parchment covering the crust. Fill the crust with your choice of filling. Cover the filling with second piece of dough and cut off the excess dough from around the outside, cutting against the edge of pie plate. Fold the bottom crust edging overhang over the top crust and using thumb and forefinger crimp the edge. Cut decorative cuts in the crust. Brush the top and edge with a bit of milk and sprinkle with a ½ teaspoon sugar. Place on a cookie sheet and place on the middle rack of the oven. Bake for 15 minutes on 400. Cover the outside of crust with foil to keep it from over browning. Turn oven temperature down to 375 degrees and bake for 35 – 45 minutes more until bubbly and crust is golden brown on top.
For Making a Galette:
Once you get your crust placed on a piece of parchment, on top of baking stone or cookie sheet **, proceed to place your filling in the center of the galette crust, leaving a 2  – 2 1/2 inch outside area without any filling to the outside of crust. Top the filling with 1 – 1/2 tablespoons of butter, cut into pieces. Fold the edges of the crust to the center, folding accordion style, from the outside of the filling and leaving a hole of 2- 3 inches in the middle, without a crust covering the filling. Brush with a teaspoon of milk and sprinkle the crust with a teaspoon or two of coarse sugar.

Bake in center or one rack above center at 400 degrees for 35 – 45 minutes. Cool on pan before transferring to a wire rack or serving plate. Makes 5 – 6 servings. 
Notes
**When making a gluten free berry galette, sometimes it is best to bake in a quiche pan or pie plate, so the juices don't run.