Crème brûlée – definition: A dessert of creamy, delicate chilled custard, topped with a caramelized layer of crisp sugar. Super delicious and super easy. Also one of my go-to's for ordering in a restaurant, because it is almost always made gluten free. It generally consists of cream, egg yolks, sugar, vanilla, and a few spices or flavorings. This one is a Maple Pumpkin Crème Brûlée, with Thanksgiving just around the corner, plus I love my fall flavors, but you also could use honey and omit the pumpkin puree if you like. Or if you want to use your own homemade pumpkin puree in place of the canned, that's great too. I typically like to also substitute most or some of the processed sugar with honey or pure maple syrup. This is a decadent dessert, that is easy to master, so you won't need to worry about it not setting or turning out right when you make for a special occasion. Your guests will be wowed for sure! Be sure to cool on the counter for an hour or more before moving to the refrigerator for another 2-3 hours, minimum, so that it's very chilled when you torch the sugar. If you don't have a kitchen torch, which has a small cartridge of propane for the flame, you can purchase in kitchen stores or online, although they do not have as many BTU's as a soldering torch, which can torch these in seconds (do be careful though!).
Maple Pumpkin Crème Brûlée
prep time: 20 minutes
bake time: 35-40 minutes, less for shallower dishes, plus 3-4 hours to cool and torch time
makes 5 ramekins or 6 – 5 oz crème brûlée dishes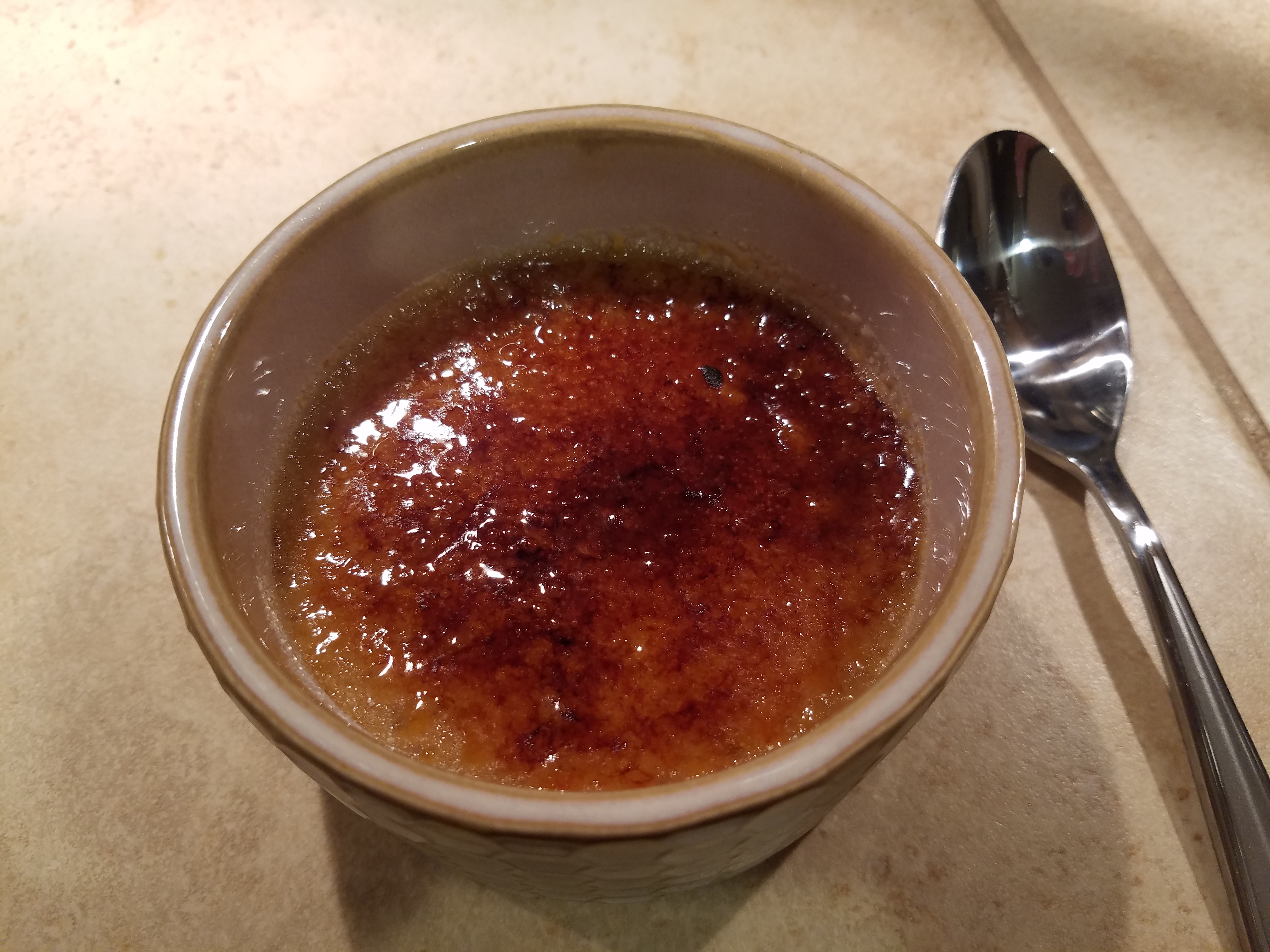 Ingredients:
6 Tablespoons pure maple syrup
1/4 cup packed light brown sugar
2 cups heavy cream
4 egg yolks
1/4 cup pumpkin puree, canned, gluten free
1 1/4 teaspoons pumpkin pie spice, gluten free brand
1/2 teaspoon cinnamon, gluten free brand
1/4 teaspoon salt
1/2 teaspoon pure vanilla, gluten free
1 Tablespoon of brandy
6 teaspoons of granulated sugar, for top
To prepare:
step 1 –
Preheat the oven to 300 degrees. Set water in tea kettle to boil on stove. Prepare your 9 x 13 inch pan with 5 ramekins or crème brûlée dishes inside, so they are not touching each other.
step 2 –
Whisk the egg yolks in a small bowl. A.dd the pumpkin puree, pumpkin pie spice, cinnamon and salt. Set aside.
step 3 –
In a medium saucepan, over low heat, stir the maple syrup with the brown sugar until the sugar is dissolved. Add the heavy cream and stir, then increase the stove top temperature to medium high. Let the milk heat until just starting to bubble on the sides of the pan, but do not boil. Turn the heat off. Add in a steady but slow stream the cream mixture into the egg mixture bowl, whisking continually with your free hand. Strain mixture through a sieve back into your saucepan but do not return to heat.
step 4 –
Add in vanilla and brandy. Pour or ladle cream mixture about 3/4 full, into the 5 dishes set in your roasting tray. Pour boiling water from the kettle around the ramekins, filling the tray or roasting pan until the water is halfway up the crème brûlée dish or ramekin dish. Place gently in the center of the oven, so as not to spill the water into the dishes.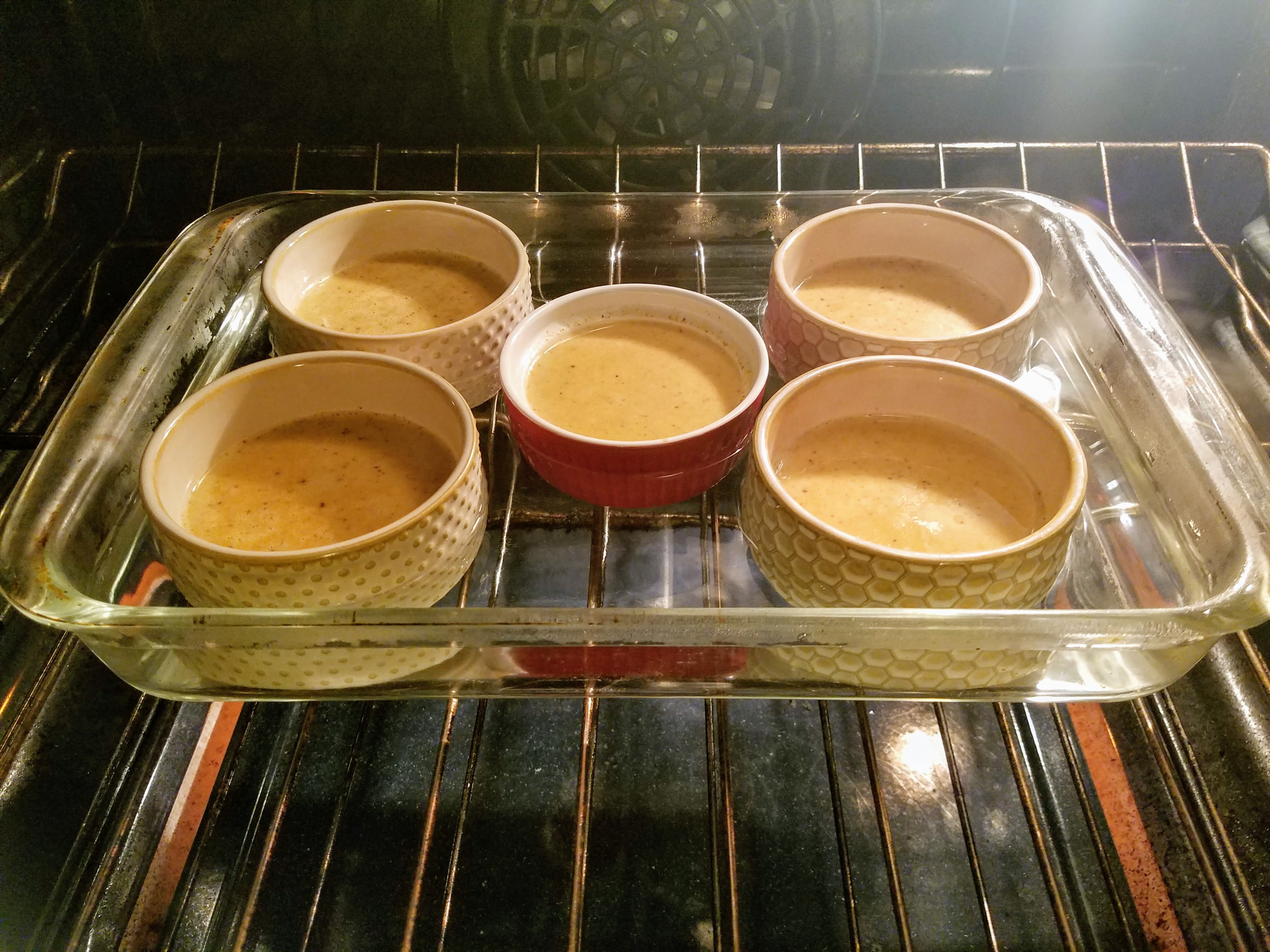 step 5 –
Bake for 30-40 minutes or until just set (should have a tiny jiggle when the dish is moved). Ramekins will take longer than flatter crème brûlée dishes. When done, remove the baking pan from the oven, then the dishes from the tray to a cooling rack. Cool on rack until just cool to touch. Cover with cellophane, or place in a large plastic container covered, for 2-3 hours minimum and up to 2 days.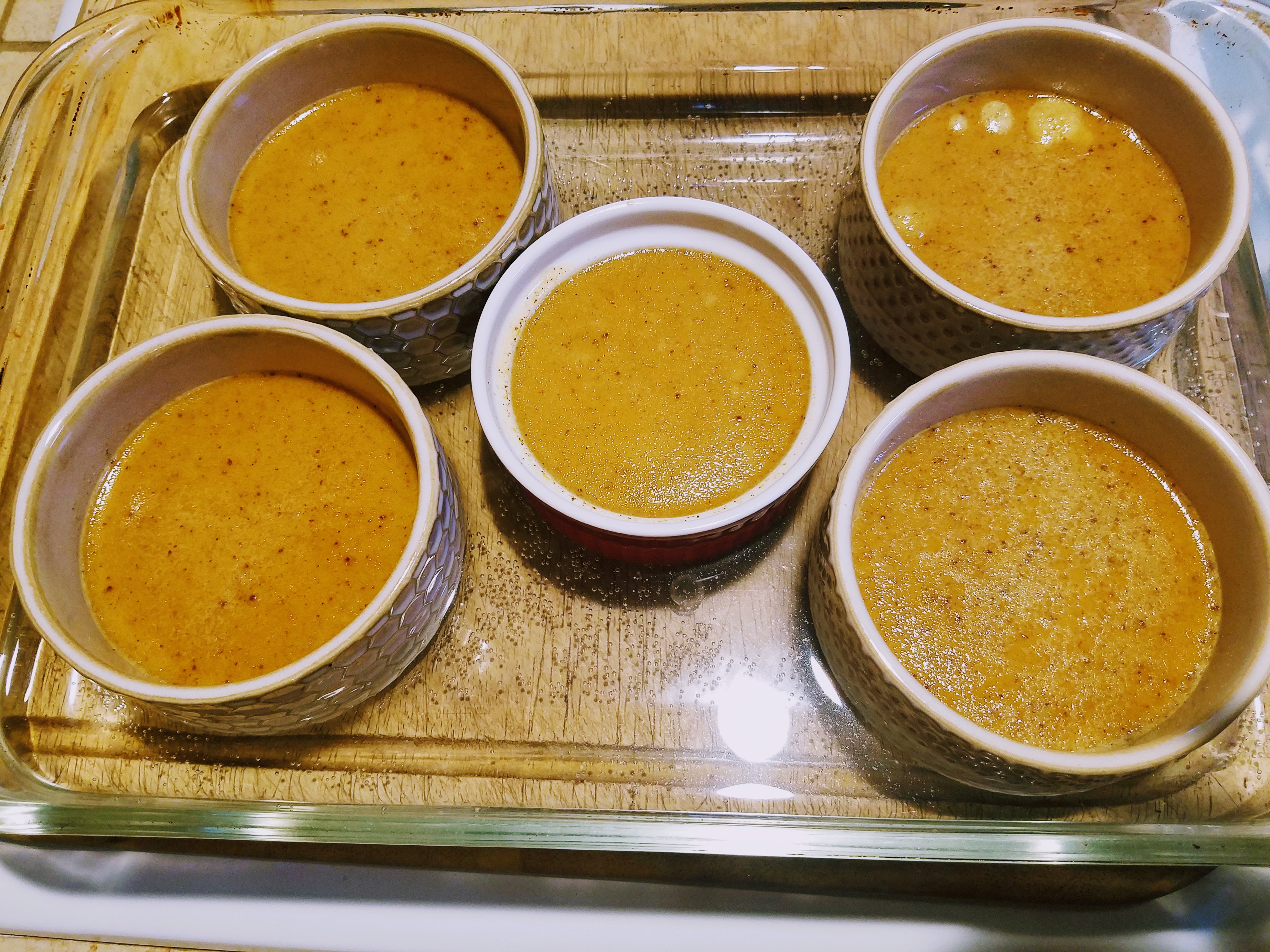 step 6 –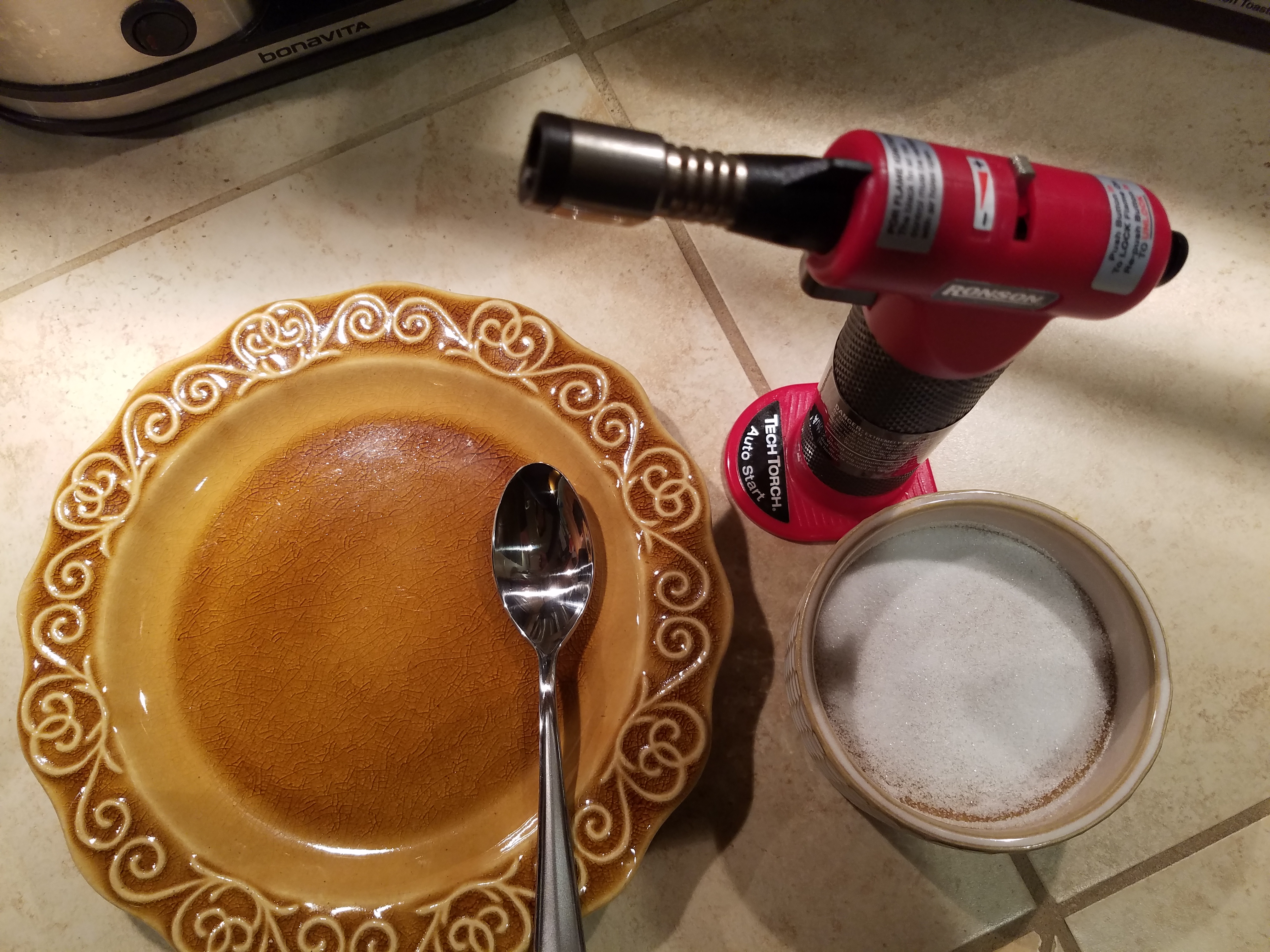 Remove from the refrigerator a few minutes before serving, sprinkle each evenly with granulated sugar (about one teaspoon for each) and torch with a kitchen torch, holding about 1 – 2 inches from the top of custard until browned evenly and caramelized. Turn off torch after evenly browned as you don't want to over torch as it will burn and also heat the custard, and you do want it to remain cold. Serve immediately.