I considered just eating these for dinner! They are so buttery with just enough sweetness to tickle the tongue😘.
Lemon and Honey Tea Biscuits with Lemon Curd and Raspberry Filling (Gluten Free) – for tea or anytime.😍
I just wish I had some left because they literally melt in your mouth with the buttery-ness!
Both the lemon curd filled and the raspberry jam filled are so yummy, it's hard to choose which to have!
Use homemade lemon curd or purchase your favorite to use in the recipe
You can use homemade Meyer Lemon Curd, or your favorite store bought Lemon Curd. I love Bonne Maman! If you love lemon curd as much as I do, you can get this pack of 3, Bonne Maman 12.7 oz. 3 pack!
I have many friends who have been gifting me with glorious bags of lemons! I love lemon anything, so this has been so wonderful to have these on hand, especially with the prices of groceries lately.
Whipping up a batch of lemon curd is fairly easy with this recipe, plus I love using part honey in the recipe, as it doesn't tend to spike my blood sugar as much. Check out the recipe in the link below, if you are interested.
I also use Trader Joe's Lemon Curd, which is also quite good. It's great when you don't have the time to make a batch, and it still tastes so good.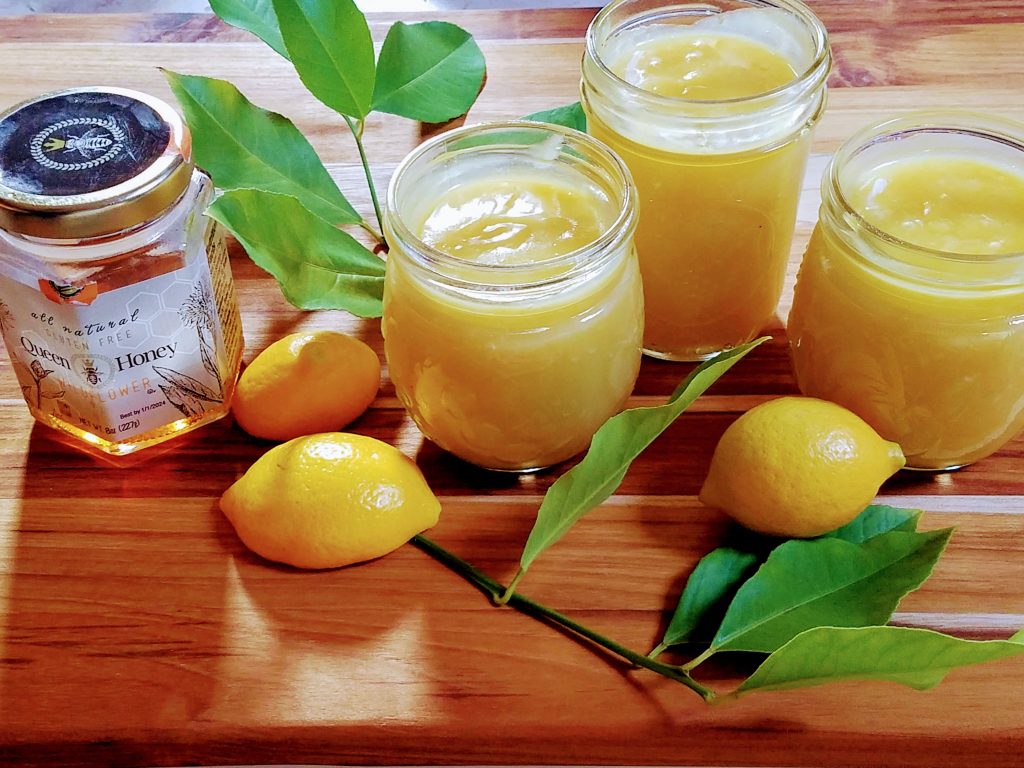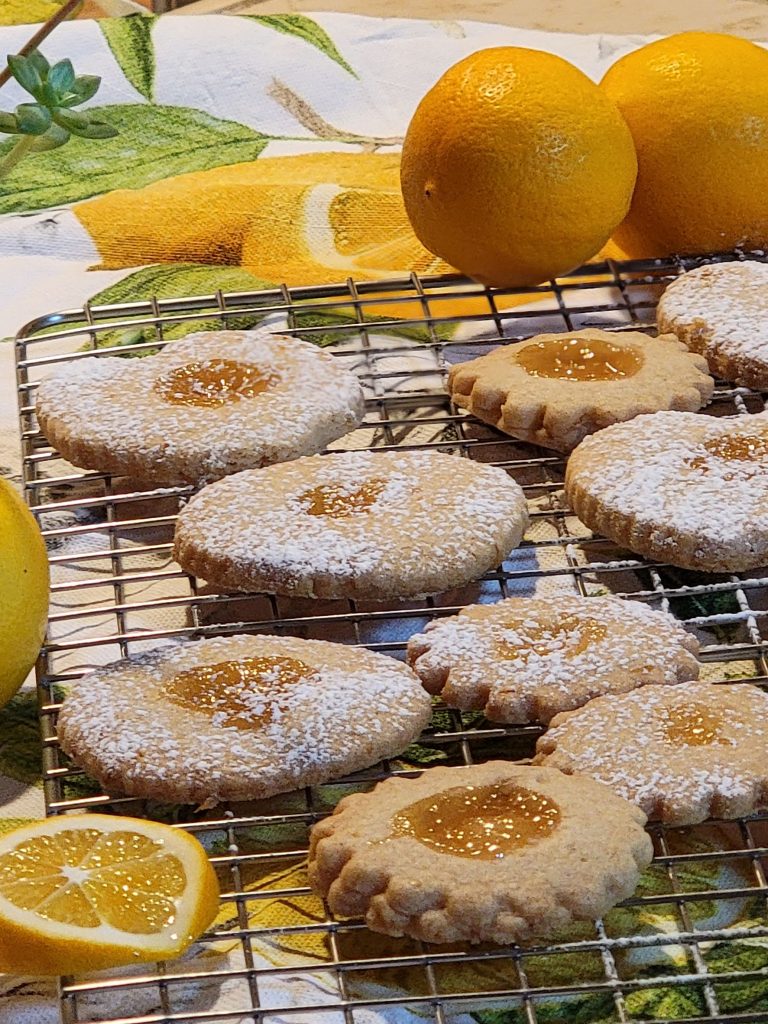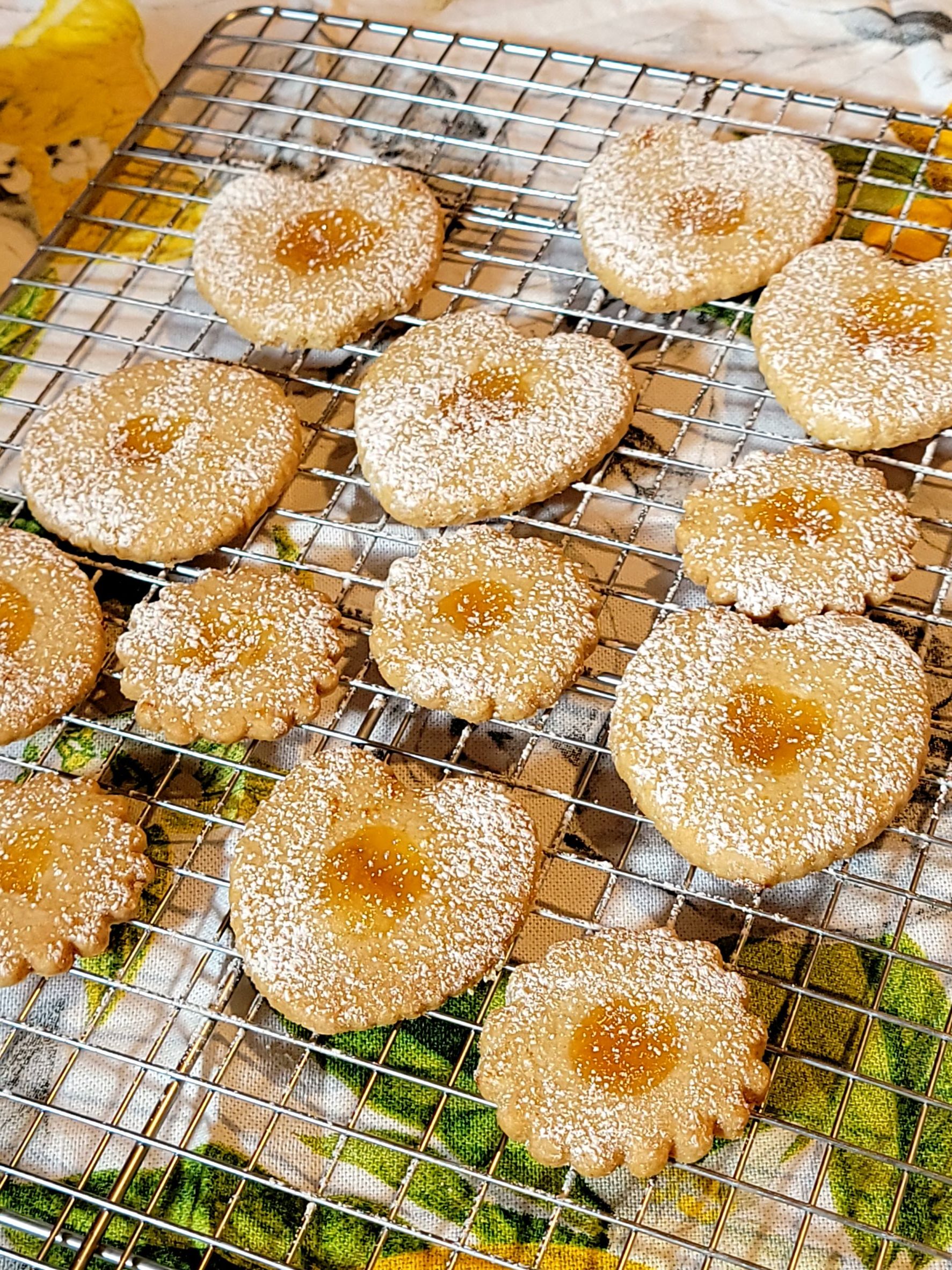 Lemon and Honey Tea Biscuits with Lemon Curd and Raspberry Filling (Gluten Free & Melt in Your Mouth)
The delicious Lemony Shortbread are perfect anytime! You can also make them plain and dust with powdered sugar. They just melt in your mouth!
Equipment
parchment

for rolling and baking

cellophane

wrapping to chill

1-2 baking sheets
Ingredients
1

cup

butter, **chilled, cut into cubes

salted **if using unsalted butter add 3/8 teaspoon salt

¼

cup

brown sugar, packed

2

tbsp

powdered sugar

1½

tbsp

honey

1

tbsp

lemon zest

divided in 2

2

tbsp

cornstarch

gf

½

cup

Bob's Red mill Organic Brown Rice Flour, gf

or other gluten free brown rice flour or sorghum flour

½

cup

Bob's Red Mill Sweet Rice Flour, gf

or other gluten free white rice flour

½

cup

Bob's Red Mill Tapioca Flour, gf

or other gluten free tapioca starch

½

cup

gluten free 1 to 1 flour

Bob's Red Mill or Cup 4 Cup or equivalent

2-3

tbsp

lemon curd

2-3

tbsp

raspberry jam
Instructions
In a stand mixer bowl or in a large bowl using a hand mixer, cream together the butter, sugars, honey, and half of the lemon zest.

In another bowl, stir together the gluten free 1 to 1 flour, brown rice flour, white rice flour, tapioca flour, cornstarch, and salt if using unsalted butter.

Add the flours to the mixer bowl gradually, beating on medium speed until thoroughly combined and forms a ball. Divide the ball into two pieces.

Make a 1/2" flat disc out of each piece. Press the remaining lemon zest onto the tops of the discs. Wrap each in cellophane and refrigerate for 1½-2 hours.

When ready to proceed, preheat the oven to 325° F, with the rack in the center.

Roll one dough piece out at a time, between floured parchment paper, to 1/4" thick. Using cookie cutters, cut into shapes. Move with a spatula to a parchment lined baking sheet or rimmed stone pan. Using your thumb or pointer finger, make an indent in the center of the cookie. Add a small amount of lemon curd or raspberry jam. Continue with remaining dough.

Bake for 16-23 minutes, depending on baking sheet and the thickness of the dough. Remove to a wire rack to cool when light golden brown. Cool completely before dusting with powdered sugar around the filled center of each cookie. Store in an airtight container for up to 5 days for best freshness.
Notes
You can also make two thinner cookies. Punch a hole in the center of the top cookie. Set the portion with the hole over the full cookie. Then after moving the two cookies together to the baking sheet, add the lemon curd or raspberry jam to fill the hole. 
I like to use cassava flour (gluten free) for rolling out the dough for these cookies. It doesn't add stickiness to the dough as some gluten free flour blends and flour does. It also works well for rolling out pie crusts or pizza dough.