Jump to Recipe
Print Recipe
This dish looks and tastes of fall ~ With the beautifully caramelized pears and other candy-coated vegetables, it's sure to bring joy to your table. The piece of meat used here is virtually fat-free, so adding a bit of fat in is needed to keep the pork moist and juicy. Paul and I buy these sirloin pork roasts at Costco in four-packs. They cost about $16. for four, so it's a very economic meal and sure to impress your guests.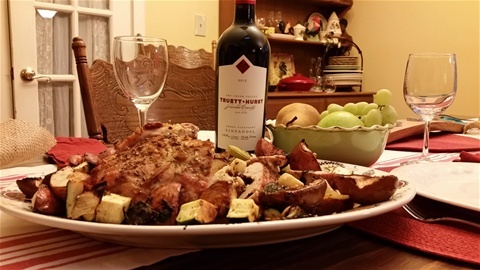 Apple Roasted Pork with Caramelized Pears and Roasted Vegetables
Ingredients
2-2.5 pound

pork loin sirloin roast

1 large

green apple

skinned, cored and diced small

1/4 teaspoon

Hungarian sweet paprika

1 1/2 – 2 teaspoon

kosher salt

1/2 teaspoon

fresh ground black pepper

1 teaspoon

dried thyme

1/2 teaspoon

sage

4 tablespoon s

butter melted

divided (3 tablespoons + 1 tablespoon for drizzling on inside)

1/4 cup

apricot preserves

1/8 cup + 2 tablespoons

brandy

divided (1/8 cup + 2 tablespoons for basting, optional)

1/4 cup

dried cranberries

1 large clove

garlic

crushed

2 tablespoons

almonds

chopped 

1 tablespoon

Pomegranate juice

or cranberry juice

3

skewers

3-4 tablespoon

olive oil

for drizzling on pan, roast and vegetables

1 bulb

fennel

sliced one inch pieces

1 large

carrot

sliced

3 medium

red potatoes

cut into one inch pieces

2 small

pears

halved with core removed

1 large

zucchini

cut in half and sliced in half inch pieces
Instructions
Preheat the oven to 325 degrees and get your stone pan or other roasting pan ready. Drizzle with 1-2 T olive oil.

On a cutting board, prepare the roast. Slice down the middle of roast, leaving approximately 1/2" of meat. Continue cutting with a sharp knife long slits in the meat to create a flat piece of meat. Cover with plastic wrap and pound to flatten a bit more. Turn over and repeat.

Next mix the salt, pepper, paprika, thyme and sage. Sprinkle half over inside, reserving the remaining for the outside. Mix together the melted butted, apricot preserves, brandy and garlic. Spread half over the inside of the pork. Spread the apples over the pork leaving a few inches without on the smallest end and leaving an inch without on the rest of the meat.

Next sprinkle with dried cranberries and almonds and drizzle with one tablespoon of butter. Roll meat up starting with the shortest end and securing with the skewers to seal. Tuck in any stuffing that fell out during the rolling process. Sprinkle with remaining spice ingredient mixture.

Place on your prepared roasting pan and drizzle with olive oil and spread the top and sides of roast with the remaining mixture of butter, apricot, brandy and garlic mixed with one tablespoon of cranberry juice. Put in the oven and roast for 45 minutes.

After 45 minutes of roasting, remove from oven. Baste with one tablespoon more of brandy and put vegetables and pears in the pan, reserving the zucchini for just 10 more minutes. Drizzle the vegetables and pears with olive oil and sprinkle with additional pepper and salt. Roast 2 pear halves down and two up.

After another 30 minutes check the meat and turn the vegetables.

Remove the roast when a thermometer placed in both the meat and the stuffing both register 160 degrees. Remove the meat once it reaches this temperature and cover with foil to keep warm and let rest for 15 minutes. Remove the vegetables when pears and carrots are caramelized. Cut roast in 3/4" slices and serves.