Jump to Recipe
Print Recipe
This dessert is impressive for a very little amount of work. You can dress it up with whipped cream piping on top using a lattice or just shell design piping on the edges. You can spoon freshly whipped heavy cream (whipped with a tablespoon of sugar and 1 teaspoon of vanilla), over the top of each slice or beside each slice.
A little bit goes a long way on this pretty rich dessert. So slice it small! No one will ever guess this dessert is gluten free, but your gluten free guests will be so happy that they can have dessert, since we normally go without most times.
If you are looking for a quick dessert or a birthday dessert to bring to a restaurant, try this one. You're sure to make the birthday guest happy! Unless of course they don't like chocolate.
Also, please do confirm you have no nut allergies among your guests. If so, you can always substitute another gluten free flour, tapioca, or cornstarch to make this dessert nut free.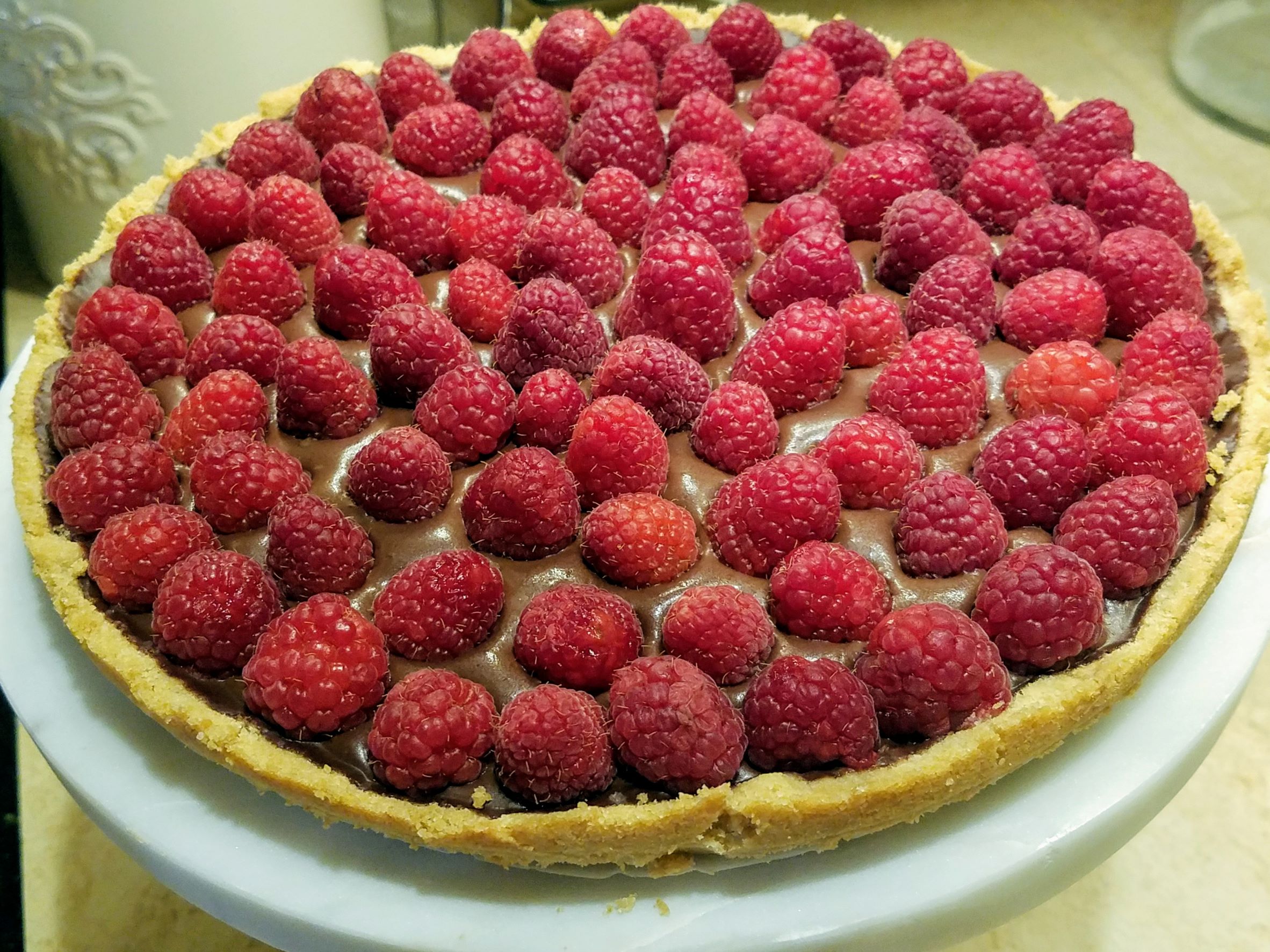 Gluten Free Chocolate Ganache Raspberry Tart
Such an easy and impressive dessert. Very dark chocolate ganache meets raspberries in this ultimate chocolate tart. You can also add in a few strawberries for a stunning appearance.
Equipment
1 spring form pan or tart pan with removable bottom

1 stand mixer, hand mixer, or food processor
Ingredients
Shortbread Crust
1/2 cup of brown rice flour,gf  

1/4 cup of almond meal, gf

1/4 cup potato starch, gf

1/4 of granulated sugar or organic cane sugar

1 teaspoon xanthan gum

 4 tablespoons cold butter, cut into small pieces 1 teas of pure vanilla extract

1 teaspoon of pure vanilla extract, gf
Chocolate Ganache
1/4 cup heavy whipping cream

4 1/2 T butter

10 1/2 ounces of semisweet chocolate (or bittersweet), gf, coarsely chopped

1 1/2 ounces of good quality unsweetened chocolate , gf

3/4 teaspoon pure vanilla extract, gf

1 T of Grand Mariner liquor, brandy or cognac, optional

For top of tart – 2 pints of fresh raspberries (or you can mix a few different types of berries  to make two  pints) – rinsed and dried thoroughly by laying on paper towels.
Tart Assembly
1 recipe Chocolate Ganache

1 recipe Shortbread Crust

2 pints of fresh raspberries or mixed berries, rinsed and dried thoroughly
Instructions
Shortbread Crust
Preheat the oven to 350 degrees with rack in the center of the oven.

Spray a 9 inch spring form pan or tart pan with cooking spray or vegetable oil and dust lightly with rice flour, or line the bottom of a spring form pan with parchment paper and lightly spray with cooking spray or oil and dust with rice flour. 

Combine brown rice flour, almond meal, potato starch, sugar and xanthan gum in an electric mixer bowl or food processor. Add butter and mix well (pulse for food processor) until mixture is crumbly and begins to hold together. Add vanilla and pulse a few times or mix for 15 seconds. Press into the bottom and up the sides of the tart pan or just slightly up the sides of the spring form pan.

Bake in the center of the oven for about 16-18 minutes or until light golden brown. Cool on a rack. 

For best results remove the pan sides and bottom once the tart shell is filled and chilled.
Chocolate Ganache
In a 2 quart saucepan heat the heavy whipping cream with butter to boiling over medium high heat. Remove saucepan from heat and add semisweet chocolate and unsweetened chocolate. Whisk until melted and smooth. Whisk in the vanilla and Grand Mariner liquor (if you want to use it).
Tart Assembly
Pour chocolate mixture into the cooled prepared crust and spread evenly. Sprinkle the berries or arrange in a pattern on the chocolate ganache.

Refrigerate until chilled and firm enough to slice, about 1 1/2-2 hours. Remove the tart from the refrigerator 30 – 45 minutes prior to slicing and serving. Serves 12-14. Dust with powdered sugar just prior to serving, if you like.
Notes
I can't tell you how many times this tart has been the highlight at the end of a party or event. Just a small slice is all you need as it's rich in cream, butter, and chocolate, but not too sweet. Serve it with coffee or port at the end of a meal.