Sometimes you want an easy gluten free pizza dough that can be ready in about 2 1/2 – 3 hours. We make a lot of pizza and flatbreads around here! Thanks to our Blackstone gas pizza oven, makes pizza making quite easy and very fun for our family and guests. My husband says the pizza oven is the second best purchase we've made, second only to our hot tub, which we use every night (and my husband sometimes uses it two times a day!). Funny fact, we actually loaded up the Blackstone Pizza Oven when we had to evacuate from the CZU Complex Fire, in Santa Cruz County. We decided we'd at least have a pizza oven, if not a house when we returned to our neighborhood!
The Blackstone Pizza Oven has a turning pizza stone and so it cooks very evenly and heats up to 1000 degrees. This one was made in the Blackstone at about 650 degrees, although you can definitely cook it in the kitchen oven also, just pre bake the crust for about 8 minutes on a preheated stone. The more toppings the longer it takes, so you will need to adjust the temperature on the gas oven to meet your needs. We usually start at 650 o 675 and then turn down after 3-5 minutes. It takes about 6-7 minutes total in the gas oven at those temperatures. You could use another type of gas pizza oven, or wood fired pizza oven also, but you may need to adjust the cooking temperatures and times. We are sorry to say, that they no longer make the Blackstone Pizza Oven.
This recipe is a great light dough that makes a great pizza, flatbread, or focaccia bread, all of which are delicious. I love being able to make a dough for a shared flatbread or focaccia bread that all my guests (even the gluten eating ones) will enjoy. This one in particular they will have a hard time knowing it's gluten free.
Just remember, if you are baking for the Celiac or gluten intolerant guest, to clean your kitchen and all the kitchen tools you will be using to not cross contaminate with gluten. I also note in my recipes the items which need to be labeled gluten free. As I am highly sensitive to any crumbs or cross contamination, so in our house we have separate butter dishes, separate sides of the toaster oven, separate cutting boards, pizza peels, and no gluten is allowed on my stone pans or my cast iron pans, cake pans, etc. It seems extreme to some people, but if you are struggling with being sick from gluten and have not done these steps, try it and see if you feel better. I also have been using a gluten enzyme when I dine out. It has seemed to help me, but I still remain vigilant about eating only certified gluten free foods.
Last night this dough made the most delicious flatbread with: olive oil, sun dried tomatoes, leftover smoked Traeger chicken, Dubliner cheese, parmesan cheese, garlic and fresh rosemary. I had to stop myself from eating the entire flatbread! Olive oil, parmesan, and prosciutto would be lovely too, topped with fresh sliced or quartered Mission figs and arugula, after cooking, and then drizzled with a balsamic reduction for serving. Enjoy!
~Laura
(revised 09/20/21)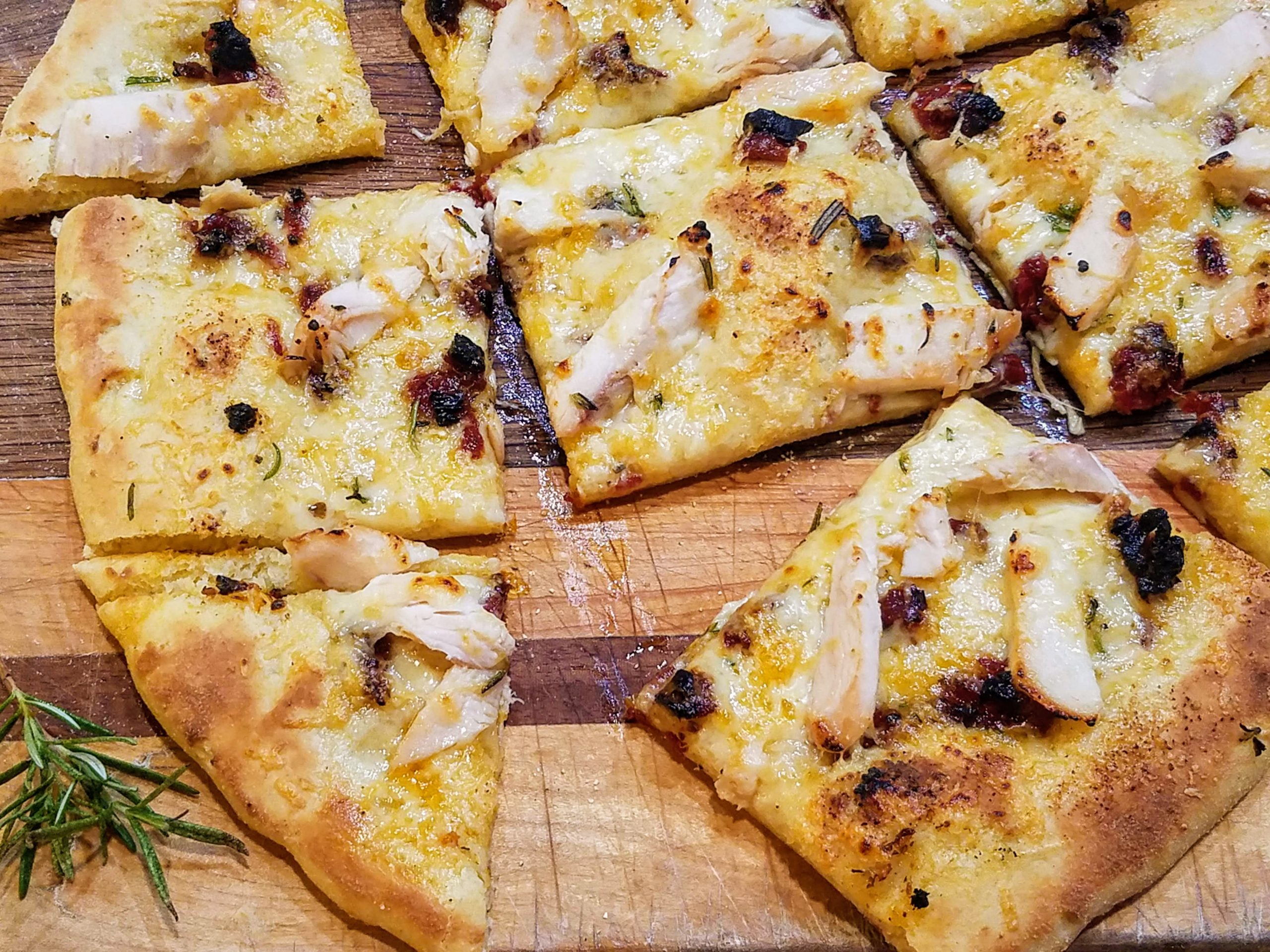 Easy Gluten Free Yeast Pizza, Flatbread or Focaccia Dough
Makes 2, 10" pizza crusts or 1 focaccia bread, 15.5" x 10"
Ingredients
180 grams, (1 ½ cups) Ryze Gluten Free Multi-Purpose Flour Mix (yellow bag), or 90 grams of Gluten Free Millet or Gluten Free Sorghum Flour plus 90 grams of Ryze Gluten Free Multi-Purpose Flour Mix

120 grams (1 cup) Bob's Red Mill Finely Ground Tapioca Flour, Gluten Free, or 60 grams of Bob's Red Mill Tapioca Flour plus 60 grams of Bob's Red Mill Unmodified Potato Starch, Gluten Free

120 grams (3/4 cup plus 1 tablespoon) Bob's Gluten Free 1 to 1 Baking Flour or other gluten free flour blend with xanthan gum

68 grams (½ cup) finely ground cornmeal, gluten free brand I use Safeway Organics Organic Corn Meal and grind finer in a food processor or Vitamix

1 tablespoon of cornstarch, gf

8 grams (2 ¼ teaspoons) Fleischmann's Active Dry Yeast, or another gluten free brand

1 tablespoon sugar or honey

.40 ounces salt (2 teaspoons)

220 grams of warm water (1 cup minus 1 tablespoon)

2 tablespoons milk or dairy free milk, gluten free

1 large egg or 2 ounces of egg white

20 ounces (1 ½ tablespoons) extra virgin olive oil

 ⅛ – ¼ cup gluten free flour to make a pliable, smooth, mildly firm dough
Instructions
In the bowl of a stand mixer with paddle attachment add the Ryze flour, the 1 to 1 gluten free flour, tapioca flour, finely ground cornmeal, cornstarch, yeast, and salt and mix until well combined.

Add the water, milk and oil and mix for 30 seconds. Add in the egg and mix on medium for 2 –  2 ½  minutes. 

Remove the bowl from the stand mixer. Add in enough gluten free flour, in tablespoon increments, stirring by hand after each addition, to make a mildly firm, but still soft and pliable dough. Cover the bowl and let the dough rest for 20 minutes.

Using gluten free 1 to 1 flour blend, flour a board or mat well. Set the dough unto the floured surface and knead gently for 3 to 4 minutes, adding in more flour to the board as needed to keep from sticking. Divide into two equal pieces, weighing if you have a kitchen scale. Place each dough ball in a lightly oiled bowl and cover each with a towel.

Follow instructions to make pizza or a flatbread, or instructions for making focaccia bread.
For Making Focaccia Bread
Let the dough rise in the bowl for 1 hour. Stretch and press the dough onto a lightly oiled rectangular stone pan or a cookie sheet with an edge, bringing the dough to each edge and corner of the pan. You will need the full recipe of dough to make a 15 x 10 inch focaccia bread. Cover the focaccia dough with a towel or cellophane and let rise for 1- 1 1/2 hours more.

Preheat the oven to 450 degrees F. Uncover the dough and using your finger press indentations in the dough every inch and a half, and 1/4 inch into the top of the dough. Drizzle generously with olive oil and add toppings of sliced garlic, olives, gluten free herbs or your choice, parmesan cheese, or a light amount of coarse salt. Add sun dried tomatoes during the last few minutes of baking.

Bake for 15-20 minutes total or until golden on top and edges. Slice into rectangles and serve while warm. **See note below for baking in a gas pizza oven.

**For baking in a gas pizza oven, do not pre bake the pizza dough. Heat the pizza stone and gas pizza oven to 690 degrees F. Top pizza with a drizzle of olive oil, and toppings, and bake for 3-7 minutes, lowering heat to 450 or 500 if needed near the end of cooking, to keep from burning the bottom or top. 
For Making Pizza or Flatbread
Let each dough ball rise for 1 1/2 to 2 hours in the bowls. When it has finished rising and is very puffy, gather the dough ball into your hand without punching the dough down, and place on a well floured board. Shape each dough ball gently into a 10" round pie on the gluten free floured surface. Poke holes, using a fork, into the crust without going through the crust.

Preheat the oven to 450 degrees F with a stone pan, pizza stone, or metal cookie sheet. Remove the pan and add a tablespoon of olive oil in the center of the pan, then a shake of cornmeal, and slide one formed dough gently onto the center of the preheated pan. Drizzle with a little olive oil. Pre bake the pizza dough for 8 minutes. Remove from the oven, add toppings, and continue baking for 8-15 minutes more, or if crust is cooled bake for 15-20 minutes more. **See below for cooking in a gas pizza oven.

**For baking in a gas pizza oven, do not pre bake the pizza dough. Heat the pizza stone and gas pizza oven to 690 degrees F. Top pizza with a drizzle of olive oil, and toppings, and bake for 3-7 minutes, lowering heat to 450 or 500 if needed near the end of cooking, to keep from burning the bottom or top.