Jump to Recipe
Print Recipe
Everything's coming up lemons!
We have a few small citrus trees planted in large pots on our deck. Our Meyer Lemon tree is definitely a great producer and has lemons about half of the year! With lemon being one of mine and my husband's favorite flavors, this is fabulous to have an organic tree on the deck!
Growing up, my parents had a huge garden with all sorts of trees, vegetables, and fruits. I would give anything to have that huge plot of land with lots of sun! At our house, we have to find bits of sun. This is true, especially half of the year, as the redwood trees and other trees encroach on the overhead sun. They are beautiful though, so no complaining here! And we definitely make the most out of our space, filling the patio pots with lots of vegetation for our feathered friends to find refuge in.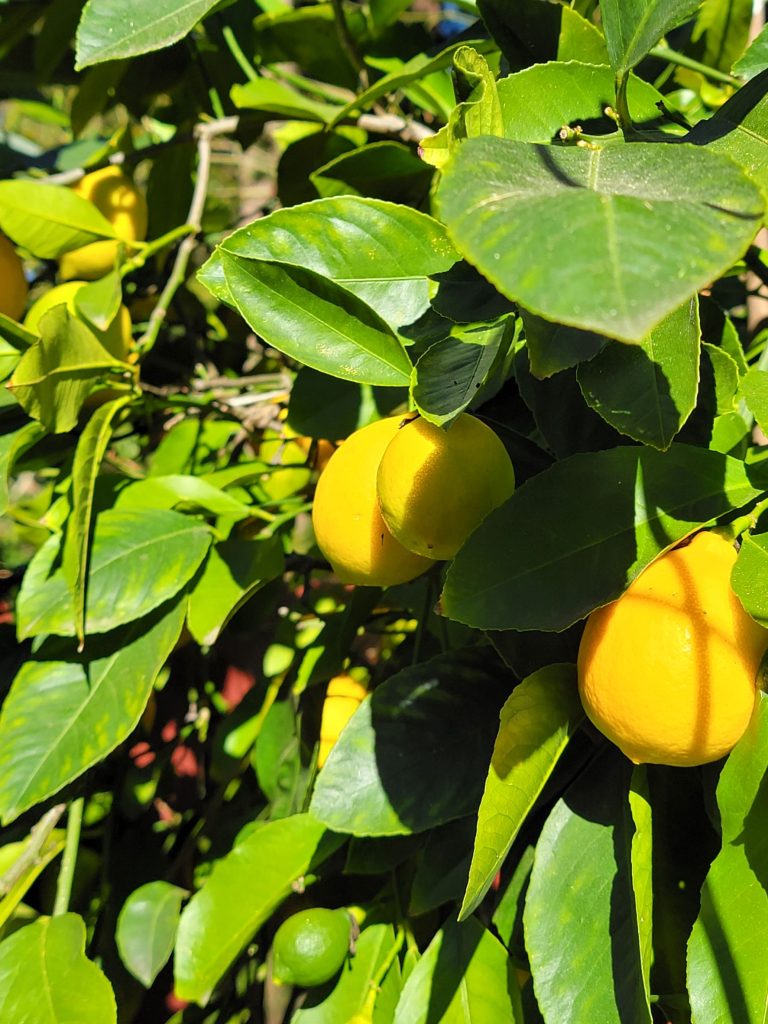 Lemon Curd life
And we are so happy to be able to grow citrus, herbs, and even a few vegetables! The lemon tree is perfect! We use the lemons in our homemade Limoncello, lemon curd, or many a lemon tart or lemon cake. One of my favorite ways to enjoy Lemon Curd is on a breakfast or brunch waffle. Another way to serve it is on a plain gluten free scone.
Lemon desserts have a way of cleansing the palate, while not feeling too heavy or rich after a big dinner. I don't make a lot of lemon meringue pie, because honestly it doesn't hold up as well made gluten free (and even not gluten free, you need to eat the entire pie the day it's made for best texture).
The Luscious Lemon Tart with Meringue (Gluten Free) is my preference any day. You can instead choose to top it with whipped cream, or decoratively pipe whipped cream on top, and maybe add some berries.
Custard Filling
The filling of this one is made as a custard or pudding and does contain cream or half and half. Just cook as a custard then spread into a tart crust that has been pre-baked. Top with the meringue. Then bake in a 350 degree oven for 14-18 minutes, until the meringue is lightly browned.
Cool on the counter before moving to the refrigerator to chill for 3-4 hours before serving. If you aren't topping with meringue, after spreading the lemon filling in the baked tart shell, just bake for 15 minutes at 350. Then, remove from the oven, cool, and chill before decorating with any whipped cream piping. Return to the refrigerator and remove just prior to serving.
Do you have a good citrus zester?
To make your life quite a bit easier, pick up a citrus zester and a hand lemon juicer. I love my Microplane Zester and Grater. It's very sharp and I use it primarily for zesting, because I want to keep it sharp.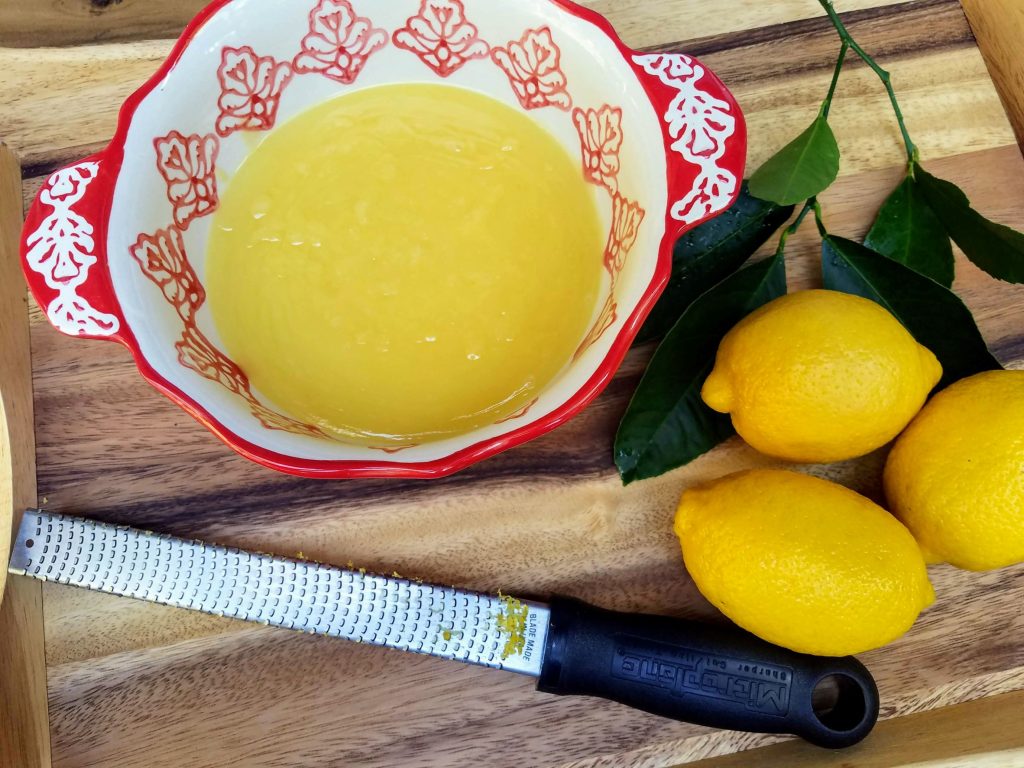 The recipe makes two tart shells
The crust for the recipe will make two 8 or 9″ tarts, or 2 rectangle tarts, so you can make another flavor of tart or double the Lemon Filling recipe, or simply freeze one disc of dough in cellophane and a freezer bag for another day. I love having a pie crust or a pizza crust I can pull out of the freezer when I want to make a tart or pie, without the extra trouble of mixing the dough. Just allow the dough to thaw overnight in the refrigerator.
This crust holds up better than traditional pie crust
The tart crust will hold up much better than a traditional pie crust, remaining crisp for a few days. So, this dessert could potentially be made the day before you will be serving, just remember to keep it in the refrigerator after cooling. If you use a gluten free shortbread crust it will last in the refrigerator up to three days, depending on the filling used.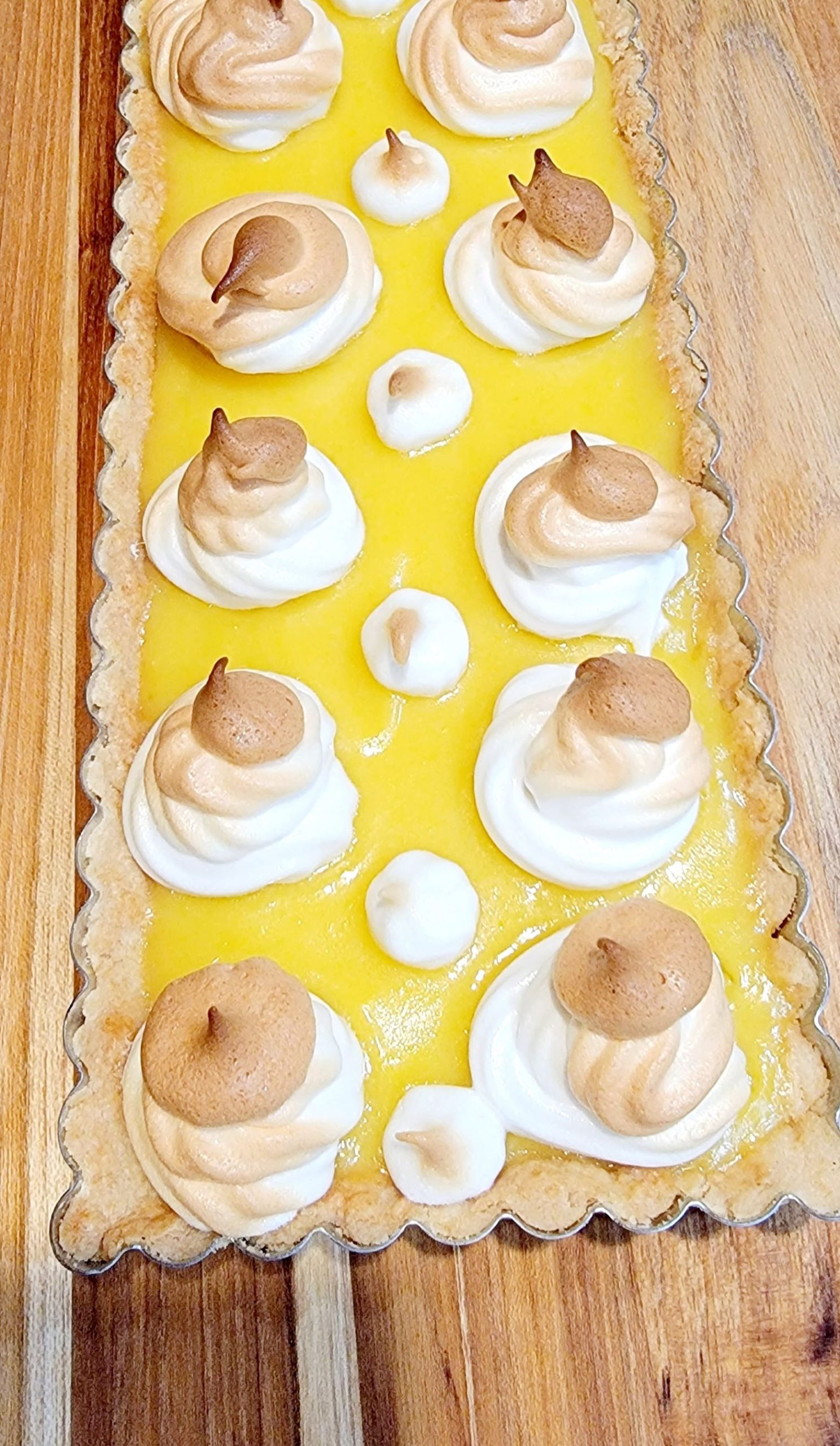 Luscious Lemon Tart with Meringue (Gluten Free)
Lemon is always a good idea. It's the perfect dessert after a heavy meal. The tartness balanced with a little sweet of the custard.
Equipment
1 rectangle or round tart pan

with a removable bottom

1 piece of parchment

to line pan

1 pastry brush
Ingredients
Crusts:
1

cup

brown rice flour, gf

½

cup

white rice flour, gf

½

cup

cassava flour, gf

½

cup

tapioca starch, gf

14

tbsp

 butter, unsalted, cut up

¼

teaspoon

salt, omit if using salted butter

4

 tablespoons

sugar

1

egg

yolk

½

teaspoon

vanilla, gf

1

tbsp

heavy cream

½-1

tbsp

cold water

2

tbsp

egg white
Filling:
1

tbsp

cornstarch, gf

½

cup

sugar

¾

cup

half and half or ⅜ cup cream and ⅜ cup milk

¼

cup

honey

4

tbsp

 butter, unsalted

Pinch of salt (omit if using salted butter)

⅓

cup

 lemon juice

1½

teaspoons

lemon zest

3

large

egg yolks
Meringue:
3

large

egg whites

¼

teaspoon

cream of tartar, gf

½

teaspoon

vanilla, gf

6

tbsp

superfine sugar
Instructions
Crust
Using a hand mixer or stand mixer with the paddle attachment, combine the flours and cut up butter, mixing on low speed. Add the sugar and increase speed to medium and continue mixing.

When the butter is in very small crumb pieces, add the egg yolk and the vanilla. Then add the cream while mixing. Add ½ tablespoon of cold water and mix for 30 seconds until the dough begins to pull together.

Turn off the mixture and press together with your hands. If the dough is still crumbly, add up to ½ tablespoon more of water and mix for 10 seconds.

Remove the dough from the mixer and divide into two equal balls of dough.

Press each dough ball into a disc about 1/2" thick. Wrap each disc in cellophane or a ziploc bag. Chill for for 1-2 hours. Makes 2 tart crusts.

**At this point you can also freeze one disc of dough for another day.

Preheat the oven to 375 degrees, with the rack in the center of the oven.

Prepare the tart pan with a piece of parchment to line the bottom of the pan only.

Roll the dough out to ⅛" thick between two lightly floured parchment sheets. When the dough is the approximate size, pull off the top parchment and set the dough side down into the tart pan. Remove the excess dough by using your fingers to press against the tart edges and pull the excess dough off.

Poke holes in the crust using a fork. Brush 1 tablespoon egg white on each crust.

Bake for 22-25 minutes, until golden brown. Remove from the oven.

Pour the hot filling into the baked crust.
Filling
While the dough is chilling, make the filling. In a medium saucepan, add the sugar, cornstarch, half and half, or cream and milk, honey, and butter. Stir to combine. Set burner to low or medium low heat, and stir continuously until just before boiling.

Add the lemon juice and zest and stir thoroughly for a minute or two. While stirring the whisked egg yolks, using a whisk, pour in a steady stream two thirds of the mixture in the saucepan into the whisked yolks. Stir for a minute before adding the remainder of the milk mixture. Stir to combine and pour back into the saucepan. Cook over low heat for 2-3 minutes.

Remove the saucepan from the heat and pass the mixture through a sieve. Set aside until the tart shell is pre-baked. Fills one tart shell.
Meringue
Preheat the oven to 350 degrees. Set the oven rack 5-6 inches from the top of the oven, in the top fourth of the oven.

Using the whisk attachment on a stand mixer, beat the egg whites, cream of tartar and the vanilla over low speed for a minute until small bubbles form. Increase the speed to medium and beat until glossy soft peaks form.

Add the sugar slowly, shaking into the egg whites in small amounts until all of the sugar has been incorporated. Beat until firm but not stiff peaks appear.

Spread the Merigue onto the Lemon Filling, making some peaks in the meringue. Or fill a piping bag with a star tip and pipe dollops on the top of the tart. Tops one tart.

Bake in the top fourth of a 350 degree oven for 14-18 minutes, rotating often to bake the meringue evenly.

Remove to a wire rack to cool. After cooling, refrigerate for 3-4 hours minimum. Slice into 6-8 pieces and serve. Serve with Breyer's Vanilla Ice Cream (gluten free) or my Perfectly Creamy Vanilla Ice Cream (Gluten Free) if desired.