A cream puff or eclair seems like a "fancy" or elegant dessert, with its pâte à choux pastry, a French or European pastry which is made up of water, butter, flour, and eggs, and uses steam to cook and "puff" them. The dough isn't difficult to master (even though it sounds a bit daunting), even the gluten free one! They are certainly worth the effort! You can literally fill these with anything you like also; from the traditional eclair filled with whipped cream and topped with a chocolate glaze variety, to filled with chocolate mousse and whipped cream (as I was served in Paris, France at Helmut Newcake, a wonderful bakery that specializes in gluten free, dairy free and vegan treats and breads….check them out if you are ever there. It was my favorite place while traveling in France!) Our family's favorite is a layer of Vanilla Cream Filling and a layer of lightly sweetened whipped cream, topped with either a dusting of powdered sugar or a Chocolate Ganache Glaze. Make these for something or someone special soon! Or just because!
~Laura
Gluten Free Cream Puffs or Eclairs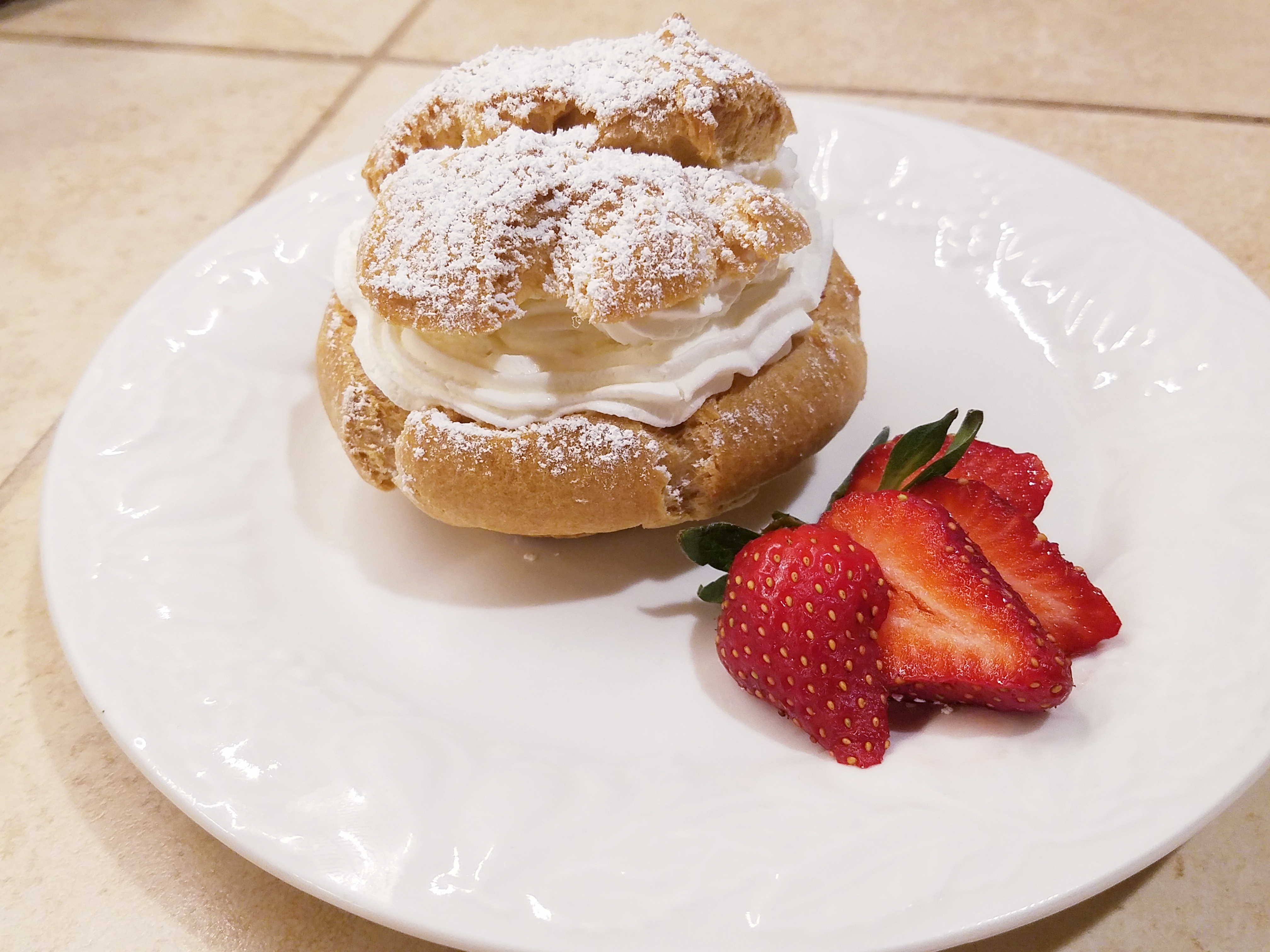 Makes 6 cream puffs or eclairs
Prep time: 10 minutes for cream puffs, 20 – 30 minutes for cream and chocolate glaze
Bake Time: 35-42 minutes
Ingredients:
1/2 cup water
1 /4 cup unsalted butter
1/2 cup (65 grams) Ryze Gluten Free Multi-Purpose Mix
2 eggs
Pinch of salt
Vanilla Cream Filling (Recipe below)
Chocolate Ganache Glaze (Recipe below)
1-2 tablespoons powdered sugar (for dusting tops)
Sweetened Whipped Cream (Recipe below)
To prepare:
Preheat the oven to 400 degrees F, with the rack in the center of the oven.
In a medium saucepan, heat water and butter over medium heat to boiling. Add in a pinch of salt. Add the Ryze flour all at once and stir quickly with a rubber spatula or a wooden spoon. Lower burner to medium low and cook, stirring constantly for a minute and a half, or until it forms a ball. Remove from the heat and add eggs, one at a time, beating vigorously by hand or using a mixer, after adding each in. Beat until smooth.
For Cream Puffs: use a 1/4 cup measure, to drop 1/4 cupfuls in a circle about ⅜-½ inch thick, unto an ungreased parchment lined, metal cookie sheet, spacing 2 ½ -3 inches apart. Makes 6 cream puffs.
Bake for 35-42 minutes, until golden brown and puffy.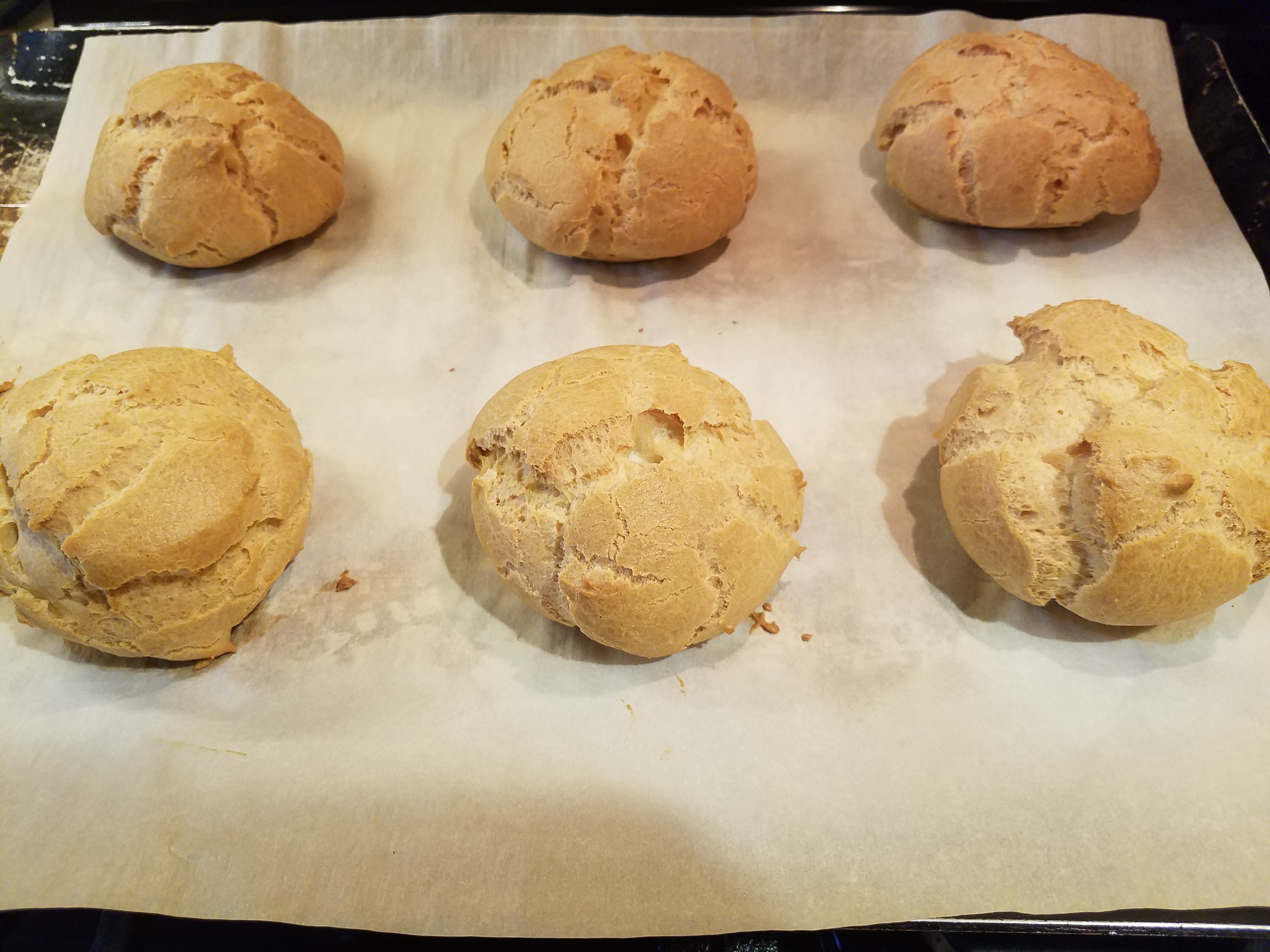 For eclairs: drop onto an ungreased parchment lined, metal cookie sheet, by 1/4 cupfuls, shaping the dough into 1 inch wide x 4 1/2 inch long fingers. Makes 6 eclairs.
Bake for 35 -42 minutes or until golden brown and puffy.
Cool cream puffs or eclairs on the pan or on a wire rack, near the oven. When cool, using a sharp, thin knife, slice the top 1/3 off to make a cup at the bottom, with a lid. Remove any soft dough from the inside and discard.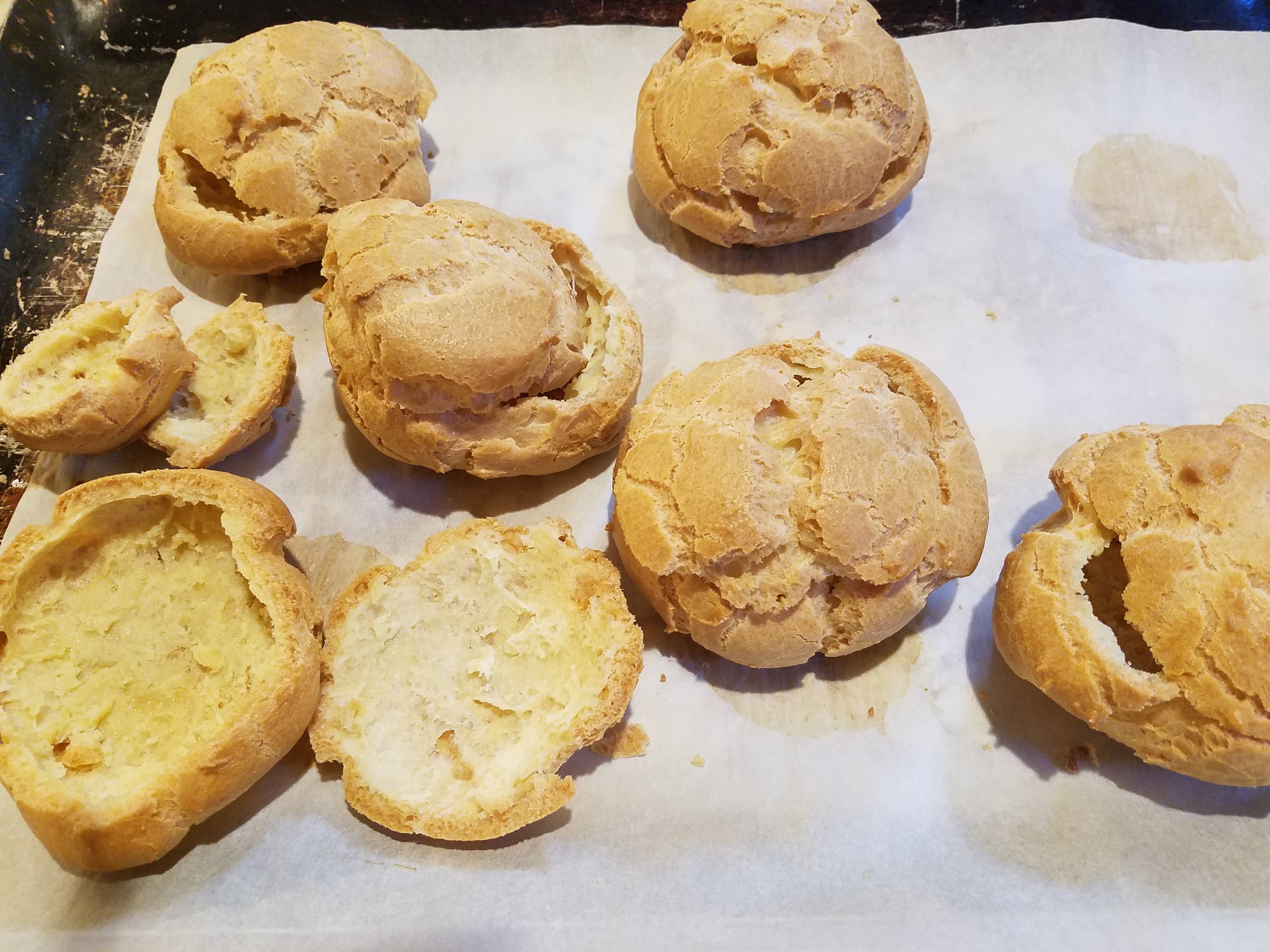 Place the cream puffs or eclairs in the cooled oven or airtight container to keep crisp until ready to serve. I like to fill these at the last minute to keep the shells crisp, while others don't seem to mind them "soggy". Fill with a layer of Vanilla Cream Filling and a layer of sweetened whipped cream, using a pastry bag with a star tip if you like, adding cream to both the bottom and to the inside of the top, so it fills completely. Dust with powdered sugar or spread chocolate ganache glaze atop.
** If doubling the recipe, bake one sheet at a time, so they cook properly. Remove from the oven to cool (near the oven, away from drafts).
Vanilla Cream Filling, Gluten Free
1/4 cup organic cane sugar
1 tablespoon of cornstarch, gf
1 cup whole milk
1 egg
1 egg yolk
2 tablespoons unsalted butter
pinch of salt
1 teaspoon of vanilla or vanilla paste, gf
Whisk the egg and egg yolk in a small bowl.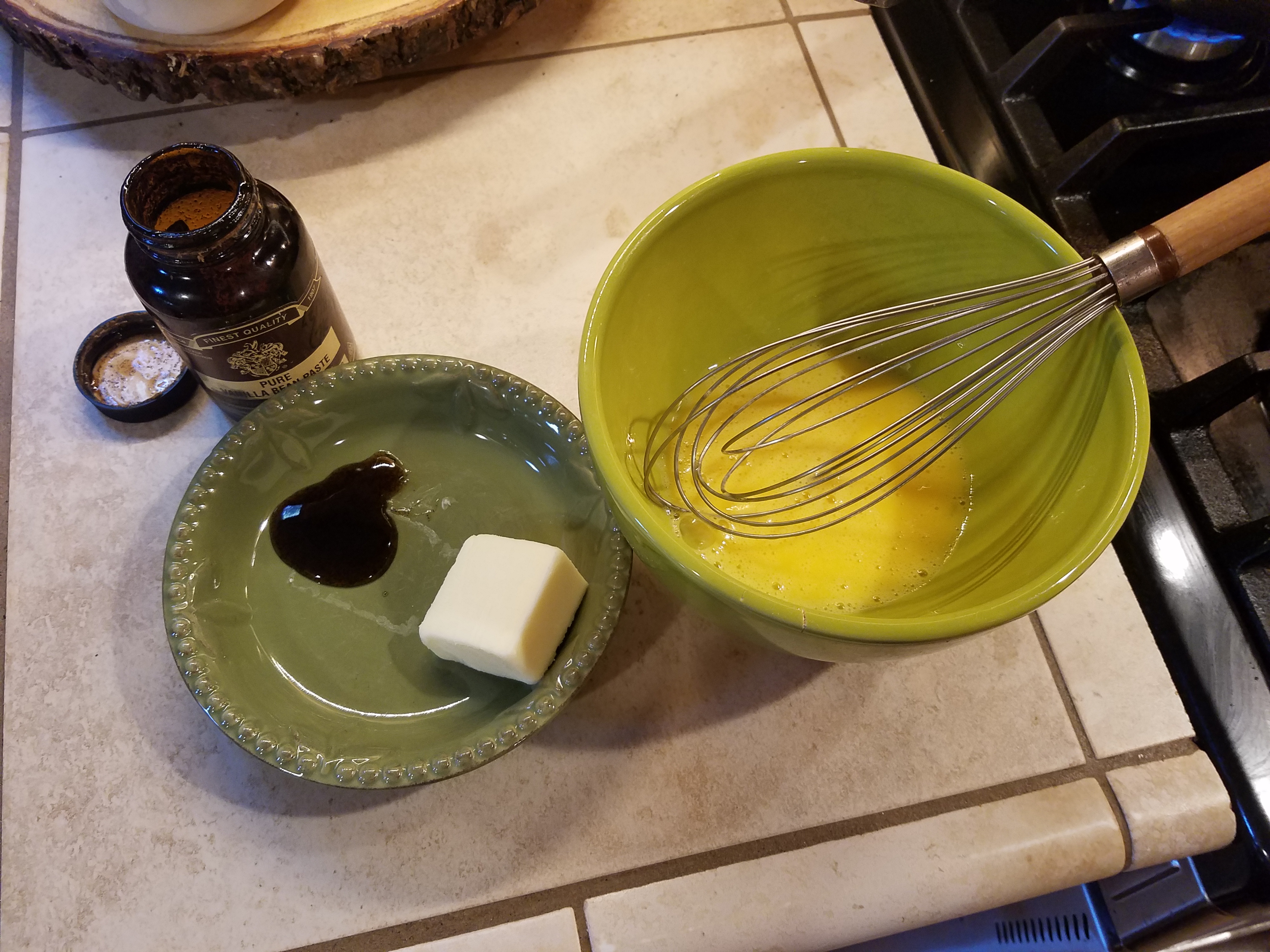 In a medium saucepan, before turning on the burner, stir the sugar and cornstarch. Add the milk and stir together until smooth and combined. Cook, stirring constantly with a rubber spatula or wooden spoon, over low to medium low heat, (depending on your burner size), until thickened and starting to boil. Cook for a minute stirring constantly.
Holding the saucepan in one hand, pour about half of the mixture into the whisked eggs, using the whisk in your other hand to stir as the milk mixture is poured in. Stir completely before pouring back into the saucepan with remaining milk mixture. Stir to boiling, over medium heat. Cook for one and a half minutes more.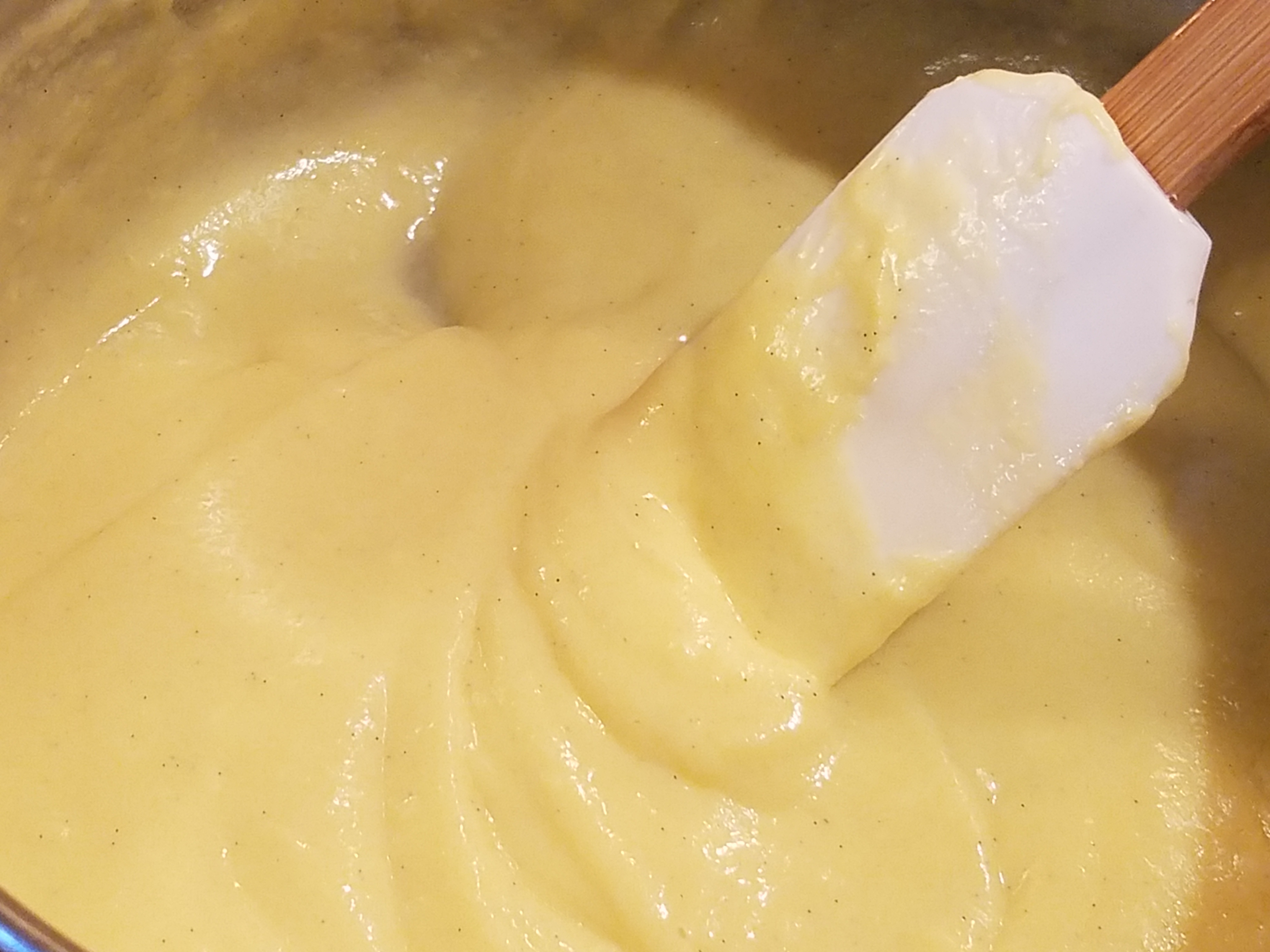 Remove from heat. Stir in the butter and vanilla paste or vanilla extract.
Put through a small mesh sieve to get any lumps out.
Cool in a bowl, stirring often to prevent a skin from forming or cover with cellophane against the cream to cool before refrigerating.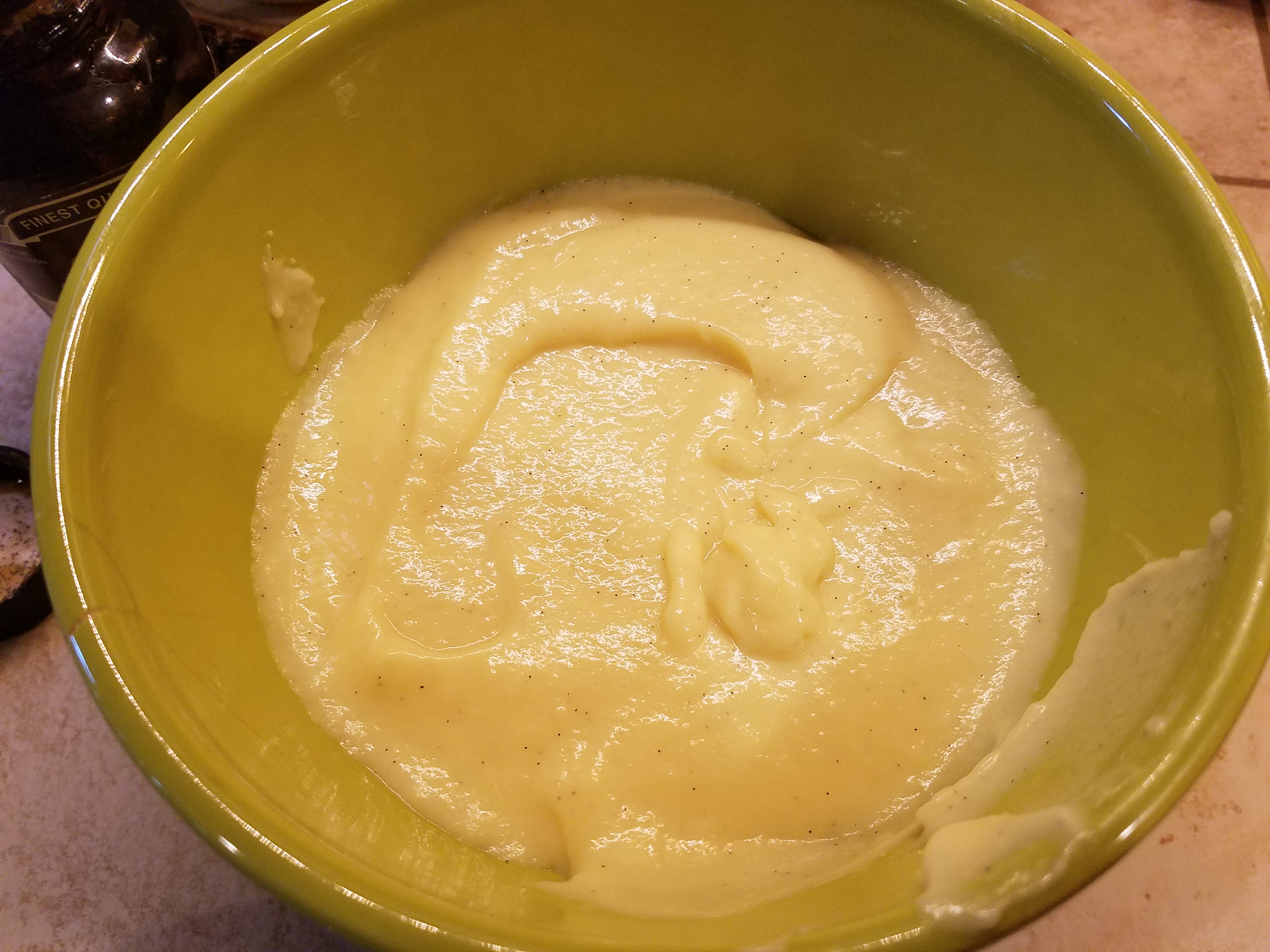 The cream should be chilled before filling the cream puffs or eclairs.
Chocolate Ganache Glaze, Gluten Free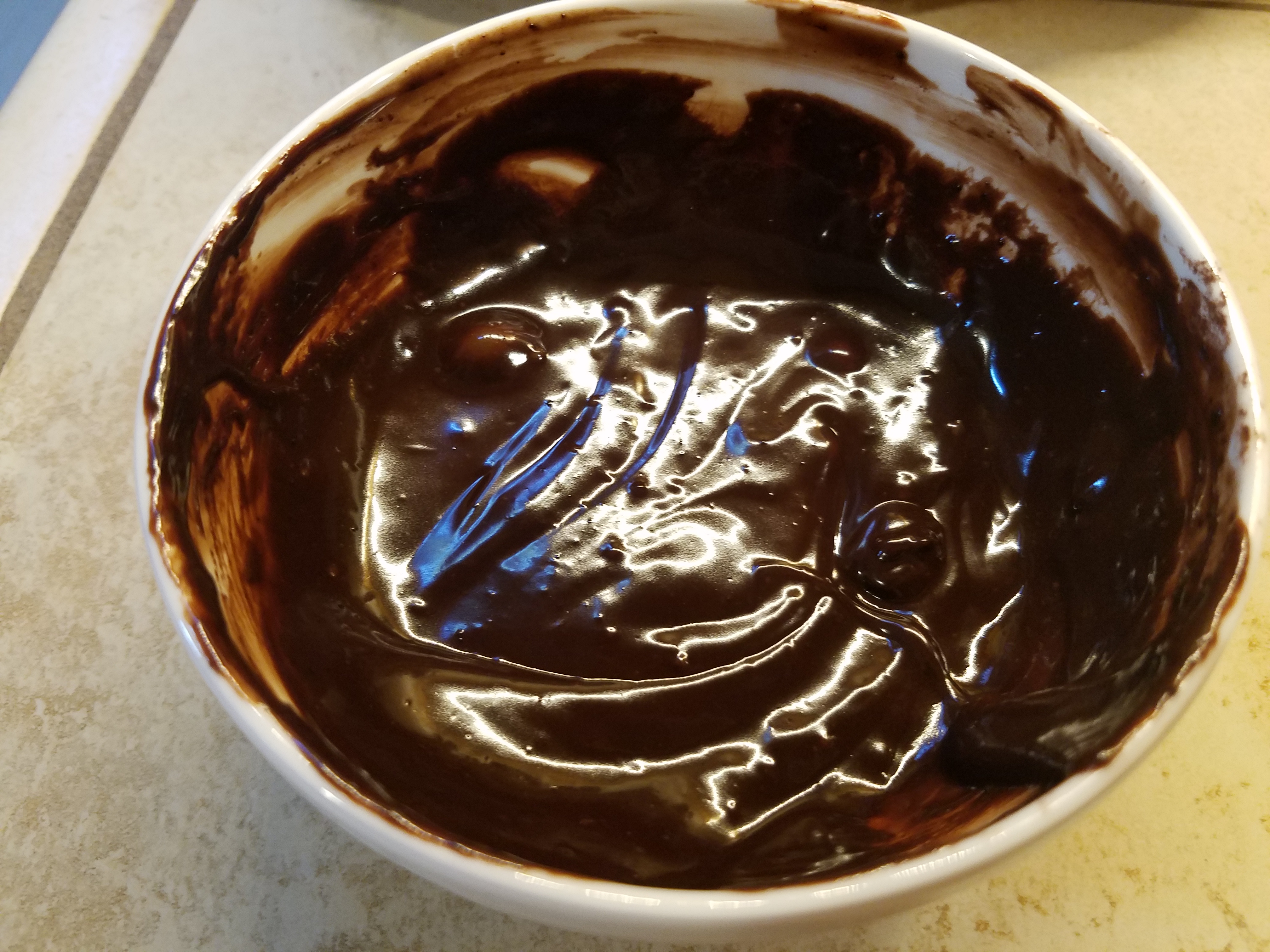 1/8 cup heavy cream
1 tablespoon cocoa powder, gf
1 teaspoon maple syrup
1 teaspoon of corn syrup
1 ounce of semi sweet or bittersweet chocolate, gf
1/2 teaspoon vanilla
1/2 tablespoon butter
Heat the cream for 15- 20 seconds in a small microwave safe bowl. Add the chocolate, cocoa powder, maple syrup, and butter. Heat for 10 more seconds and stir until smooth. Stir in the corn syrup and vanilla. Let cool.
Sweetened Whipped Cream:
Whip in a stand mixer bowl 1 cup heavy cream, starting on low speed and increasing to medium or medium low, until it begins to thicken, while remaining fluffy. Mix in 2 tablespoons granulated sugar and 1 teaspoon of vanilla.