Jump to Recipe
Print Recipe
This is the perfect party or special day dessert! It makes a very large cheesecake for sharing with others, and it's so rich and decadent, but not overly sweet. You really don't need more than a small slice.
This recipe yields a firmer, while still very creamy texture cheesecake. It's not as dense as a New York Cheesecake, and not at all the sour cream type.
You may be a purist and not like anything at all on your cheesecake, or you may go for a little chocolate brandy sauce and some berries, but either way, you won't be disappointed in this dessert.
We served this today at my Dad's and brother-in-law's birthday celebration and there wasn't much left afterward! Even those who don't like cheesecake will like this one.
I actually served it at mine and my husband's birthday a few years ago, and my granddaughter, just 3 then, but quite particular about her food and dessert, loved the cheesecake "bar" with all the toppings: three kinds of berries, chocolate sauce, chocolate ganache, chocolate chips or grated chocolate. You can't go wrong.
Pictured here, my sister and brother-in-law's beautiful plates and table today show the cheesecake off perfectly. The crack on the top is quite normal on this one, but no one will care once they take a bite!
~Laura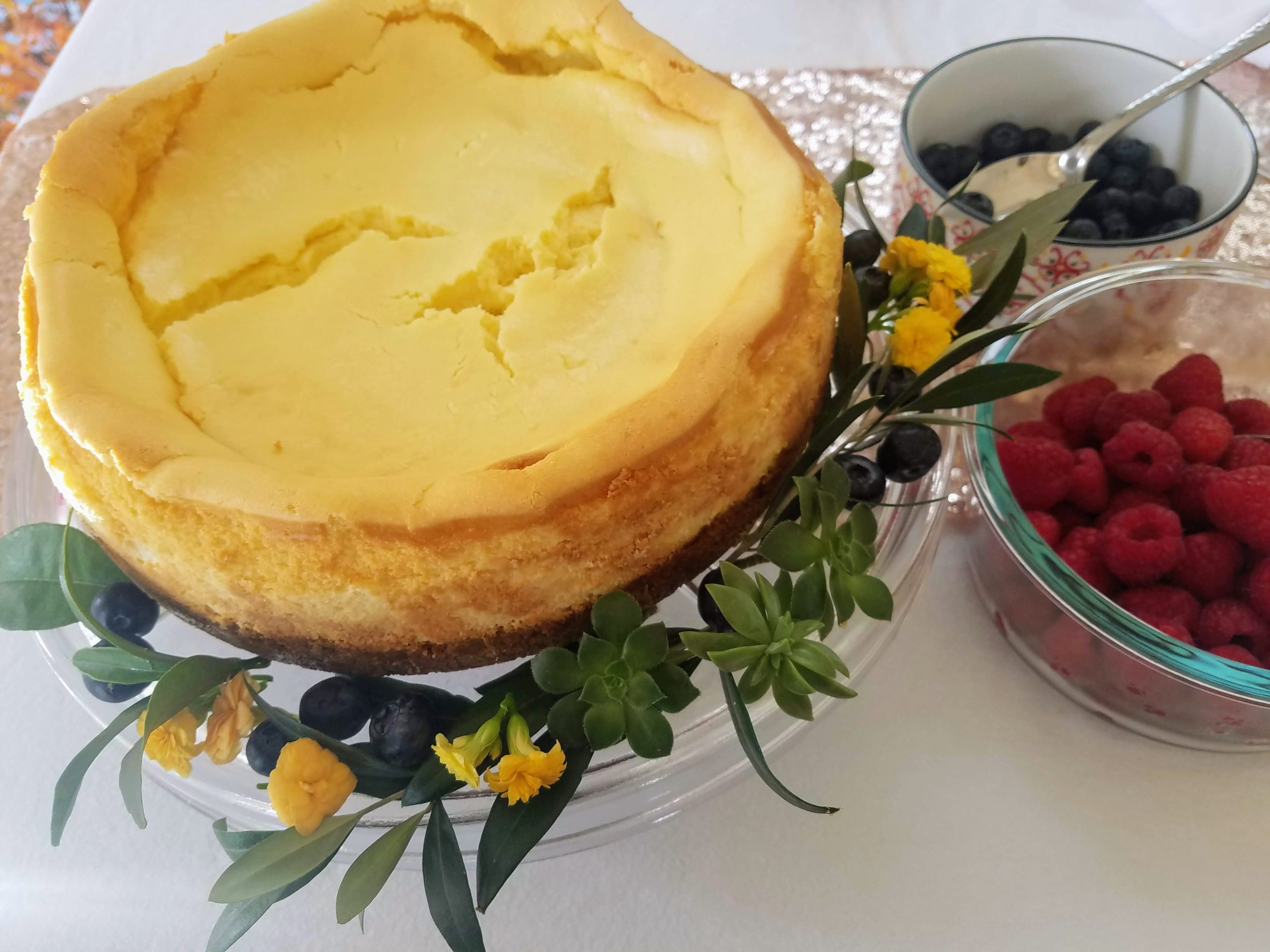 Gluten Free Cheesecake with Chocolate Brandy Sauce
This recipe yields a firmer, while still very creamy texture cheesecake. It's not as dense as a New York Cheesecake, and not at all the sour cream type.
Ingredients
Crust:
1 3/4

cups

crushed gf graham crackers

(1 box of Pamela's Honey Grahams, Gluten Free Graham Style Crackers)

5

tablespoons

butter

melted

2 1/2

tablespoons

sugar
Filling:
5

large

eggs

room temperature, separated

2 3/4 packages

cream cheese,

8 oz. packages, softened at room temperature 

1 1/4

cups plus 1 tablespoon

sugar

1

cup

8 ounce carton sour cream

2 teaspoons

vanilla

1 tablespoon

gluten free flour or rice flour
Chocolate Brandy Sauce
1/4 cup

heavy cream

heated

1 ounce

dark chocolate

gluten free, cut into pieces

2 teaspoons

cacao powder

gluten free

2 teaspoons

granulated or organic cane sugar

2 ½ teaspoons

E & J XO Extra Smooth Brandy or Cognac

(the E & J XO is very caramelly)

1 tablespoon

butter
Instructions
Crust
Preheat oven to 350 degrees F.

Line a 9" spring form pan with a circular piece of parchment that fits that bottom. Spray or lightly grease with oil and dust lightly with gluten free flour.

Mix together and press into the prepared spring form pan, pressing up the sides of the pan about 1 inch.

Bake for 10 minutes. Remove from oven.

Turn the oven temperature down to 285 degrees.
Filling:
In a small bowl, stir the sour cream together with the vanilla. In another small bowl, add 1 tablespoon of the sour cream mixture from the other bowl. Stir in the flour until very smooth, them add more of the sour cream mixture until you have added it all. Set aside.

In the bowl of a stand mixer or in a large bowl with a hand mixer, whip, using the whisk attachment, the egg yolks until lemon colored and thick. Beat in 1 cups of sugar until very smooth, reserving the 1/4 cup plus 1 tablespoon remaining for whipping the egg whites. 

Change to the paddle attachment on your mixer. Break the cream cheese in small pieces and add to the mixing bowl, adding small amounts at a time. Mix on medium, for several minutes. Then increase the speed to medium high and continue mixing until completely combined and smooth. There should be next to no lumps! Beat in the sour cream/flour mixture. Beat until smooth on medium speed.

Scrap the batter into another large bowl.

Clean the stand mixer bowl and whisk attachment and dry completely, as any water drops in your bowl will keep the whites from whipping properly. Using the whisk attachment, whisk the egg whites on medium speed until fine bubbles form. Shake in slowly the 1/4 cup, plus 1 tablespoon of remaining sugar in with the mixer on medium high speed. Increase the speed to high and continue whipping until stiff and glossy, but not dry.

Fold the whipped egg whites gently in the cream cheese mixture, mixing in a third of the whipped whites at a time. Pour the batter over the over the crust, smoothing the top.

Bake at 285 for 90 minutes, then without opening the oven door, turn oven off and leave the cheesecake in the oven for 1 hour. You can look at the cheesecake through the oven door with the light, but don't open during baking or the hour following.

Remove to a wire rack to finish cooling, before covering with cellophane and foil or parchment and foil over.

Place covered cheesecake in the refrigerator. Refrigerate overnight, as the cheesecake should be served chilled.

Serve plain or with Chocolate Brandy Sauce or any toppings you desire. Makes 10 – 12 servings.
Chocolate Brandy Sauce
Heat the cream in the microwave for 20 – 25 seconds. Stir in the chocolate pieces. Add the cacao powder, sugar and butter, stirring until silky smooth. Add the brandy and stir. Refrigerate or serve warm over chilled cheesecake.