Who's ready for some chocolatey goodness?!
A gluten free chocolate torte is always a good idea! I made a few smaller tortes today, an 8 inch and a 5 inch. They were smaller cakes with thin layers, but filled with whipped cream and berries and dark chocolate ganache on top, the finished product was tall enough and delivered great taste! You could also make this dairy free, using a dairy free butter and sour cream and gluten free dairy free chocolate. A pretty and incredibly delicious, not too sweet dessert, to serve for any special occasion, birthday party for the chocolate lover, or holiday! This one I made for my friend who is also Laura (not for myself). If you want to get really decadent, you can also fill it with Decadent Dark Chocolate Mousse! Or use the mousse in place of the whipped cream for the filling. To put this together, carefully slice into 2 layers. Take your time with this step as the torte will fall in the middle a bit and won't be exactly even when slicing. Slide a flat springform or cake pan bottom underneath the top section to move the top carefully off the bottom. Don't worry if it crumbles a little in the process; you can "glue" it back together by pressing the crumbs back onto the torte. It will be covered with chocolate ganache, and maybe some piped whipped cream and berries, which will hide any defects. Next spread the bottom with Sweetened Whipped Cream or whipped coconut cream. Add raspberries or berries of your choice, pressing into the whipped cream. Move the second layer atop the cream filling and spread with Dark Chocolate Ganache Laced with Port or dairy free chocolate ganache. Pipe decorative whipping cream and add additional berries, (you can cover the entire top with berries if you like!) or top with a few organic edible flowers or a just scattering of berries and voila! Slice into thin slices because it's very rich! If you serve this with tiny glasses of port, the same one you used for the ganache, it will pair beautifully. We love Sonoma, California's Pedroncelli 2015 Four Grapes Port.
~Laura
(Revised 11/24/21)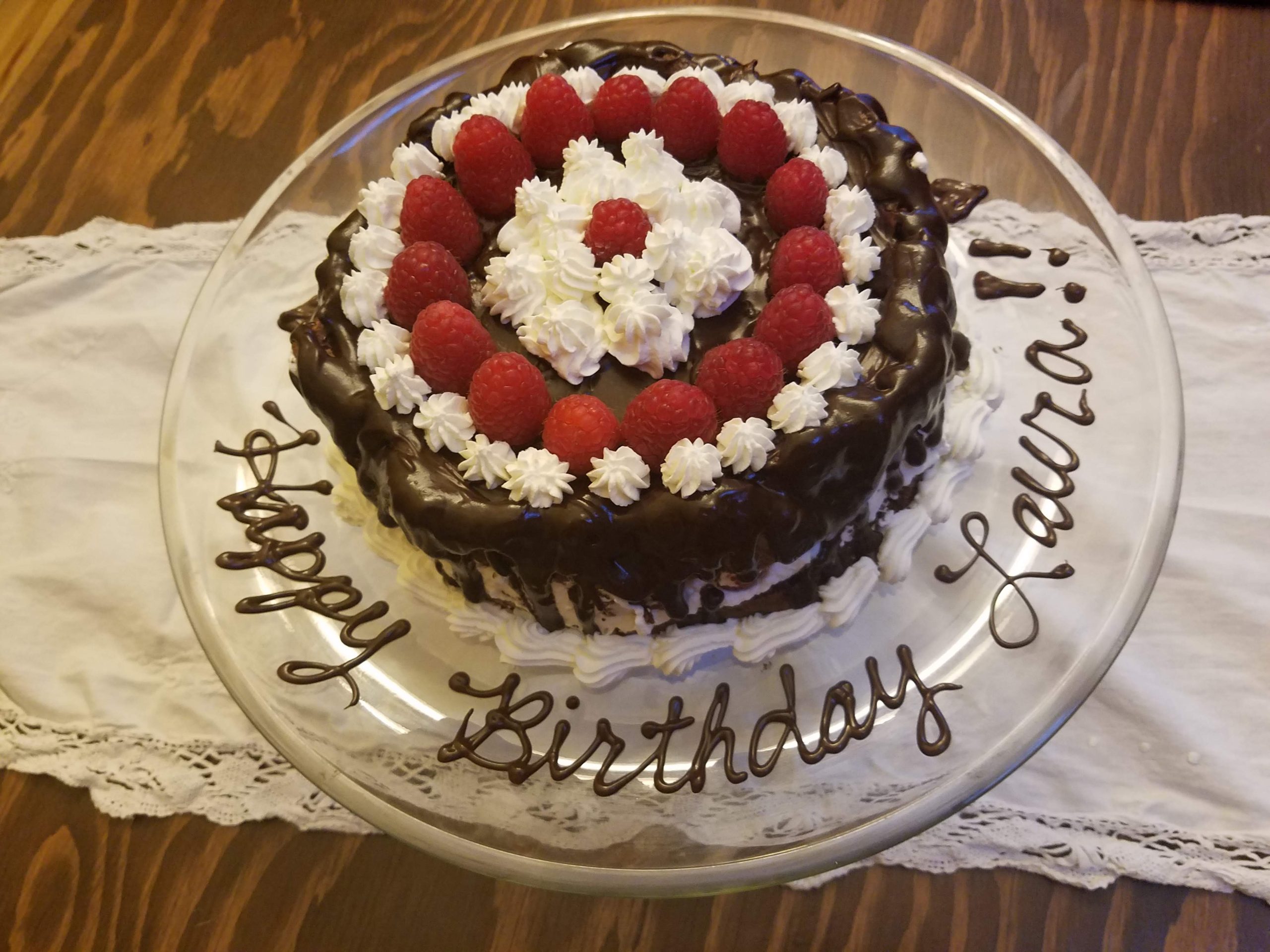 Gluten Free Dark Chocolate Torte
If you love chocolate, this is a perfect recipe for you! It's dark, chocolatey, and rich without being overly sweet. You can cut it into small slices as you don't need much of this one, especially if it's after a big meal. It's my favorite go-to for birthday cakes. Many people have requested this one for their birthday treat!
Ingredients
9 ounces of Guittard Extra Dark Baking Chocolate , gf

1 stick of butter or non dairy gf stick butter

5 large egg yolks

1/3 cup sour cream or non dairy gf sour cream

1 tablespoon vanilla extract, gf

1 tablespoon rum, gf brand if needed

1/2 teaspoon Flavorganics Organic Hazelnut extract, gf

1/2 cup Trader Joe's Unsalted Dry Toasted Sliced Almonds

3/4 tablespoon of gluten free millet flour or Ryze Gluten Free Multi Purpose Flour

5 large egg whites

3/8 cup of sugar

1 ½ pints of raspberries, clean and dried with paper towels
For Dark Chocolate Port Laced Ganache
1 cup heavy cream

8 ounces Guittard Extra Dark Baking Chips, or other gf brand

3 tablespoons butter or non-dairy butter

1 teaspoon pure vanilla extract, gf

2 tablespoons of Port 

1 tablespoon of corn syrup or pure maple syrup
For Sweetened Whipped Cream:
1 ½ cups heavy cream

1½ tablespoons sugar

1 teaspoon vanilla
Instructions
Line the bottom of a 9" or 10" springform pan with parchment.  Grease the parchment paper and springform pan edges.

Melt the chocolate baking chips and butter in a bowl over a saucepan with simmering water or over very low heat in a heavy bottomed saucepan, stirring continuously.

Remove from heat before completely melted. Continue to stir to finish melting.

In a small bowl whisk the egg yolks. Add the sour cream, vanilla, rum and hazelnut extract. Whisk until smooth.

Grind the almonds and gluten free flour together in a Vitamix or food processor, by pulsing on and off.

Whisk the egg mixture into the chocolate, and then stir in the flour mixture until smooth.

In a clean, dry stand mixer bowl or in a large bowl using a hand mixer, whip the egg whites on very low speed. Increase speed to medium when small bubbles appear. Shake in the sugar slowly with the mixer on medium high speed until stiff but soft peaks form.

Preheat the oven to 350 degrees.

Gently fold the whipped egg whites into the chocolate mixture, a third of egg whites at a time.

Scrape batter into the prepared greased springform pan. Smooth the batter with a spatula.

Bake on the center rack for 20-35 minutes in the center of the oven. Baking time will depend on the size of the springform or cake pan used. Bake just until the top springs back when pressed gently and a toothpick just barely comes out clean (a few specks on it is better, so you don't overbake it).

Cool completely on a wire rack before slicing carefully into 2 layers. Fill with whipped cream or coconut whipped cream and berries, and spread with Dark Chocolate Ganache over the top. Add decoration of berries and piped whipped cream. Refrigerate until ready to serve. Slice into small pieces. Serves 10-12. 

Refrigerate until ready to serve. Slice into small pieces. Serves 10-12. Refrigerate any remaining slices.
For the Dark Chocolate Port Laced Ganache:
Heat the cream in a small saucepan to just boiling. Turn off the burner, and add the chocolate baking chips and butter to the saucepan. Stir to melt. Add the vanilla and port and stir until a smooth consistency. Add 1 tablespoon of corn syrup or maple syrup. Let cool slightly before spreading.
For the Sweetened Whipped Cream
Chill the bowl you will be whipping the cream in for 20-30 minutes. Whip the cream starting on low speed on the mixer, then increasing the speed as it begins to thicken. Add the sugar and vanilla and continue to beat until soft peaks form. Turn the mixer off and give the whipped cream a stir or two with the whisk attachment, to stabilize. Refrigerate the whipped cream until ready to use.
Notes
Guittard Extra Dark Chocolate Baking Chips  or bars are my favorite chocolate and chocolate brand to use. They are gluten free and melt nicely for ganache or truffles. I buy these when they are on sale and load up my extra pantry in the garage! You guessed it! We love dark chocolate here at our house!