Jump to Recipe
Print Recipe
I love pulled pork! And this Oven Roasted Pulled Pork is so easy to prep, then just toss in the oven! About 5-6 hours later your dinner is done and you can serve it on a roll or bun, or just have the meat with some sides.
What to serve it with?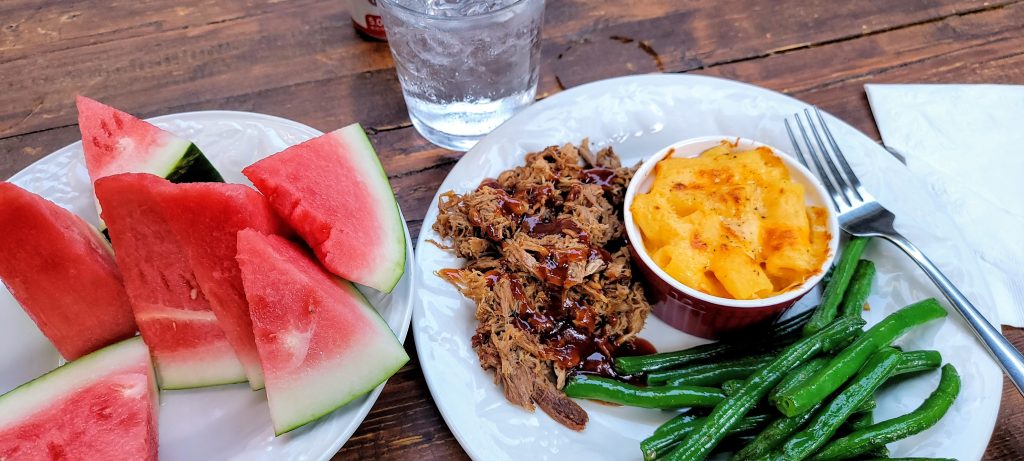 Last night I served mine with some homemade Gluten Free Mac and Cheese, Charred String Beans, and watermelon. No need for a gluten free roll or bun! Grilled corn would also be a great side for this. I love fresh cold fruit. You could choose melon or pineapple or a fresh fruit salad for a nice balance. We aren't big creamy coleslaw folks here, but that might be good on a bun with with this, or as a side.
Choose to serve this with BBQ sauce on the side, or not, because honestly it really doesn't need it; the meat has such good flavor standing alone. If you don't feel like making the Gluten Free BBQ Sauce below and need a gluten free sauce, try Kinder Organic BBQ Sauce Mild or one of Sweet Baby Rays.
This will feed an army ~ share some or reheat for another day
It can serve a small crowd, especially if served with rolls or grilled corn. If you use a large pork shoulder you may want to reheat it for another day or send some to a friend. To reheat, I think it is best in a pan, think carnitas style pork. Add a few tablespoons of water and heat over medium high heat in a cast iron or skillet, stirring often.
You could also reheat in the oven at 350 degrees, in a covered oven safe dish with a tablespoon or two of water. It will take about 20-30 minutes to reheat using this method, depending on the amount of meat you are reheating. For safe reheating practices, always check the meat temperature with an instant thermometer. Bring the temperature to 165 degrees, when the thermometer is inserted near the center of the container,
When is it done??
You'll know when this is done, probably by the smell first! But you also know it's done when the meat easily pulls apart, using a fork or two. I roast mine with the lid on for 4 hours for a 7.5 – 8 pound roast, then uncover and roast for 1.25 – 2.25 hours more. You may need to go a little longer if your lid doesn't seal well or you are using foil to cover the pan. If unsure, check the temperature with an instant thermometer. The center of the meat should be 195 when removed from the oven.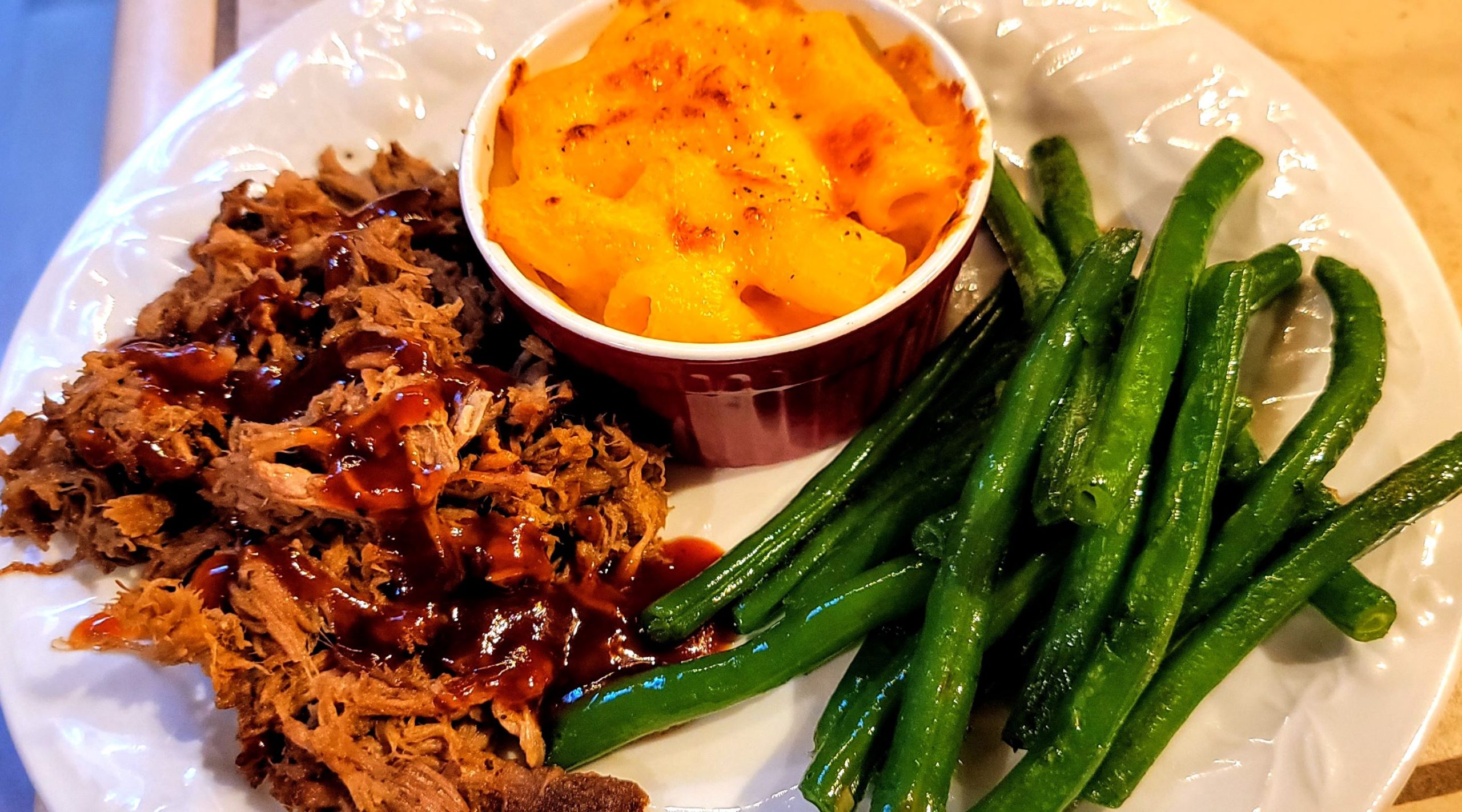 Tender Oven Roasted Pulled Pork (Gluten Free)
If you are looking for an easy meal that will feed a crowd, look no further. This delicious Tender Oven Roasted Pulled Pork is failproof and does not require much attention. Just make a few sides and you'll all set for dinner!
Equipment
1 5-6 qt. Dutch oven with lid or other pan with lid (or heavy foil to cover)
Ingredients
Pulled Pork
7.5- 8

lb.

bone-in pork shoulder

2

tablespoons

olive oil

2

tablespoons

Morton's Kosher Salt

1

tablespoon

smoked paprika. gf

1

tablespoon

paprika, gf

1

tablespoon

garlic powder, gf

2 ½

teaspoons

black pepper

1

teaspoon

coriander, gf

½

teaspoon

Aleppo pepper, gf

1

tablespoon

ground espresso

optional

1 ½

tablespoons

brown sugar

1

tablespoon

mustard seed, crushed, gf or 2 tablespoons Dijon mustard, gf
BBQ Sauce
1

6 oz.

tomato paste

8 oz.

water

½

cup

ketchup, gf

1

tablespoon

Dijon mustard, gf

¼

cup

balsamic vinegar

½

cup

maple syrup or ¼ maple syrup plus 1/4 cup honey

1

tablespoon

Worcestershire sauce, gf

2

tablespoons

apple cider vinegar

½

teaspoon

paprika, gf

1

clove

garlic, crushed

1

dash

cayenne pepper, gf

Salt and pepper to taste
Instructions
Pulled Pork
Cut most of the fat off the roast and discard. To a small bowl, add the salt, smoked paprika, paprika, garlic powder, black pepper, coriander, Aleppo pepper, brown sugar, mustard seed, and espresso, if using. Stir together to combine. If using Dijon mustard, instead of mustard seed, evenly coat the meat in the mustard. Evenly cover the meat in the the rub.

Preheat the oven to 300° F.

Heat a Dutch oven or a cast iron with the olive oil. Place the meat fat side down in the pan and sear the meat. Turn over and sear the other side, and then the ends. 

Set the meat fat side up in the pan. Pour ½ cup water at the bottom of the pan. This will keep the coating remnants from burning. Cover and roast for 4 hours. Uncover and baste with some of the juices.

Roast for another 1 ¼  – 2 ¼ hours, basting a few more times. Check for doneness using a fork to pull apart. The meat should pull apart easily and be very moist inside. You can also use a meat thermometer. The meat should come to 195 or so using an instant thermometer. It will continue to cook once removed from the oven. 

Pull apart using two forks and removing any large fat chunks. Skim off some of the fat and pour the juices over the meat, if desired. Serve with Homemade or store bought BBQ sauce, gluten free if needed. 
Gluten Free BBQ Sauce
Combine the ingredients in a small saucepan and simmer over low heat, stirring often, for 5-10 minutes. Cool or serve warm.