Jump to Recipe
Print Recipe
Want to jazz up a charcuterie board? These Spiced Sugared Mixed Nuts add flair to any charcuterie board, take your favorite fall salad to the next level, or can be simply enjoyed alongside a cocktail, or chopped up and sprinkled over frosted cupcakes, cake, or ice cream. They also pair well with so many foods, with their fall spice flavors! Everyone will be happy when you put these out with appetizers for that fall or holiday party! I love the pistachios in the mix, too, which I decided last minute! I think a fall salad with dried cranberries and Bosc pears would be perfect with these on top. Commercial candied nuts often contain ingredients that are not gluten free or are processed where wheat or gluten is; thus it is hard to find a certified gluten free brand in the store. But I have found one! It is Santé brand! The Sweet and Spicy Pecans are my particular favorite. They have many flavors of nuts and feature sweet, savory, and spicy varieties.
Just as it's hard to find gluten free nuts or candied nuts, it's also sometimes difficult to find gluten free spices. I like to use McCormick Schilling for most of my spice and herb needs, because their spices and herbs are all gluten free. Many spices are made in the same factory as other gluten containing products. Make sure if you are ordering a salad that contains candied nuts that you check to see if the nuts contain any gluten. Sometimes, the chef may not know, and then it would be best to order something else.
I dare you to not eat all these delicious nuts in one sitting!
~Laura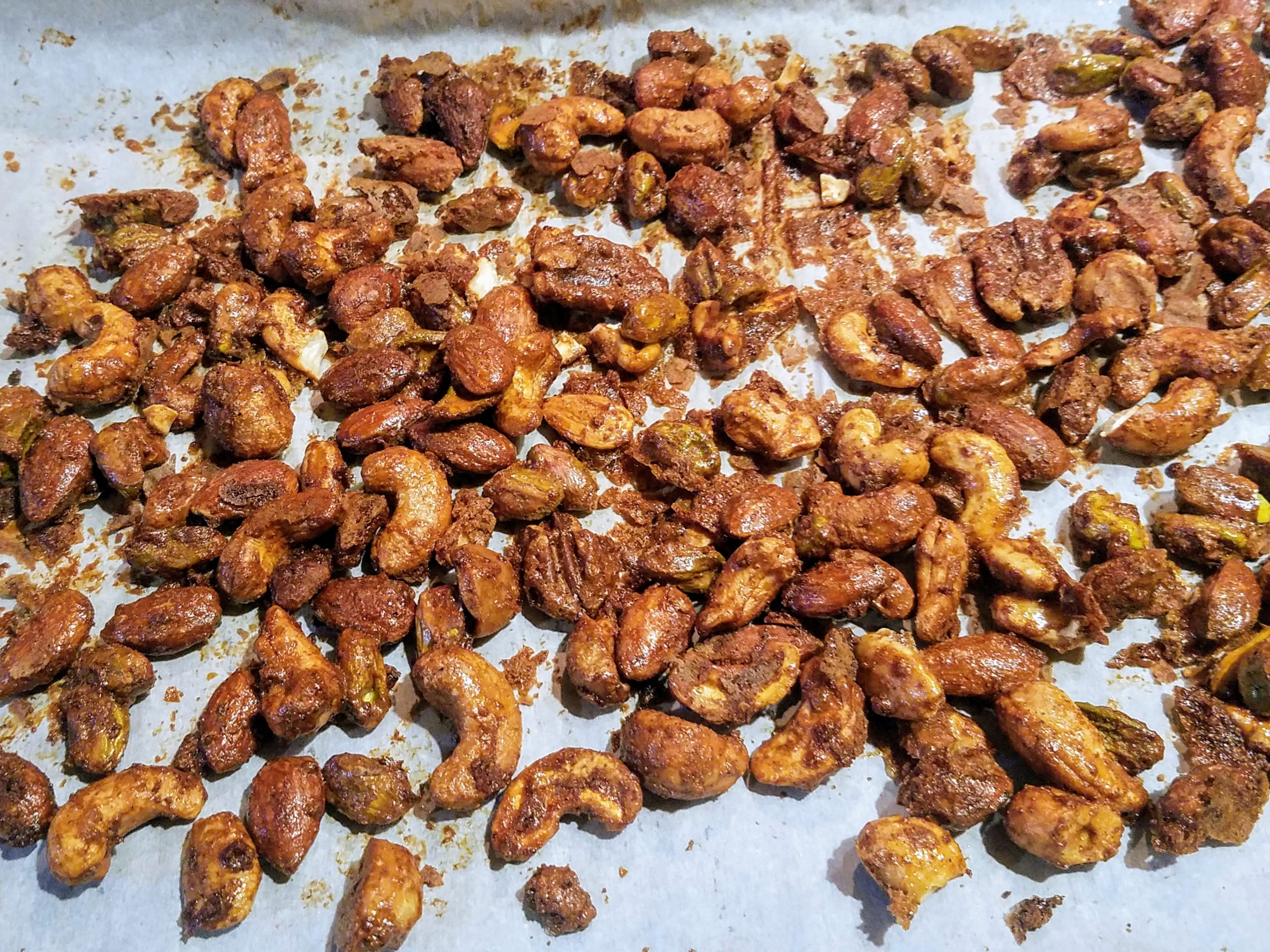 Spiced Sugared Mixed Nuts
Ingredients
2 cups salted mixed nuts (cashews, pistachios, pecans, almonds, macadamia nuts)

1 egg white, whisked

1 tablespoon Pure Maple Syrup

1/4 cup packed brown sugar

1/2 teaspoon McCormick's Paprika

1/2 teaspoon McCormick's Ground Cinnamon

1/2 teaspoon McCormick's Ground Ginger

1/4 teaspoon McCormick's Ground Allspice

1/4 teaspoon McCormick's Ground Nutmeg

1/8 teaspoon McCormick's Gourmet Ancho Chili Pepper
Instructions
Preheat the oven to 350 degrees F. Place a sheet of parchment on a baking sheet or baking stone bar pan.

Whisk the egg white with a fork until frothy. Add in the sugar, maple syrup and spices. Stir the nuts into the mixture to coat.

Pour the nuts onto the parchment and separate a bit.

Bake for 15-18 minutes until the coating sets. Turn off the oven and leave the pan in for 5 minutes with the oven off and the door closed. Remove to the counter to cool completely. Store in an airtight container.