Jump to Recipe
Print Recipe
Tapas and summer gatherings
I am in love with tapas! Small plates of tasty appetizers, usually to share, while enjoying wine or cocktails, are perfect food for a gathering or just to have with your family. In Spain, they often give a small tapa when you buy a cocktail or glass of wine!
You could host a tapas party and make a few yourself, then have everyone bring a favorite of theirs. We like to host people at our house in the summer. Summer time brings warm, calm nights, although lately they've been a bit too warm! For your next party, why not serve tapas and maybe just a simple charcuterie board loaded with cheeses, fruits, meats, and nuts, give your guests lots of variety.
What tapas to serve
For other tapa ideas you can make, try pan con tomate (or bruschetta, we like Roasted Rustic Tomato and Garlic Bruschetta), tortilla Espanola, bacon wrapped dates stuffed with goat cheese, Steamed Clams in White Wine, patatas bravas, or paella (recipe coming soon). Salads are perfect too; try a caprese salad or a beet salad.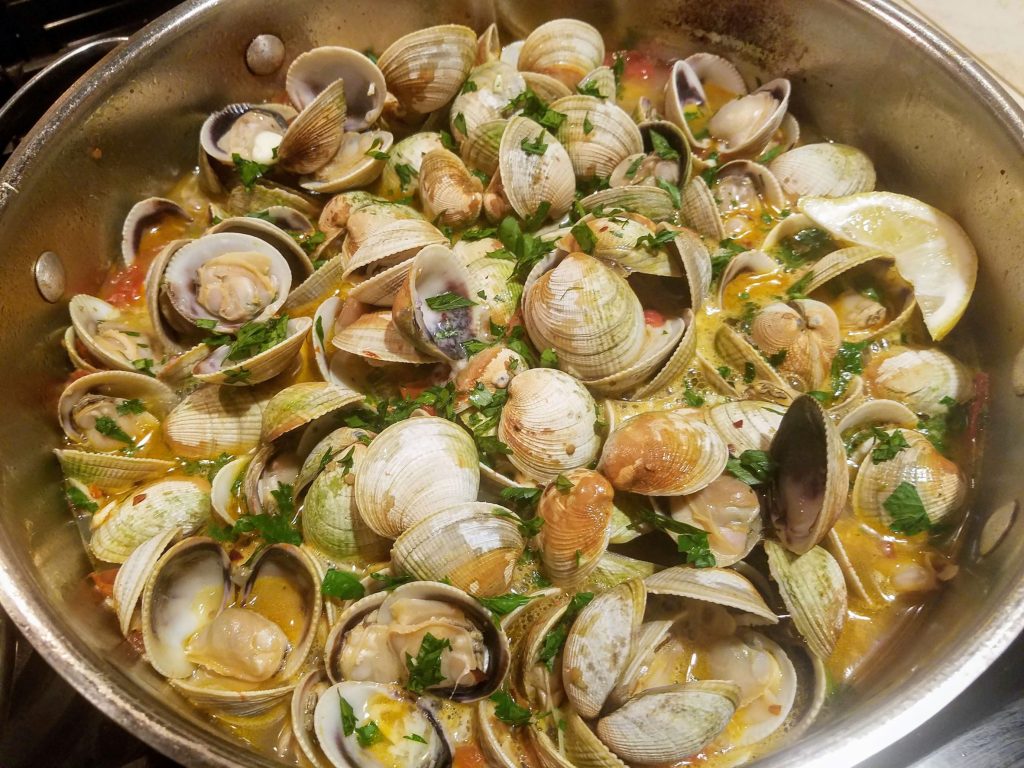 This dish can be served as a tapa, but also just as a side dish for your meal. Maybe you can even get some of your non cauliflower lovers to try it!
For what cheese to use on top, if you can't find Trader Joe's Creamy Toscano Cheese Soaked in Syrah, you might try Manchego, goat cheese, feta, or gruyere. You could choose to either grate, crumble or chunk on top, depending on the texture of the cheese. You could also make it dairy free if you use a dairy free cheese. I made some for a gathering and had one friend that was dairy free, so I plated a small amount for her and topped it with Trader Joe's Dairy Free Shredded Parmesan Cheese Alternative.
Local Bella Farms Olive Oils
The Bella Farms Lemon Olive Oil on this is amazing! I don't know if you can find it if you aren't local, but maybe find something that is close, or order online. Bella Farms is a local Santa Cruz County company. Our neighbors and friends picked some of the Lemon Olive Oil up for us at the UCSC Arboretum Store.
I'm in love with it! It has a delicious lemon flavor and is perfect for vinaigrettes, when using on fish, or drizzling over sauteed vegetables. It's the perfect compliment to the mild toasted cauliflower. Drizzle a tiny bit over a Caprese Salad for a small taste of lemony goodness.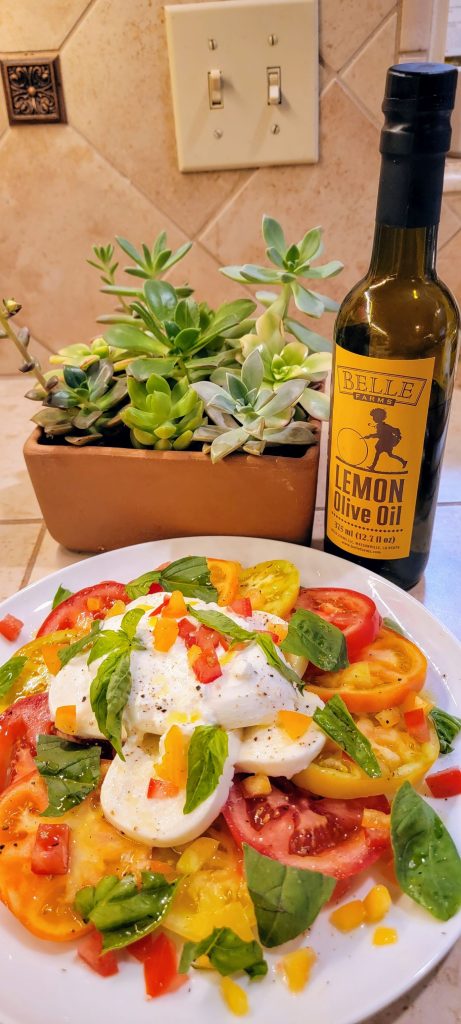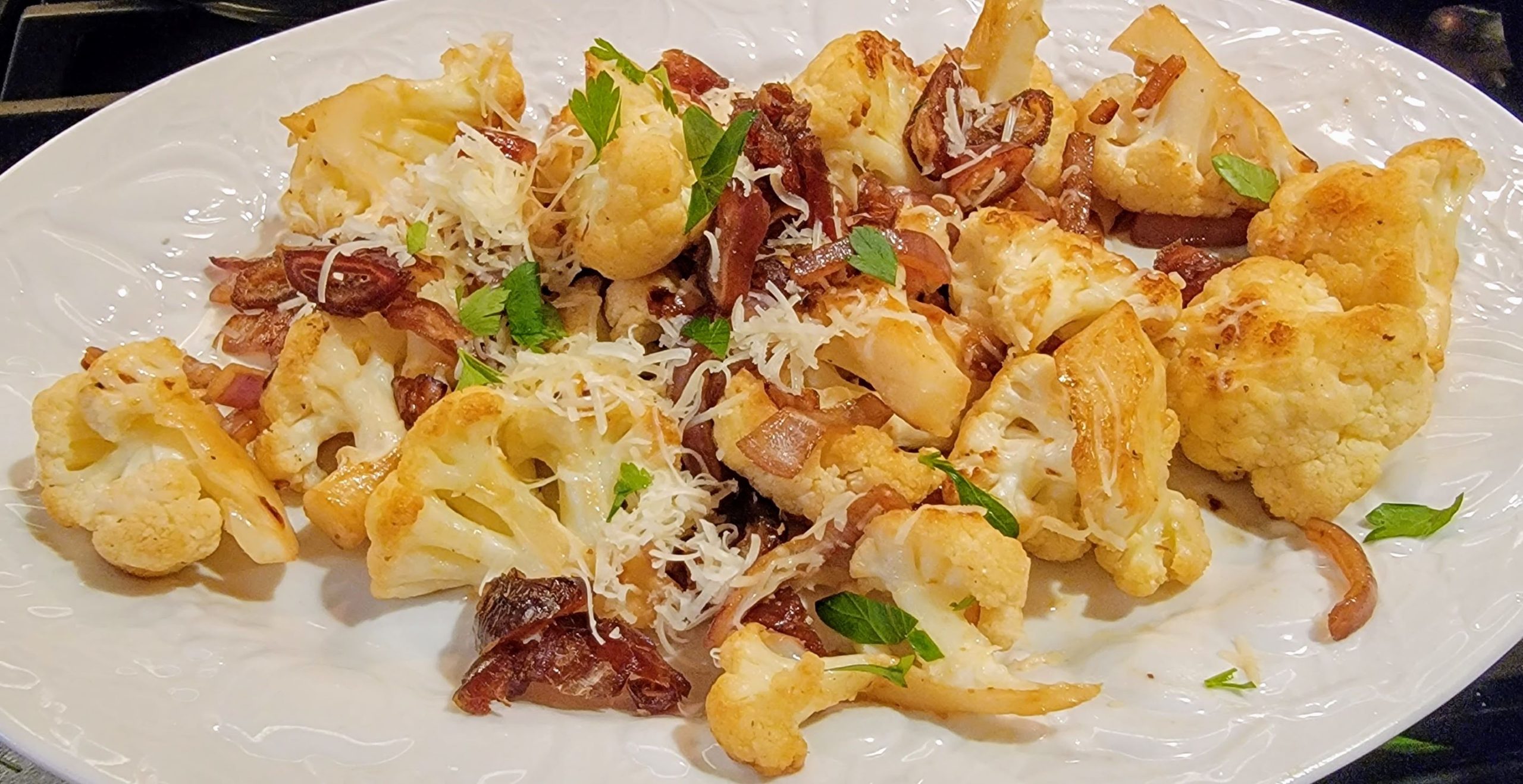 Toasted Cauliflower with Red Onion, Dates, and Creamy Toscano Cheese
Whether you serve this as an appetizer, tapa, or side dish to your meal, you will have happy diners! This dish balances the sweet and savory so nicely. A little drizzle of Santa Cruz County's Bella Farms Lemon Olive Oil is a special treat both inside and on top!
Equipment
1 large cast iron or heavy bottomed skillet

with cover
Ingredients
2

tablespoons

olive oil

extra virgin

2

tablespoons

Bella Farms Lemon Olive Oil

substitute plain olive oil or another lemon olive oil, divided

4

cups

bite sized pieces of cauliflower

¼

red onion, sliced and 1" long pieces

1

large clove

garlic, minced

¼

cup

dry white wine

2

tablespoons

water

¼

lemon, juice squeezed

5-6

pitted dates, sliced

⅓

cup

Creamy Toscano Cheese Soaked in Syrah, Manchego, Goat Cheese, Feta, or dairy free cheese

grated, crumbled, or chunked

sprinkle

of paprika, sweet or smoked, gf, to top

½

tablespoon

parsley, to top

1

tablespoon

honey, optional
Instructions
In a large skillet or cast iron, heat 1 tablespoon of the olive oil and 1 tablespoon of the lemon olive oil. Add the cauliflower and saute to toast. Add 1-2 tablespoons water to the skillet. Cover and steam the cauliflower for a few minutes, until it's softened slightly. Remove to a bowl.

Saute the red onion and garlic in remaining olive oil, reserving the remainder of the Lemon Olive Oil. Stir and saute until the onion is softened and beginning to caramelize.

Pour in the white wine and toss the cauliflower back in. Stir to reduce the wine.

To plate: Scoop the cauliflower, onion and garlic to a serving dish. Squeeze the lemon juice over the top. Top with date slices, grated or crumbled cheese, parsley, sprinkle of paprika. Finish with a drizzle of the Lemon Olive Oil. Add a drizzle of honey if you like.
Notes
This dish will be a great addition to any meal. It could simply be a delicious grilled steak or pork tenderloin. Since it has so many flavors in the dish, something simple might work best. See what you think. Easy to make, but shows some effort!