Looking for a salad that is both out of the ordinary and healthy? This tangy Pomegranate and White Bean Salad (Cannellini Bean) over Spinach is just the ticket.
This salad has enough protein from the beans that it can also be a lunch or main dish. I need my salads to have a bit of sustenance to them, otherwise I will be hungry in about an hour!
A perfect side to your Mediterranean meal
Mediterranean food is some of my favorite food and this salad would make a perfect side for a Mediterranean dish, maybe some Mediterranean Chicken Kebabs (Gluten Free) or even Paella Mixta made Gluten Free.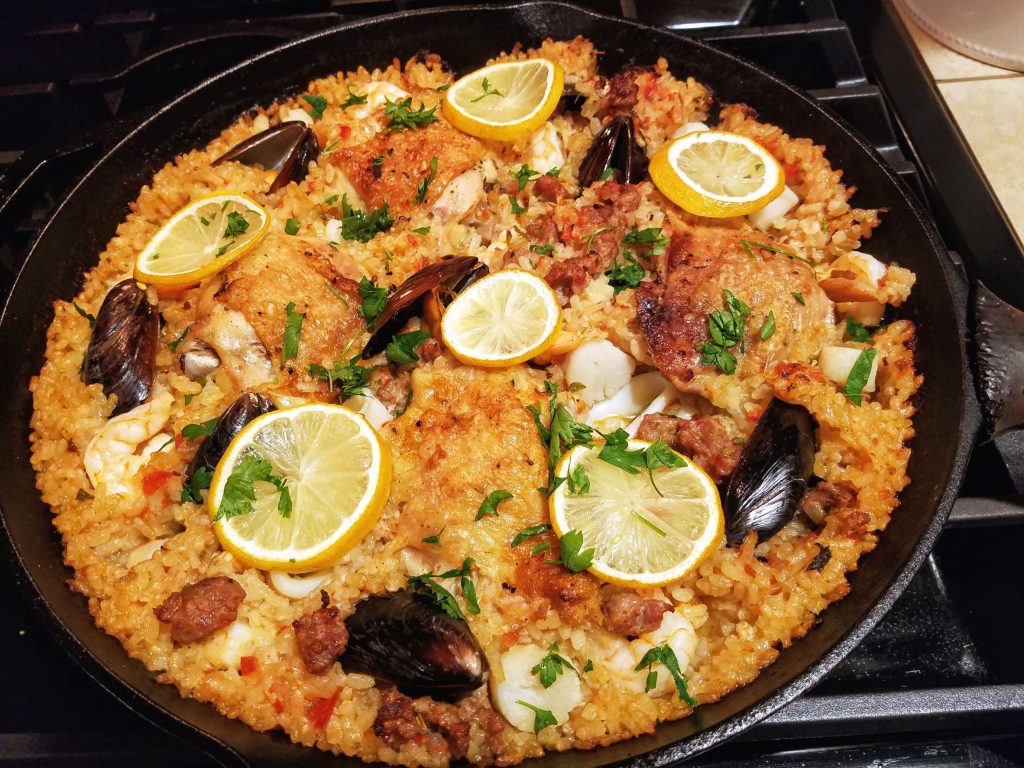 When you are unable to get fresh pomegranates, try Trader Joe's Organic Pomegranate Seeds. Although they aren't quite as good as fresh, they will still work in this recipe well.
For marinated artichoke hearts, one of my favorites is Trader Joe's Marinated and Grilled Artichoke Heart Halves. Amazon also has these in a two pack, Trader Joe's Marinated and Grilled Artichoke Heart Halves, 2 pk.
Health benefits of pomegranate seeds
Pomegranate seeds are high in Vitamin C, potassium, and magnesium, as well as being high in fiber content and also rich in antioxidants, which fight inflammation in our bodies.
I love pomegranate seeds! Usually I do tend to gravitate to produce I can easily get in season, but pomegranates are fruits that have a short growing season and thus they aren't available for much of the year.
Pomegranates have long been a favorite of mine, since I was quite young, I loved them. They are a fun fruit and garnish that I like to add to dishes for color, flavor, and texture.
You can make this salad dairy free
Make this Pomegranate and White Bean Salad completely dairy-free (it is already free of gluten)! Simply by leaving the parmesan cheese off or substituting a dairy free cheese alternative it can be made dairy free.
I think the Trader Joe's Dairy Free Shredded Parmesan Cheese Alternative is pretty good for a dairy free cheese. This review is coming from a cheese lover!
Now, I still wouldn't go overboard on the dairy free cheese. You don't want the coconut taste which many dairy free cheeses have to come through in this dish. However, I think in small amounts this cheese is pretty decent and has a taste of actually cow's milk parmesan cheese.
Also, I've used it on pizza for those that need to have a dairy free option, it seems to taste pretty good, again in small amounts. One observation is, it tends to not melt super well, however.
For the salad, you could simply have the cheese or cheese alternative on the side and pass with the dressing, so everyone can take what they like.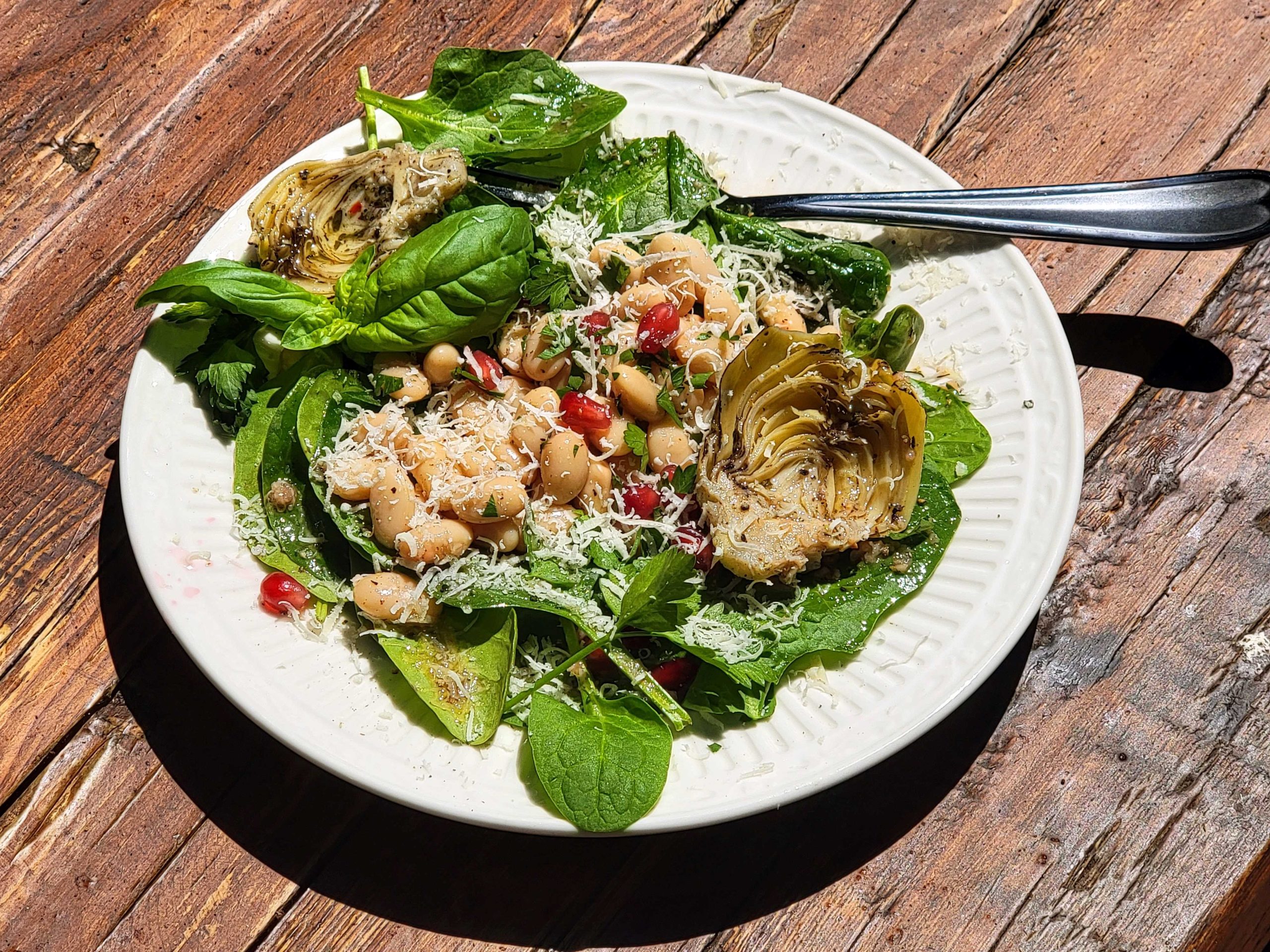 Pomegranate and White Bean Salad over Spinach (Gluten Free)
The flavors of this salad come together in perfect union! A little tangy and a little sweet dressing is the perfect compliment for this salad.
Ingredients
Pomegranate Dressing
⅛

cup

pomegranate juice

1

teaspoon

lemon juice

1

teaspoon

white wine vinegar or rice vinegar

gf

1

teaspoon

honey

¼

cup

olive oil

extra virgin or avocado oil

2

cloves

garlic, finely minced or crushed

¼

teaspoon

dried dill

gf

⅛

teaspoon

salt

more to taste

a pinch of crushed black pepper
Pomegranate and White Bean Salad over Spinach
5

oz,

spinach or baby spinach

triple washed

1

can

cannellini beans or white beans, rinsed and drained

½

cup

pomegranate seeds

½-¾

cup

marinated artichoke hearts

⅛

cup

fresh basil, leaves chopped or torn

⅛

cup

fresh parsley, chopped

¼

cup

freshly grated parmesan cheese

1

recipe of Pomegranate Dressing
Instructions
Add the spinach to a bowl. Top with the cannellini beans, the pomegranate seeds, and the artichoke hearts. Toss together or drizzle with the dressing. Add the chopped parsley and basil over the top. Sprinkle with grated parmesan cheese.
Notes
This salad looks very pretty plated on individual plates! You can drizzle each salad with dressing or just pass the dressing if you decide to serve the salad this way.