Gratin potatoes are a favorite of mine! Smothered in cheese, the best white cheddars, Dubliner and Tillamook Extra Sharp White Cheddar or another extra sharp white cheddar. The cheeses in this one take it to another level! The Dubliner is a white cheddar made in the county of Cork, Ireland. It is a firm cheese, with crystallized granules, and has a nutty as well as a little sweet flavor combined with the sharp cheddar flavor. I love this cheese! These gratin potatoes pair perfectly with Christmas ham, but sometimes you might just want a splurge of a rich side dish or main dish. Either way, these will satisfy! We love ours browned a little on top, but there are certainly no rules if you don't like that browned cheese layer. I have tried whole milk, half and half and heavy cream, but honestly mixing them I think makes the best. And then there is the debate of whether to add everything in the baking dish, or make a "roux" of the melted butter and flour (gluten free here in our recipe), then add the milk and cream, and thicken before layering the sauce with the potatoes. Both method's work and can create a nice creamy potato dish. It's starting to smell really yummy and they've been cooking about an hour! Don't rush these. They will need the full hour and a half for cooking.
Serve this to your gluten free and non meat eaters for a main dish and they will go away very happy and full after eating! Enjoy!
~Laura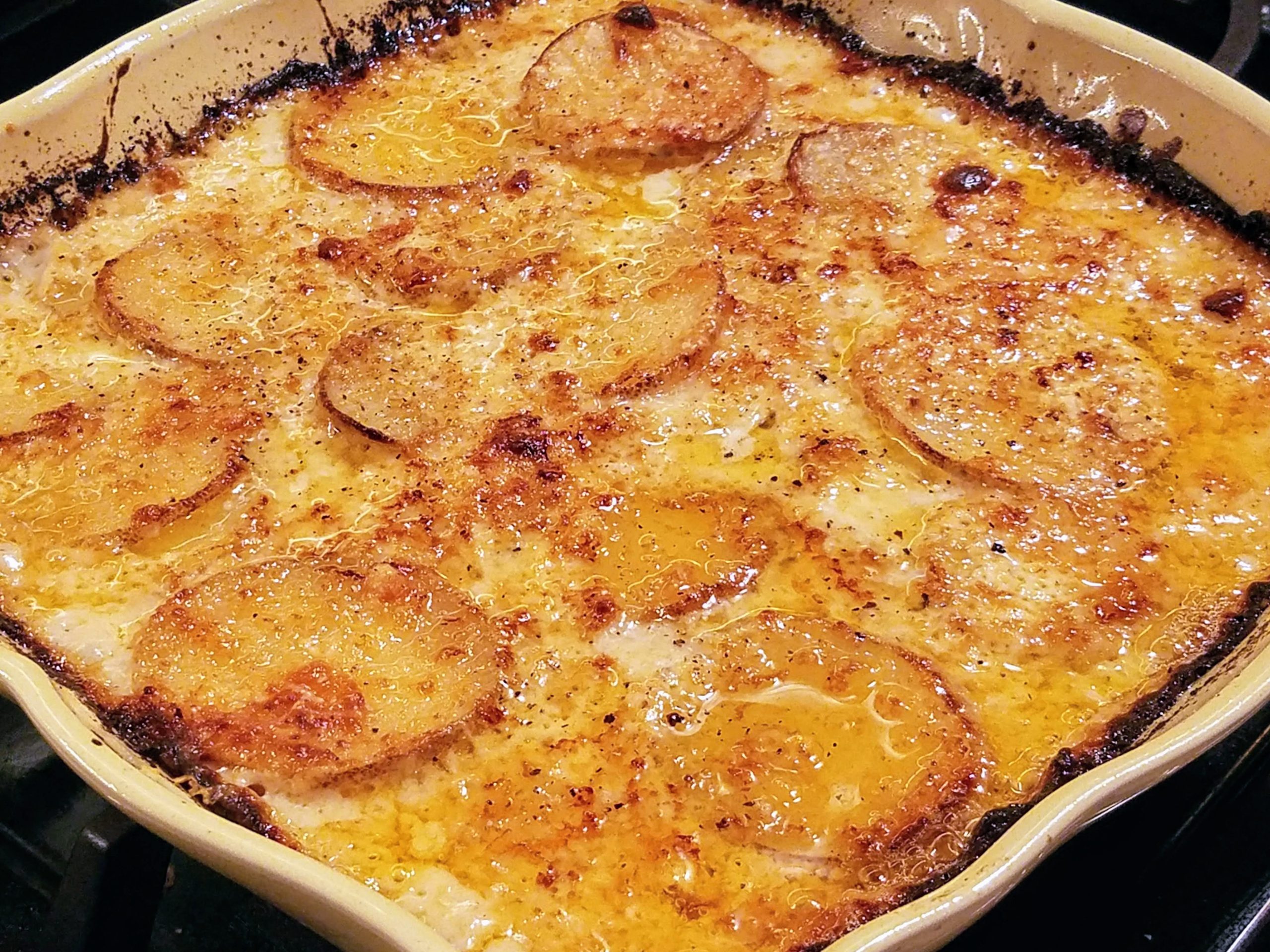 White Cheddar Cheesy Gratin Potatoes (Gluten Free)
Ingredients
4-5

russet potatoes, skins on, sliced with a mandolin or by hand, 1/8" thick

1 ½ tablespoons

olive oil

½ cup

minced onion (half of a small onion)

¾ teaspoon

salt

1 ½ tablespoons

butter

1 ½  tablespoons

1 to 1 gluten free flour blend of your choice

1 ½  cup

whole milk

½ cup

heavy cream

¼ teaspoon

paprika

gf

⅛ teaspoon

fresh ground pepper

Pinch of

nutmeg  

gf

2 ½ oz.

Dubliner white cheddar

grated (approximately 5/8 cup grated)

3 oz.

Tillamook Extra Sharp White Cheddar

grated (or substitute another cheddar) (approximately 3/4 cup grated)

2 ½ oz.

Fontina cheese or Gruyere cheese semi soft cheese

(or gouda or other semi soft aged cheese) cut into small pieces (approximately 5/8 cup pressed in)
Instructions
Grease a 9" square baking dish. Preheat oven to 375° F.

Reserve 1 ½ – 2 ounces of cheese for topping the casserole.

In a medium saucepan, heat the olive oil. Add the onion and salt and sauté on medium low heat until it is soft and lightly golden. Remove the onion to a small plate.

To make the roux, add the butter to the saucepan and melt over medium low or low heat. Add the flour and stir constantly with a wooden spoon or rubber spatula for 2-4 minutes, to make a smooth paste. Stir in the milk, cream, sauteed onion, paprika and pepper. Continue cooking over low or medium low heat until it begins to thicken. Remove from the heat.

Stir in the cheese until smooth, being sure to reserve the amount for topping the dish. Spoon a thin layer of cheese sauce on the bottom of the dish. Layer the potatoes and sauce in the dish, making 4-5 thin layers of potatoes, and topping each with a layer of cheese sauce. Pour the remaining sauce on top after all potatoes have been covered. Sprinkle with half the remaining cheese. And add a dash of nutmeg to the top.

Cover with foil and bake at 375° F for 1 hour. Turn oven up to 400° F. Remove from oven, uncover, and sprinkle with the rest of the cheese and bake for 25 minutes more, until browned. If you prefer the cheese more brown, put under the broiler for 3-5 minutes, watching as to not burn. Add fresh ground pepper to the top and serve.