These ribs come perfect every time, tender, moist and juicy. Covering and cooking in the Dutch oven creates its own steam so no liquid is needed. They do have quite a bit of fat which keeps them moist too!
In Need of a Good Dutch Oven
If you don't have a Dutch oven and are looking for a great one for a great price, check out this Tramontina Dutch Oven Set 2-Pack (Teal). I love both of mine! The large 6 qt. is great for larger recipe stews, ribs, and pasta sauces. The small 3.5 qt. is great for sourdough bread, and 2-3 servings of stews and soups. The 2-pack is under $100 at Amazon and way less if you can find at Costco as I did a few years back.
Perfect for Summer or Anytime!
Yes, ribs are the perfect summer food! However, we like to make these all year round because they are super easy and tasty! They are great for a crowd. And they cook perfectly every time! They are especially great to prepare when it's cooler out and you don't mind the oven on for a few hours. Today's a great day to make these since we are getting our first rain of the season!
Leave Dry or Add Barbeque Sauce?
We dry rub them so our guests can choose to add their own barbeque sauce if they like. We have several in our family that don't care for sauce on their ribs, so it works well to dry rub them. You can also grill these for 5-12 minutes just prior to serving. Use a hot grill. Add some barbeque sauce, and a few grill marks to them, if you like. Just don't grill too long, because you don't want them to dry out.
What to Serve these Ribs with?
Serve with your favorite sides, grilled corn, baked beans, fries, coleslaw, or salad. For a lighter side serve these with The Best Artichokes-ON or OFF the Grill or some Oven Roasted Potatoes (Gluten Free). A great side is also gluten free cornbread. Try Trader Joe's Gluten Free Cornbread Mix for a no-fuss cornbread. You can also easily make it from scratch. Paul's Favorite Sweet Gluten Free Cornbread is another great choice to accompany these delicious ribs.
Gluten Free Barbeque Sauces
For an easy barbeque sauce that is gluten free, try one of the many varieties of Sweet Baby Rays sauce or if you are looking for a spicy gluten free try Kinder's Organic BBQ Sauce Hot BBQ. Or maybe whip up your own sauce according to what you like. My family prefers a sweet sauce, so we mix ketchup, white or apple cider vinegar, honey, brown sugar, and worcestershire (gluten free). Add some cayenne pepper for a bit of spice, or Aleppo pepper. Make sure to use gluten free spices if needed.
You Can Roast on the Barbeque Also
These can also be roasted on the barbeque, in a foil tray. Just add a ¼ cup of water to the bottom of the tray and cover with heavy foil. Set the grill to low heat. Roast until tender, approximately 2-3.25 hours. Then grill for a few minutes over high heat, with or without sauce.
Enjoy!
Laura
Revised (5/23)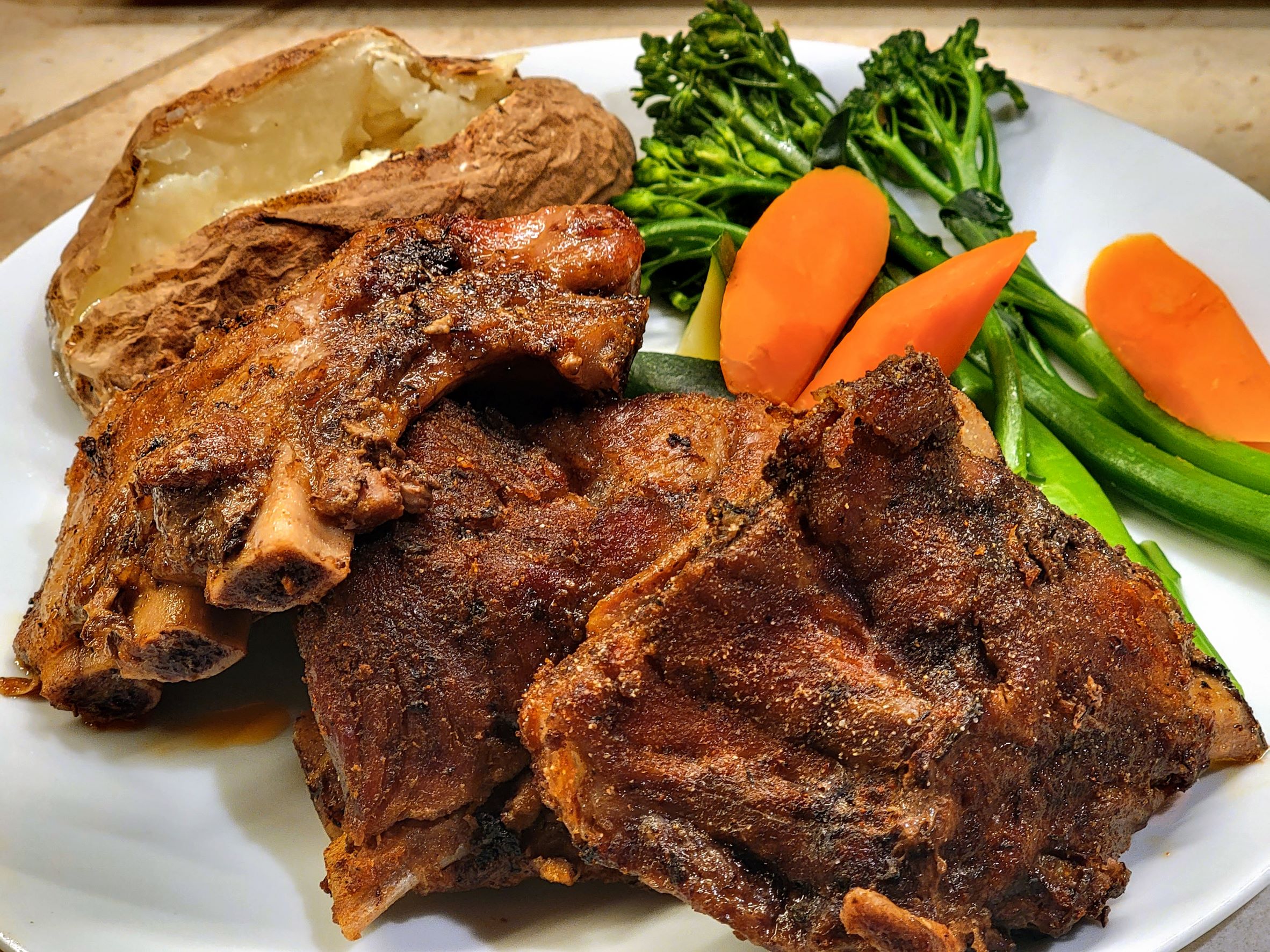 Tender and Moist Oven Roasted Baby Back Ribs
The perfect ribs every time! Enjoy them dry rub style or grill for add sauce and grill for a few minutes after roasting.
Equipment
1 6 quart Dutch oven with lid or roasting pan
Ingredients
2 (2-2.5lbs each) racks baby back pork ribs or pork St. Louis spare ribs

2- 2 ½ tablespoons dijon mustard

gf

1 recipe Spice Rub
Spice Rub
2 teaspoons garlic powder

gf

¼ teaspoon smoked paprika

gf

2 teaspoons paprika

gf

1 tablespoon brown sugar

2 teaspoons Kosher salt

1 teaspoon black pepper
Instructions
Preheat the oven to 275 degrees F.

Mix the spice rub dry ingredients together in a small bowl. Dry the ribs well. Rub the dijon mustard over evenly. Coat in the dry rub mixture, sprinkling and pressing on with your hands.

Cut each rack into 4 pieces. Make a tower with the rib pieces in the Dutch oven, leaving space so they aren't packed together. Cover with the Dutch oven lid. Bake 2-2.5 hours or until tender.

Remove from the oven. Heat a barbeque grill to high heat. Add the rib pieces and grill until they have a few char marks, basting with bbq sauce several times during grilling. 
Notes
I found when I am roasting 2 very large racks of ribs, about 5- 5 1/2 pounds total, I need to make 1 1/2 times the rub. Then also because the Dutch oven is pretty packed I think roasting for 3-3 1/4 hours in the oven was better.
You can always test  for doneness by taking a fork and pulling off a bit of the meat from one of the ribs. The meat should be very tender when the ribs are done.