These Delicate Lemon Blossom Cakes (Gluten Free) are both moist and delicious! They can also be served right in the parchment they were baked in! They are filled with flavor and the texture is really nice. Best of all, are the little browned crispy pieces that stick on the parchment paper. That's why we like to serve these in the parchment papers!
For the flours I combine several of Bob's Red Mill Flours
I've used a combination of @bobsredmill gluten-free flours for this recipe. I love their flours and use them in many of my recipes ❤️.
Using a combination of gluten free flours means I can control the texture of the baked good. Some need xanthan gum, while others, not so much. While gluten free 1 to 1 blends are great, they aren't a perfect substitute for every recipe.
I always have a wide variety of gluten free flours on hand for this purpose.
Perfect after a heavy meal
Delicate Lemon Blossom Cakes are the perfect dessert after a heavy meal, because they are so airy and light with delicate flavors as well.
Lemon curd ~ homemade or store bought
You can use my Meyer Lemon Curd recipe for the centers. I love to make this and use some of what's needed and then save the rest for waffles or pancakes or lemon tarts. It freezes well, or if you want to can it, it can be saved for up to 6 months.
You can of course, simply purchase a store bought lemon curd too.
One of my favorite lemon curds is Bonne Maman Lemon Curd, but I use Trader Joe's Lemon Curd a lot too. If you really love lemon curd (like I do) here you can get a pack of six, Bonne Maman Curd,Lemon 12.7 Oz (Pack of 6)! This may not last too long in our house!
For ease of this recipe you can use these Williams Sonoma Pre-cut Parchment Paper. I love having these on hand for making cakes also. It's also not a bad deal at the $14.95 retail for quantity of 50.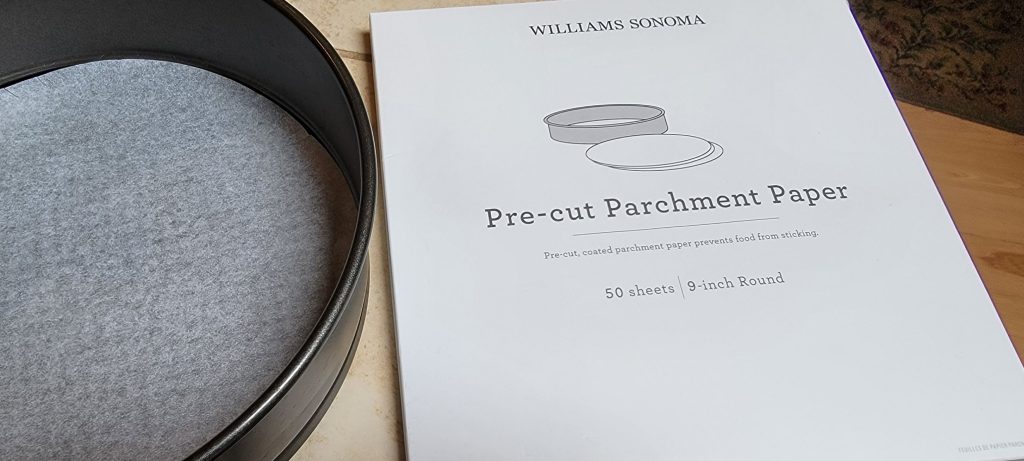 Of course, you can also cut your own parchment papers!
Can you make the lemon blossoms dairy free or egg free?
You sure can! Just use dairy free butter or 1/2 dairy free butter and half canola or vegetable oil in the recipe in place of the butter. Then use dairy free milk instead of whole milk. Be sure to get gluten free substitutes, if you need that. Not all dairy free milk alternatives are gluten free, nor are all dairy free butter substitutes.
It may be harder to find a dairy lemon curd, but you can certainly make my Meyer Lemon Curd recipe with dairy free butter, instead of real butter.
You can certainly use flax eggs in the cake here, but I don't know a great substitute for the eggs in the curd. I suppose it would be using cornstarch or gelatin to thicken the curd. Of course, without the egg, I guess it's really not lemon "curd".
Serve these Delicate Lemon Blossoms on a spring or summer day
While they are great for a spring or summer day, often in winter we have an abundance of lemons. If you do also, you can whip up a batch of these and it will brighten the gloomiest of days!
I hope you enjoy these and much as I do ~
Laura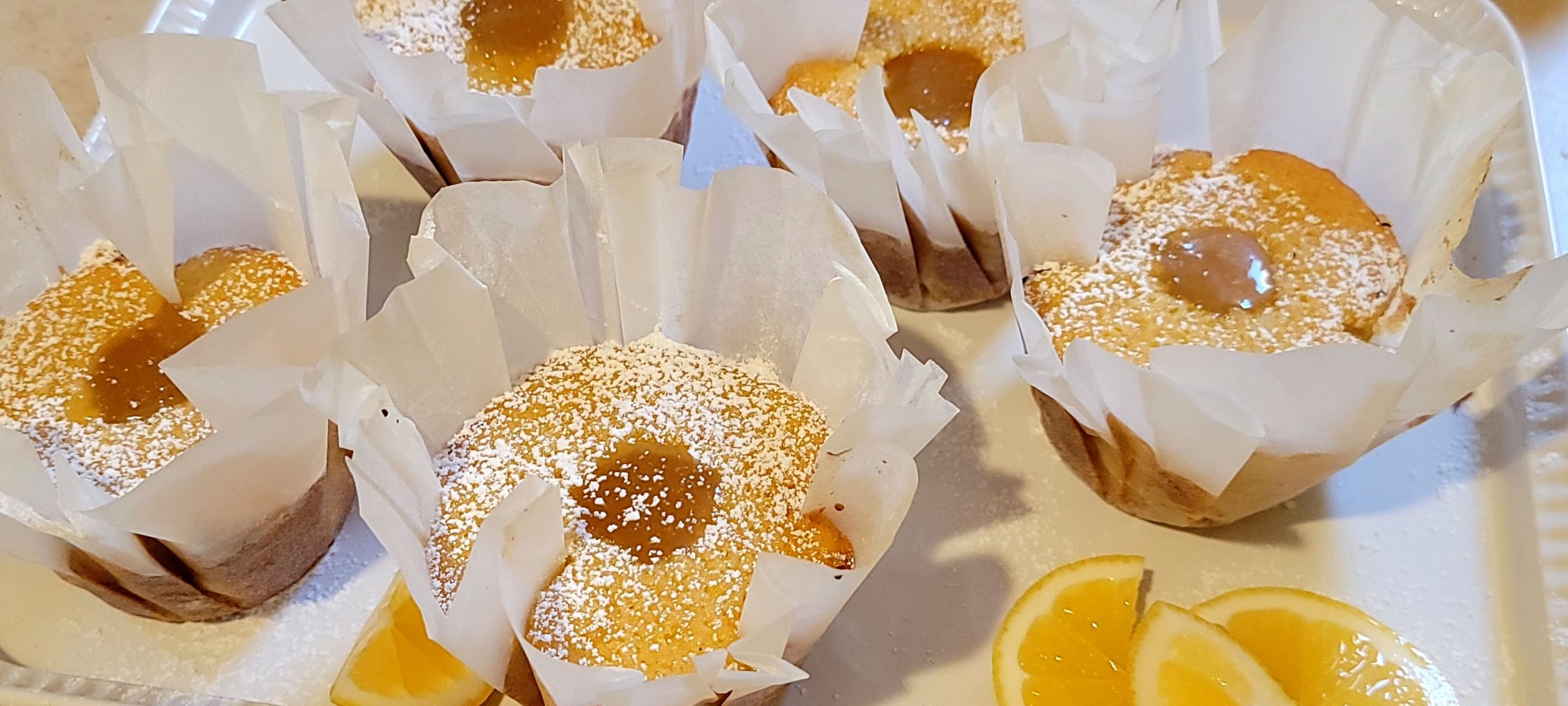 Delicate Lemon Blossom Cakes (Gluten Free)
Equipment
1 or 2 6 holes large cupcake pan
Ingredients
1 cup butter or dairy free butter

or ½ cup butter or dairy free butter substitute plus ½ cup olive oil or canola oil

1 ½ cups cane sugar

½ cup honey

or ¼ cup honey ¼ cup maple syrup

2 large eggs

1 large egg white 

1 tbsp vanilla or vanilla paste

gf

1 cup Bob's Red Mill Gluten Free 1 to 1 Baking Flour

1 cup Bob's Red Mill Tapioca Flour, gf

or other gf brand

¼ cup Bob's Red Mill Organic Brown Rice Flour, gf

or other gf brand

½ cup Bob's Red Mill Oat Flour, gf

or other gf brand

½ teaspoon baking soda

2 ¼ teaspoons baking powder, gf

gf

⅔ cup milk or dairy free milk substitute, gf

gf

1 tbsp white vinegar

gf

1 tbsp lemon zest

2 ½ tbsp lemon juice

1 tbsp limoncello

gf or substitute lemon juice

¼-⅜ cup Meyer Lemon Curd

or store bought lemon curd

12 fresh raspberries

for the center of each blossom, if desired
Instructions
Preheat the oven to 350 degrees F. 

Using 9" round sheets of parchment make the tall cupcake liners. Set one round over the bottom of a glass that fits inside your cupcake pan holes. Push down on the outside of the parchment to make a pleated, tall, "cup-like" liner. Grease the bottoms of the cup only. Set in large cupcake holes. 

In a mixing bowl, beat the butter (or butter and oil), sugar and honey. Add the eggs, one at a time and beat until incorporated. Add the egg white and vanilla and beat in. 

Sift together the 1 to 1 flour, tapioca, brown rice flour, oat flour, baking soda, and baking powder in another bowl.

Stir the milk and vinegar together in a small bowl. To the mixing bowl, add one third of the flour mixture and beat in. Add one third of the milk/vinegar and mix in. Continue adding the flour mixture and milk mixture, alternately.

Stir in the lemon juice, lemon zest, and limoncello. (or additional lemon juice).

Let sit for 10 minutes. Spoon into the cup liners, two thirds full, only.

Bake for 20-25 minutes or until a toothpick inserted in the center comes out clean. Remove to a wire rack to cool.

Push down in the center of each cake. Add a ½ -1 teaspoon of lemon curd or raspberry jam. Sprinkle each with powdered sugar, keeping the center free.

Add a fresh raspberry to the center if you like. Serve each cake in the parchment. Each recipient will unwrap their blossom cake as they are eating (and not miss any of the crispy browned cake pieces on the top portion of the parchment). 
Notes
This recipe can also be used for a 9 inch, 2 layer cake. Use parchment or grease and flour the bottoms and sides of the pans. Bake at 350 for 28-30 minutes or until a toothpick comes out clean. Cool before adding lemon curd to the center and frosting with lightly sweetened whipped cream or vanilla buttercream. Top or decorate with raspberries.