This Creamy Pumpkin Bisque is a winner in my book! I not only love the little bit on spice on the tongue, but also just the combination of herbs. So good! I could just eat this for a meal for sure, with some buttered tortillas or maybe a gluten free rustic bread.
Such an easy soup to put together
Easy to put this soup together as almost all the ingredients go in at the same time. Then just simmer for 25-30 minutes until the vegetables are tender and the flavor in incorporated, then puree. Finally, just add the cream and optional goat cheese just prior to serving. It's so easy!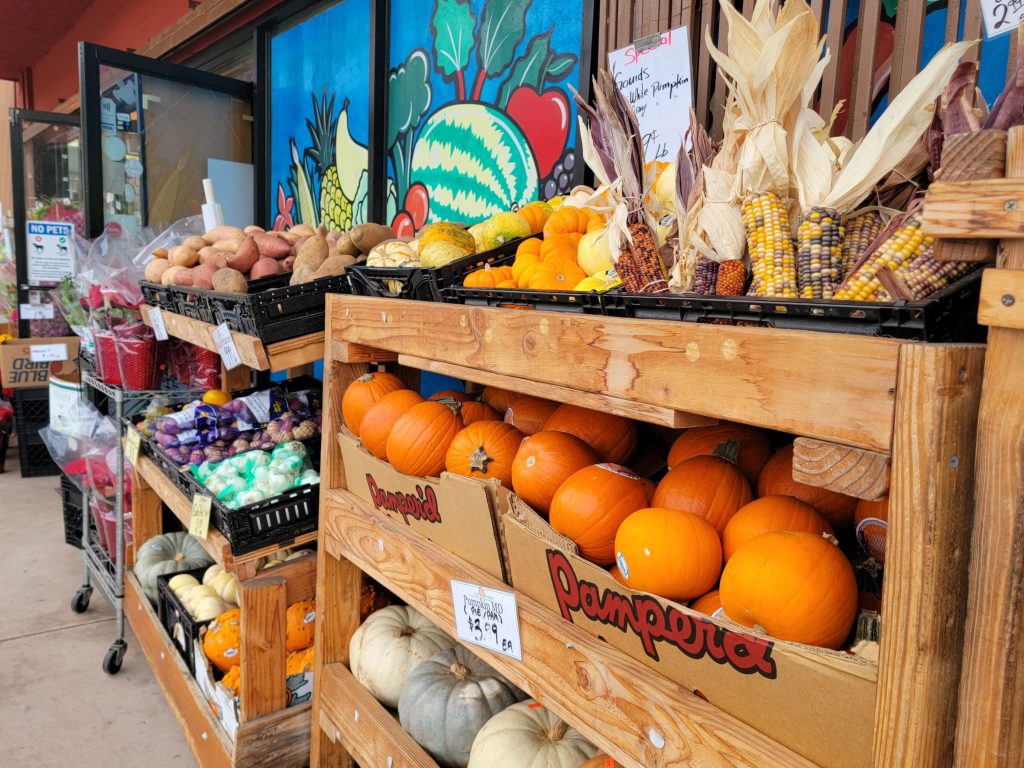 Repurpose your fall pumpkins after Thanksgiving
When pumpkins are in season, I like to use them all over the house for decorating. After the season, I repurpose by roasting the flesh. I will often freeze the roasted pumpkin for a later date. I love pumpkin muffins and pumpkin cupcakes, but also for this soup and others. For this soup, you don't even need to puree it, so I literally just freeze the roasted pieces sealed in a freezer bag or container.
You can also use the exterior of the pumpkin
You can also repurpose both the smaller and larger decorative pumpkins. Simply cut off the top of each, using a very sharp knife, then scoop out the interior of each. The larger pumpkins make a great soup "tureen" while the smaller ones, are perfect for serving small portions of soup in.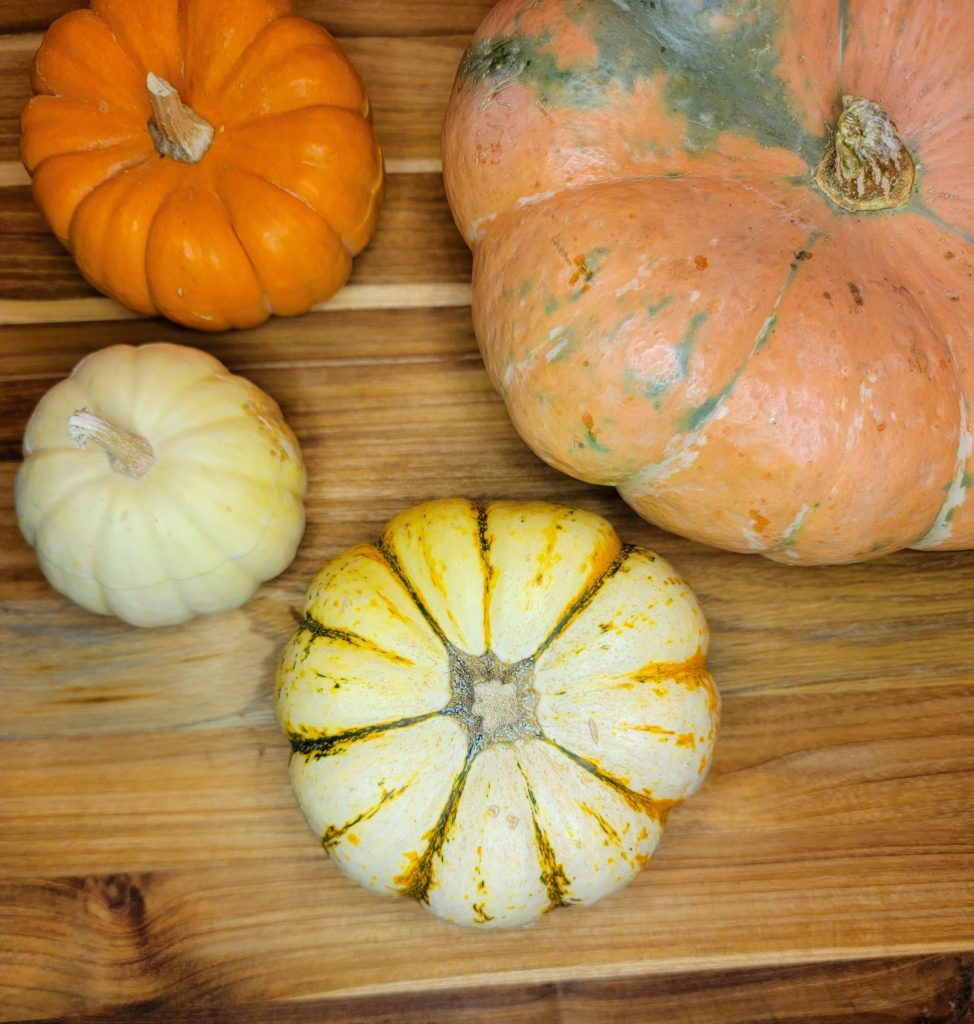 Another idea for the little pumpkin "bowls" is to fill them with crème brûlée or pot de crème. Our Maple Pumpkin Crème Brûlée (Gluten Free) or our Pumpkin Spice Pot de Crème (Gluten Free) would be great choices to fill the pumpkin shell with.
And lastly, you can even roast the pumpkin seeds from your repurposed pumpkins! Now, granted they may not be as plump as the "pepitas" you buy, but they will still taste yummy.
Simply rinse off any stringy pumpkin remains, then add them to a saucepan and cover with water. Add some salt and simmer for 15 minutes or so. Then drain, and pour the seeds into a bowl. Add a teaspoon or two of olive oil, and a sprinkle of salt. You can add seasoning here if you like too: cumin, garlic powder, and chili powder would be great on these. Spoon onto a sheet pan or toaster oven tray and roast for 25-35 minutes at 300 degrees. They should be just a little golden. After cooling, these make a great snack! Or shell them for using to sprinkle on top of bowls or cups of this soup.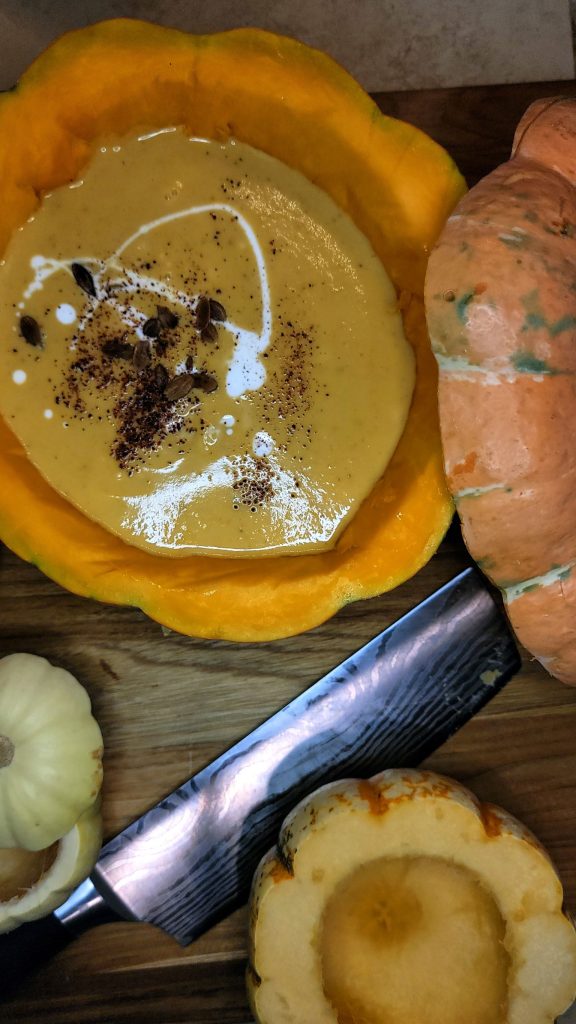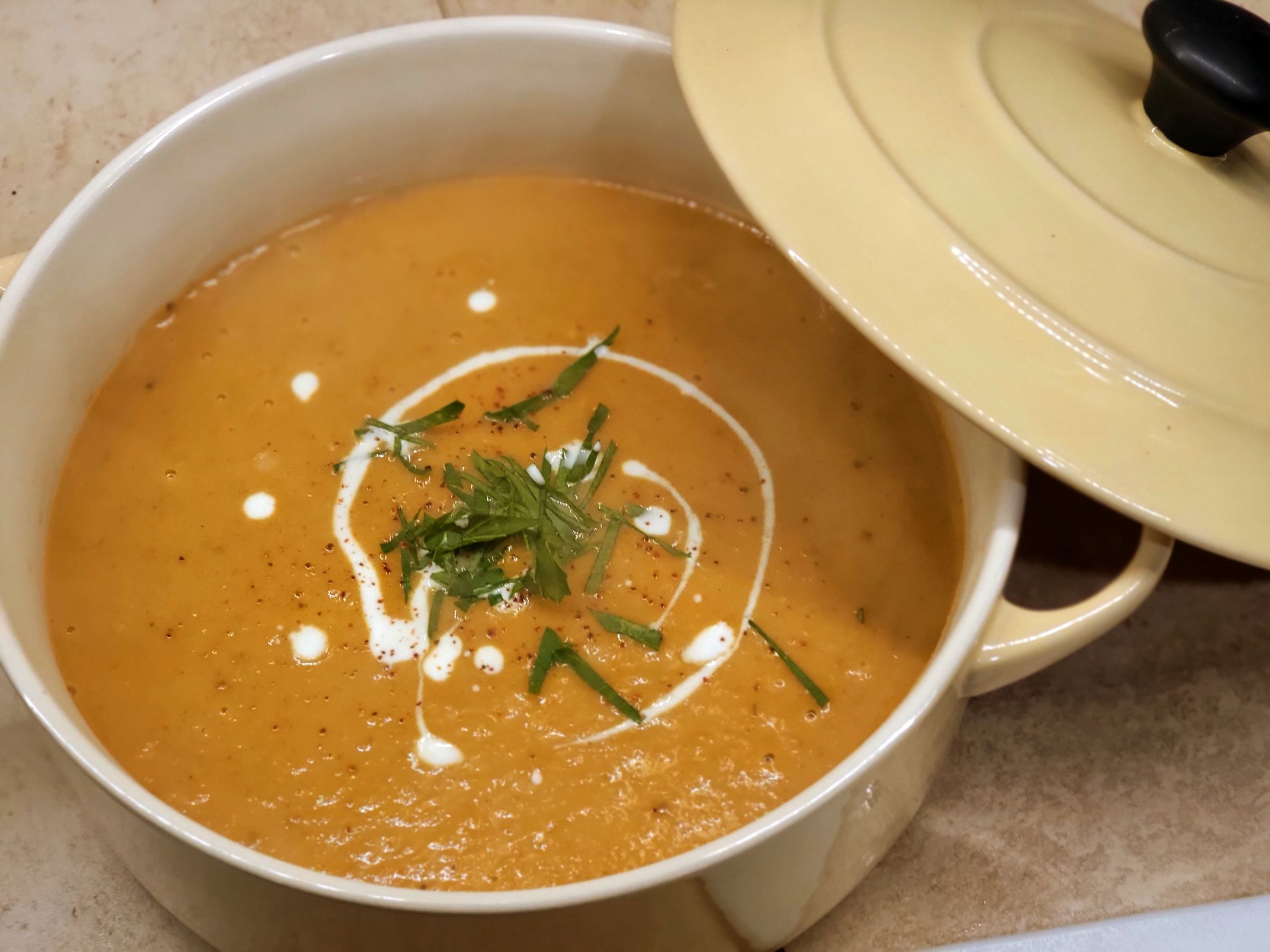 Creamy Pumpkin Bisque (Gluten Free)
This Mexican spiced pumpkin bisque is perfect for a starter or main dish for lunch or a light dinner.
Equipment
1 5 quart saucepan with lid

1 emulsion blender, Vitamix, or other blender
Ingredients
2

cups

roasted pumpkin or pumpkin puree

or substitute roasted or chopped butternut squash

4¾

cups

water

or broth, gf

2

stalks

celery, minced

1

large

onion, diced

1

large

clove garlic, minced

2

small

2 small carrots, minced

½-1

jalapeño, seeded and membrane removed, diced

optional, omit for less spice

1

whole

dried red chili pepper, gf

optional, omit for less spice

2

tbsp

orange juice

1½

tbsp

olive oil

½

teaspoon

dried thyme, gf

½

teaspoon

paprika, gf

½

teaspoon

dried oregano, gf

½

teaspoon

fennel or anise seed, gf

1

teaspoon

ground coriander, gf

½

teaspoon

cumin, gf

1½

teaspoons

chili powder, gf

1

teaspoon

Kosher salt

if using broth, start with ½ teaspoon Kosher salt

Pepper to taste

handful of cilantro leaves, minced

1½-2

oz.

goat cheese

optional

¼-½

cup

heavy cream or half and half
Instructions
In a 5 quart saucepan, add the pumpkin pieces or puree, water, celery, onion, garlic, carrots, jalapeño (optional), whole red chili pepper (optional), olive oil, and orange juice. Add the thyme, paprika, oregano, fennel seed, coriander, cumin, chili powder, and salt. Cover and simmer for 25 – 30 minutes or until the vegetables are soft. Remove from the burner. 

Remove the whole red pepper or chop it up to add some into the soup. Use an emulsion blender or a Vitamix to puree the soup until very smooth. Add the minced cilantro and puree for a minute more. Cover to keep hot.

When ready to serve, reheat until the soup is the temperature you like. Remove from the burner and stir in the goat cheese (optional) and cream. Add more salt and pepper to taste. Garnish the soup tureen or bowls with chili powder, minced green onion, cilantro, or roasted pumpkin seeds.
Notes
This soup can either be made with or without the spiciness. If you prefer little or no spice, omit the whole red chili pepper and the

jalapeño

. If you like a lot of spice, use them both. For just a little, just pick one of the two to use, either the diced

jalapeño

or the whole red chili pepper.