Is there anything better than a zeppole, hot and crispy fried dough balls drizzled with honey atop! Yum! This was part of my Grandma Rose's tradition, to make these every Christmas Eve, to finish off the Feast of the Seven Fishes. We didn't always love the fish entrees of this celebratory evening as kids, but we loved these fried Italian donuts, called zeppole! I haven't enjoyed one for so long, but have been making churros gluten free for years, so why not try my hand at a gluten free version of a zeppole.  On first try, although they rose perfectly, and had a crisp exterior and slightly doughy interior, these didn't have the delicious wheat flour taste and seemed a little flat in taste. So my version is not traditional, I suppose, as it contains a little vanilla and a little honey in the dough, which normally does not contain any vanilla or sugar (or honey) except the sugar to activate the yeast. The millet or sorghum flour also gives the gluten free zeppole a better taste. The gluten free version was lacking and this small tweak made a huge improvement. In the process of researching I found a wonderful video of an Italian mama making these in Calabria, and some articles that explained a few things about these treats; these delicious treats were first made as a treat when ovens were not commonly found in Southern Italy, where my grandfather lived with his family. I can picture my great grandma making these in their home. Zeppole became a traditional treat to serve for any and every celebration. I think I may adopt this as a new tradition; to serve these at every celebration. You can top them with granulated sugar, honey or powdered sugar for a few variations and even fill them with savory fillings. I may try a pizza filling! Sounds delicious! And although my grand daughter wouldn't try them, I think with a few sprinkles on top, I could even coax her to try!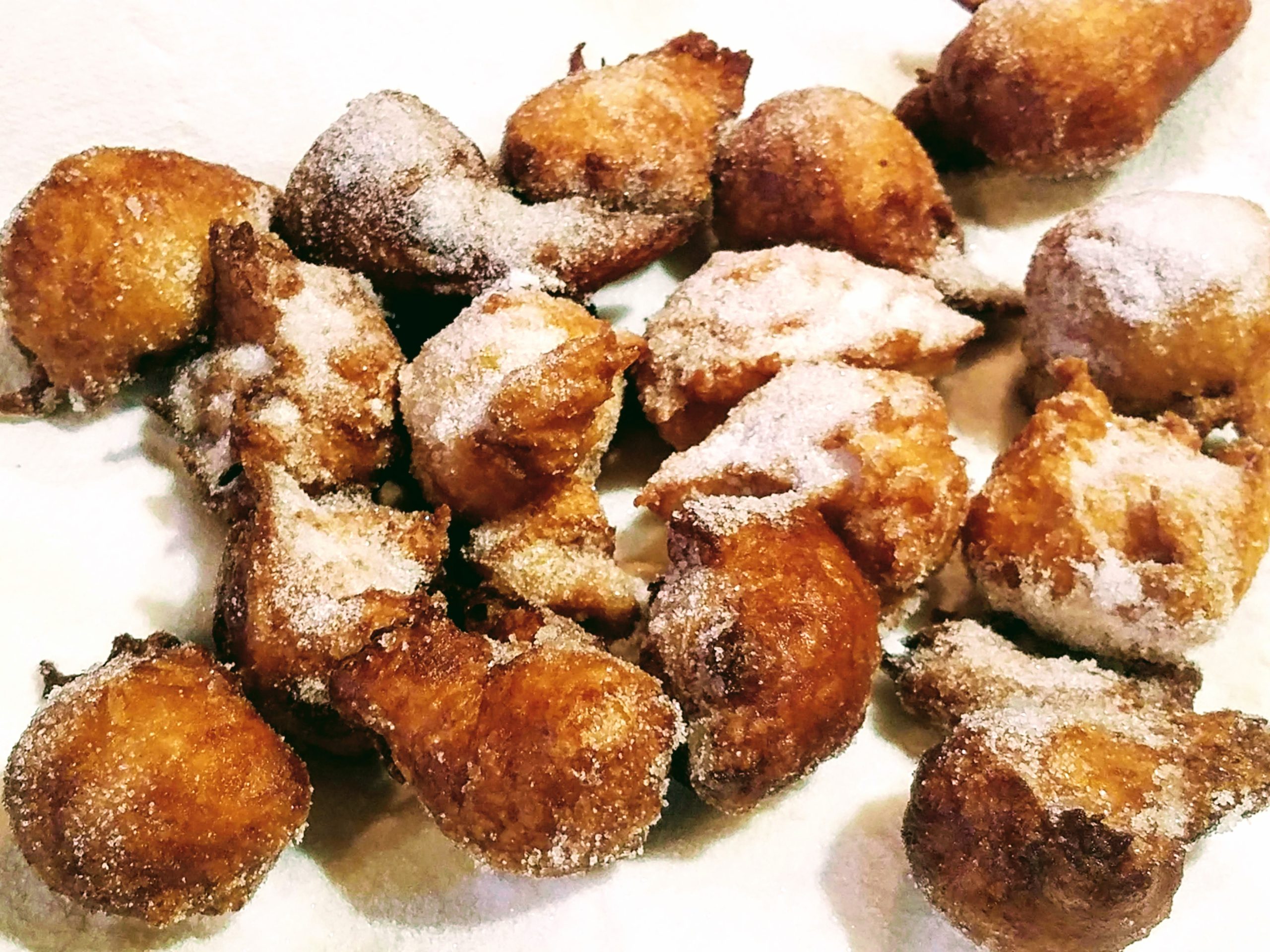 Gluten Free Zeppole (Italian Fried Soft Dough)
Ingredients
1 cup tap warm water

1 ½ teaspoons olive oil

1 ½ teaspoons of gluten free yeast (gluten free brand)

1 tablespoon granulated sugar

½ cup (60 grams) Ryze Brown Rice Flour blend (gluten free)

1 cup (120 grams) Bob's Red Mill Millet Flour or Bob's  Red Mill Sorghum Flour (gluten free)

½ cup (55 grams) Bob's Red Mill Tapioca Starch (gluten free)

¾ teaspoon salt

1 teaspoon vanilla

1 ½ tablespoons honey

2 quarts of vegetable oil for frying

½ cup sugar, honey or powdered sugar for coating after fried
Instructions
Stir together gently the water, yeast, sugar and olive oil in a small bowl. Let the yeast mixture sit at room temperature for 25 – 30 minutes, until bubbly and yeasty smelling.

In a medium bowl, mix the Ryze flour, millet or sorghum flour, tapioca starch and salt together.

To the dry ingredients, stir the bubbly yeasty mixture in.  Stir until just combined. Add the vanilla and the honey and stir the mix in. Cover with cellophane and let sit in a warm place for 1-2 hours. The dough can be covered and refrigerated for 3 or 4 hours when it is finished rising.

Remove the dough one hour before and let come to room temperature.

Prepare a cooling rack with a clean paper bag and several layers of paper towels on top of the bag. Place the cooling rack over a tray or large platter. When ready to fry, in a large saucepan, heat the oil over medium high heat to a temperature of 375 degrees F, using an instant thermometer or candy/frying thermometer. Keep the temperature as close to 375 degrees as you can (but not over 395), adjusting the stove as needed to keep near this temperature.

Scoop a spoonful of dough into the hot oil, using a tablespoon and a rubber spatula or another tablespoon, scraping off the dough gently into the hot oil with the spatula or other tablespoon. Fry 4 to 5 at a time. These will fry until golden brown, but approximately 3 minutes each side. Remove with metal tongs from oil once golden brown on all sides.

Sprinkle each batch with granulated sugar, rolling in the excess to coat. Or wait until the whole recipe is cooked and plate them and drizzle with a few spoons of warm honey. You can also use powdered sugar if you prefer. Either way, you'll love these warm donuts. Definitely a reason to celebrate!