I love basil pesto! Whether it's on pizza or over a bowl of pasta, I love the flavors. You can make your own easily or purchase a store bought one, gluten free if needed. For this Cheesy Pesto Chicken dish I often just a store-bought pesto, unless I happen to have some homemade in the freezer.
A few of my favorite gluten-free pestos
I like to keep jars of my favorite, Cucina and Amore Pesto Alla Genovese Basil, in my pantry! It's gluten-free and delicious! Check out their other amazing pesto, bruschetta toppings, sauces, and so much more! The Artichoke Lemon Pesto Alla Firenze is a wonderful choice too! They also have a Pesto Variety Pack which I've yet to try, which includes one jar of each: Vegan and Nut-Free Pesto and a Pesto Siciliana Sun-Dried Tomato, plus the Pesto Alla Genovese and the Artichoke Lemon.
Want an easy dinner? Check out their pesto and sauces and create a great dinner without much effort!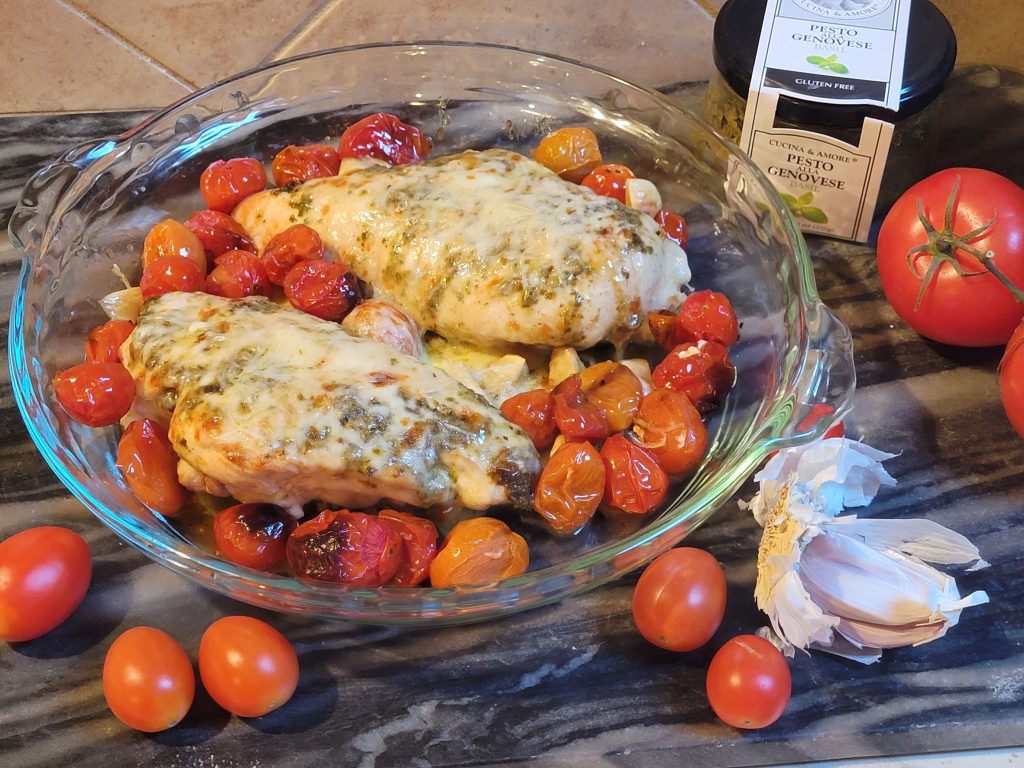 Cheesy Pesto Chicken combines delicious flavors in one dish
In this dish the pesto is just one of the flavors. Combined with caramelized heirloom tomatoes and lots of garlic, stringy melted mozzarella, and sharp parmesan, it's pretty near perfect in my opinion!
Don't you love caramelized tomatoes? If you've never tried roasting your tomatoes for bruschetta, it's amazing. Try our Roasted Rustic Tomatoes and Garlic for a great bruschetta variation. Then top toasted bread with it and your favorite bruschetta toppings: whatever cheese you like, artichoke hearts, basil, and balsamic. We love this dish when we feel like pizza but don't have dough ready to go! The tomatoes roast pretty quickly an you can get your fix of tomatoes and cheese (and basil) for a great dinner or side. Try this dish with a grilled steak. Yummy!
How to serve this Cheesy Pesto Chicken?
I think the best way is simply over a bowl of lightly olive oiled pasta. The chicken has more than enough flavor and caramelization from the tomatoes that you don't need any sauce.
You could also try this dish with brown rice or oven roasted potatoes. Any of these sides would be great choices.
A simple vegetable or mixed green salad would make a second great side. When I want to go full Italian, I'll serve this with The Best Artichokes On or Off the Grill.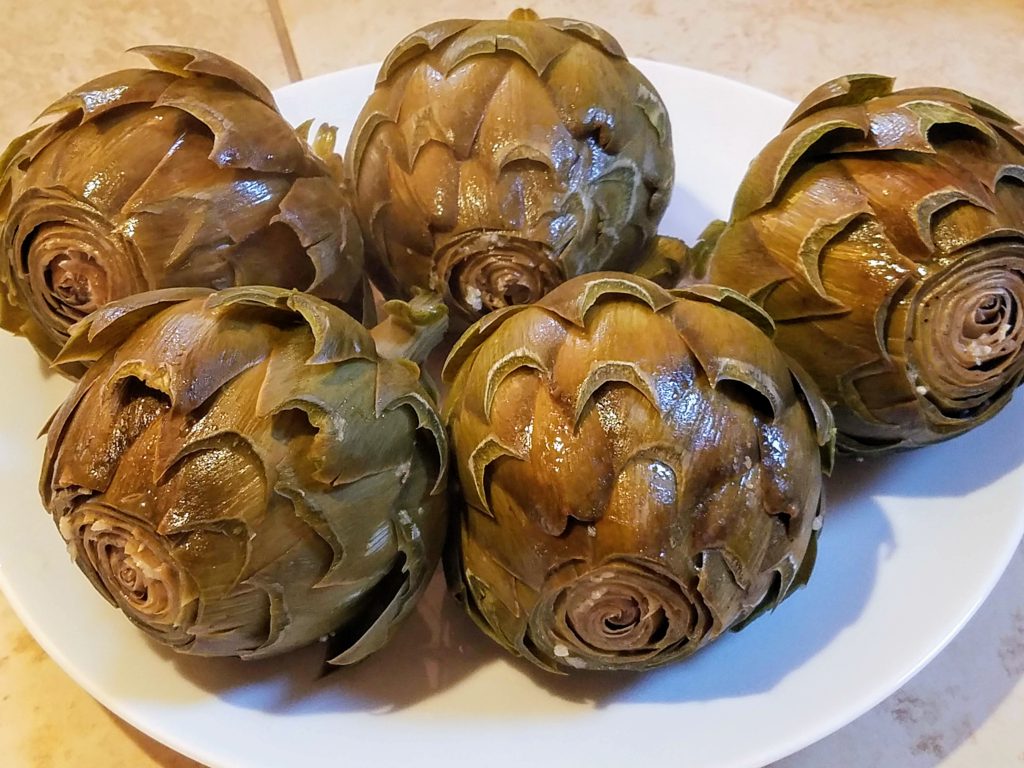 This dish is so easy and only takes about 35-40 minutes to complete your dinner! While the chicken is baking, boil your pasta, maybe gluten free capellini or fettuccine. Also, there's not much preparation for the dish, and you won't make a big mess of the kitchen preparing it!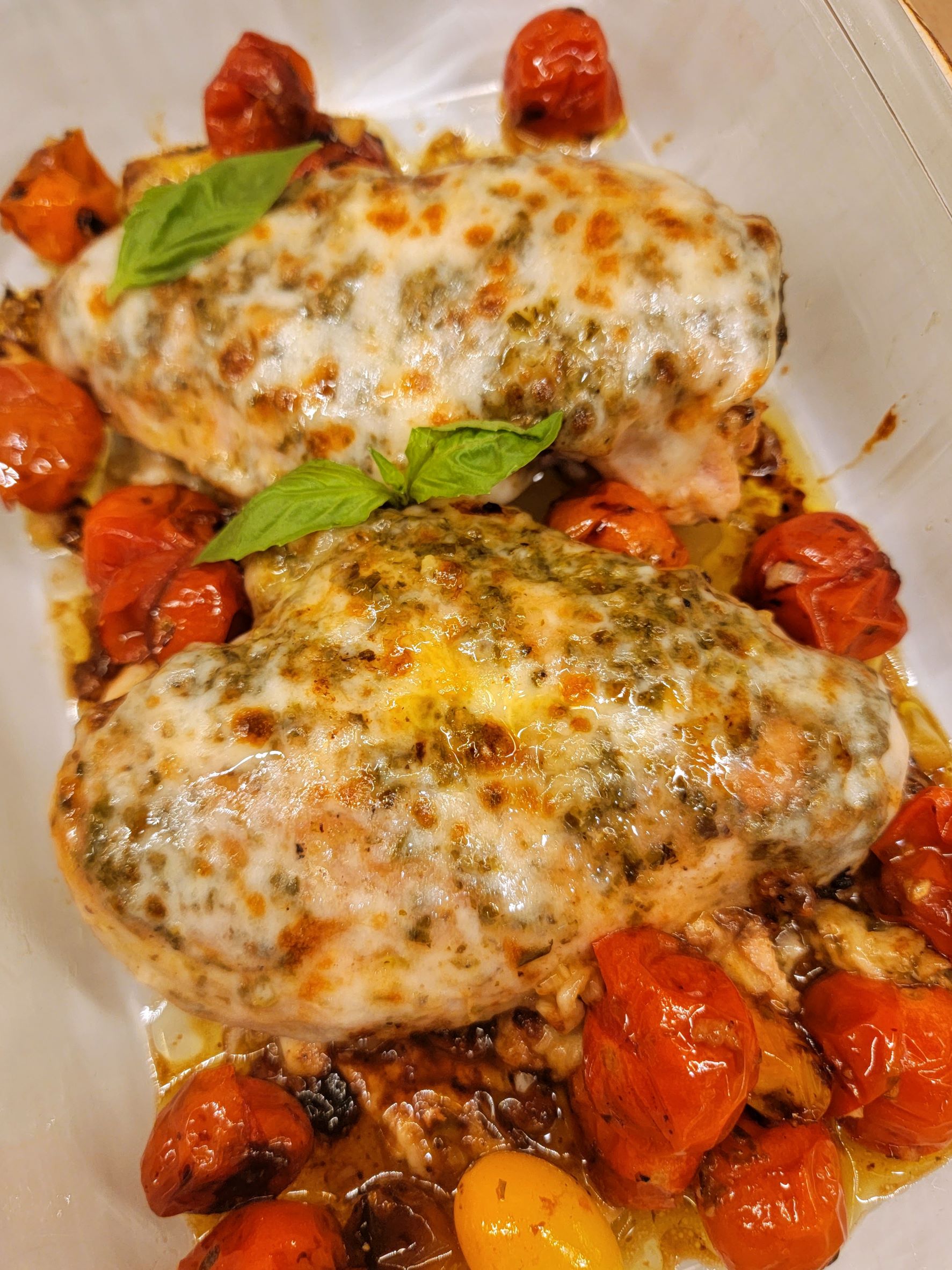 Cheesy Pesto Chicken with Baby Heirloom Tomatoes (Gluten Free)
Combined with caramelized heirloom tomatoes, garlic, stringy melted mozzarella, and sharp parmesan, this Cheesy Pesto Chicken dish is pretty near perfect in my opinion!
Equipment
1 cast iron or skillet

12"
Ingredients
3-4

chicken breasts

Salt and pepper

2½

tbsp

olive oil, divided

extra virgin

8-10

oz.

baby heirloom or cherry tomatoes

4-5

large

cloves garlic, minced

3-4

tbsp

Cucina and Amore Pesto Alla Genovese or homemade pesto

or other gf store bought brand

6-8

slices

whole milk low moisture mozzarella cheese 

⅛

cup

parmesan, finely grated

plus more to top for serving
Instructions
Preheat the oven to 400 degrees F.

To a large cast iron or skillet add 1 ½ tablespoons of the olive oil. Heat over medium high heat.

On one side of the skillet, to the olive oil, add the garlic and sauté until just aromatic. Remove to a plate. 

Add the chicken breasts to the skillet. Brown one the first side for about 1½-2 minutes before turning to brown on the second side. Spread half of the pesto on the chicken. Drizzle with the remaining olive oil. Add the tomatoes to the skillet. 

Bake for 10 minutes. Remove from the oven and add the sauteed garlic. Bake for 9-12 minutes more or until the chicken is 162, when checked with a digital thermometer. 

 Remove the tomatoes to a plate. Add the remaining pesto to the top of the chicken. Add some of the garlic from the pan to the top of the chicken and tuck the remaining garlic pieces under the chicken.

Add slices of cheese to the tops of the each piece of chicken. Sprinkle parmesan across the top of each piece.

Broil for 2-4 minutes until just golden. Remove from the oven. 

Add the tomatoes back to the skillet before plating.