With the oven not cooperating today for me to make a carrot cake, I thought desperately to come up with another ideas for dessert which I could make using only the stovetop. Here's what I decided on. A White Chocolate Caramel Pot de Crème.  
A Pot de Crème is a delicious, creamy and rich, French custard-like dessert, similar in texture to a crème brûlée, but instead of water bath cooking the Pot de Crème, it  is cooked on the stovetop and then refrigerated until very chilled, about 3-4 hours.
Here, we have a beautiful white chocolate one with hints of caramel, for my husband, who sometimes finds dark chocolate desserts too chocolatey. This dessert will shine its best with sweetened whipped cream piped on top. You could also add a drizzle of dark chocolate sauce or warmed fudge sauce. Caramel Sauce is another option, but with the sweetness from the white chocolate, I think the bittersweet or dark chocolate would compliment it best. 
 The small amount of Cognac in these is beautiful. For many years I have struggled to find a gluten free brand of white chocolate, but Nestle Toll House now has labeled their white chocolate chips as "Gluten Free". They are not my preference for baking, as they aren't very creamy and don't melt well, but in a pinch, they'll do the trick. 
~Laura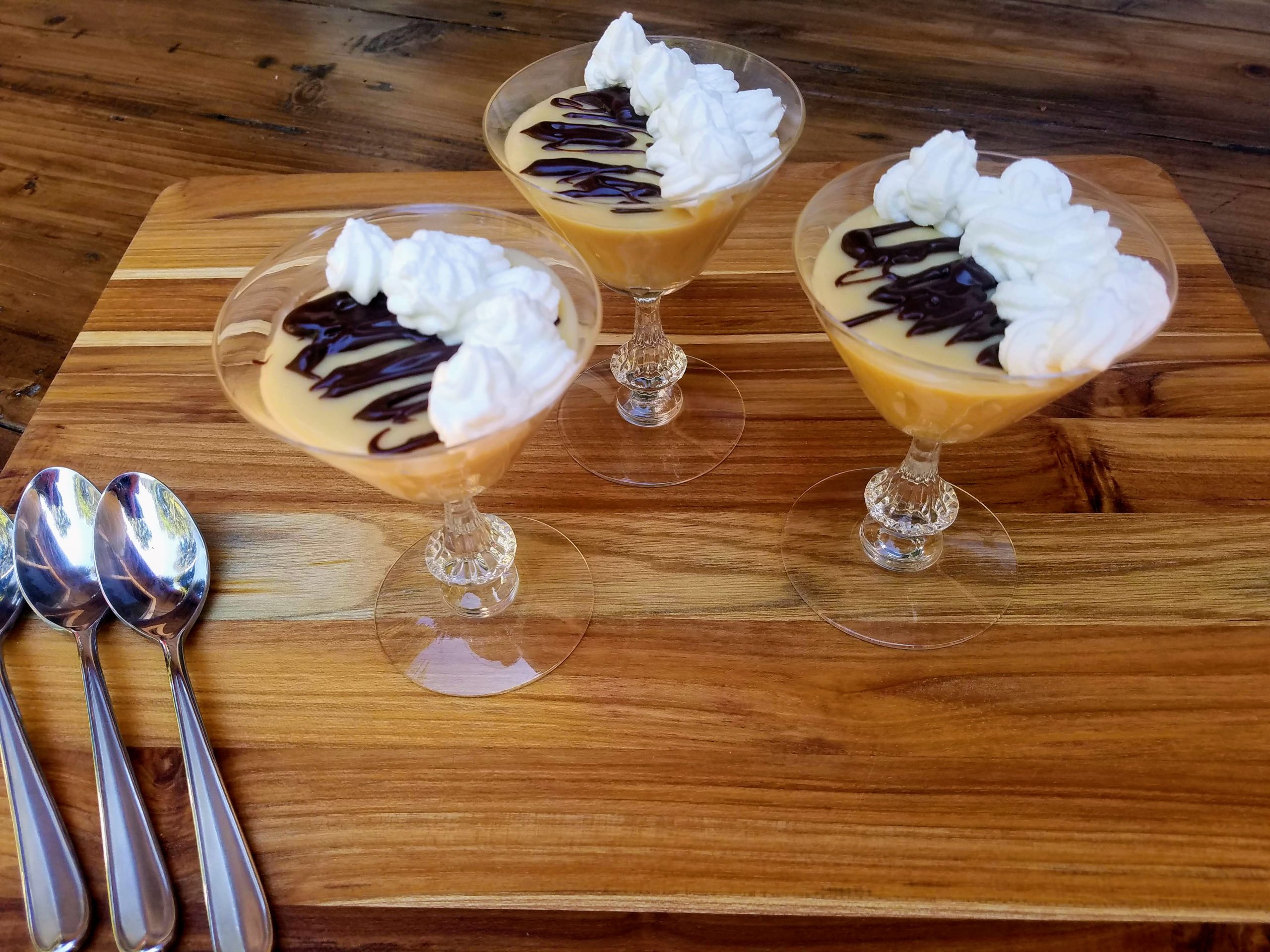 White Chocolate Caramel Pots de Crème
Ingredients
1 cup heavy cream

3/4 cup whole milk

1/2 teaspoon kosher salt

1/2 cup packed brown sugar

1/8 cup pure maple syrup

3 large egg yolks

5.5 ounces of Nestle Toll House Premier White Morsels, gluten free 

1 tablespoon of Cognac, gf

1/2 teaspoon vanilla, gf
Instructions
In a small bowl, whisk the eggs yolks with the maple syrup. Set aside.

Whisk together in a medium saucepan the cream, whole milk, salt, and brown sugar. Cook over low to medium low heat stirring constantly, until the mixture boils. Lower heat to low.

Add the white chocolate chips and stir until they have melted. Pour approximately 1/3 of the milk/cream mixture into the egg yolk, stirring continuously. Pour the mixture back into the saucepan and continue cooking over low heat for about 1 1/2 to 2 minutes and until the mixture begins to thicken and will coat the back of a wooden spoon. Remove from the burner.

Add in the Cognac and the vanilla and stir completely. Pass the cream mixture through a sieve into a bowl.

Spoon or pour into small glassware or ramekins and cover with cellophane. Cool on the counter. Then move to the refrigerator and chill for a minimum of 4 hours.

When ready to serve, heat the hot fudge and pour a layer over the chocolate if desired. Add a dollop or piping of sweetened whipped cream and dark chocolate shavings on the top.