By definition – Tiramisu: a creamy Italian dessert, with layers of delicate ladyfinger cookies that have been espresso and rum soaked, mascarpone cheese, and dark chocolate. I just don't understand how someone could not LOVE this dessert! It is my all time hands down favorite dessert! I love espresso, chocolate, cream, and well everything about it. This is what I would request for my special "birthday cake" treat any day: gluten free tiramisu!
It's perfect after an Italian meal, that's why it's usually on the menu at Italian restaurants! But alas, never have I found it made gluten free when dining out. It is delicious when chilled to perfection, but I also enjoy it slightly frozen. So yummy this way! 
Curious about trying other gluten-free Italian desserts? Check out these Italian desserts, like Pizzelle Cookies, Zeppole Italian Fried Soft Dough or Chocolate Almond Biscotti.
What does Tiramisu mean?
Tirami su by translation means "pick me up" or "cheer me up". And tiramisu is definitely true to its meaning! This dessert is heaven to me. The espresso and layers of cream will both pick you up and cheer you up!
Use espresso or strong brewed coffee
For my espresso for the tiramisu, I like to use Verve Coffee Roasters Street Level Espresso Roast. I don't have an espresso maker, so I grind it a bit finer and do a pour over. You can make any strong brewed coffee for this recipe. But since you will taste the coffee flavor, I prefer to use a good quality coffee bean. If you haven't checked out this fair trade coffee shop, you should! They started in Santa Cruz, California, but now are in several places around the world.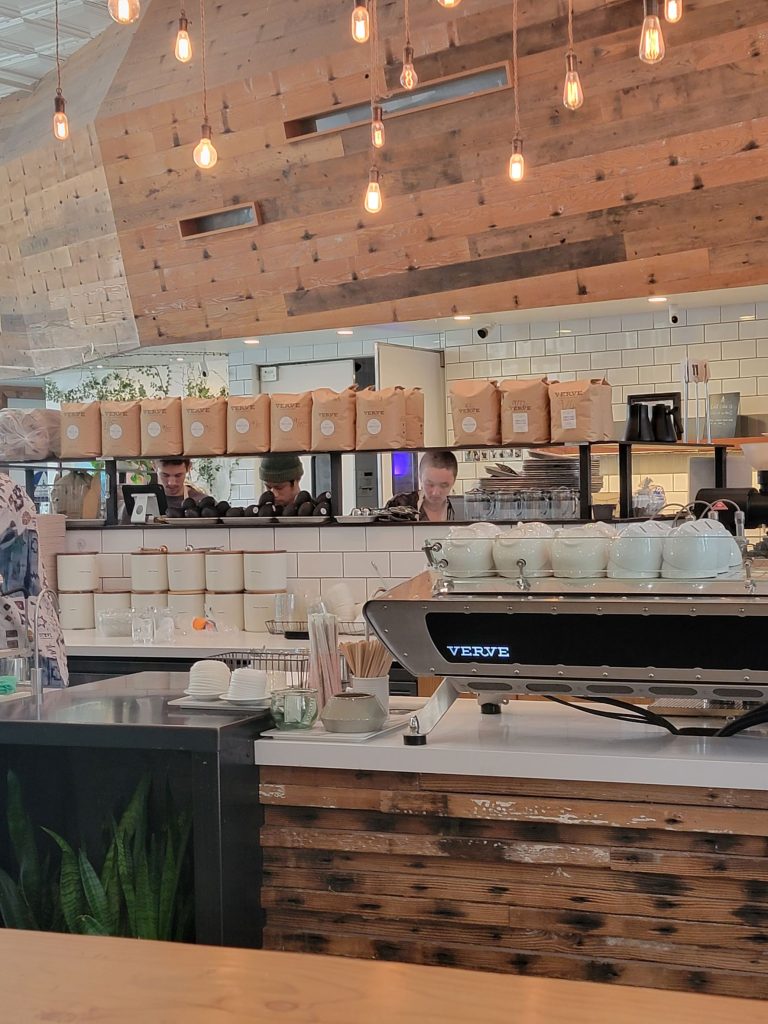 Schar brand makes gluten free ladyfingers!
Schar brand now makes Schar Gluten Free Ladyfingers, also known as savoiardi! That makes me so happy! I went without this dessert for way too long. And really, this delectable dessert is not difficult to make. Although it certainly does require some commitment. Since you probably will need to order the gluten free ladyfingers online, and have several ingredients on hand, as well as having overnight or at least 6 hours in the refrigerator chilling before you serve, you need to decide in advance before creating this one.
Don't dip the gluten free ladyfingers too long
The gluten free ladyfingers appear to be a bit more absorbing than the counterpart with gluten, so dip quickly in the espresso and rum mixture. It only requires a second to absorb the coffee and rum flavors. Otherwise you'll end up with quite a mushy mess on your hands!
Make sure to refrigerate for a minimum of 6 hours or overnight
Don't try to make this dessert in the afternoon and have it chilled by the time you serve after dinner. Give it plenty of chill time. I like to let mine chill overnight so it is super cold. The layers of your Gluten Free Tiramisu will be all the more spectacular when you cut into them, both for the appearance and the taste of the ingredients sitting and combining together in harmony.
What about eating raw eggs?
If you are using pasteurized eggs, eggs which have been heated to kill any bacteria present, it is completely fine to use raw eggs in a recipe. However, it seems, most of the eggs in stores are not pasteurized. So check your egg labels. And if you want to skip a few steps, buy eggs that are pasteurized.
You can also safely heat the yolks of non-pasteurized eggs. Use a double boiler or a saucepan with a bowl seated over but not touching barely simmering water.
Heating the egg whites to safe temperature for raw consumption requires a bit more work, but is doable. You can also choose to use meringue powder in place of the egg whites if you prefer not to heat the egg whites or you are unable to find pasteurized eggs. Follow the directions for making meringue on the meringue powder box. Omit the cream of tartar in the recipe if the meringue powder contains it already. 
Enjoy this delicious gluten free tiramisu!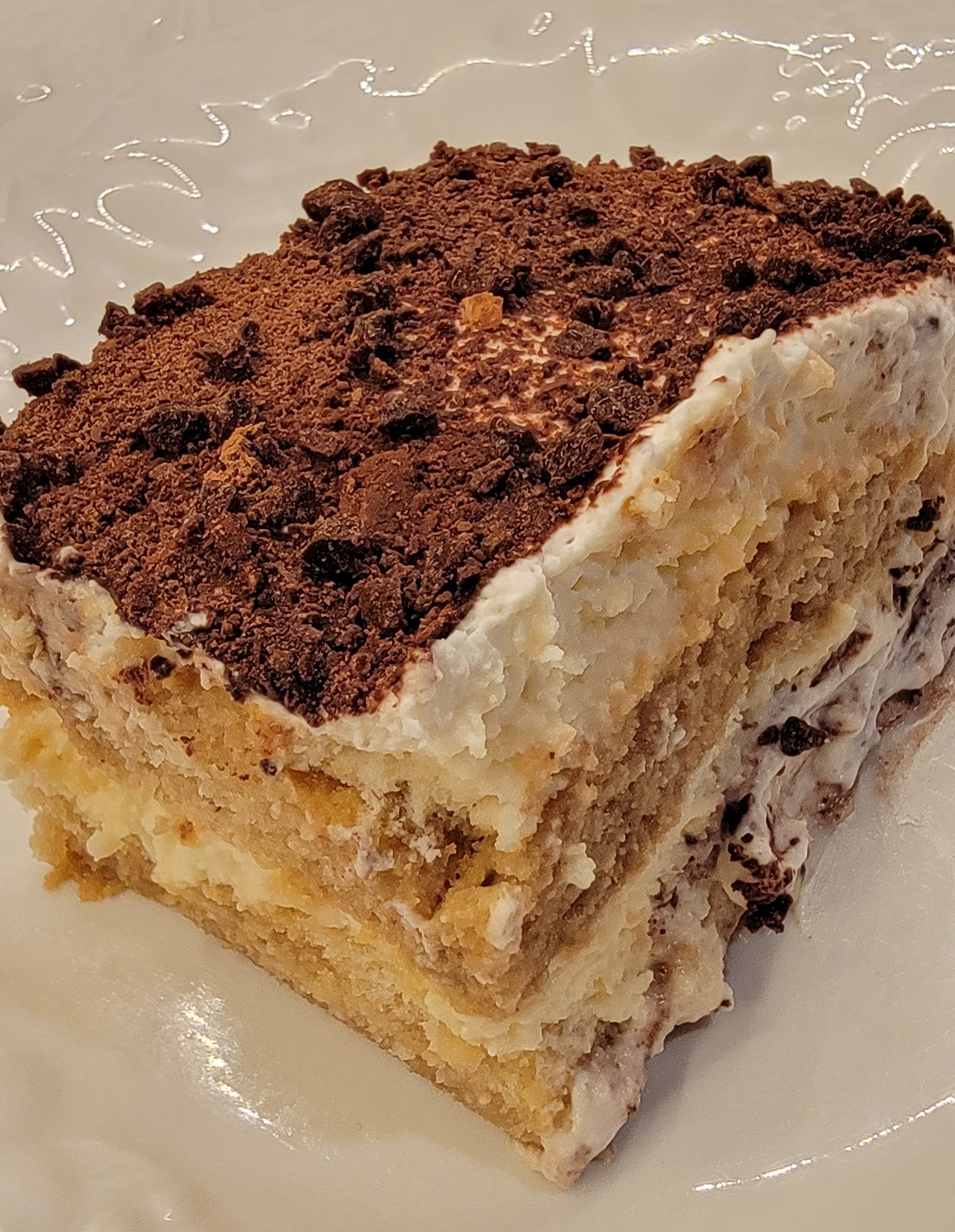 Tiramisu made for the Gluten Free Eater
Delectable layers of goodness in this gluten free version of the classic italian dessert.
Ingredients
¼

cup

plus 1 tbsp sugar

4

large

egg yolks

8

oz.

mascarpone cheese

3

large

egg whites

¼

cup

sugar

½

teaspoon

cream of tartar

gf

1

teaspoon

vanilla

gf

3

tbsp

rum

Mount Gay or Barbacourt or other gf brand or 1 teaspoon McCormick Schilling Rum Extract

⅔

cup

plus 2 tbsps espresso or strong coffee

cooled

1

cup

heavy cream

2½

tbsp

sugar

1

teaspoon

vanilla

gf

1 –

7.1 oz

package Schar Gluten Free Ladyfingers

1½

tbsp

unsweetened cocoa powder

gf

1

oz.

Guittard Dark Chocolate Baking Bar, grated or shaved

gf
Instructions
Whisk the yolks and ¼ cup of sugar, plus 1 tablespoon, in a heat safe bowl. Set over a double boiler of simmering water, stirring continuously, until an instant thermometer reaches 160 degrees. Cool. You can also choose to skip this step if using pasteurized eggs.

Beat the egg yolks and sugar in a stand mixer or with a hand held mixer until light colored and fluffy. Beat in the mascarpone cheese until smooth, scraping down the sides of the bowl often. If using a stand mixer, spoon into another bowl. Wash and dry the stand mixer bowl.

If using pasteurized eggs: Add the egg whites. Gradually shake in the ¼ cup of sugar, and cream of tartar. Beat until soft peaks form, about 3-5 minutes. Add the vanilla, but don't overmix.

If using non-pasteurized eggs: Whisk the egg whites and the ¼ cup sugar in a heatproof bowl. Set over a double boiler of simmering water. Whisk quickly and continuously until an instant thermometer reads 160 degrees. Remove from the heat. Pour into the stand mixer bowl and beat on medium high to cool the egg whites. Add the cream of tartar. Beat for 3-5 minutes until soft peaks form. Add the vanilla, but don't overmix.

Fold the beaten egg whites into the cream mixture.

Stir together the espresso or coffee and rum together in a flat bowl.

Clean the bowl of the stand mixer again and whisk attachment and completely dry. Whip the cream until lines begin to form from the beater. Add the sugar and vanilla and beat until fluffy. Set aside.

Using a 9×12" casserole dish, quickly dip a ladyfinger in espresso rum mixture then set in dish. Dip half of the ladyfingers quickly. Add half of the mascarpone cream. Add another layer of dipped ladyfingers, followed by another layer of mascarpone cream.

Spread the whipped cream on top. Dust with unsweetened cocoa powder and top with chocolate shavings. Cover with cellophane and refrigerate 6-8 hours or overnight before serving.

Slice into rectangular or square pieces just before serving. Will keep in the refrigerator for 1-2 days. Can be frozen in individual pieces wrapped in cellophane or parchment. Seal in an airtight container for up to 2 weeks for best flavor. Serve slightly frozen or thaw in the refrigerator prior to serving.
Notes
Simply skip the Step 1 if you are using pasteurized eggs and follow the instructions for using pasteurized eggs in Step 3. Many people don't feel that you need to worry about eating raw eggs, but the USDA recommends heating to the safe temperature of 160 degrees F. I feel better about not using raw eggs, especially if I am serving others. You will need to heat to a temperature of 160 but without cooking the egg yolks or egg whites, so be sure to use a double boiler or a bowl over a saucepan of low simmering water, whisking briskly.
Substituting meringue powder for the egg whites is something I often do when making meringue that won't be cooked, just torched to a golden color or when making Gluten Free Dark Chocolate Mousse. It's pretty straight forward if you want to try it. Just follow the instructions for making 3 egg white meringue. The result of the meringue made with the powder is very smooth and stable. Perfect for mousse or French Macarons.