Make these Delicate Gluten Free Almond Lace Cookies for a perfect no fuss dessert! They look both dainty and pretty. Your guests will never know how little time you spent making them!
They are wonderful served alone or with a scoop of ice cream. Or better yet, scoop your favorite gluten free ice cream in between two cookies. Then roll in some chopped dark chocolate or chopped nuts to finish.
With flavors of butter and nuts, and tasting of brown sugar praline (just like the old fashioned praline candies in the shape of a maple leaf, that my grandpa and grandma used to bring). Were those candies imported from Canada? Does anyone else remember these praline candies?
Did I mention it might be hard to stop at just one?? So you may want to make them when you have a crowd coming over. Or package up a few to share with a friend or a loved one; they are sure to feel extra special with a delivery of these delicate, delicious, elegant cookies.
~Laura
(Updated 7/22)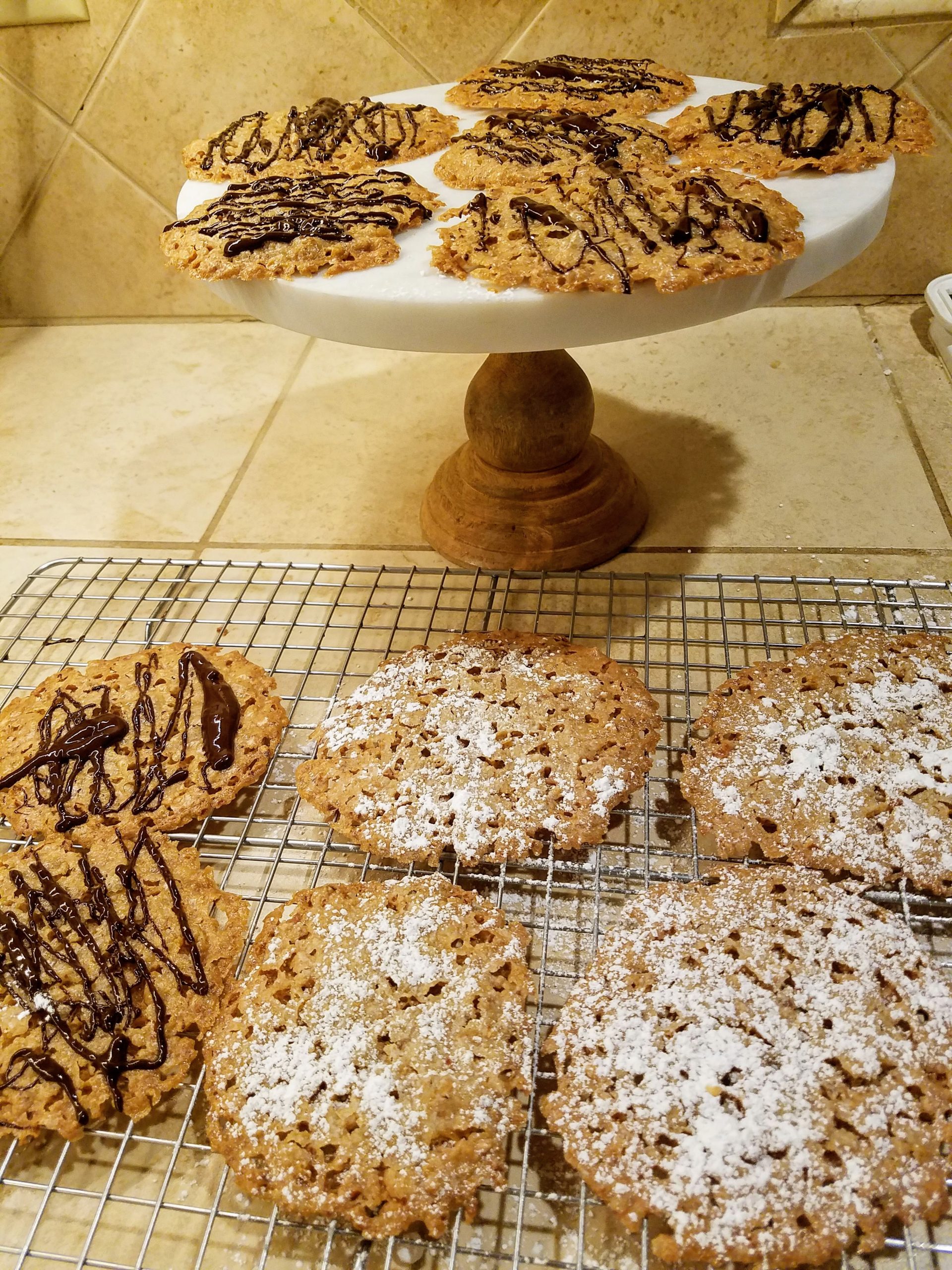 Delicate Gluten Free Almond Lace Cookies
Buttery and rich cookies. Have a cup of coffee with these.
Ingredients
1/2 cup

butter

unsalted

1/2 cup

pure maple syrup

2/3 cup

light brown sugar

firmly packed

1 1/4 cup

Bob's Red Mill 1 to 1 gluten free flour

or other 1 to 1 brand, gf (sift, then lightly spoon into measuring cup)

1 cup

almonds

roasted without salt or blanched, finely chopped

1 teaspoon

pure vanilla extract

gf

1/4 teaspoon

salt

powdered sugar

optional

dark chocolate

melted, for drizzling on top, optional
Instructions
Preheat the oven to 375 degrees, with the rack in the center of the oven. Lightly grease a metal cookie sheet with a small amount of butter.

In a small saucepan, over low to medium low heat, melt the butter with the maple syrup and brown sugar, stirring constantly. 

Remove from the heat and stir in the gluten free flour, chopped almonds, vanilla, and salt.

Drop heaping teaspoonfuls for larger 3.5" cookies or level teaspoonfuls for smaller 2.5 – 3" cookies. Use a cookie scoop for very evenly shaped cookies. Batter will spread, so leave 5 inches between cookie centers (or 4 inches between for smaller cookies). Set the saucepan over a pan of simmering water to keep it from thickening, while waiting to bake the other batches.

Bake for 6-7 minutes, until cookies are starting to brown on top and edges. Cool on the cookie sheet for 4 to 5 minutes, to continue crisping, before removing carefully to a wire cookie rack to completely cool. 

Dust with powdered sugar or drizzle with melted dark chocolate when completely cool.
Notes
Store in an airtight container.