Jump to Recipe
Print Recipe
Try this cake for an easy dessert option, with the bonus that it also doesn't contain much sugar, or even fat, as it uses the oils from the almond flour. You can certainly make this without the limoncello if you don't have it on hand, or don't care to use it. Lemon and berries go together so well, that's why I've paired this moist cake with Strawberry Cream, a lightly sweetened heavy cream whipped with diced strawberries, and then topped it with more fresh berries! Here in Santa Cruz County, Ca we are very near to fields and fields of delicious sweet berries of all kinds! Yum! Often, I just serve each piece with the toppings each person desires, or without the toppings, as my husband prefers.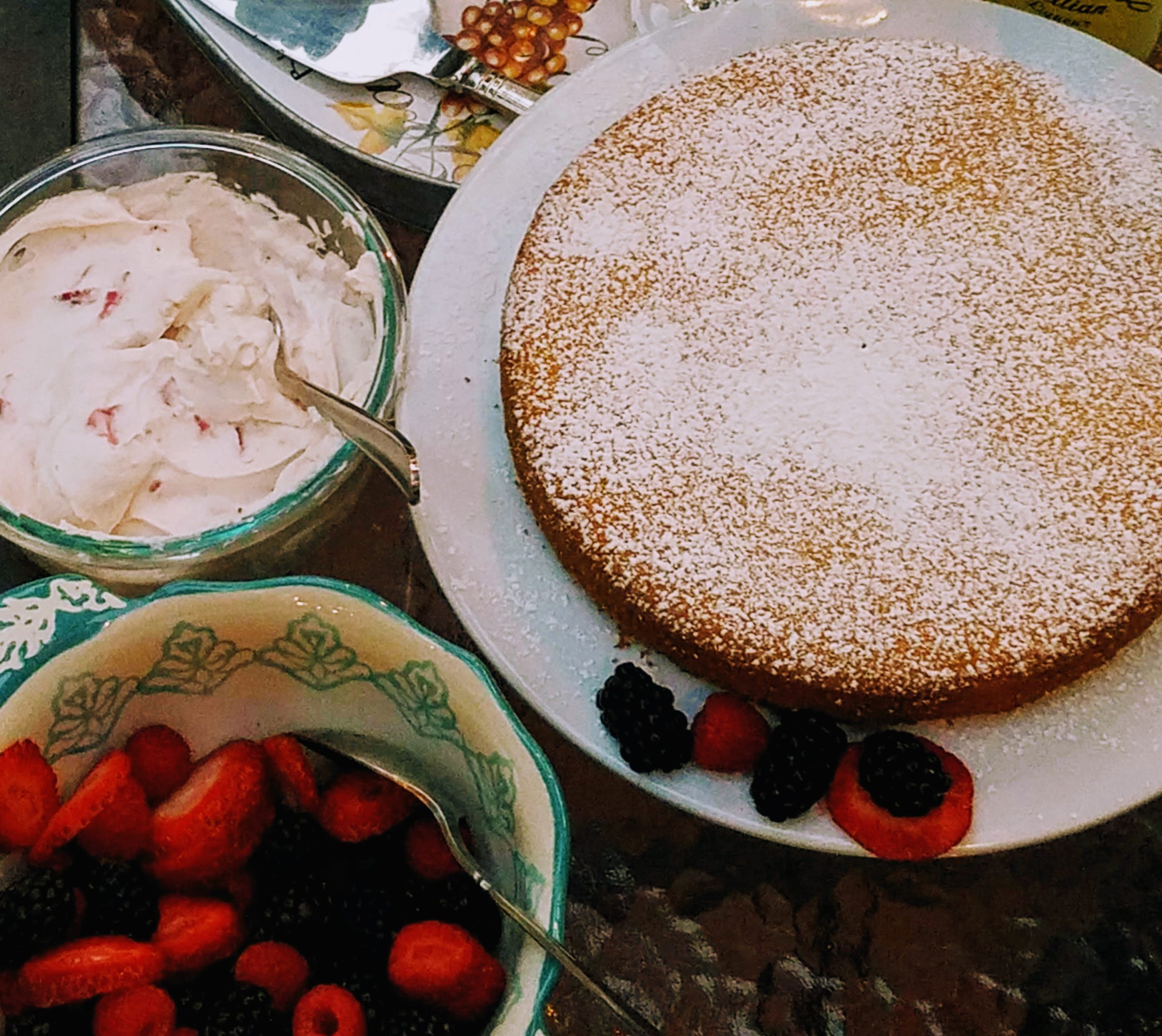 Gluten Free Lemon Almond Cake
Ingredients
2 cups

almond flour

packed when measured, gf

1/4 cup

Bob's Red Mill Tapioca Flour

gf

1 1/4 teaspoons

baking powder

gf

1/2 teaspoon

baking soda

gf

1/2 teaspoon

salt

4

large eggs

1/8 cup

maple syrup or honey

1/2 cup, plus 1 tablespoon

organic cane sugar

1/4 cup

milk

2% milk, whole milk, or almond milk

1 tablespoon

limoncello

gf

1/2 teaspoon

vanilla extract

gf

1 tablespoon

lemon zest

1/4 cup

vegetable or olive oil

2 pints

mixed fresh berries

to top the cake or each serving

Powdered sugar

for dusting the top

Strawberry Cream

recipe below

Limoncello

to drizzle on top of each slice, if desired
Strawberry Cream
1 cup 

heavy whipping cream

1 1/2 tablespoons

powdered sugar

gf

6

fresh strawberries

rinsed, dried completely, stems removed and finely diced
Instructions
Cut a circle of parchment to fit the bottom of your 8″ or 9″ springform pan or cake pan. Grease the parchment piece. Sprinkle a teaspoon of gf flour or almond flour on the parchment and tip the pan back and forth to distribute.

Preheat the oven to 325 degrees F.

Sift together the almond flour, tapioca flour, baking powder, baking soda, and salt.

Beat the eggs in a stand mixer or large bowl with a hand mixer. Add the sugar, maple syrup or honey, milk, vanilla, limoncello, lemon zest, and olive oil.

Add in the sifted dry ingredients and mix on medium low speed for 1 to 2 minutes, until smooth and fluffy. Pour into the prepared pan. Bake in the center of the oven for 30-38 minutes or until golden brown and a toothpick comes out clean when inserted into the center of the cake.

Remove to a rack to cool for 20-30 minutes before removing the spring form outside and inverting onto a cake plate to remove the parchment piece, and then turning right side up on a wire rack to finish cooling.

Dust with powdered sugar. Slice, and serve with fresh berries and strawberry cream or sweetened whipped cream. Or top the cake with the strawberry cream mounded up, with berries on top. Drizzle a little limoncello on top of each slice if desired.
Strawberry Cream
Whip the cream until it begins to thicken in a stand mixer, bowl with hand mixer or in a tall container if using an emulsion blender**. Add the powdered sugar and continue to whip until mostly thickened and soft mounds are forming. Add half of the strawberries and continue to whip until the cream is light pink and the cream is both fluffy and soft mounds have formed. Fold in the remaining cut strawberries.

Refrigerate until chilled well and ready to serve. Top Gluten Free Lemon Almond Cake with assorted berries and strawberry cream.

**To use the emulsion blender, use the whisk attachment until soft mounds begin to form. Add in the powdered sugar. Change the attachment to the chop/beater to add 1/2 of the strawberries. Finish by using the whisk attachment until the cream is a thick but soft and fluffy cream. Fold in the other half of the cut strawberries.