Usually when I bake, I like to go all out, with lots of heavy cream and lots of butter, because those ingredients make the treat taste better most often, but here we have a gluten free and dairy free treat that doesn't lack flavor and texture. These seem relatively healthy with the maple sugar instead of processed sugars, olive oil, and rice flour blend, no xanthan or cornstarch or emulsifiers, which many gluten free treats have. I know I've talked about the Ryze rice flour blend I like to use in treats and breads lately. The results I've been getting are incredible. Without tapioca, cornstarch, guar gum or xanthan! It's just a simple chocolate cake. You can dress it up or eat it plain, like a muffin. You can leave the chocolate chips out, if you like. I like to make these in mini Bundt pans, because they are so cute. These styles are both Cuisinart brand, and work wonderfully, not sticking and baking perfectly. Thanks daughter Corinne for the snowflake ones!!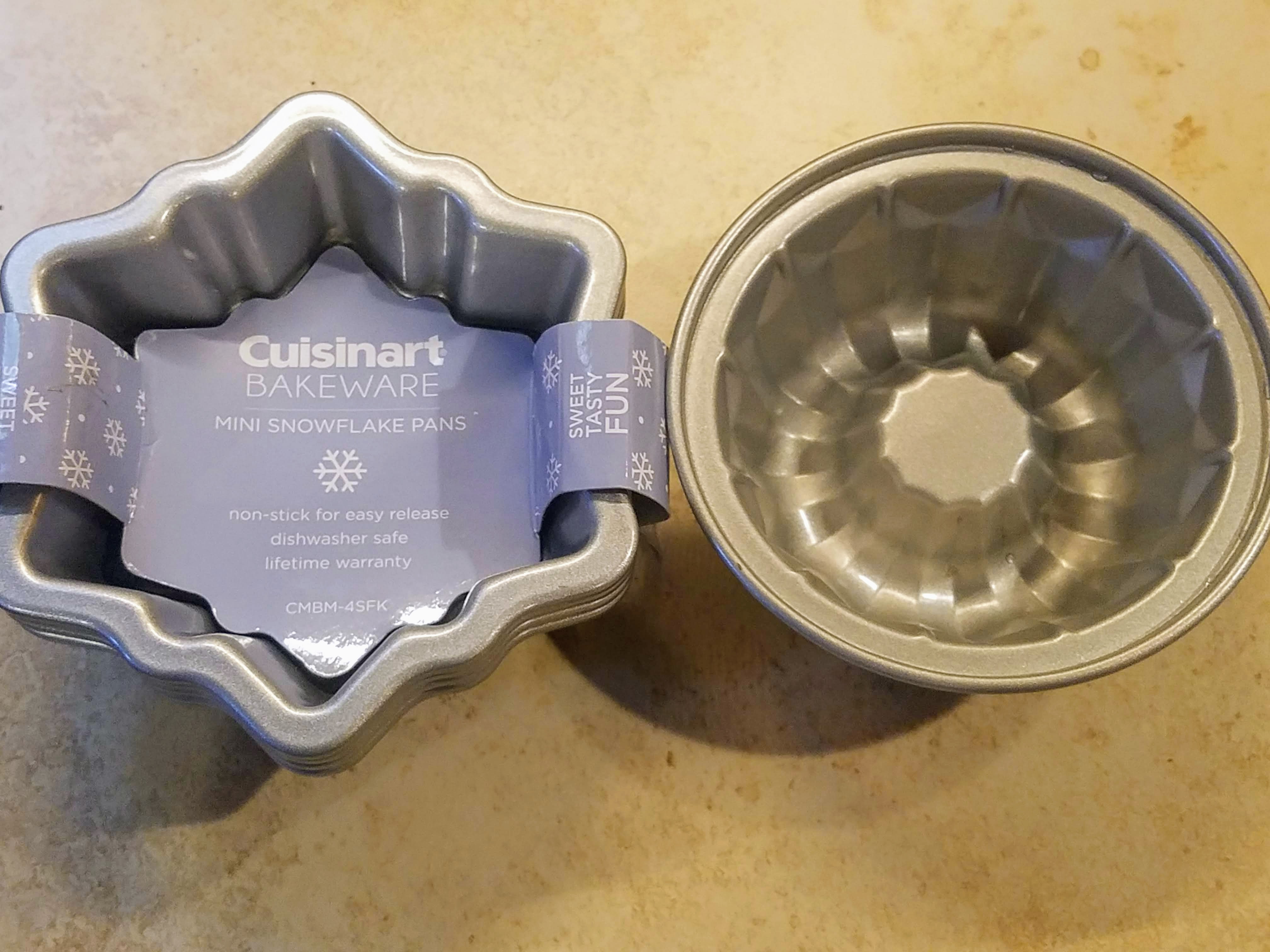 The indentation of the Bundt pan makes a perfect spot for some raspberries, raspberry compote, or some of the dairy free ganache, a lighter ganache (okay, it's different, but still super good and chocolaty). You could just dust with powdered sugar as well or top with a gluten free and dairy free whipped topping. These cakes are also very low in sugar, and very low in processed sugar, just from the amount in the chocolate chips, and 72% chocolate chips yields a very low sugar content. I like to use part pure maple syrup where I can in treats, and in this one I've replaced all the sugar the batter would normally contain with pure maple syrup. You could use honey as well, but I find sometimes the taste of the honey comes through more than the maple syrup flavor does. And it honestly just give it more of a caramel taste, together with the chocolate, which isn't a bad thing in my opinion.
Confession, I had one for breakfast. It's much healthier than many breakfasts or coffee shop breakfast treats, so no judgement.
~Laura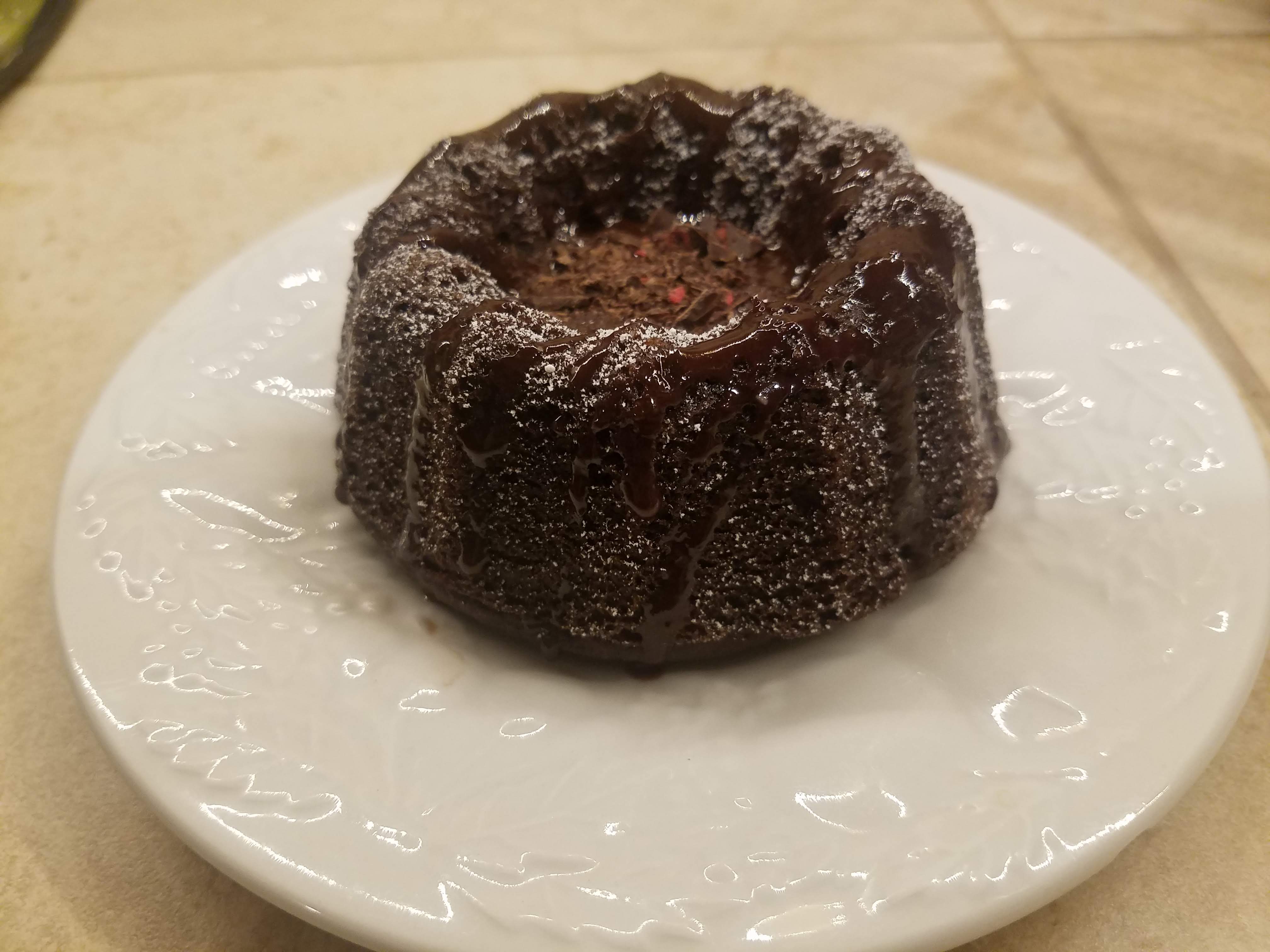 I drizzled the dairy free ganache and filled the little cup of the Bundt and then shaved some dark chocolate with raspberries in the hole.
Gluten Free and Dairy Free Chocolate Mini Cakes or Cupcakes
Prep time: 10 minutes
Bake time: 15 – 18 minutes
Makes: 4 – 5 mini (4 1/2″ – 5″) cakes or 10 cupcakes
ingredients:
1 cup Ryze Gluten Free Flour Mix
2 Tablespoons of Guittard Unsweetened Cocoa Rouge Powder or other unsweetened gluten free cocoa powder
2 Tablespoons of cacao powder, gluten free
2 1/2 teaspoons baking powder, gluten free
1/2 teaspoon baking soda, gluten free
1/4 teaspoons salt
1/2 cup pure maple syrup
4 Tablespoons extra virgin olive oil
2/3 cup Real Coco Organic Coconut Milk or other gf unsweetened coconut milk
1 egg
1 1/2 teaspoons of vanilla paste, gluten free
1/3 cup dairy free gluten free chocolate chips, like Trader Joes 72% Cacao Dark Chocolate Chips Baking
1/4 teaspoon vanilla, gluten free
a few pinches of ground cinnamon, gluten free
to prepare:
Spray 4- 5 inch mini Bundt or mini cake pans with oil or non stick. Sprinkle a half teaspoon of gluten free flour mix in and shake lightly to distribute. For muffin or cupcake pans, line with a paper liner and spray or grease lightly.
Combine together with a rubber spatula or wooden spoon in a large mixing bowl, the Ryze flour, cocoa powder, cacao powder, baking powder, baking soda, salt, and the few pinches of cinnamon.
In a small bowl or 2 cup measure, stir the coconut milk, maple syrup, egg, vanilla paste, and vanilla. Whisk together. Add to the dry ingredients and mix by hand until smooth. Add the chocolate chips.
Spoon the batter into prepared mini Bundt or mini cake pans, or muffin pans, filling 2/3's full.
Bake at 350 for 15 – 18 minutes or until a toothpick comes out clean when inserted near the center.
Remove to a wire rack and cool for 10 minutes before inverting unto the wire rack. Let cool before topping with dairy free ganache or powdered sugar. These would also be great with raspberry compote, but it may need some sugar most likely. Best enjoyed the day they are made, but these will keep for a few days. You can also freeze them in airtight containers, and thaw for several hours at room temperature to enjoy.

Non dairy chocolate ganache

1 tablespoon of pure maple syrup
1 tablespoon of Real Coco Organic Coconut Milk or other gluten free coconut milk
1 teaspoon of cacao powder, gluten free

Heat the maple syrup, coconut milk and cacao in a small microwave proof bowl for 10 – 15 seconds. Stir and heat for another 10 seconds and stir until smooth.

Add:
2 Tablespoons of olive oil or other dairy free butter
2 tablespoons of dairy free, gluten free chocolate chips
1/4 teaspoons of vanilla, gluten free
Stir until chocolate is melted and very smooth. Refrigerate for 10-15 minutes to spread or drizzle right away on the top of the mini cakes.