Jump to Recipe
Print Recipe
Need some new salad ideas for fall? Full of flavor and texture, our Fall Salad with Mandarins, Fuyu Persimmons, and Pomegranate is a great choice for a light meal or side salad. We serve it with our lightly sweet and tangy citrus dressing. Then top it with a handful of pine nuts.
On types of persimmons
The Fuyu persimmons add a bit of crunch to the salad. Much different than the persimmon my family grew up around, I didn't have this type until I was an adult. The Fuyu or Jiro persimmon can be eaten right off the tree and are sweet and juicy. You can leave the skin on when sliced thinly. The Hachiya persimmon is the type my grandma and mom would use, picking and letting it ripen on the counter until very soft. Then they would use the soft flesh for cakes and bars, and cookies.
Fuyu persimmon just sliced and enjoyed
When I discovered the Fuyu persimmon, with its pretty star inside when sliced, I would often just slice these and eat them. My girls liked them as well, and we would enjoy them like any fruit. But they are also a perfect color and mild flavor (some say apricot and pear flavors), to add to this salad.
Easy and colorful for that special fall meal, serve this salad platter style or in a serving bowl. Dress it or let everyone dress their own. We fix our salads that way since a few of our family members don't like dressing on their salad!
What to serve it with?
I like to serve this with a fall dinner, Roasted Pork Tenderloin with Apricot Brandy Sauce and oven roasted potatoes. Or serve this pretty salad for Thanksgiving or a holiday dinner.
No pine nuts?
Don't have pine nuts on hand? Try topping the salad with roasted pistachios instead! Be sure to reduce or omit the salt in the dressing if the pistachios are salted though.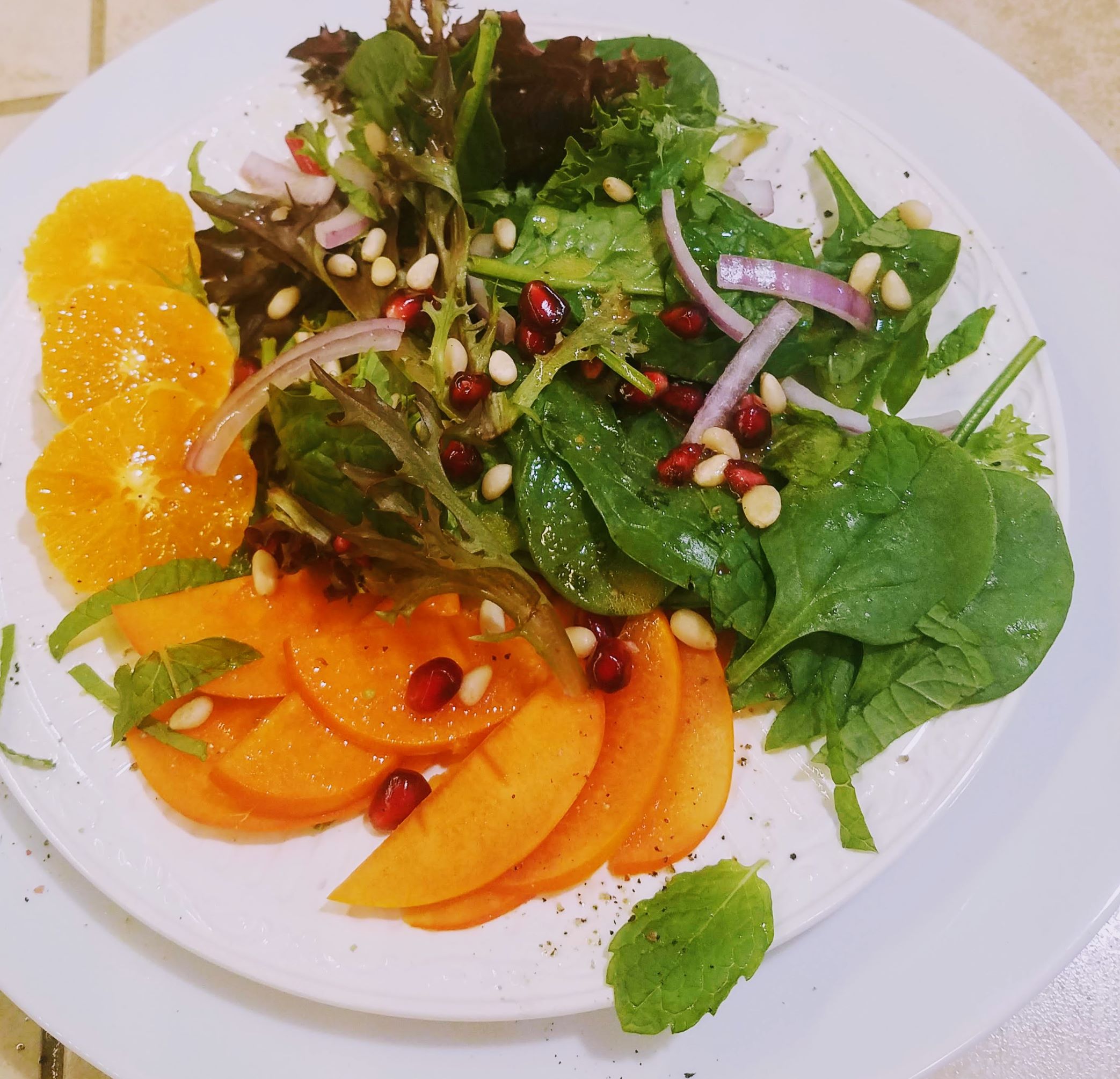 Fall Salad with Mandarins, Fuyu Persimmons, and Pomegranate (Gluten Free)
Perfect fall colored salad with a great combination of fruits and vegetables in a slightyl sweet and tangy citrus dressing.
Ingredients
1

Fuyu persimmon, sliced thin and slices cut into halves

2

mandarins or cuties, peeled and sliced

⅓

large

red onion, sliced and cut into halves

1

5 oz

bag or container of spring mix

4-5

large

leaves basil, cut into strips

¾

cup

pomegranate seeds

from one pomegranate

¼

cup

pine nuts
Citrus Dressing
⅜

cup

olive oil

extra virgin

3

tbsp

lemon juice

2

tbsp

orange juice

mandarin or cutie juice

1 ½

teaspoons

dijon mustard, gf

1 ½

tbsp

honey

⅜

teaspoon

kosher salt

⅜ – ½

teaspoon

ground coriander, gf
Instructions
For a platter style salad, lay the spring mix on the a large platter, mounding it up. Add mandarin slices and Fuyu persimmon slices decoratively on top and around the edges of the platter. Add the red onion slices in several spots on the platter and on top of the spring mix. Scatter the basil and pomegranate seed over the top. Drizzle citrus dressing over and top with pine nuts. (Or let everyone dress their portions of salad themselves).

Or plate 4-5 individual salads, dividing the first four ingredients between the plates. Top each with basil, pine nuts, and pomegranate seeds. Drizzle with the dressing over each or serve alongside.
Citrus Dressing
In a 2 cup measure or small bowl, combine the ingredients and whisk together.