Jump to Recipe
Print Recipe
How about a fresh warm Gluten Free Dairy Free Raspberry Pear Scone with your coffee today? These are so easy to make and so satisfying to eat! They are also grain free using tapioca flour, cassava flour, almond flour, and coconut flour. It may sound like a lot of types of flour to have on hand, but honestly, they last a while when you are only using them in small amounts. I have favorite flours I use for different baked goods, after experimenting over the past eighteen years of being gluten free. I was recently gifted several bags of gluten free flours, as well as my favorite almond flour, which is Kirkland Signature Almond Flour. When you are baking and cooking a lot, you go through a lot of ingredients! Thank you, Naomie! The Asian pears I used were also a gift from a friend of a friend's garden. They're delicious. The Califa Farms Dairy Free Almond Milk Creamer Pecan Caramel flavor is what I used in these. It's also amazing in your coffee!
Enjoy your day and happy baking!
~Laura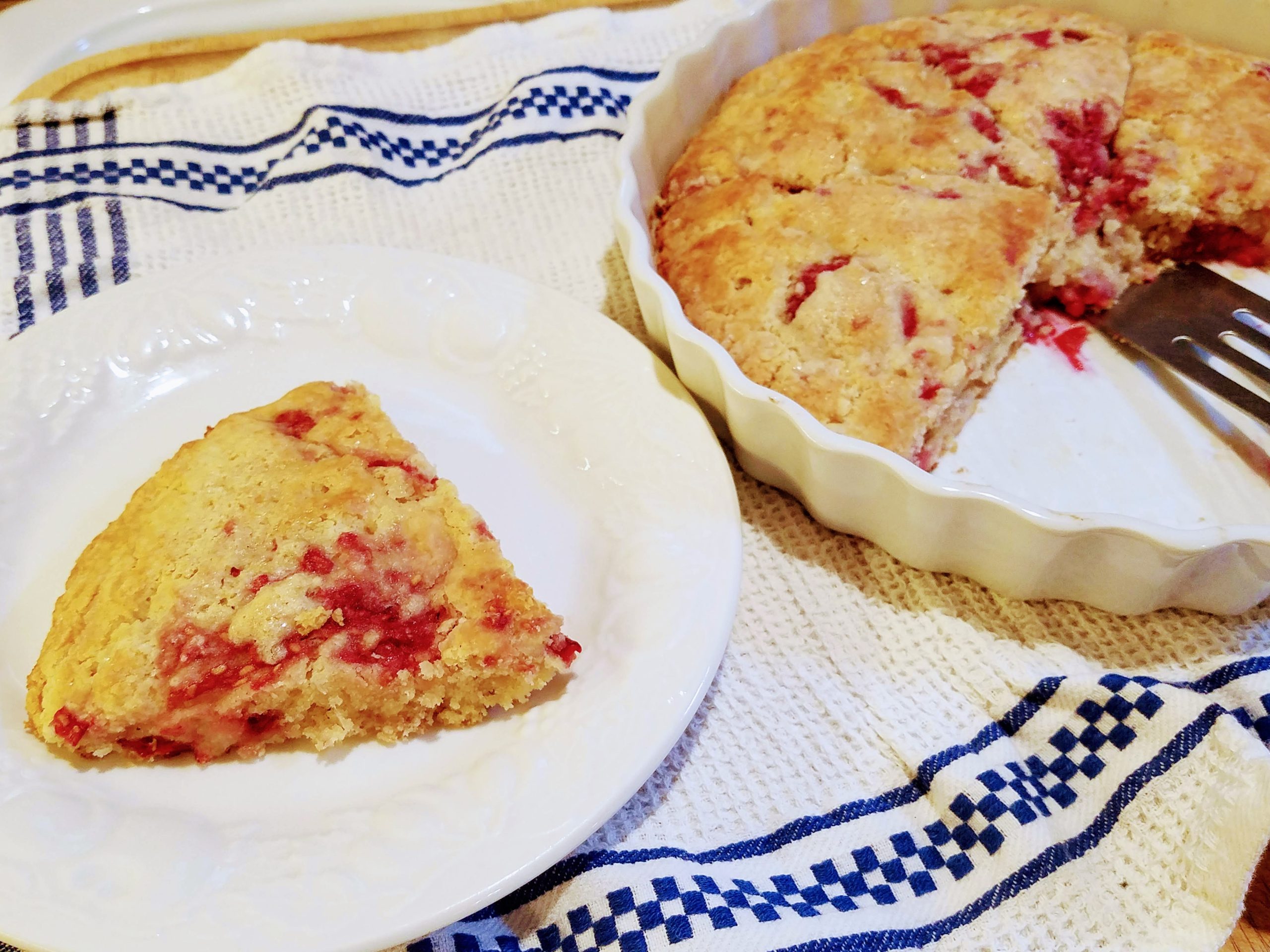 Gluten Free Dairy Free Raspberry Pear Scones
Makes 6-8 scones | Prep time: 15 minutes | Bake time: 16-21 minutes
Ingredients
6 tablespoons

dairy free stick butter

gf or other butter, cut into small pieces 

¼ cup

Califa Farms Dairy Free Almond Milk Creamer

gf

1

egg

½ teaspoon

pure vanilla extract

gf

½ cup

Anthony's Premium Cassava Flour

gf

½ cup

Bob's Red Mill Tapioca Flour

gf

½ cup

Kirkland Signature Almond Flour Blanched

gf

1 tablespoon

Bob's Red Mill Organic Coconut Flour

gf

1 tablespoon

of baking powder

gf

¼ cup

organic cane sugar

½ cup

Driscoll's Organic Raspberries

⅓ cup

Asian, Bosc, or Anjou pear

skinned and chopped

½ teaspoon

lemon juice
For brushing the top:
1 tablespoon

Califa Farms Almond Milk Non Dairy Creamer, gf

1-2 teaspoons

coarse cane sugar
Instructions
Cut the dairy free butter or butter into small pieces and freeze for 10-15 minutes.

In a small bowl, whisk together the egg, non dairy creamer, and the vanilla.

Preheat the oven to 400° F.

In a medium bowl, sift the cassava flour, tapioca flour, almond flour, coconut flour, baking powder and sugar together. If using unsalted butter, stir in ¼ teaspoon salt.

Put the chopped pear pieces in a ramekin or small bowl and pour the lemon juice over.

Remove the butter pieces from the refrigerator and mix into the dry ingredient bowl, combining with your hands until small pieces of butter remain.

Make a  well in the dry ingredients and pour in the non dairy creamer/egg mixture. Mix with a fork and then your hands to combine and form a dough that holds together. Mix the pear pieces and lemon juice in with your hands to distribute.

Turn out onto a gluten free floured board. Press the berries into the dough as you press the dough into an 8" round about 1" thick, spacing out the berries throughout the round.

Line a 9" tart pan or pie pan with a round of parchment paper. Cut the dough into 6 – 8 pieces, keeping them in the round. Move half of the round onto the prepared baking dish, and then the other half, spacing the pieces out slightly while keeping in the round. 

Brush the top of the dough with 1 tablespoon of non dairy creamer. Sprinkle 1-2 teaspoons of coarse sugar over the top.

Bake at 400° F for 16-21 minutes, until puffy and golden brown on the top bottom and edges, moving the oven rack up as needed.