Jump to Recipe
Print Recipe
I used to eat muffins often for breakfast! They weren't always the healthiest muffins, as many recipes are loaded with sugars and oil or butter. Sometimes, when I've been sick, it was the only thing I could manage to get down or that sounded good.
Lately though, breakfast has been avocado toast, homemade granola, smoothies, or eggs. So today, for a treat, we pulled out a nice carrot "cake" muffin. This is not too sweet, and uses pure maple syrup plus a small amount of organic cane sugar. It uses brown rice flour, almond flour, and tapioca for the flours, and has nuts, raisins, and unsweetened coconut, which works so nice with the carrot.
Sometimes I still will treat myself to a gluten free carrot cake from Manresa Bakery, in Los Gatos, which are delicious and buttery! You can also get these at Verve Coffee Roasters in Santa Cruz, in the morning when they haven't sold out. I can make this recipe, though, and not feel guilty eating them. The Ryze Gluten Free Flour Mix is a rice flour blend I like and use often, as it does not contain any xanthan or guar gum, but when used in recipes, it responds as if it contains it. Something with how they blend the flours. It's amazing! I also love to add almond flour into baked goods when I can. If you have a nut allergy though, simply omit the almond flour, and the nuts, and add in 1/3 cup of millet or sorghum flour in place of it.
You will also see notations of "gf" or "gluten free" next to ingredients that you need to watch out for when baking for a celiac or gluten intolerant person. Sometimes, the very sensitive or celiac person can't get away with any cross contamination which many spices, vanilla, flours, nuts or dried fruit, often contain. Some of the keys ones to consider are vanilla, spices, chocolate or chocolate chips, and nuts (many seem to be made in a facility which also processes gluten), but in our house for me, I stay away from anything not labeled gf or that is made in a facility that processes gluten. I stick to Kirkland vanilla or Nielson Massey vanillas and vanilla paste, which are all gluten free, all Schilling McCormick spices and other extracts, and Bob's Red Mill labeled gluten free flours, mostly. The Ryze flour, which is labeled gluten free, is something I've been using more of recently. I use the yellow bag, which is a blend of whole grain rice flour and rice flour. The package states it is, "a magically RYZEing blend of whole grain rice flour and rice flour", with no gums, no starches, no GMO's, and no allergens. I like that you don't have to have xanthan or other gums added for a great baked good. I still don't like to use all rice flours though, for health reasons, but mix in millet and sorghum, almond and tapioca or cassava. If you get a chance to make these, please let me know what you think.
~Laura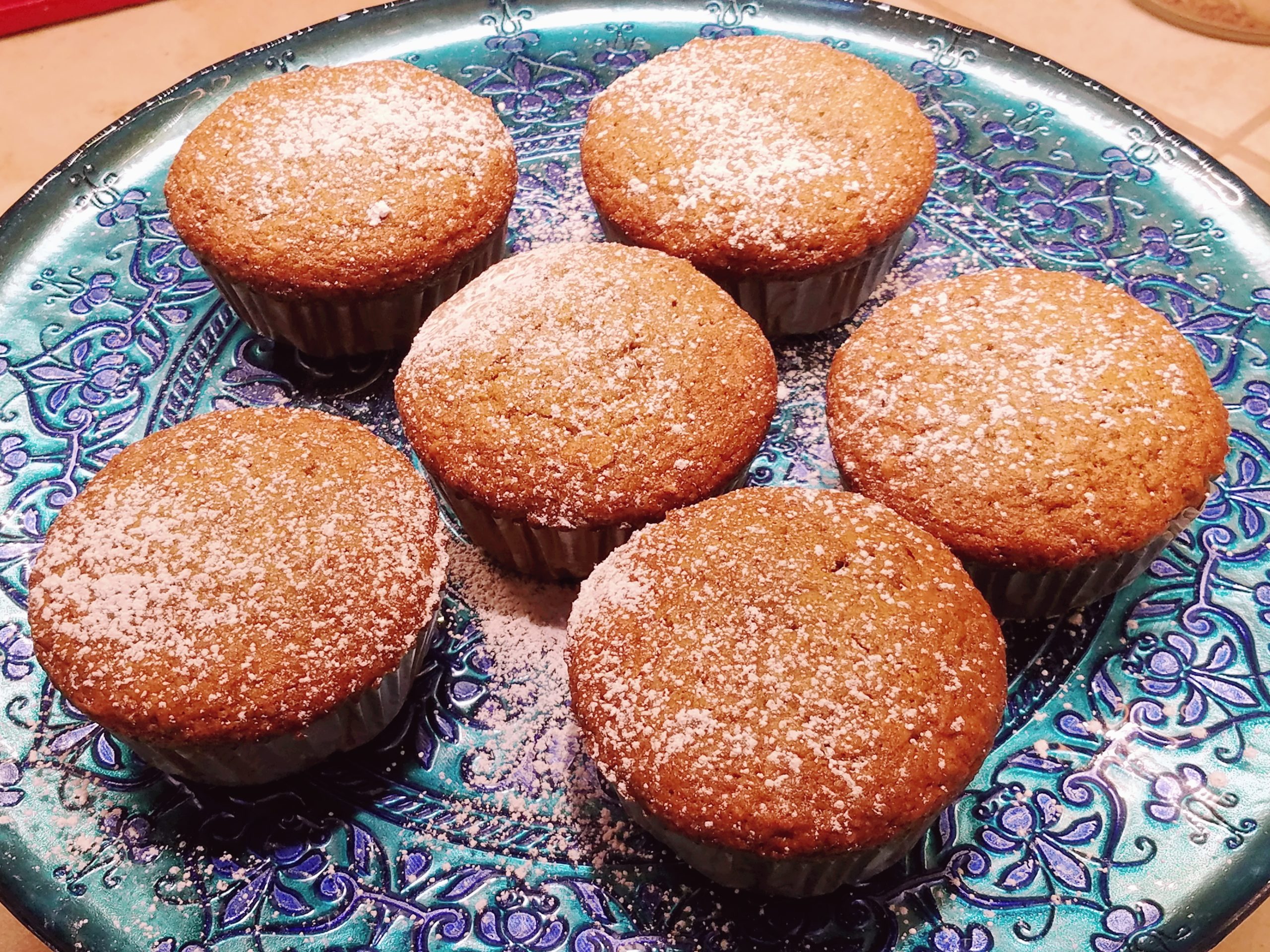 Ingredients
3/4

cup

carrot

finely shredded, about 1 large carrot

1/2

oil

(vegetable,  avocado or canola)

1/2

pure maple syrup

2

extra large

eggs

1/4

cup

organic cane sugar

1 ½

 teaspoon

vanilla

gf

3/4

cup

Ryze Gluten Free Flour Mix

(yellow bag) or substitute 1 to 1 Gluten Free  flour with xanthan gum

1/2

cup

almond flour

1/2

cup

cup tapioca flour  (starch)

gluten free

2

teaspoons

ground cinnamon

gluten free

3/4

teaspoon

ground nutmeg

gluten free

1/2

teaspoon

salt

3/4

teaspoon

baking soda

gluten free

2

teaspoon

baking powder

gluten free

1/4

cup

chopped nuts

(almonds, pecans, or walnuts)

1/4

cup

golden raisins

1/8

cup

raisins

1/4

cup

unsweetened toasted coconut flakes

or shredded, gluten free
Instructions
Preheat the oven to 375° F.

Mix together the Ryze flour, almond flour, tapioca, salt, baking powder, baking soda, cinnamon and nutmeg into a medium or large mixing bowl.

Combine in a small bowl, the carrot, eggs, oil, vanilla, and cane sugar. Stir thoroughly or whisk together to combine.

Add the wet mixture into the dry mixing bowl mixture, stirring completely for about a minute, with a wooden spoon or rubber spatula. Add nuts, raisins, and coconut and stir to combine.

Fill large paper lined, and lightly oiled cups, 2/3's full. You can also use paper cake molds, but be sure to lightly grease the molds with oil and place on a cookie sheet for ease of putting in the oven and removing from the oven.

Bake for 16 – 22 minutes, depending on the size, or when a toothpick comes out clean when inserted. Recipe makes 15 small muffins or 6 large, plus 3 small muffins.