It's almost summer here, and we'll be grilling more often again! It's so easy and often we make the entire dinner on the grill, or at least most of it. We're always up for our standard marinades and rubs for meats and fish, but often we (I – Laura) want something a bit beyond the ordinary! This Pomegranate Glazed Salmon (Gluten Free) fits the bill for beyond-the-ordinary!
It's just slightly sweet, and you can choose whether you want a small amount of heat from the crushed red pepper or not. I've tried it both ways and I prefer a little bit of spice in the glaze. You could try just a pinch to see what you think, or if you don't like spice at all, simply omit it.
Getting pomegranate seeds when they aren't in season
Trader Joe's Organic Pomegranate Seeds work great for this recipe when you are unable to get fresh pomegranates. These are so nice! However, if you can use fresh pomegranates they definitely have more flavor in my opinion.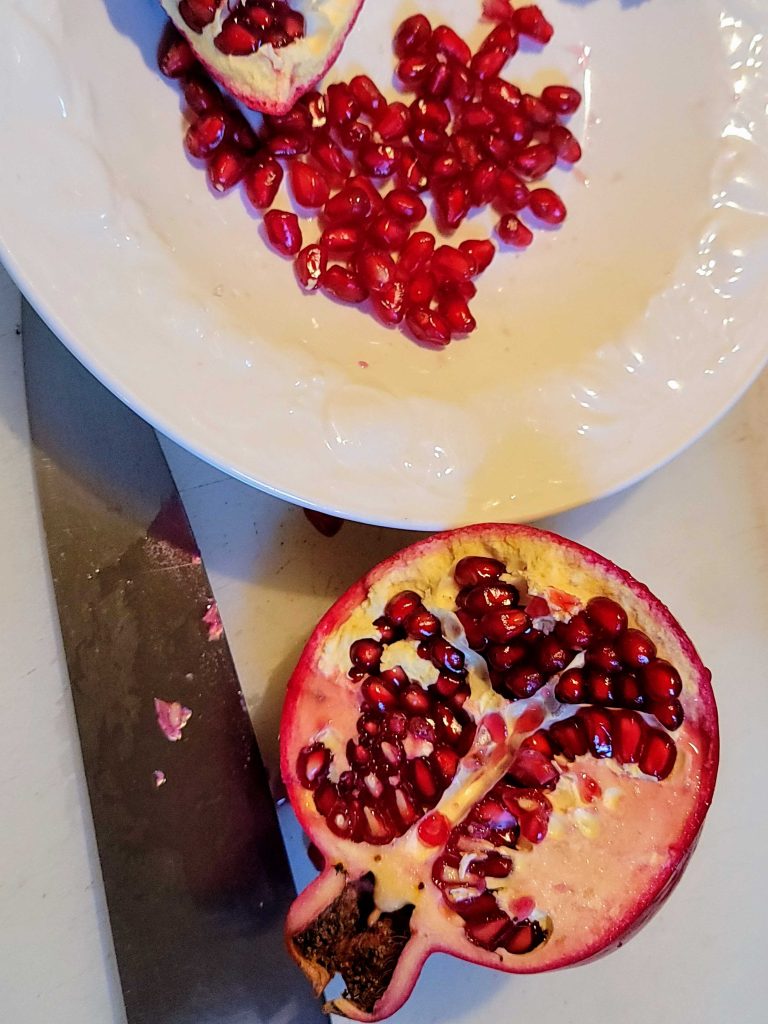 Baking this in the oven is another option for the salmon
You can also oven bake the salmon if you'd rather, or if the weather isn't great for grilling. Just preheat the oven to 375 degrees. Sear the lightly salted salmon pieces in a hot cast iron or skillet with a few tablespoons of vegetable oil.
Sear the flesh side (skin side up) or if skinless, sear the plated side first. Cook for 3-4 minutes before turning over and moving to the oven to finish cooking. Bake for 7-14 minutes more or until the salmon is the desired temperature.
You will feel spoiled with this glazed salmon if you need gluten free
When you need gluten-free, these specialty glazes are often what we have to go without. Many times the glaze or marinade isn't made free of gluten, so do ask your server to check.
I love getting salmon or fish at restaurants, but most of the time they need to leave the glaze off to make it gluten free. And that makes it just a little boring and a bit disappointing! This Pomegranate Glazed Salmon (Gluten Free) checks all gluten-free boxes so you'll be free to enjoy the deliciousness without giving ingredients a second thought!
What to serve with the Pomegranate Glazed Salmon
The asparagus went very nicely and grilled in about half the amount of time that the salmon took. I think also just a simple white or brown rice is all this one needs.
Not feeling Pomegranate today? Check out our other salmon recipes like the Caramelized Balsamic Maple Glazed Salmon and Firecracker Salmon.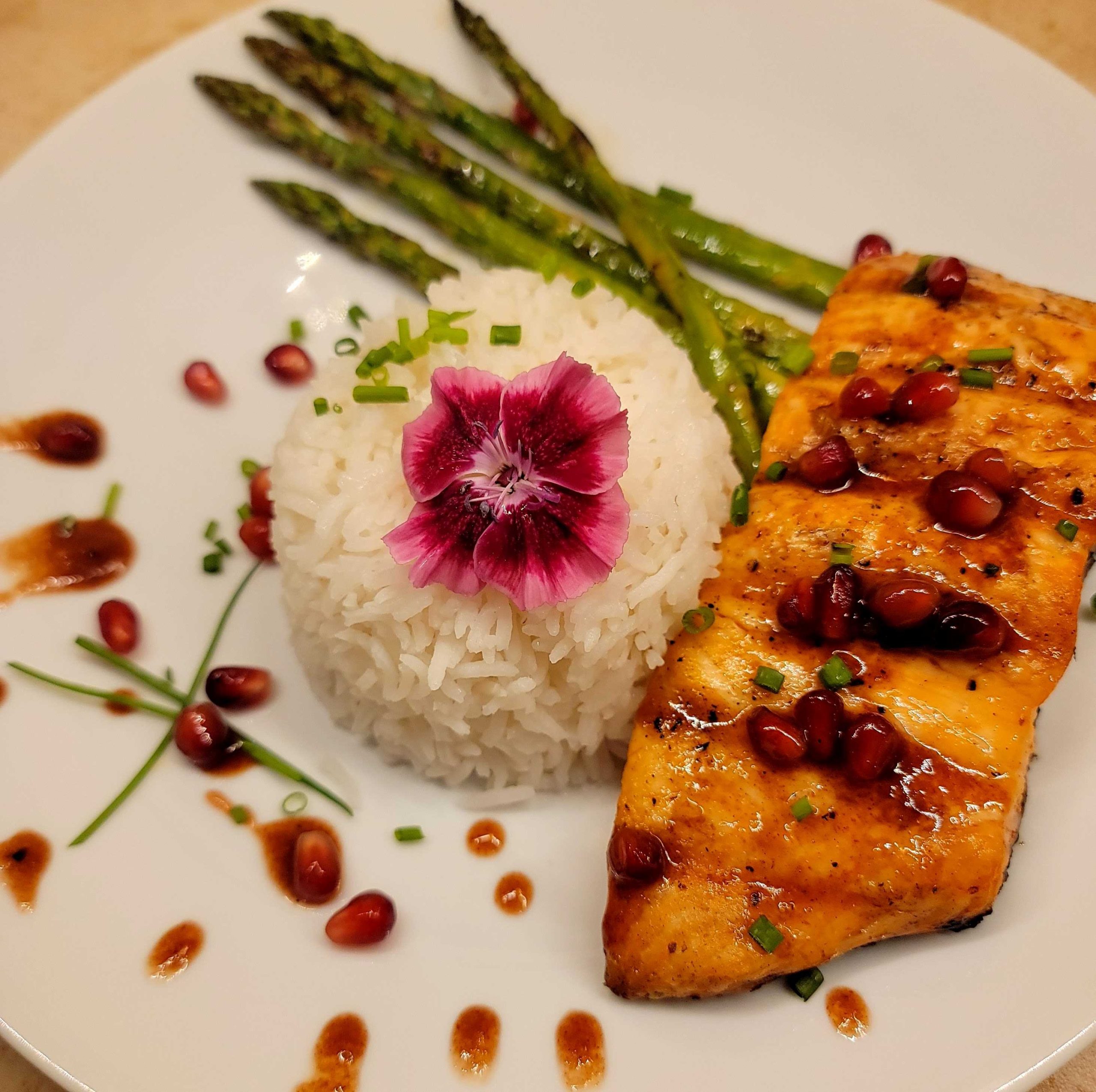 Pomegranate Glazed Salmon (Gluten Free)
For a special meal, try this Pomegranate Glazed Salmon (Gluten Free). It will seem like you're eating at a fine establishment! It's so easy, but no one will know that you didn't spend extra time fixing dinner!
Ingredients
4

6-7 oz.

salmon fillets, skin on, if grilling

2½

tbsp

pomegranate jelly

2

tbsp

unsalted butter, divided

or dairy free butter, gluten free if needed

¼

teaspoon

paprika

gf

1

large

clove garlic, crushed

1

tbsp

lemon juice

1

tbsp

Tamari, Gluten Free Soy Sauce or Coconut Aminos

¼

teaspoon

Kosher salt

Pinch of black pepper

⅛

teaspoon

crushed red pepper flakes, optional

gf

½

cup

pomegranate arils, divided

⅛

cup

chives, minced or sliced
Instructions
In a small bowl combine the pomegranate jelly, 1 tablespoon butter, paprika, lemon juice, garlic, Tamari or Gluten Free Soy Sauce, salt, pepper, and red pepper. Add half of the pomegranate arils. Heat the glaze in a saucepan over low heat until just simmering, or heat in the microwave for 30 seconds. Stir and heat for another 20-25 seconds.

Bring the salmon to room temperature for 40 minutes. Rinse and pat dry with paper towels. Lightly salt and pepper the fish.

Reserving half of the sauce to brush the fish with, and with the other half add to a serving dish, with the remaining pomegranate arils and the remaining 1 tablespoon of butter. Warm in a 200 degree oven for 8-10 minutes, while salmon is cooking.

Heat the grill to approximately 400℉.

Brush olive oil on the fish. Spray the grill with a small amount of oil (only on the portion you will cook the fish on.) Set the fish on the grill, skin side up. Grill for 5 or 6 minutes. The fish should remove fairly easy from the grill.

The fish should remove fairly easy from the grill. Turn the fish over after gently loosening from the grill. Baste the fish with the glaze a couple of times, when it's finishing it's cooking on the second side.

Check the temperature after approximately 4 minutes after turning. Continue grilling until you've reached the desired temperature. According to the FDA salmon should be cooked to 145℉. We like ours about 140℉. Many people like theirs much less than that!

Remove the fish to the serving dish with the remaining warmed glaze. Spoon sauce and arils over the salmon. Top with minced chives. 
Notes
To bake this in the oven, preheat the oven to 400 degrees. Heat a skillet with 1 tablespoon of vegetable oil. Sear the non-skin side for for 3-4 minutes, without touching.
Gently remove the fish pieces (they should pull away fairly easy) and place skin side down on a parchment lined baking sheet. Brush with the glaze. move to the oven for 7-14 minutes, brushing glaze on two more times.
Remove from the oven when desired temperature has been reached. Warm the other half of the sauce/glaze for just a few minutes to heat. Add more sauce and pomegranate arils to the top of the fish and sprinkle chives over before serving. 
Note: if you don't have pomegranate jelly you could substitute 2 tablespoons of pomegranate juice and 2 tablespoons of honey.