Delicious ginger and cinnamon with a beautiful crackle finish from the water and sugar on the tops, make these the perfect cookie to serve to guests and for you and your family to enjoy! Honestly, no one will guess they are gluten free, they have such a nice texture and taste.
You can leave these in a few minutes longer if you like them crunchier, or cook for the recommended time to enjoy a softer chewy cookie (with still a little crunch on the outside). I like quite a bit of spice in these, but you can definitely reduce the amount of cinnamon and ginger to 2 or 2 1/2 teaspoons of each, if you like.
Serve these cookies in the fall when you want a spice cookie, for Thanksgiving, or in spring, summer, or winter. They are perfect after a heavier meal. They will sit light on the tummy and the ginger will help with digestion. Or, they are perfect as an ice cream sandwich also, with a few small scoops of gluten free ice cream tucked in between two! Yum!
~Laura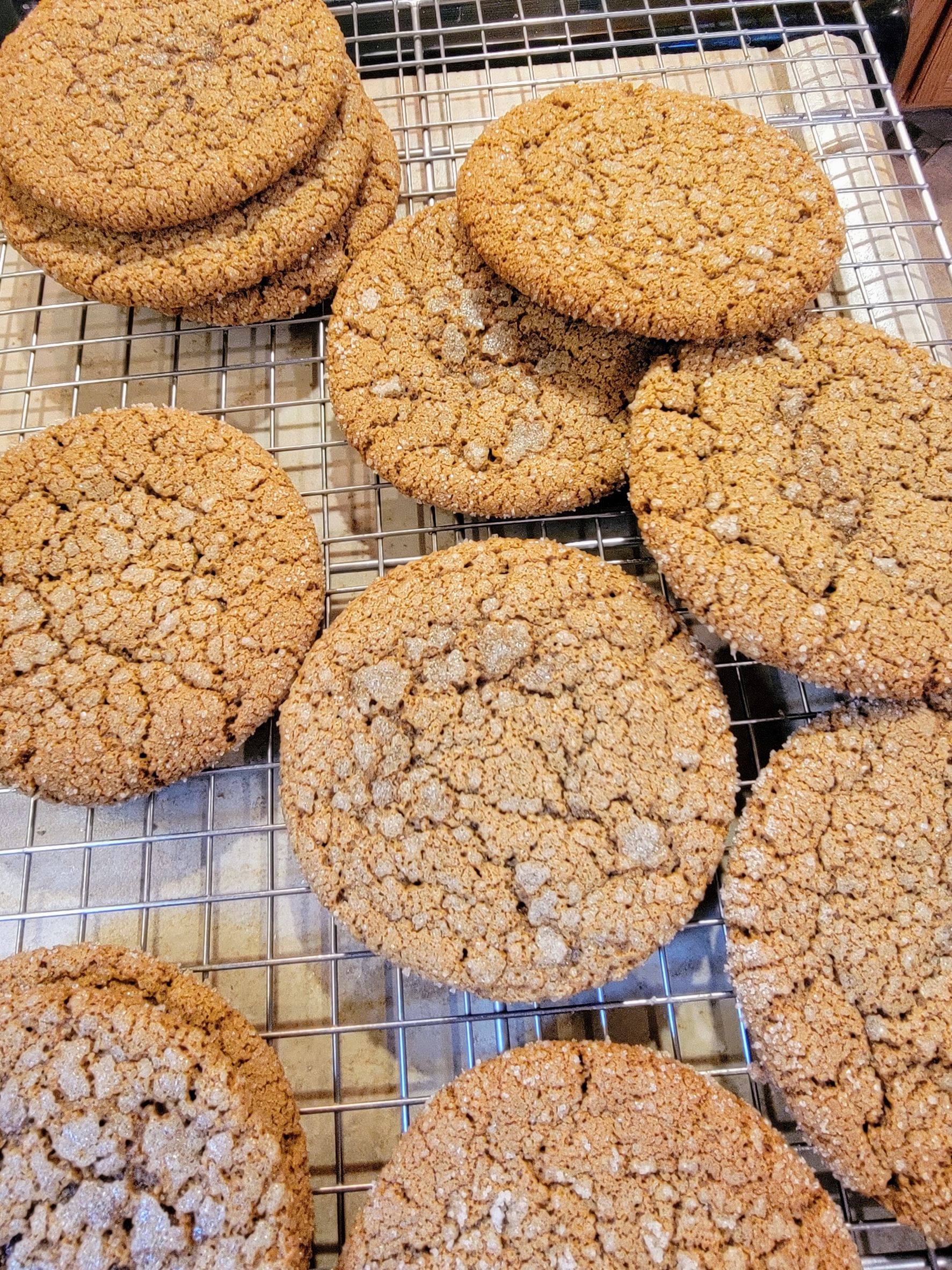 Gluten Free Soft Honey Ginger Cookies
Gluten Free Soft Honey Ginger Cookies are one of my favorite cookies! I love spice flavors, cinnamon, ginger, nutmeg, and cloves. As well as the comforting spice flavors that enhance this cookie, the buttery crisp outside and chewy and soft inside is so satisfying.
Ingredients
1 1/3 cups

organic cane sugar

7 Tablespoons

salted butter

3 Tablespoons

honey or molasses

gluten free

2

eggs

1/2 cup

almond flour 

gluten free

1 ½ cups plus 1 Tablespoon

Bob's Red Mill Gluten Free 1 to 1 Baking Flour

1 teaspoon

baking soda

gluten free

3 ½ teaspoons

cinnamon

gluten free (use 2 ½ for less spice)

3 ½  teaspoons

ground ginger

gluten free (use 2 ½ for less spice)

1/4 cup

organic cane sugar

for coating cookie balls before baking
Instructions
In a large bowl with a hand mixer or in a stand mixer bowl, cream the butter and sugar.

Add the honey and eggs, and mix together on low or medium low.

Mix in the almond flour, Bob's Gluten free 1 to 1 Baking Flour, baking soda, cinnamon, and ginger.

Cover the bowl with cellophane and refrigerate for 1 1/2 – 2 hours.

When ready to bake, line a baking sheet or baking stone with parchment. Preheat the oven to 350° F.

Set a shallow small bowl with sugar for coating the cookie balls and another shallow bowl of few tablespoons of water. Spoon out a heaping tablespoon of dough and roll into a ball, roll in the sugar to coat on all sides and place on the baking tray. Continue for other dough balls, being sure to leave 3 inches in between. Dip a flat bottomed glass in the water, then in the sugar, and press onto a cookie, flattening to 5/8 inch. Continue for other cookies.

Bake for 10 – 14 minutes, until golden browned. Let cool for 2 minutes before removing to a wire rack to finish cooling. You can make these crunchier by cookie on the longer side and leaving on your tray to cool for 4 minutes, before moving to a rack to finish cooling.
Notes
Here's a fun dessert idea! Let these cookies cool completely. Then fill two cookies with slightly softened Breyer's Vanilla Ice Cream or another gluten free ice cream. Dip the edges in chopped nuts if you like. Wrap each cookie ice cream sandwich in cellophane and freeze for a few hours. Then serve for an easy gluten free dessert.