Jump to Recipe
Print Recipe
In my opinion, there's nothing quite like a delicious gluten free cinnamon raisin bread! I love it toasted with butter or peanut butter or just sliced right after baking. Yes, you must let it cool before slicing! This dough is more batter-like, yielding a moister, delicate, airy gluten free dough, with spice and dried fruit in most bites. The crust is crisp while maintaining a soft center.
Try the variation ~ Orange Cranberry Bread
You can choose to make the variation here instead of the traditional Cinnamon Raisin Loaf (Gluten Free): a delicious Orange Cranberry Bread (Gluten Free). This bread is not overly sweet making it perfect for a morning toast. The dried fruit gives a nice light sweetness and the spices just a little bit of flavor for this bread. You could even try adding another 1/2-1 teaspoon of orange zest if you like, as it's a pretty gentle flavor.
For the dried cranberries, I prefer to use Trader Joe's Golden Berry Blend Dried Fruit with dried cranberries, golden raisins, dried blueberries and cherries, but just dried cranberries work great in the recipe too.
Perfect for French toast or just a buttered toast
I love either of these breads for straight up toast. But you could also make a lovely French toast with this bread. It would be wonderful for Christmas morning. It's also been great for just a simple morning buttered toast.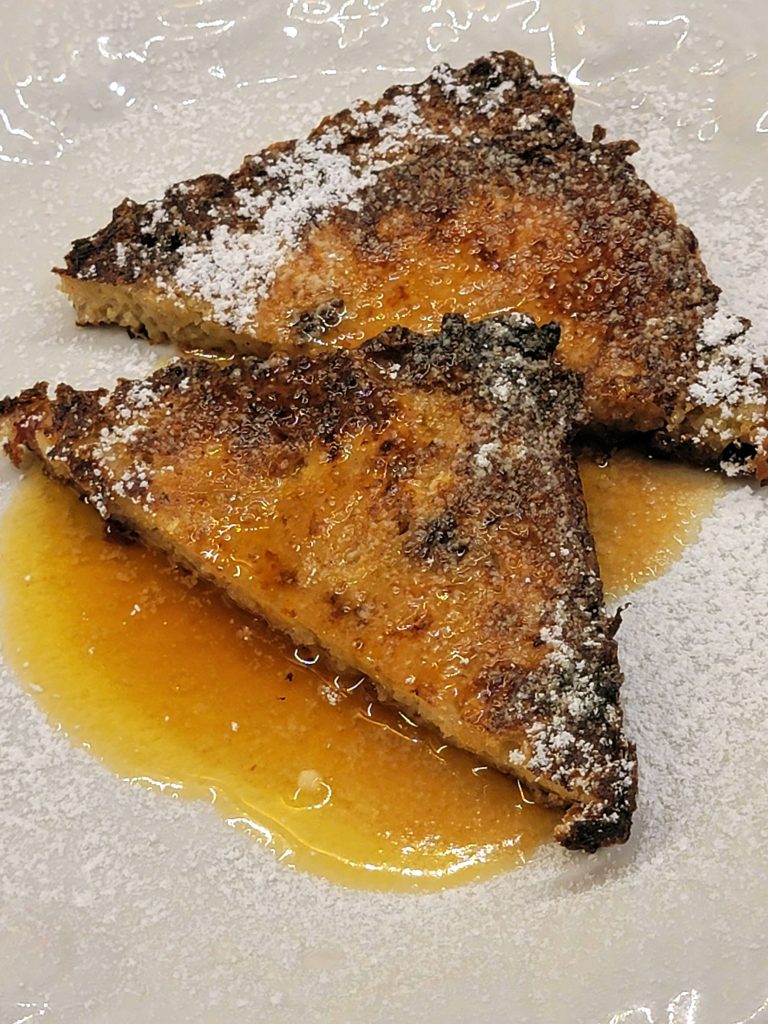 If you don't have the King Arthur Flour's Perfect Gluten-Free Loaf Pan, you might want to invest in this little guy. It's a great tool for making a bit taller gluten free loaf. The sides are formulated to allow the gluten free dough to rise and bake with more support. The result is a taller gluten free bread. We all hate that tiny gluten free bread don't we?! Check it out on their website. It's a pretty well priced loaf pan at $22.95. I've definitely gotten my money's worth with all the loaves that have baked in it! It's perfect for baking gluten free sourdough loaves too.
Gluten free flour blends and additives
I hope you like this one! I have had to rewrite many of my recipes because many are written for my favorite flour, Ryze Gluten Free Flour. After using it for many years, it doesn't seem to be available, at least at this point. I really hope it comes back on the market though. It's a great gluten free blend that only has rice flour in it, with no xanthan or fillers added, although it bakes as if it has the stabilizers.
My system can't tolerate cellulose, a fiber they add to many gluten free flours, gluten free products, as well as most vitamins and medicines. It took me years to figure out that cellulose was a huge problem for me. It's literally in so many products! Most of the gluten free flours contain cellulose, although Bob's Red Mill 1 to 1 Gluten Free Flour does not, nor does Cup 4 Cup.
Maybe another company will come out with a similar flour that does not contain xanthan. Some recipes do need a little, while others do not. I like being able to control the amount or to just omit. For this reason my recipes are usually made of several gluten free flours.
~Laura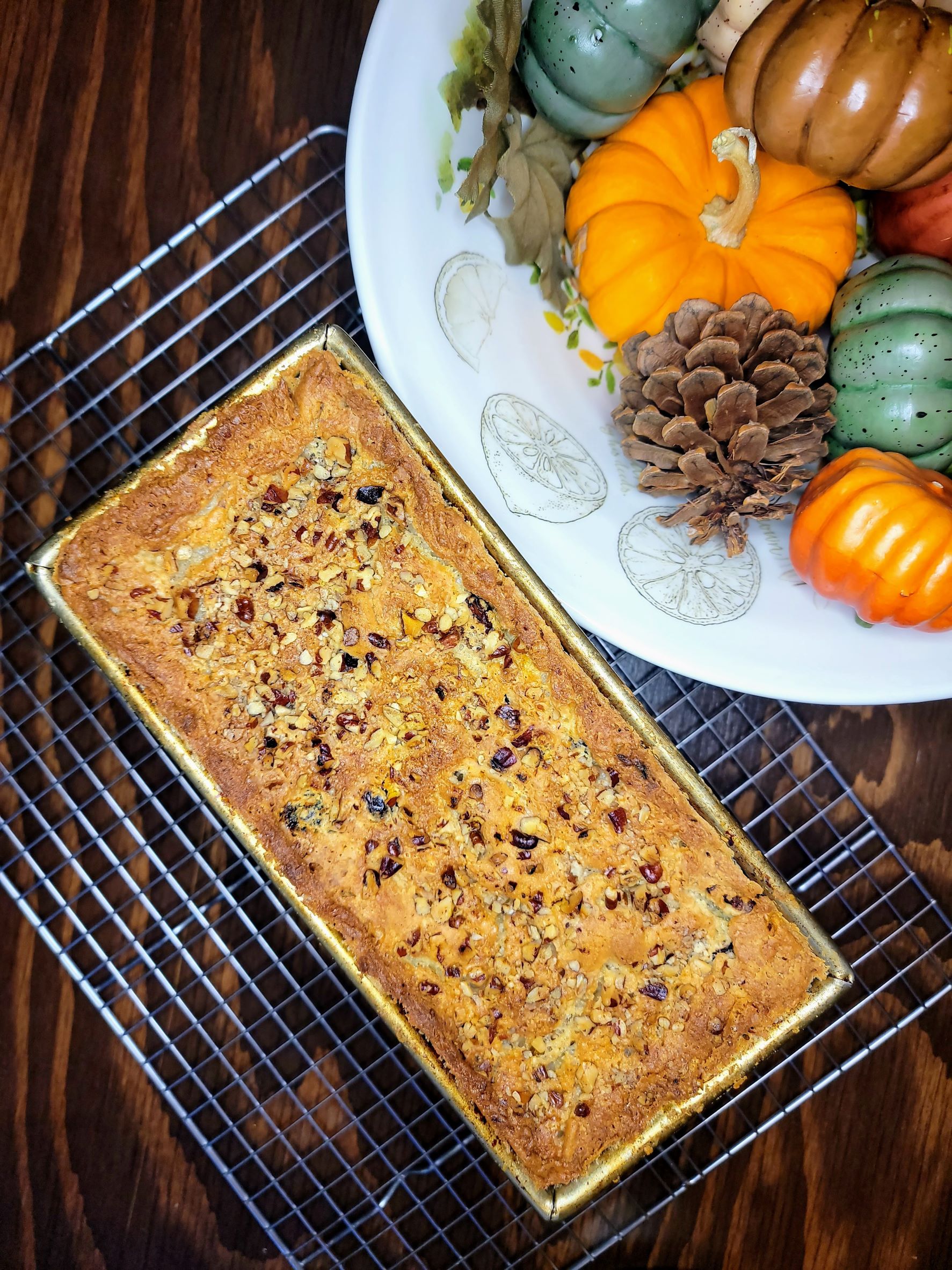 Gluten Free Cinnamon Raisin Bread or Orange Cranberry Bread
This is the perfect bread for toast. Being gluten free, I love when I get to eat something that seems extravagant, since most of the time I have to pass. This one is not much effort for great texture and tasting gluten free bread.
Equipment
1 9x4x4" King Arthur Flour Perfect Gluten Free Loaf Pan

or 9.5x5x2.5" loaf pan
Ingredients
1 ½ cups warm water

4 teaspoons honey or sugar

4 teaspoons Fleishmann's Active Dry Yeast

gf

1 ½ cups Bob's Red Mill Gluten Free 1 to 1 Flour

½ cup plus 2 tbsp Bob's Red Mill White Rice Flour

gf

½ cup plus 3 tbsp Bob's Red Mill Organic Brown Rice Flour

gf

½ cup Bob's Red Mill Tapioca Flour (Starch)

gf

2 tbsp cornstarch

gf

1 teaspoon xanthan gum

2 ½ tbsp sugar

1 teaspoon Kosher salt (¾ teaspoon of table salt)

2 egg whites

1 egg

1 ½ tbsp milk

1 ½ teaspoons apple cider vinegar

2 tbsp vegetable oil or avocado oil

1 ½ teaspoons ground cinnamon

gf

½ cup raisins 

1 tbsp butter

brush on before baking

¼ cup chopped pecans or almonds, optional

add to top before baking
Orange Cranberry Variation
½ cup Dried Cranberries or Trader Joe's Berry Blend Dried Fruit

2 teaspoons orange zest

1 ½ teaspoons orange juice

¼ teaspoon ground allspice

gf

¼ teaspoon ground ginger

gf

¼ teaspoon ground nutmeg

gf

⅛ teaspoon ground cinnamon

gf
Instructions
In a small bowl, stir together the warm water, yeast, and 4 teaspoons honey or sugar. Let sit until bubbly, about 20 minutes.

Grease and lightly flour with gluten free flour a 9x4x4 inch tall loaf pan.

Sift together the flours, cornstarch, xanthan, 2 1/2 tablespoons sugar, and salt. Pour into a large bowl or stand mixer bowl. When the yeast mixture is bubbly, add to the bowl with flour mixture. Beat for 30 seconds either in a stand mixer or using a hand mixer with the paddle attachment. Add the egg whites and egg, one at a time, then the milk, apple cider vinegar, oil, and spices. *For Orange Cranberry Bread omit 1 1/2 teaspoons cinnamon. Add allspice, ginger, nutmeg, and cinnamon in Gluten Free Orange Cranberry Bread.

Beat for 3-4 minutes. Dough will be more like a batter.

Add the raisins and stir to distribute through. See the note for Orange Cranberry Variation.

Cover and let the dough rest for 30 minutes. 

Spoon into the prepared tall loaf pan (King Arthur Flour Perfect Gluten Free Loaf Pan). Smooth the top with a rubber spatula. Cover with cellophane and let rise in the oven on bread proof setting or in a warm place for 1-1 ½ hours. Dough should have risen to the top of the pan or just below the top.

Preheat the oven to

400

°F

with a rack in the center of the oven.

Brush with melted butter and top with optional chopped pecans. Gently press into the dough. Bake for 45-50 minutes. Check for doneness with a Thermapen or instant thermometer. It should register 207 degrees when checked in the center of the bread.

Remove to a wire rack to cool. After 10 minutes, remove from the pan and continue to cool completely before slicing. 
Orange Cranberry Variation
Add the cranberries, orange zest, and orange juice, instead of the raisins. Proceed to step 5.