Jump to Recipe
Print Recipe
Oatmeal Cookies, certified gluten free, if needed, but just remember to use gluten free oats (and other ingredients!).
I have been offered many oatmeal cookies that people thought were gluten free, believing oats to be gluten free. This is truly a misnomer. Although pure oats do not contain gluten, they may be contaminated due to the fact that they are often manufactured on equipment that has been used to process other gluten-containing ingredients, like barley, wheat, and rye . You can easily find gluten free oats. Trader Joe's has a huge bag that is reasonably priced. Then just make sure to use gluten free ingredients for the other items in the recipe, including vanilla, baking soda, the other flours, the cinnamon, and even the nuts and chocolate.
And then enjoy your cookies! These are also delicious with caramel chips for half the amount of chocolate chips. This recipe is one that is newer for me, (because Paul doesn't love oatmeal cookies).
I've named it after my friend, Kate, who loves these gluten free oatmeal cookies. These are her favorite, and they aren't a bad favorite, since I feel like they are actually pretty healthy! Which is good, because I think she may sometimes just eat cookies for dinner! 😉
~Laura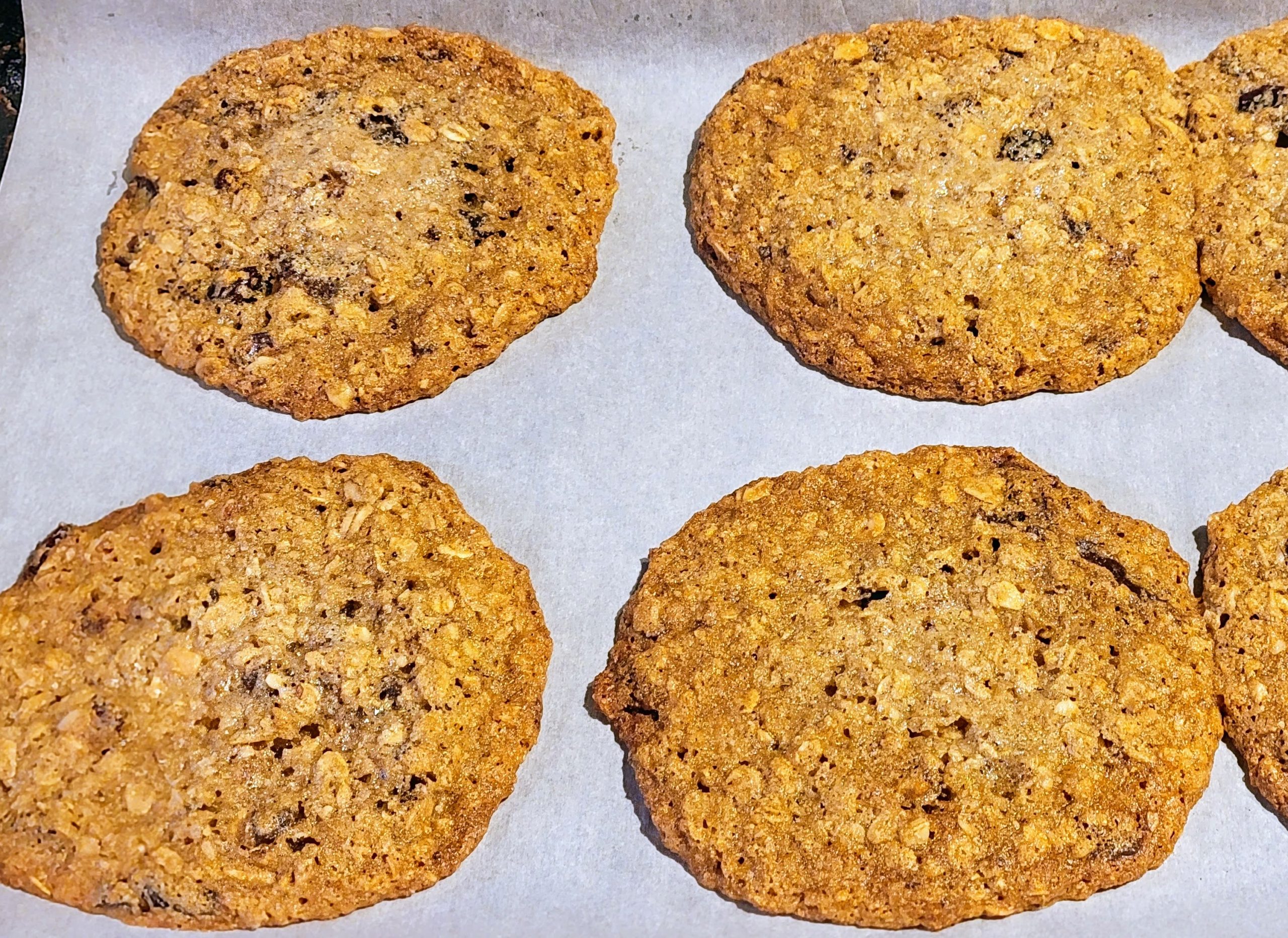 Kate's Favorite Gluten Free Oatmeal Cookies
Ingredients
½ cup, plus 6 ½ tablespoons unsalted butter or dairy free (gf) butter substitute, cut into several pieces

1 cup dark or light brown sugar

2 ½ teaspoon pure vanilla extract, gf

2 large eggs

¼ cup tapioca starch, gf

½ cup cassava flour, gf

½ cup, plus 2 tablespoons almond flour, gf

1 teaspoon baking soda, gf

¼ teaspoon ground cinnamon, gf

¼ teaspoon salt, omit if using salted butter

2 cups Trader Joe's Gluten Free Oats or other gf brand

1 cup Guittard Extra Dark Baking Chips or other gluten free dark chocolate chips, gf

⅜ – ½ cup unsalted chopped nuts, optional

¼ cup raisins

¼ cup dried cranberries, softened
Instructions
In a small measure, pour a ⅛ cup of hot water over the dried cranberries. Set aside.

In the bowl of a stand mixer or in a medium bowl using a hand mixer, cream together the butter, and brown sugar. Add the eggs, one at a time, mixing after each. Add the vanilla.

In another bowl combine the tapioca starch, cassava, baking soda, cinnamon, and salt (only if using unsalted butter). Add the flours to the creamed mixture and mix in. Using low speed on the mixer, stir in the oats, chocolate chips, nuts, and raisins. Drain the water from the cranberries and mix into the cookie dough. 

Cover and chill for 2 hours or overnight. 

When ready to bake, preheat the oven to 350 degrees. 

Line a stone baking sheet or a cookie sheet with parchment paper. Use a large scoop or scoop by heaping tablespoons to form 1 ½ inch balls of cookie dough, placing the cookies 2 ½ -3 inches apart on the sheet. 

Bake one tray at a time in the middle of the oven for 11-14 minutes until the cookies are slightly browned but still soft in the center. Flatten a little part way through baking, if a crispier cookie is desired.

Let the cookies cool on the tray for 2 ½ -3 minutes before carefully removing to a wire rack to finish cooling. They will fall apart if you try to remove them too soon!

Store in an airtight container for up to 3 days for best taste and texture.