Jump to Recipe
Print Recipe
I know discussing favorite Thanksgiving stuffing recipes can cause quite a debate, but this rice stuffing is hands down the best! And rice stuffing is possibly the best offering for a non gluten eater, so it's my go-to favorite to make and serve! There still could always be an ingredient that contains gluten, even in a rice stuffing, but chances are much less likely to find gluten here, than it's counterpart, the bread stuffing.
This stuffing has been a favorite of our families and for many years has been included on the Thanksgiving table. If I was hosting, it was on our table, and if I wasn't, I often offered to bring this dish. You can easily make this vegetarian or even vegan if needed, if you have guests that don't eat dairy…or bacon. But we don't have that issue in our house! Definitely not with bacon anyway! My sister-in-law and brother-in-law often coat bacon in brown sugar and then bake it until golden and caramelized and serve as a delicious appetizer! Yum!
This stuffing is both savory and sweet (and pretty with many colors of fall), and is amazing with the turkey and cranberries to accompany it. We usually do have a second stuffing, a cornbread or French Canadian Meat and Potato Stuffing, as both are easy to do gluten free. I hope you like it, and if you can ever pull off making it a day early, the flavors really meld overnight and it tastes even better. Enjoy and Happy Thanksgiving Friends!
Laura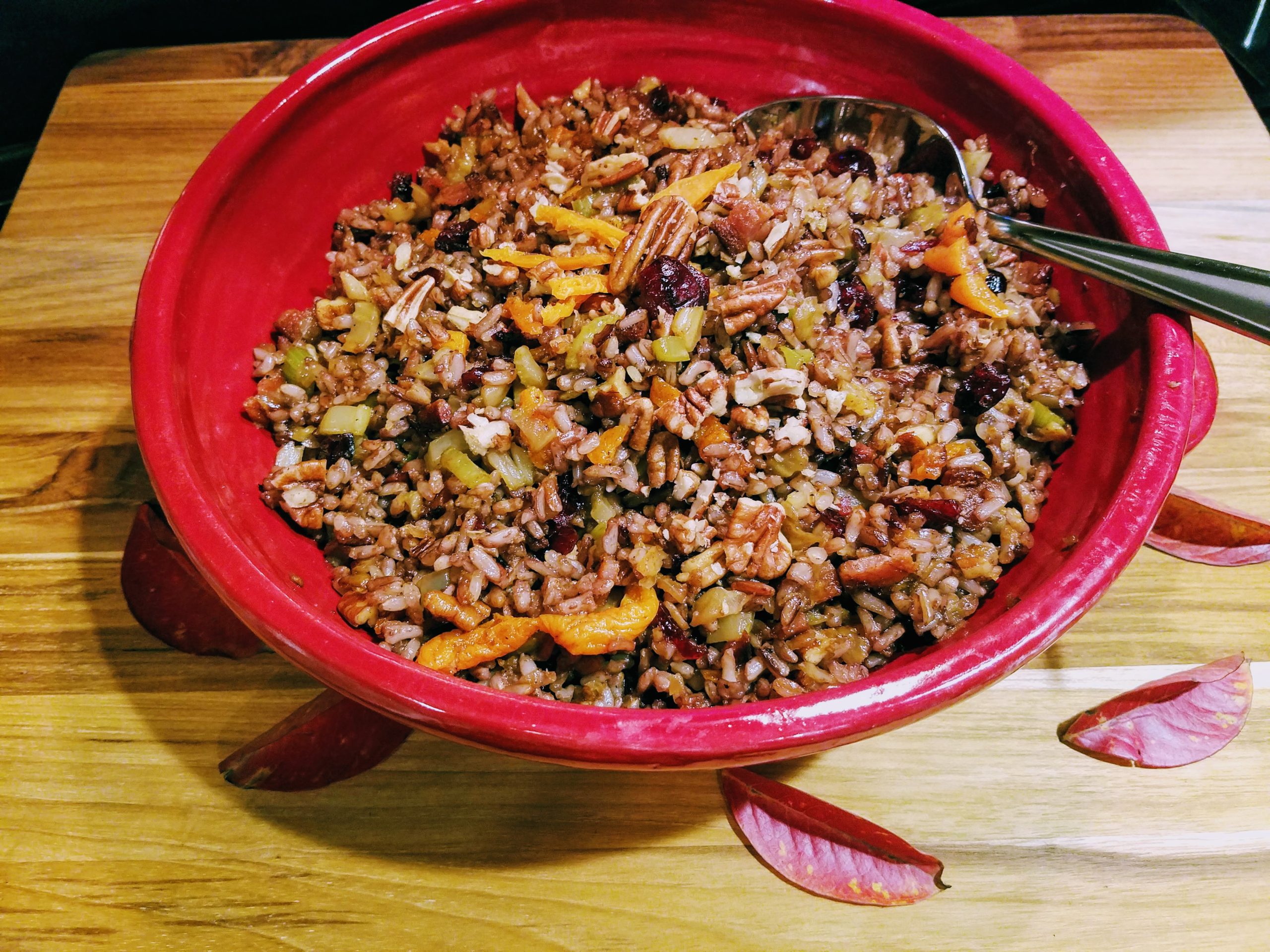 The Best Ever Savory and Sweet Rice Stuffing
Ingredients
2 tablespoons

olive oil

2 tablespoons

butter

1 medium

onion

chopped fine

1 large

stalk of celery

or 2 small, chopped small

1/2 bulb

fennel

sliced and cut small

1/4 teaspoon

salt

more to taste

1/4 teaspoon

pepper

1/2 teaspoon

paprika

gf brand

1/4 cup

Grand Marnier Orange Liquor

(certified gf), optional, or 1/2 teaspoon orange zest

2 1/2 cups

Lundberg Wild Blend Rice

cooked (on the more done side) or other Lundberg Rice Blend (certified gf) or another gluten free rice blend

5 or 6 slices

bacon

cooked and chopped or crumbled (use a gf brand)

1/3 cup

roasted salted pecans

chopped, reserve a few for the top of the dish

1/3 cup

dried cranberries

1/4 cup

dried slab apricots

sliced fine

2 tablespoons

soft butter
Instructions
Cook the bacon until crisp and set aside on paper towels to drain.

Heat the olive oil in a 12 " skillet over medium high heat. Add the onion, fennel, celery, salt, pepper, paprika and 2 tablespoons butter and saute for 5-8 minutes or until the vegetables are soft. Remove to a small bowl and set aside.

Add the Grand Marnier Liquor and while on medium high burner, slide the pan back and forth for 15 or 20 seconds to reduce the alcohol (be careful as it may flame).

Add the cooked rice, the cut bacon, the sauteed onion, celery and fennel, the dried apricots and cranberries, the remaining 2 tablespoons of soft butter, and the pecans (reserving some for the top of the dish). Give a good stir so everything is evenly mixed together and cook on low heat for 8 minutes or so. Turn the stove off.

Serve immediately or put in a covered casserole dish to keep warm in the oven. Or as this dish is even better on day two, cool and refrigerate overnight, and reheat just before enjoying, either in a covered dish in the oven on 325 for 35 minutes or in the microwave for a few minutes.