Jump to Recipe
Print Recipe
There's not many things better than a warm pretzel! And I'm not talking about the kind you might find at an amusement park that are stale and not too tasty. I'm talking about delicious homemade and fresh ones!
Our family has fond memories of getting pretzels on the streets of Oradea, Romania. A string of 8 pretzels for just $1!! But once I could no longer eat any gluten, I had to pass, on this item which I have never found in a bakery or restaurant.
Here I've combined the gluten free dough, which is rather hard to work with to start with, and added gluten free sourdough starter and created a traditional boiled then baked pretzel. Letting the starter and some of the flour and a few other ingredients, sit overnight boosts the rising. You also won't have to wait as long in the morning before enjoying them!
I've also included freezing them before putting in the boiling water, which is an incredible technique. It's not my own idea (I'm sorry I can't give credit as I'm not sure who thought this up). Then be sure to make sure the dough is partially frozen (until pretty firm) before dropping into the boiling water. If you rush it, they will fall apart! I realized the last time I made these that the freezer door was not closed all the way. So, when I thought enough time had passed, I retrieved the pan. Unfortunately, they hadn't froze properly. I only noticed when I put them into the water. Then also upon removing from the boiling water back to the tray. They began to break apart! I ended up piecing them back together a bit and they still cooked fine, they just didn't look as pretty.
My granddaughter, Maddie, who is a pretzel connoisseur, helped me make these the last round and she thought they were delicious and did my husband, Paul.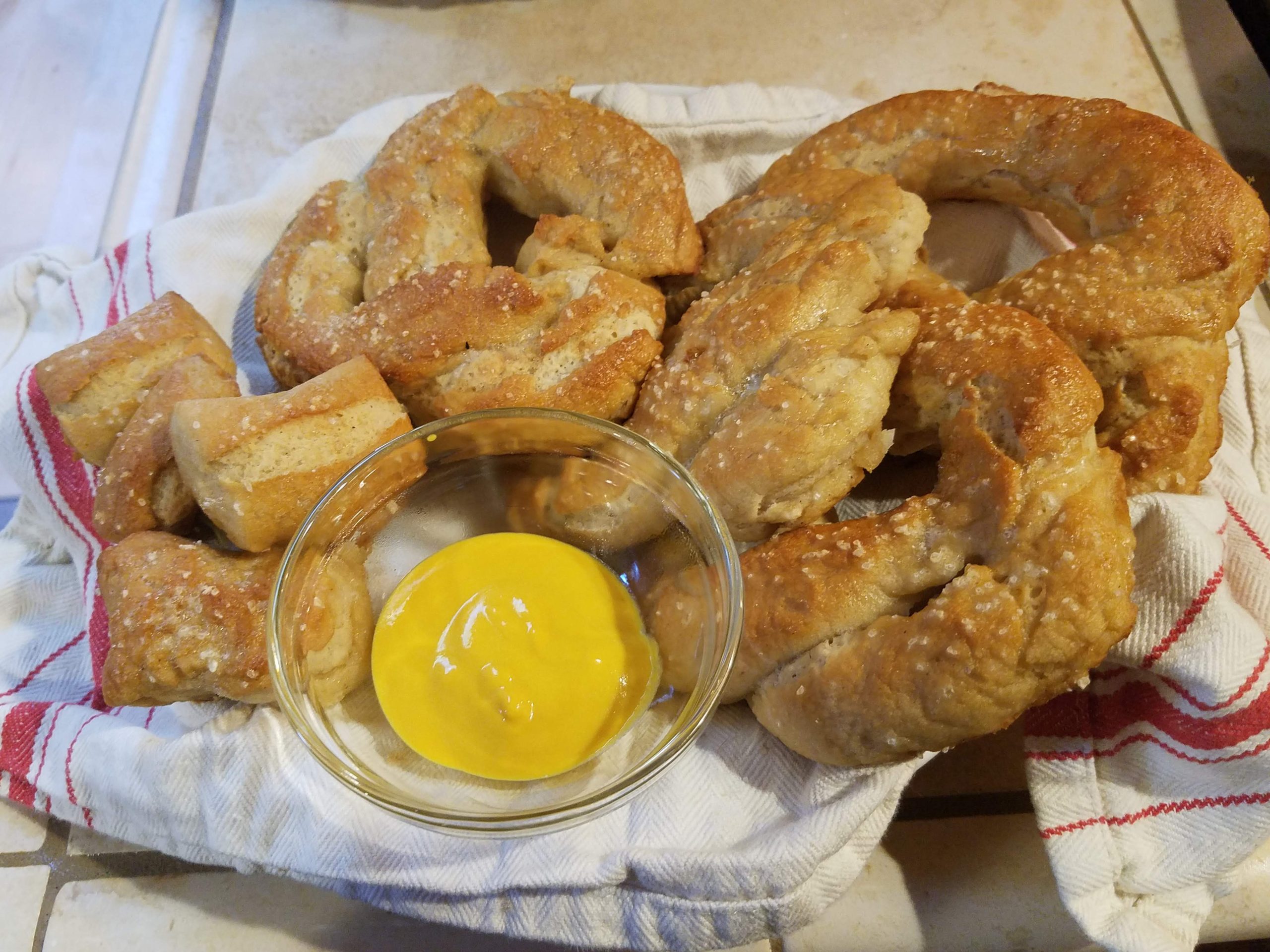 Gluten Free Sourdough Pretzels
Oh the thought of a warm pretzel makes my heart jump! This has long been one of my favorite foods, a warm, soft pretzels with a bit of salt on top! Now we can enjoy them once again!
Ingredients
1 tbsp sugar

1 1/4 cups gluten free sourdough starter

1/2 cup tapioca starch, gf

1/2 cup 1 to 1 gluten free flour blend, with xanthan gum

1/2 cup milk

1/2 cup tapioca starch, gf

1/2 cup 1 to 1 gluten free flour blend, with xanthan gum

1/4 cup plus 2 T heated (warm to touch) milk

1 tbsp honey

1 teaspoon of active yeast, gf

2 tbsp melted butter

1/2 cup of flours you mixed together (step above)

1/2 teaspoon salt

1 teaspoon baking soda, gf

up to 4 tbsp additional gf 1 to 1 flour blend

as needed to make a stiff dough

1 egg white

1 tbsp water
Instructions
In a large bowl, add the sugar, sourdough starter, 1/2 cup of tapioca starch, 1/2 cup 1 to 1 gluten free flour, and 1/2 cup milk. Cover with a towel and let sit on the counter overnight.

In the morning, in a small bowl, stir together 1/2 cup of tapioca starch and 1/ 2 cup 1 to 1 gluten free flour,

In another small bowl stir the remaining milk, honey, yeast, butter, and 1/2 cup of mixed flour from step 2. Stir until combined and let sit for 20 minutes until bubbly.

Add to the large bowl of dough the remaining flour from the small bowl, the bubbly yeasty mixture, salt, and baking soda. Stir until combined.

Mix in a small amount of additional gluten free flour (start with 2 tablespoons). Add more gluten free flour as needed, and knead to make a firm but pliable dough. Cover with a towel and proof in the oven or a warm place for 2 hours.

Line two cookie sheets with parchment paper for freezing the pretzels on. 

Divide the dough in half.

Then divide each half into 4 pieces for a total of 8 pieces. Roll each piece into a ball and cover with a damp towel.

On a well floured (gf flour) surface, roll each piece into a long strip 12-14 inches long.

Form into a pretzel on a cutting board and place on the cookie sheet. Form the remainder of pretzels or make some as small 1 1/2 inch long pretzel bites, putting 4 pretzels on each tray spaced equally apart (or 3 plus pretzel bites).

Freeze each tray for 30 minutes, until the pretzels are pretty firm to the touch. 

While waiting for the pretzels to freeze, preheat the oven to 450 degrees.

Then fill a large stockpot 3/4 full of water. Add 1 tablespoon of baking soda to the water and bring to a boil over medium high heat.

Make an egg wash consisting of 1 teaspoon of water and 1 egg white. Whip with a fork until frothy.

Once pretzels are frozen firm to the touch and the water if boiling, gently drop a few pretzels in the water. Boil until they rise to the surface and continue to boil for 5 more seconds. Remove with a very large slotted spoon or spatula and spoon to parchment lined cookie sheet or stone bar pan (not a cold one). 

Brush egg wash over pretzels. Add flaked salt on top or topping of your choice (poppy seeds, minced garlic, or cinnamon sugar work well too).

Bake each tray in the 450 degree oven. baking one tray at a time, for 18-24 minutes until golden brown.

The are best when eaten the same day and when hot, but can keep in the fridge or freezer in an airtight container and reheat at 425 degrees for 6 or 8 minutes. Serve with mustard and/or butter.