This is a lighter but thicker crust that gets a nice crisp edge and bottom and has a chewy texture like a wheat crust. You can make this dough in the morning or the day before and wrap and refrigerate for later use in the evening or the next day. It makes three smaller crusts that you can use for pizza or for flatbreads. This is the best gluten free pizza I have ever eaten! It holds together when topped and has a beautiful taste and texture.
~Laura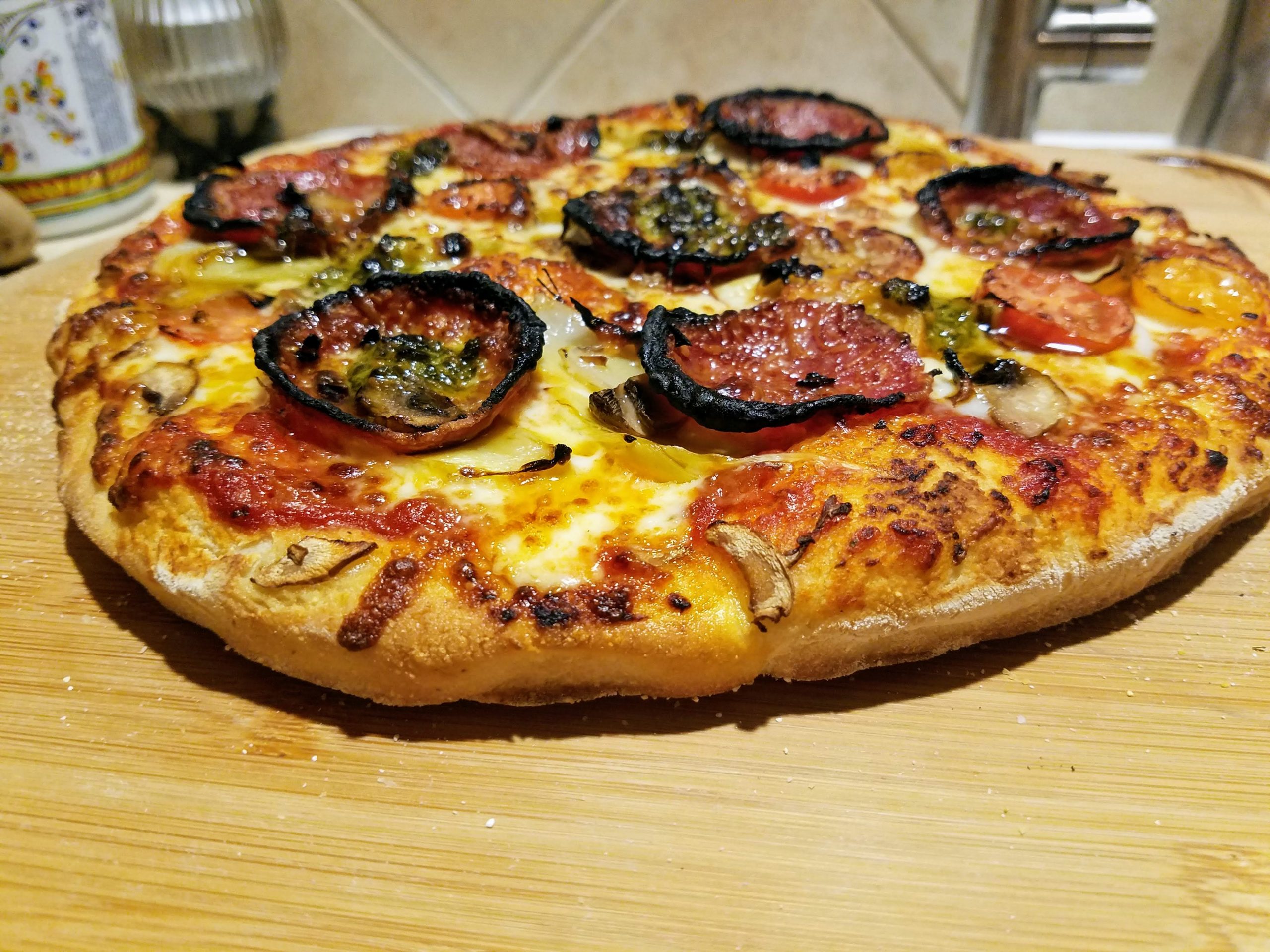 Laura's Favorite Gluten Free Pizza Dough
Prep Time: 30 minutes, plus 30 minutes rest time, and rise time of 3-5 hours
Bake Time: 8-9 minutes prebake time, 8-10 minutes of bake time with toppings **, ***
Ingredients
1 1/3 cups (167 grams)

Ryze Gluten Free Multi-Purpose Flour Mix

or gluten free 1 to 1 flour blend

1 1/3 cups (167 grams)

sorghum or millet flour

gluten free

1 1/3 cups (167 grams)

tapioca starch

gluten free

1 3/4 teaspoons

xanthan gum

(omit if using a blend that contains xanthan gum for a third of the flour)

2 1/4 teaspoons (8 grams)

yeast

gluten free

1 tablespoon (17.5 grams)

extra virgin olive oil

2 3/4 teaspoons (17.5 grams)

salt

1 tablespoon 

sugar 

1 3/4 cup (400 grams)

cold water

gluten free cornmeal

for dusting the baking stone
Instructions
To Prepare:
In a bowl of a stand mixer, mix the Ryze flour or gluten free 1 to 1 flour blend, the millet or sorghum, and the tapioca starch, yeast, xanthan (if using), salt, and sugar until well combined. Add the cold water and mix on medium for 3 to 4 minutes. Add the oil and mix for 2 minutes more. Let the dough rest at room temperature for 30 minutes, covered with a towel.

Divide the dough into 3 equal dough balls (using a scale if you have one). The dough will be soft and a bit sticky. Wrap the dough balls in cellophane and place on small trays and refrigerate or set on a piece of parchment on a small tray and seal in a Ziploc bag. Refrigerate at least 3 hours, but preferably not more than 24 hours before using.

Let come to room temperature for 1 hour before making pizza or flatbreads. When ready to proceed, flour a  board and press the dough into a 9 1/2 or 10" circle for each pizza.

Preheat a pizza stone or baking stone in the oven at 450 degrees. When the stone is preheated, sprinkle with cornmeal, and slide the crust onto the stone. Poke holes in the crust with a fork. Prebake for 8 – 9 minutes or until slightly golden. Add a drizzle of olive oil, sauce, and pizza toppings and bake for 8-10 minutes more or until browned to your liking. 
Notes
**For a flatbread using olive oil instead of pizza sauce, roll or press into a 10- 12″ round. Top and bake the flatbread at 450 degrees for 10 – 14 minutes. You do not need to prebake before topping.
***For cooking a pizza in a pizza oven, I like to start the topped pizza at 700 degrees. Turn down after one and a half minutes or so, to 550 to keep the top crust and cheese from burning. Bakes in 3-5 minutes in a pizza oven. You do not need to prebake.