Jump to Recipe
Print Recipe
Pizza! Ooh! We love it here….from pizza parties, to pizza with Maddie, (she says Grandpa knows just how she likes her pizza), to Christmas Eve festivities, to just for the two of us. Paul fires up the pizza oven often! I think he would definitely say it's one of his favorite foods! And it's so easy and inexpensive to make. We have a Blackstone Portable Gas oven (I believe they don't make it anymore), that we got about 3 years ago now. We have loved it! I still would love a wood fire pizza oven, but it is way less practical for us right now.
I've been working on several gluten free dough recipes. Originally I was working on a gluten free sourdough one and now I have gone back to that. I'll post my other yeast dough recipe here soon. It's just a little tricky, since we cook ours starting at 700 degrees F and lowering after a minute or two. Normally regular wheat flour Neapolitan dough cooks in about 1 ½ minutes in the pizza oven, but the gluten free version takes a little longer. I think the trick is par-cooking the dough for a short time if you don't have a pizza oven, then topping it and cooking the remainder of the time. I made this one again on the past weekend and I was quite happy with it, from the chewy crust to the browned bottom and edges. Of course, it still is gluten free, so it will be a bit heavier. But, the taste and texture are great! I tend to make a 9 or 10 inch gluten free dough, because it is more filling that it's cousin dough, the gluten filled wheat flour crust. It's still very delicious and much better than many crusts you get out in a pizza place. I have to be very careful with cross contamination, so eating pizza out is pretty tricky also. And cellulose, which they now add to flour blends and pre-grated cheese does not work with my system (also in lots of purchased baked goods, vitamins, and medicines). Does anyone else's system not tolerate this non-digestible fiber? I have heard it bothers some with Celiac disease.
If you or someone you know needs to eat gluten free, this is a good substitute for pizza dough. Check it out and let me know if you tried it, what you think. And while we are asking, leave a comment and tell what your favorite pizza topping is. My Grandma Rose loved anchovies, while I'm a pepperoni and mushroom girl! I know pepperoni will not be found on a traditional Italian pie, but you can use a Calabrese spicy salami or finocchio salami (with fennel). I'll often add some other veggies or some fresh mozzarella and fresh basil, red peppers, artichoke hearts, and baby heirloom tomatoes, and that makes me happy too! We grew up eating simple thick square Italian style pizza, with Italian sausage, often homemade, pepperoni, or anchovies. Our pizza sauce is a thicker, rich, darker, and very flavorful sauce. Check out the recipe: Best Easy Pizza Sauce.
This dough also makes a wonderful flatbread, too. Top with a drizzle of olive oil, proscuitto, and parmesan and bake. When you remove it from the oven add fresh fig slices, arugula and drizzle balsamic reduction over the top! Yummy!
~Laura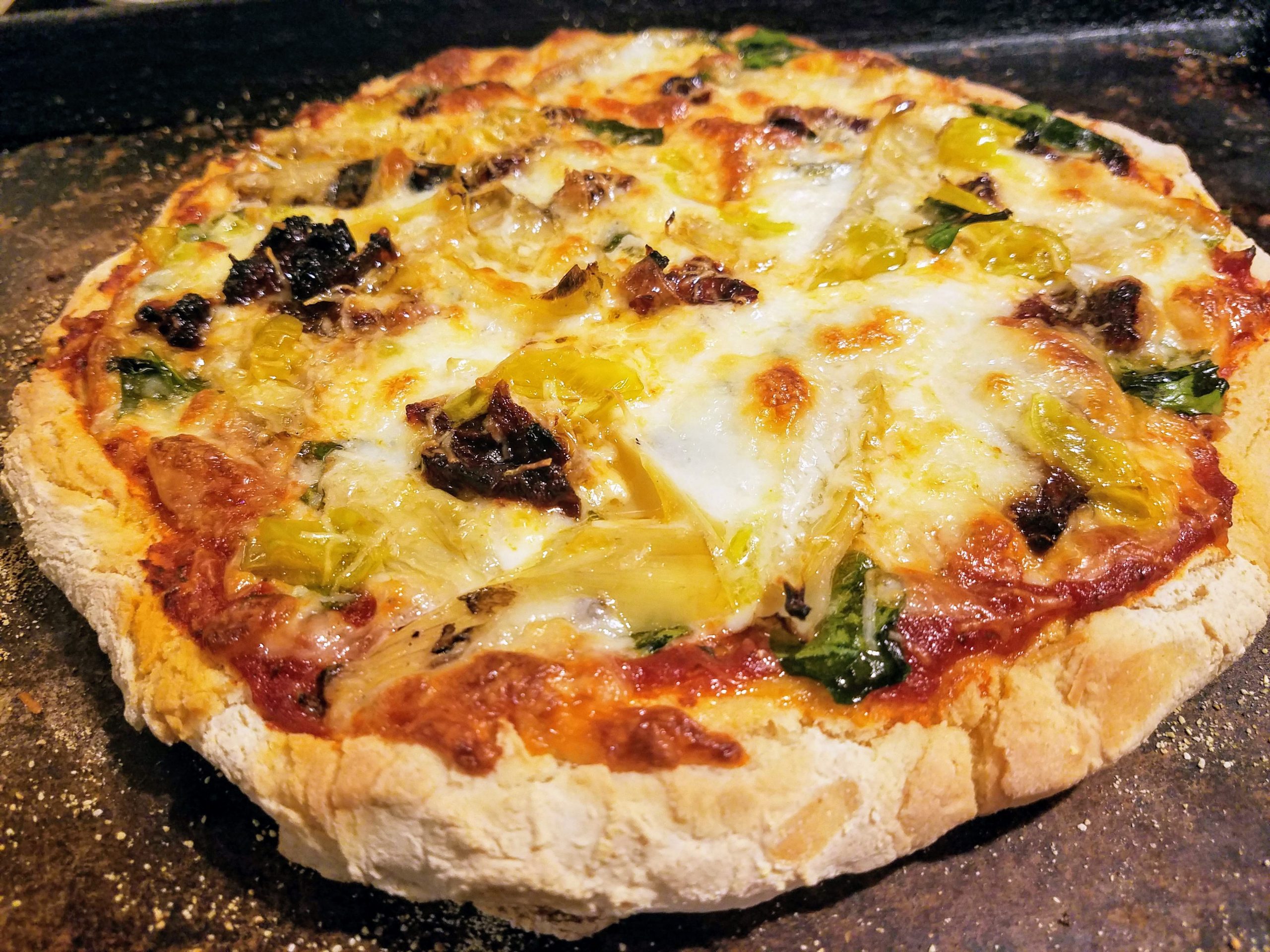 Gluten Free Sourdough Pizza Dough
Prep time: 1 1/2 hours, plus rise time of 4-6 hours
Bake time: 5-8 minutes par-bake, 10-15 with toppings in oven, or 1 cook time in pizza oven, dough with toppings cooked at 700 degrees for 2 minutes, then 500 degrees for 3-5 minutes more
Ingredients
¾ cup

fed gluten free sourdough starter

(mine is 100% hydration and fed millet, sorghum or brown rice flour)

1 ¾ teaspoons

active dry yeast

gluten free brand

1 ½ teaspoons

salt

1 tablespoon

sugar

¾ cup

warm water

1 tablespoon

olive oil

¾ cup (79 grams)

tapioca starch

gluten free

¾ cup (77 grams)

millet or sorghum flour

gluten free

¾ cup (79 grams)

Ryze Rice Flour Blend (yellow package)

or use 1/2 brown rice flour and 1/2 white rice flour

¼ cup (30-35 grams)

1 for 1 gluten free flour blend

Or Bob's 1 for 1 or other blend with xanthan gum

1 ½ teaspoons

xanthan gum

¼ – ½ cup more of

gluten free flour

as needed
Instructions
In a medium bowl, mix together the tapioca starch, millet or sorghum, Ryze flour, and 1 for 1 gluten free flours. In a small bowl, combine the gluten free sourdough starter, the yeast, warm water, olive oil, sugar, and ½ cup of the blended flours. Let the mixture sit on the counter for 30 minutes until bubbly.

Mix salt and xanthan gum into remaining flour. After yeast mixture is bubbly, stir into the gluten free flour mixture bowl. Mix well with a spatula or a wooden spoon. Knead for 4-5 minutes on a well floured board, adding enough of the ¼ – ½ cup of gluten free flour to make a soft, pliable dough. The dough will still be a little sticky. Wet your hands a bit if it's too sticky to knead. Put the dough into a lightly oiled bowl and cover with a towel and let rest for 30 minutes.

Divide the dough in half or use a scale to weigh out 2 dough balls of 320-330 grams. Cover each with cellophane and place each on a small tray. Place in the refrigerator for 5 or 6 hours and up to 24 hours.

Remove the dough from the refrigerator 1 ½ or 2 hours before starting to make your pizza, to warm the dough up.

If you want to make this in a pizza oven, proceed to the step 7, for forming the dough. You won't need to par bake the crust if cooking in a pizza oven. 

Preheat the oven to 450 with your pizza stone or cast iron skillet on the middle rack of the oven. You can also use a stainless pan.

Unwrap the dough ball, and begin forming the crust on a well floured board, using your fingers to press the dough into a 9 ½ inch circle. Add enough gluten free flour, millet works well, to form your dough into the crust, if it is too soft and breaking apart when you are forming it. Then start forming again. Form the crust edge with a ¾" edge. Poke the crust with a fork every few inches.

When the oven temperature is up to temp, sprinkle a bit of cornmeal on the pan and slide the crust carefully onto the stone. Pre-bake for 5-8 minutes until golden brown.

Remove from the oven. Top with a drizzle of olive oil, your pizza sauce, and toppings, and bake for 10-15 minutes more at 450. For the last 5-8 minutes move the pizza to the top third rack of the oven, to brown the top of the crust and cheese. Check the bottom of the crust. It should be a nice golden brown. Remove the pizza and let sit for 5 minutes before slicing and enjoying. The gluten free pizza is best the first day, but if you have leftovers, heat them on a tray or foil at 425 for 12- 15 minutes to crisp up again.
Notes
The measurements will vary slightly depending on the gluten free flours used, as brands often are different weights. If possible, use a scale with the gram measurements. 
Always use the scoop and level method, if measuring by cup measurements, leveling off with a knife, without packing down at all.