Jump to Recipe
Print Recipe
The things I miss eating most being on a gluten free diet is good bread and really good bagels. They have gotten so much better over the past 18 or so years, but still nothing compares to warm bread fresh out of the oven….and oh the smell of baking bread (or pretzels!)
Rye bread used to be a favorite, so I continue to try new recipes for gluten free "rye like" bread. This Gluten Free "Rye Like" Sourdough Bread uses gluten free sourdough starter. Just keep your gluten free sourdough starter in the refrigerator and use the "discard" once a week to a week and a half. Then feed it, leave out for 2-4 hours until bubbly, and refrigerate. It's fantastic to have on hand in the fridge. Keep it ready to make all sorts of delicious gluten free treats, breads, pretzels, cinnamon rolls, breadsticks, pizza or focaccia bread, the lightest and airiest waffles, homemade crispy flavorful crackers, and so much more!
Use "Fed" Gluten Free Sourdough Starter for This Recipe
I find that for some gluten free sourdough breads, it works best to add yeast into the dough also, while for other recipes it works fine to not need yeast. This bread is a quicker rise of 2 -4 hours, instead of an overnight rise and then adding more flour and rising again. Make sure to use "fed" gluten free sourdough starter, close to 100% hydration, or adjust the amount of flour you add in to make the dough stiff enough to form into a ball while still being very pliable.
Freeze the Sourdough Slices Between Parchment and in Two Freezer Bags
This bread satisfies my rye bread desires! It's delicious with butter the first day. After that, it's best toasted, with cream cheese or butter. It also will make a great grilled cheese or ham and swiss on toasted bread, or grilled. I leave it out on the counter in a Ziploc bag the first two days, then slice about half and freeze slices between parchment and double Ziploc bag the stacked slices.
You'll Need a Banneton Basket or Medium Bowl for Shaping
You will need a banneton basket or medium ceramic bowl lined with a damp towel for rising the dough, plus a Dutch oven, either a 4 or 5 quart size with a lid. If you don't have that, you can bake it on a stone pan or a heavy cookie sheet. Cover the bread with foil instead of a lid for the first twenty five minutes if baking on a sheet.
Having a kitchen scale is a great tool if you don't have one. It's the easiest way to make baked goods, especially gluten free baked goods. If you are measuring without a scale, always lightly spoon flours into the measure and level with a knife. I use a combination of Bob's Red Mill gluten free flours and Ryze gluten free flour in this recipe. 
I hope you like it!
~Laura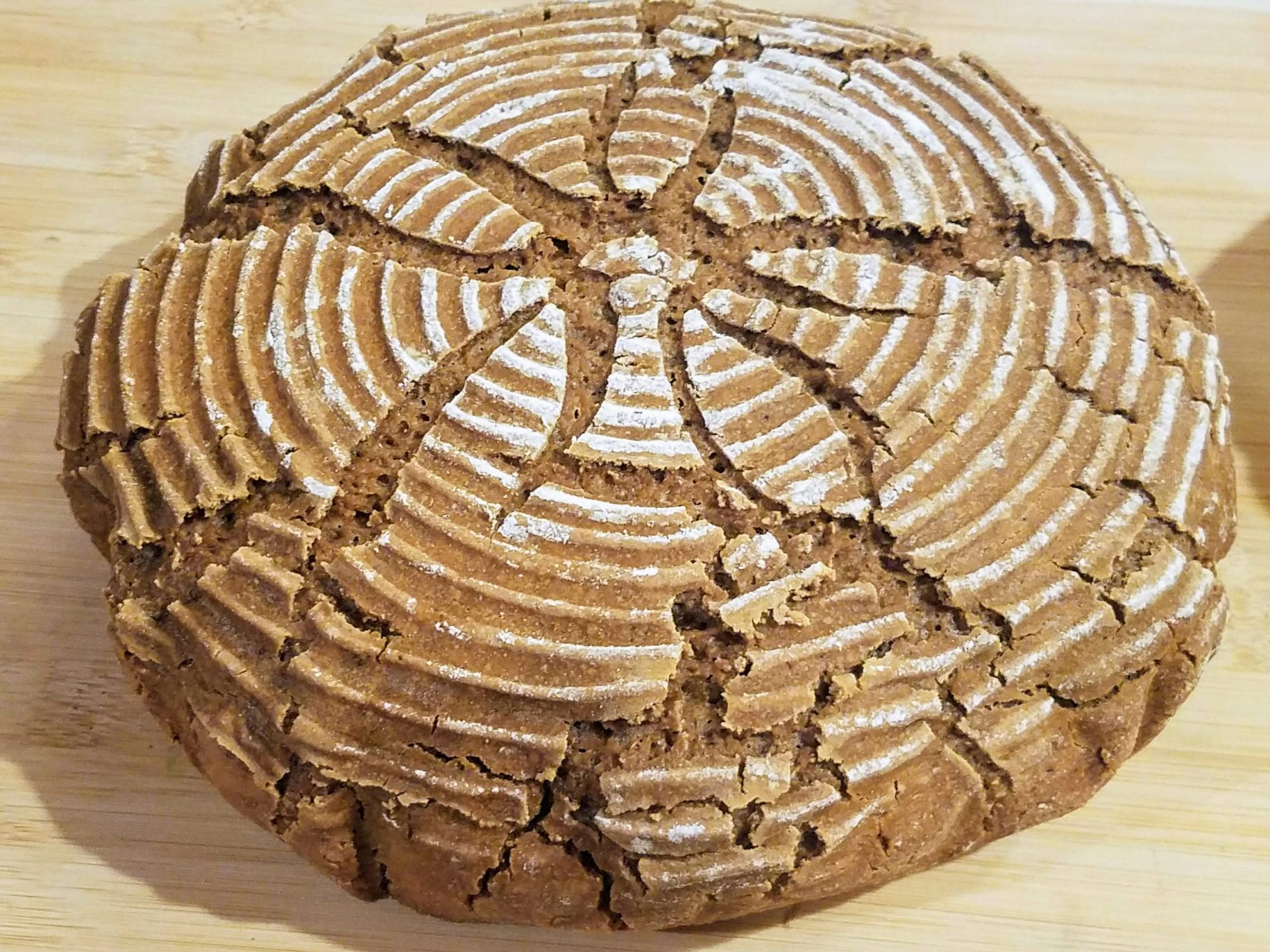 Gluten Free Sourdough "Rye Like" Bread
This bread recipe is for all of us rye bread lovers who can no longer eat it! An attempt at the great taste of rye, which unfortunately contains gluten. The result is pretty good!
Equipment
1 banneton basket or large bowl

1 lame or sharp knife

for scoring the top
Ingredients
1 ½ cups warm water

2 ¼ teaspoons of Fleishmann's Active Dry Yeast (1 package) or other gluten free active yeast

2 tablespoons of sugar

¾ cup (195 grams) "fed" gluten free sourdough starter,100 % hydration

½ cup (48 grams) Bob's Red Mill Gluten Free Tapioca Flour 

1 cup (155 grams) of Ryze Gluten Free Multi-Purpose Flour Mix 

1 ½ cups (267 grams) Bob's Red Mill Gluten Free 1 to 1 Baking Flour 

1 tablespoon, plus ½ teaspoon, caraway seed, divided, gluten free brand

2 teaspoons kosher salt

2 teaspoons of Guittard Unsweetened Cocoa Powder or other gluten free brand

½ teaspoon finely ground coffee or espresso beans

½ teaspoon coriander, gluten free brand

3 tablespoons Wholesome Unsulphured Molasses or other gluten free brand

2 tablespoons strong brewed coffee

1 clove garlic, pressed or finely minced

2 tablespoons milk or gluten free milk substitute, warm to touch

1 teaspoon apple cider vinegar

2 teaspoons olive oil

½ cup additional Ryze flour and ½  -⅝  cup additional Bob's 1 to 1 Gluten Free Flour Blend for kneading in to make a stiff and pliable dough, plus more for flouring the board when kneading
Instructions
In a medium bowl add the warm water, yeast, and sugar. Give a few stirs. Set aside for 20-30 minutes or until bubbly. 

Grind the gluten free oats, cornstarch and 1 tablespoon caraway seed in a Vitamix or food processor. Process until the oats are a fine flour. The caraway seed may not process to flour, but will be smaller seed pieces.

In a large bowl add the tapioca flour, Ryze flour, Bob's 1 to 1 flour, ½ teaspoon caraway seed, salt, cocoa powder, ground espresso, coriander, and oats/caraway seed processed mixture. Stir to combine.

Add the yeast mixture to the bowl, then the sourdough starter, molasses, warmed milk, apple cider vinegar, garlic, and olive oil. Mix with a rubber spatula to thoroughly combine. Add in enough Ryze flour and Bob's 1 to 1 flour to make a stiff dough.

Turn out onto a gluten free floured board and knead for 5 to 7 minutes adding in additional Ryze flour or Bob's 1 to 1 flour to attain a smooth, stiff but still pliable dough. Cover with a towel and let rest for 20-30 minutes. 

Form into a ball, smoothing the top by folding the sides of the ball to the underside.

Set in a floured sourdough banneton basket or a large bowl lined with a damp and floured towel. Place a dry towel over the top and let rise in a warm place for 2-4 hours, until approximately 1 ½ times the size and when indented with your finger, it gently springs back.

Preheat the oven to 450 degrees F. Preheat your 4 qt. or 5 qt. Dutch oven while the oven is preheating.

Place a 15" square sheet of parchment over the top of the bread dough, and cover with a cutting board. Holding the cutting board and the basket or bowl with bread between both your hands, gently flip over and set the cutting board down on the counter. Remove the basket or bowl.

Remove the basket or bowl. Cut decorative slits into the top of the bread round.

Remove the preheated Dutch oven from the oven. Holding the edges of the parchment gently lift the bread round into the Dutch oven. 

Set the lid on the Dutch oven. Bake the bread for 25 minutes covered, then uncover and lower the oven temperature to 375 degrees F. Bake for 20-30 more minutes until the bread is golden on top and the internal temperature of the bread is 207 degrees. Remove to a wire rack and cool for several hours before slicing.