Focaccia bread and pizzas are probably two of my favorite breads. Living on a strict gluten free diet (with no cellulose or psyillium, either), I have resorted to making my own clean blends without these ingredients. It has something to do with IBS. You can now find lots of information online about these ingredients making IBS symptoms worse for many. I have known this to be true for me for so many years. Creating a gluten free sourdough focaccia bread that was worthy to be called focaccia has long been on my challenge list!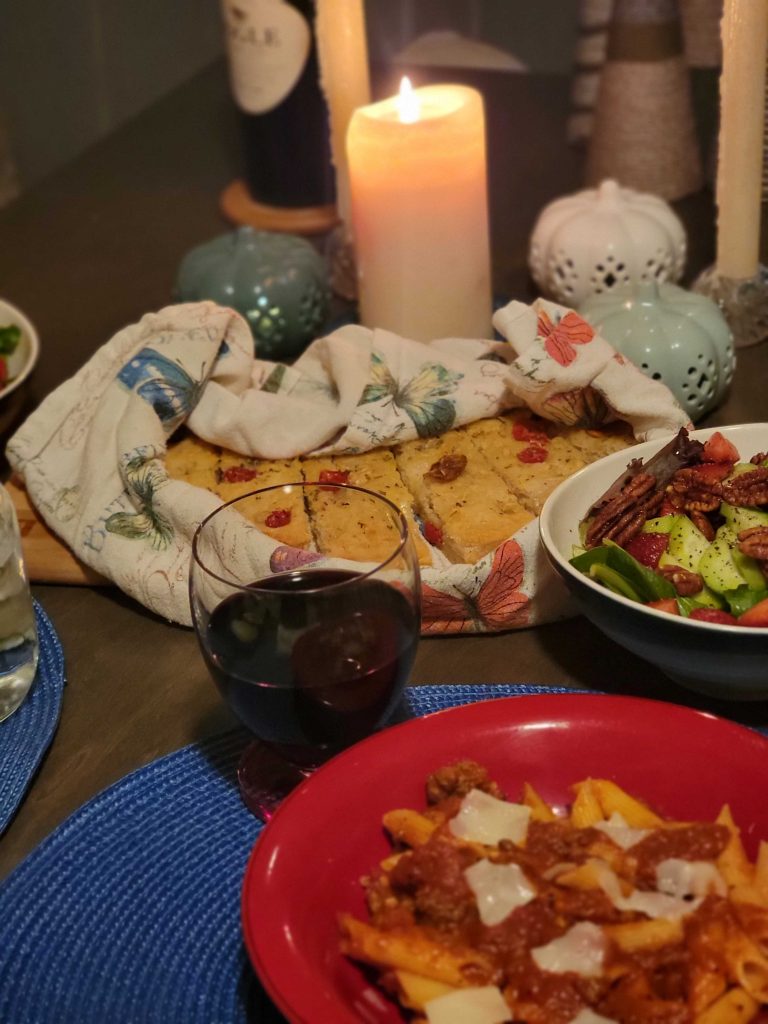 Do you have a gluten free sourdough starter?
While I'm always working to make a better blend or gluten free bread, I also love being able to my gluten free sourdough starter in many of my recipes. I love sourdough because of the taste, but also because of the health benefits of cultured bacteria foods, and just how it makes me feel when eating it.
So, creating a delicious gluten free sourdough focaccia bread has long been on my list! I also love painting and creating masterpieces with food, so this decorated Gluten Free Sourdough Focaccia Bread is so fantastic! I'll always say yes to a new thicker gluten-free focaccia bread made with sourdough. It's so yummy!
Start with a "fed" bubbly starter
I first began by making sure the sourdough starter was well fed. Now, not all recipes call for fed starter, but I feel that in this recipe it is needed, because of the shorter rise time. I also have used Fleishmann's Active Dry Yeast in this recipe, also. The yeast gives a much lighter and airier dough. According to Fleishmann's, all of their yeasts are gluten free.
Choose your toppings and scatter or decorate method
Once the dough is rising, you can decide which toppings you'd like to include on your focaccia bread. You can keep this as simple as just topping with olive oil and a little coarse salt, or you can use sliced baby tomatoes, garlic and herbs, or olives, or go all out with a "painted design". For this recipe, I used fennel (it's supposed to be a wishy), tomatoes, scallions, olives, and apricots to make a scene.
Painting with food, anyone?
Do you like painting? 🎨🖌 I love to paint with watercolors. But sadly, there's not as much time for that art form lately. But painting with food is pretty fun, as well, it turns out!
Decorating and creating a design, while testing out my newest Gluten Free Sourdough Focaccia Bread recipe, was lots of fun.
Simplify by choosing to "scatter" the ingredients
Then making this recipe several other times, I simplified the process, and just used a traditional olive oil, salt, tomatoes, garlic, parmesan, and both fresh and dried herbs. Both ways turned out so yummy, oven baked on both my twelve inch @lodgecastiron skillet and my @pamperedchef stone bar pan. Use whatever veggies and fruits you like to make your own masterpiece! 🖼You can also bake this on two smaller sized rimmed baking pans.
Enjoy this Gluten Free Sourdough Focaccia with a pasta
We love to serve this focaccia bread with a pasta. Try one of our pasta sauces for dinner. Maybe our Sun Dried Tomato, Chicken, Sausage, and Artichoke Hearts Pasta (Gluten Free) with your favorite gluten free pasta.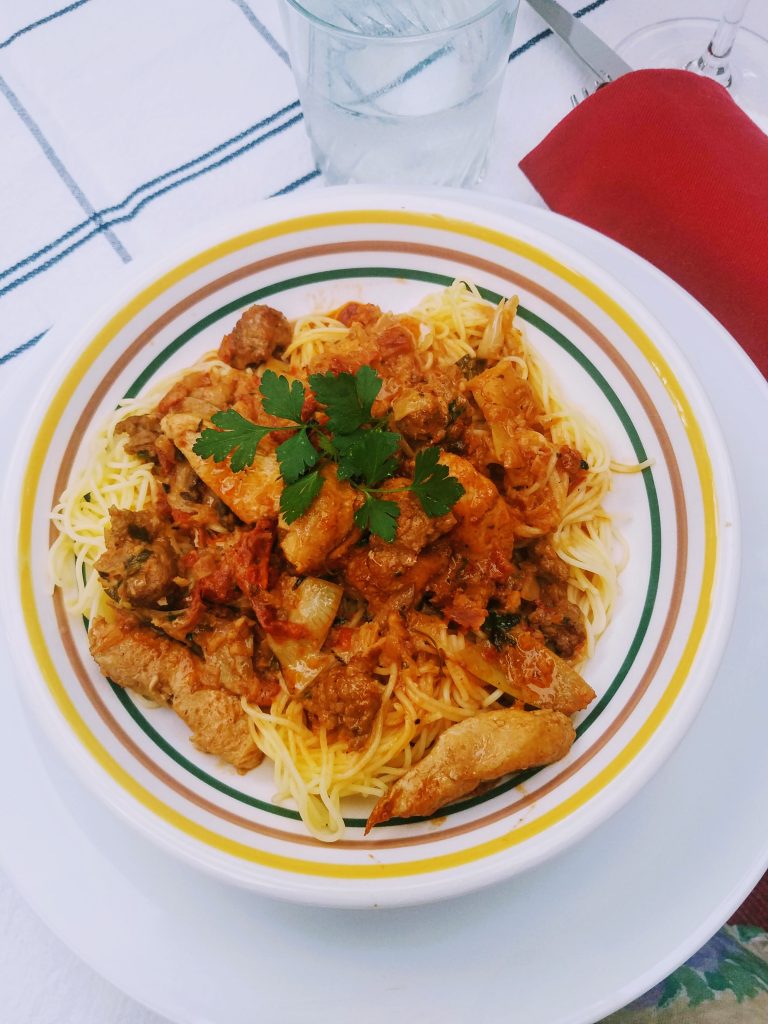 So, get your gluten free sourdough starter ready! Then make and enjoy eating the delicious doughy treat!
Have a great weekend!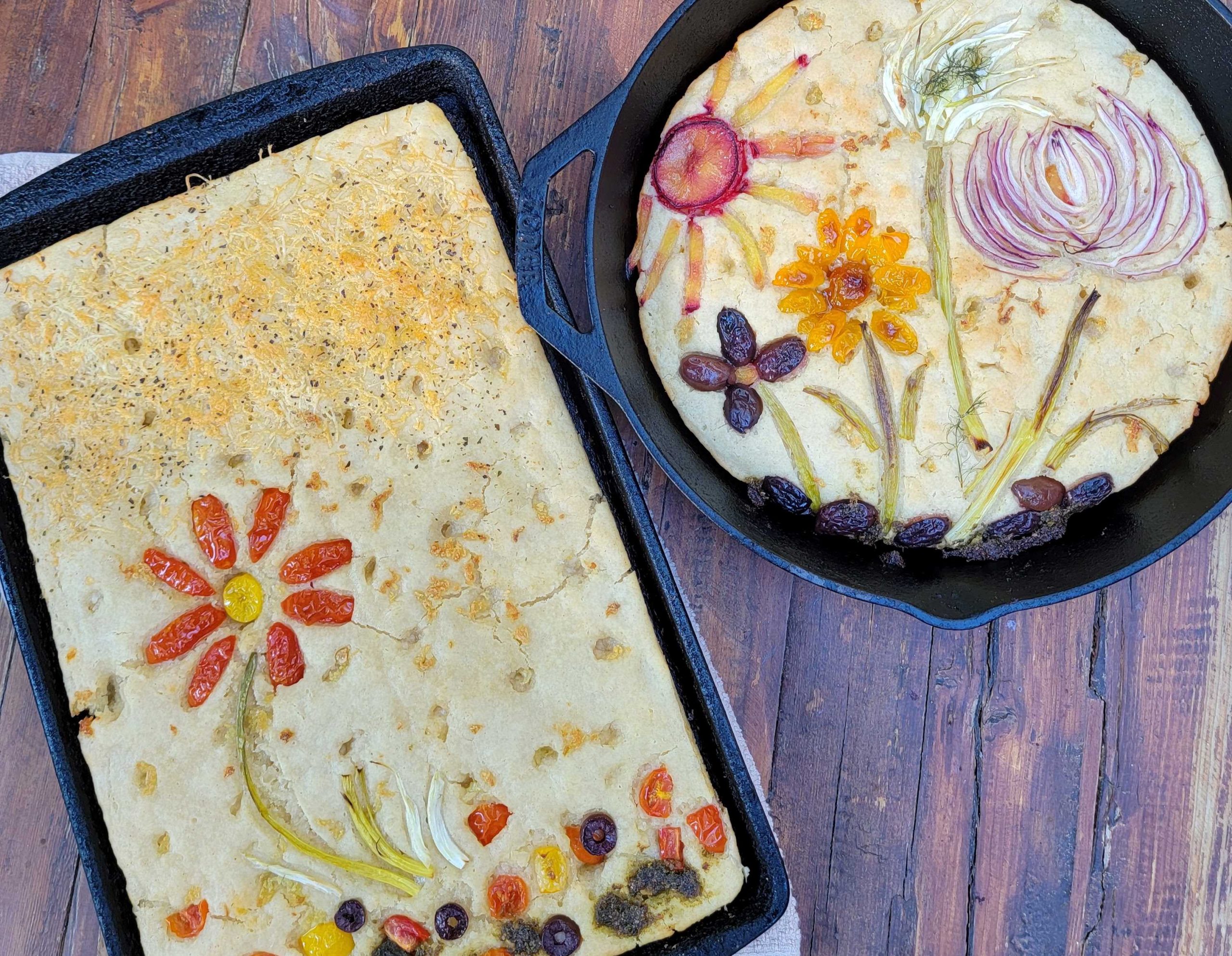 Gluten Free Sourdough Focaccia Bread
This Gluten Free Sourdough Focaccia Bread will even fool the gluten eater! We love focaccia here and are so thankful to have a new sourdough focaccia recipe to share with you.
Equipment
2 quarter sheet baking trays

or 1 quarter baking sheet or stone and one 10-12" cast iron skillet
Ingredients
2¼

cups

warm water

1

tbsp

Fleishmanns active dry yeast

or other gluten free yeast

1

tbsp

sugar

2¼

cups

"fed" gluten free starter

185

grams

(1¼ cups, plus 2 tbsp) Bob's Red Mill 1 to 1 Gluten Free Flour

or other gluten free blend with xanthan gum

200

grams

(1¼ cup plus 1 tbsp) Bob's Red Mill White Rice Flour, gf

or other gf brand

165

grams

(1 cup, plus 2 teaspoons) Bob's Red Mill Organic Brown Rice Flour

or 3 T white rice flour, gf and 6 T brown rice flour, gf

192

grams

(1 cup) Bob's Red Mill Potato Starch

gf

3

tbsp

Argo cornstarch

or other gf brand

1

tbsp

fine sea salt
Instructions
Stir together the first 3 ingredients and let sit for 15-20 minutes until bubbly.

Mix together the flours and cornstarch. Add the sourdough starter, yeast mixture, and salt. Mix on medium high speed 4-5 minutes, with the paddle attachment, until smooth.

Add up to 3/4 cup (1 tablespoon at a time) total of a combination of Bob's Red Mill 1 to 1 gluten free flour, brown rice flour and white rice flour. Mix in by hand until combined. Start with a tablespoon of flour at a time. The dough should still be soft and " shaggy". Mix in by hand until combined.

Cover and let rest 20-30 minutes.

Spread onto a oiled (with olive oil) stone pans or sheet pans or large cast iron skillet. Smooth with wet fingers.

Cover with a towel to rise for 1-1½ hours or until 1½ times.

Add indents every inch or inch and a half, with your finger tip. Then drizzle olive oil across the top. Cover and let rise 45 minutes to an hour.

Add your choice of toppings: Add 2-3 crushed garlic cloves in indents, then sliced tomatoes, olives, or herbs. Or add a decoratation or design with fruits and veggies. Decorate using fennel, (wishy)  apricots pieces, rosemary sprigs, green onion stems, cut baby tomatoes (flowers), fennel (grass) and rocks (kalamata olives). Add parmesan cheese sprinkled across.

Drizzle more olive oil across both focaccia trays. Add coarse diamond salt if desired.

Bake at 425 at medium low rack and upper third rack for 10-15 minutes. Rotate the pans. Increase temperature to 450. Bake for 10-12 minutes more.

To brown the tops more, broil 4-5 inches from the burner. Cut into squares or into slices.
Notes
To simplify this recipe, top with olive oil, garlic, tomatoes, herbs, and cheese.