Baking and cooking without power! Today we cooked up some Meyer Lemon Curd for eating with scones, to use as a topping for waffles, crepes or pancakes and for using as a filling in these Meyer Lemon Curd Mini Tartlets with a No-Bake Gluten Free Crust (or for a larger tart, like my Gluten Free Raspberry Lemon Tart). This would also work well in a gluten free shortbread crust with meringue on top (that is such a pretty tart!) I'm getting this post up late as we had no internet and no power until this afternoon.
And here it is a new year! We can still find ways to cook up some glorious food and desserts and enjoy this life! And life is good! We are missing the company, as we usually have lots of get-together's here, but we have good food in plenty and so many blessings around us! We are sure missing having our friends and family here at our house. We love getting people together over good food and good drink. Know that we are thinking of you and hopeful for when we can start being together over good food (maybe soon, outside on the deck…."Wine on the Deck").
If you want to try these mini tartlets with the no-bake crust, they are very good, and perfect for when you don't want to turn your oven because it's too hot or can't because the power is out.
I do still prefer my gluten-free shortbread crust (you can find it in the recipe for Gluten-Free Raspberry Lemon Tart). It also has cream cheese and whipped cream filling with a layer of lemon curd just on top of the crust. Yum!
Lemon flavor in desserts is definitely one of the best! Meyer lemons tend to be slightly sweeter and they also have a beautiful color on the skin which translates into beautifully colored lemon curd. I use part honey in this recipe to reduce the amount of sugar, and also organic cane sugar, which has less of an adverse effect on me than fully processed granulated sugar. Although white sugar and organic cane sugar both have the same compounds, and both contain sucrose, the organic cane sugar is processed much less and more of the nutrients are retained.
The lemons were the last few from our potted Meyer Lemon tree, which we love. And it survived the fires and evacuation, although it didn't produce as much fruit. 
I hope you enjoy these tartlets! I am going to double the recipe and can the lemon curd so we always have some on hand, but you could also freeze it in jars if you'd rather not can it.
~ Laura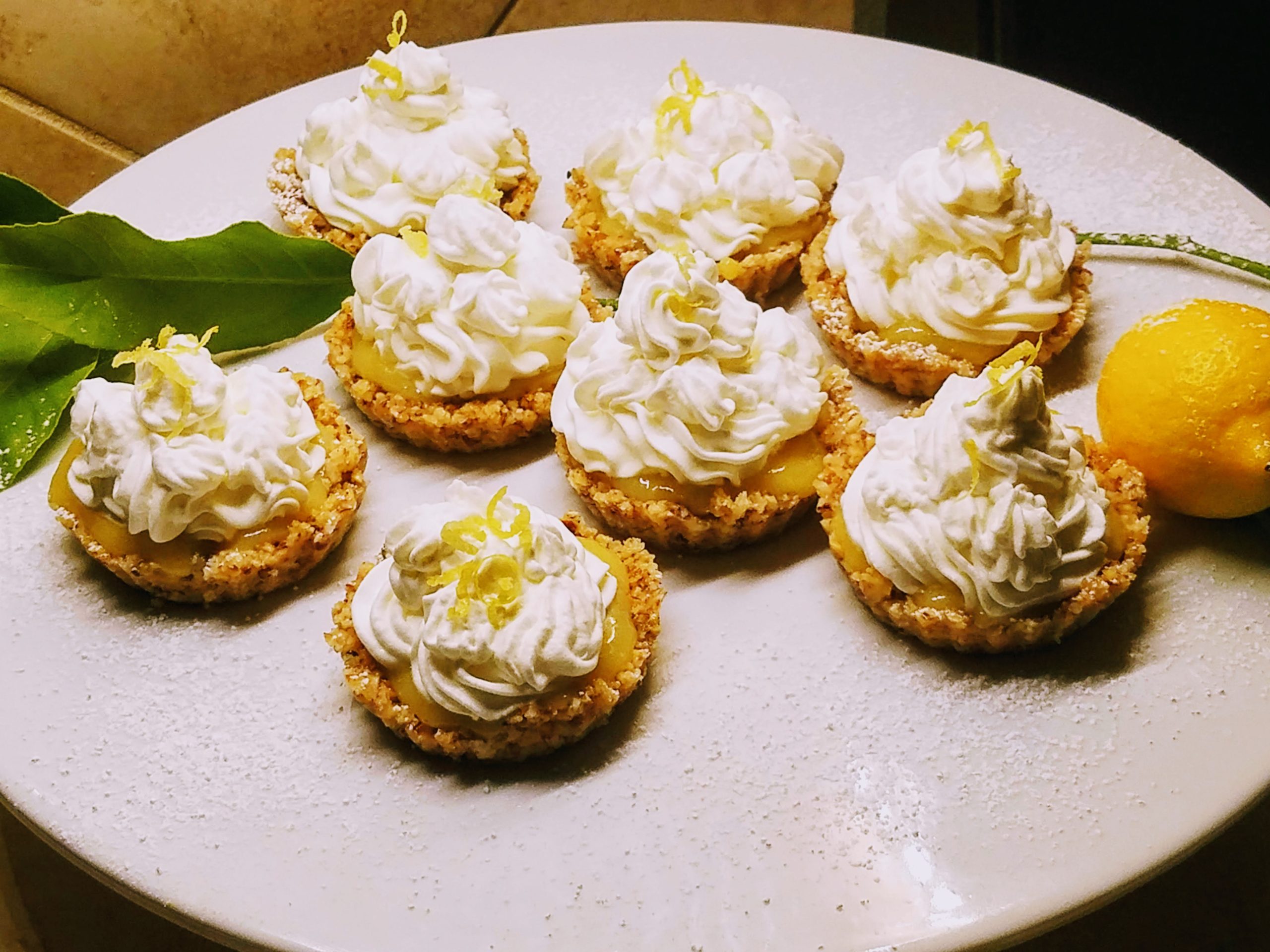 Meyer Lemon Curd Tartlets with No-Bake Gluten Free Crusts
Ingredients
½ cup of freshly homemade Meyer Lemon Curd (or store bought)
No-Bake Gluten Free Mini Tartlet Crust:
½ cup almonds

crushed fine

¼ cup coconut, unsweetened and chopped a bit if large coconut flakes

4 tablespoons almond flour

2 tablespoons butter, softened until almost melted

2 tablespoons sugar

¼ teaspoon vanilla
Lightly Sweetened Whipped Cream:
1 cup of heavy cream

1 ½ tablespoons powdered sugar

Wholesome brand is gluten free

½ teaspoon vanilla, gluten free
Instructions
Combine all the ingredients in a small bowl and mix until well combined.

Spray or grease 8 mini tart shell cups (you can also use a muffin tin and press in and up 1/2 " of the cups). Pack a few tablespoons of the dough into the cups using a small spoon or your fingers, going up the sides of the pan also.

Freeze the pan for 45 minutes (not more than an hour and a half) or just prior to serving. Remove the tray from the freezer and pop out the mini tartlet shells using a butter knife.

Fill with lemon curd using a spoon.

Pipe the Lightly Sweetened Whipped Cream using a small star tip to decorate the top (or a dollop of whipped cream with a spoon) on each, covering the lemon curd.

Top the whipped cream with a zest of lemon or a raspberry or two to finish off. Refrigerate any leftovers. (I'm sure you won't have any!).
For Lightly Whipped Cream:
Whip the cream by hand using a whisk or in a stand mixer bowl or using a hand mixer. When the cream begins to leave lines from the whisk or whisk attachment, add the powdered sugar and vanilla and continue beating until fluffy.