Jump to Recipe
Print Recipe
Yep, we live close to the Artichoke Capital of the World, Castroville, and our family loves artichokes so it's a good thing we do! We grew up eating them (I wonder who first discovered the artichoke!) stuffed with garlic and breadcrumbs or simmered with lots of garlic until they are tender. I love the taste and that's why I love Artichoke Soup!
This soup may not be much to look at but this Creamy (With Not Much Cream?) Artichoke Soup is both easy and delicious (and gluten free). Of course, you can also make your own artichokes to make this; in Santa Cruz and around Castroville we can get the cutest little baby artichokes that would work wonderfully. You can also go the easy route and also when you are unable to find fresh and use canned or frozen artichoke hearts. I have had a hard time finding frozen artichokes in our area. I used Trader Joe's canned Whole Artichoke Hearts in this recipe, with an option to use fresh if you like.
This soup is almost as delicious as my favorite local restaurant, Shadowbrook, serves.
I get it every time I eat there! The Artichoke Soup there is GF and is labeled as such, along with many of their menu items! Just look for the GF notation or ask your server. They even have a separate fryer for GF fried foods, so we can enjoy Fried Calamari and Fried Artichoke Hearts. I LOVE that! Shadowbrook Restaurant, is one of Santa Cruz's iconic restaurants (and also where my daughter works). It's a romantic spot complete with a trolley to get down to or up from the restaurant. There is also a quaint little walking path if you prefer.
Soup is one of the items on restaurant menus that I most often have to skip, because often restaurants don't know if their soups contain gluten (it's often hidden in broths and spices).
This is a great spring and summer soup. It has a lighter feel, using half of an avocado to replace some of the fat. Now I can make it at home too! If you make it, please let me know what you think.
~Laura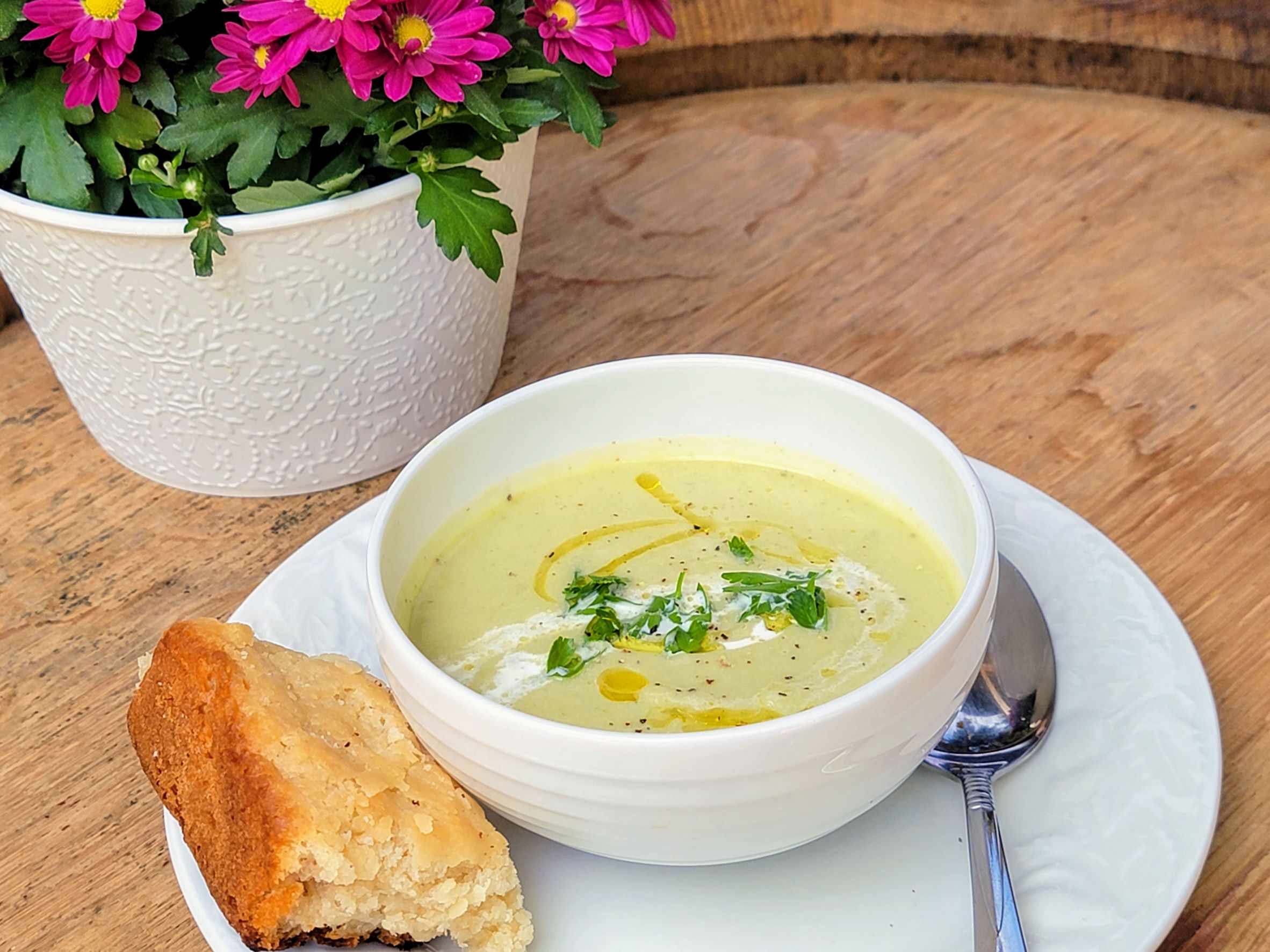 Creamy (With Not Much Cream) Artichoke Soup (Gluten Free)
Here's a lighter and easy version of an Artichoke Soup, made gluten free if you need it. With less fat in the recipe, but all the delicious flavor.
Equipment
1 emulsion blender, blender, Vitamix

For pureeing the soup
Ingredients
2

tbsp

olive oil, extra virgin

1

med

onion, diced

2

stalks

celery, diced

3-4

large

cloves garlic, minced

½

teaspoon

salt, plus more to taste

⅛

teaspoon

pepper, plus more to taste

14 oz

can

artichoke hearts, drained and diced, water reserved, or 14 oz. frozen artichoke hearts, or 6-7 small artichokes plus 4 additional cloves garlic – See Note Below*

3

cups

chicken or vegetable broth or stock, gf

1

handful

flat leaf parsley, minced

½

cup

reserved artichoke water, water, or broth, gf

1

teaspoon

lemon juice

½

large

avocado, pit removed and cut into 2 pieces

2

tbsp

butter

⅛

cup

cream, half and half, or plain Greek yogurt

minced flat leaf parsley, olive oil, and cream to garnish the top when serving
Instructions
In a 4 or 5 quart saucepan, heat the olive oil. Add the onion and celery. Sprinkle the salt and pepper over, and sauté until soft. Add the garlic and sauté for 30 seconds more.

Pour in the broth and add the diced artichoke heart pieces. Add the parsley and simmer over low heat, covered with the lid cracked, for 15-20 minutes. Add the lemon juice, avocado, and butter. Continue to simmer for a few more minutes.

Remove from the burner to cool slightly. Using an emulsion blender, blender, or Vitamix, puree the soup carefully, so as not to splatter, until smooth. You can leave a few small pieces if you like.

If the soup has cooled down too much, or if you aren't ready to serve yet, simply set aside and bring back to a boil (or close to a boil) just prior to serving. Turn the burner off, add the cream or yogurt, and ladle into small cup size serving bowls. Garnish with a sour cream dollop or a little extra virgin olive oil, or a small drizzle of cream. Add minced parsley to the top and enjoy! 
To Prepare Using Fresh Artichokes
*To use fresh artichokes in the recipe, using small sized artichokes will work the best for this recipe. To prepare, remove the outside leaves and cut off the prickly edges of the leaves, using a sharp knife. Add to a saucepan within ought water to cover and a teaspoon or so of salt, and 4 sliced garlic cloves. Simmer for 30 minutes or until tender. Cool enough to handle, then cut each artichoke in half, and remove the inside thistle part of the artichoke near the heart. The tender inner leaves can be used. Cut the hearts and soft leaves into several pieces before adding to the soup. Discard the outer leaves. Use ½ cup of the water from cooking the artichokes in place of the ½ cup of water drained from the canned artichokes. 
Notes
Here is a creamy artichoke soup recipe with much less cream and fat. I found that replacing a portion of the cream in the recipe with a half an avocado, delivers a very creamy soup still. I've used a little cream in mine, but you can definitely replace that with Greek yogurt or half and half, or leave it out completely. This is the perfect start to a dinner, and just a small cup (restaurant size) is all you need. Enjoy!