Jump to Recipe
Print Recipe
Print Recipe
What a treat it is to get to enjoy Clam Chowder again! We live in Santa Cruz, California where seafood is delicious and easy to come by! Living next to the ocean, and with my Dad hailing from New England, this creamy clam chowder has been a favorite of our families for many years. I made this recipe with the flavors I love in chowder. I hope you like it! So far, it's gotten great reviews by family and friends!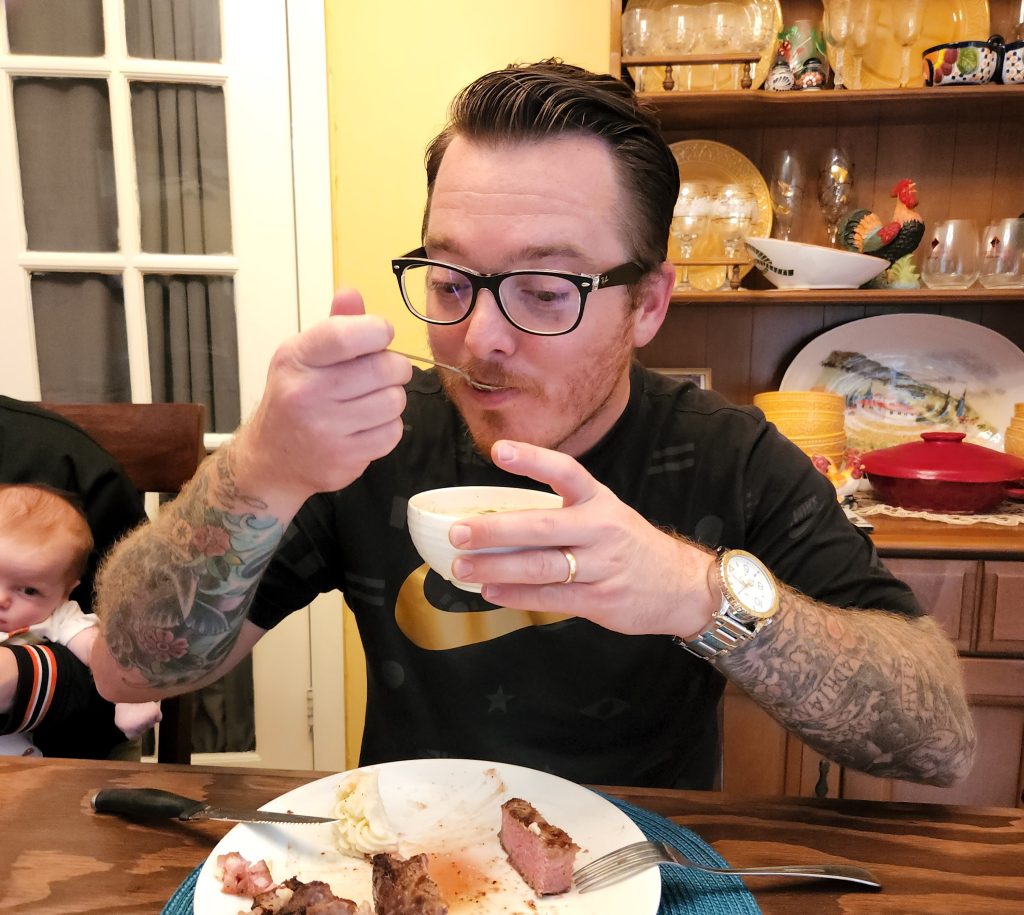 I love clam chowder and so rarely get to enjoy it, because it is not made gluten free, for the most part. I'm not sure why, because it's very easy to make it gluten free. I make mine free of any gluten cross contamination that may come in the form of a spice or broth, using gluten free spices and purchased broths that are certified gluten free. You could also make this dairy free, but I have not tested the recipe for that.
The fact that you can just pause this recipe for an hour or an hour and a half just prior to adding the cream and the clams, makes it perfect for preparing most of the way in advance. Then just pick it back up, by reheating the soup base to a high simmer, before adding the clams, cream, and half and half. It makes this course of the dinner or main dish, if you choose to serve it as such, so easy. You just will want to ladle into cups or bowls, and garnish, and serve immediately. Here in California, next to San Francisco, we would traditionally serve it with a loaf of sourdough bread, but coming by a gluten free load is a little more difficult to find. Check out the recipes in my bread section, or try this one, Gluten Free Sourdough Round. You could also try some Breadsrsly Sourdough Rolls 24 pack, if you can find them, or Breadsrsly Sourdough Loaf, 3 Pack. They are both delicious gluten free sourdough options.
(Recipe updated 11/22 )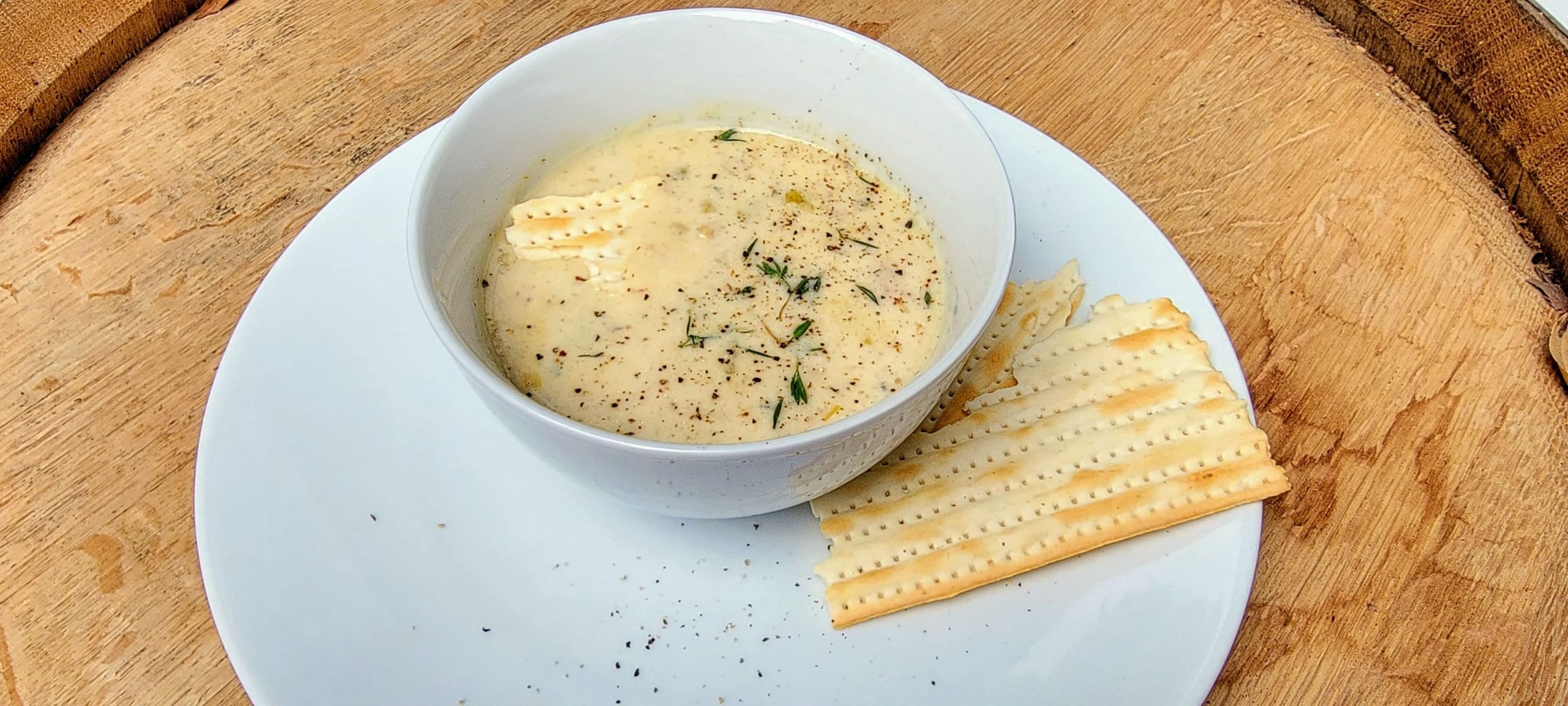 Laura's Gluten Free Clam Chowder
Clam Chowder is a treat because I rarely get to enjoy it after going on a completely gluten free diet due to severe intolerance to gluten. This version is very creamy but not super thick. It's loaded with delicious flavor! Enjoy a cup of it as a starter to your dinner with some Yehuda Gluten Free Matzo- Style Squares (Crackers).
Ingredients
1 ½

tablespoons

olive oil

extra virgin

2 ½

tablespoons

butter

divided

1

large

onion, minced

3

large

stalks celery, minced

4-5

large

cloves garlic, minced

2

slices

bacon, gf, cut into 1/4" pieces

thick cut

2-3

Yukon Gold Potatoes, cut into 1/2" pieces

2-3

6½ oz. cans

Snow's Clams, Minced

drained, juice reserved

1

6½ oz. can

Snow's Clams, Chopped

drained, juice reserved

2

8 oz. bottles

Snow's Clam Juice

1½

cups

chicken broth or stock, gf

2

bay leaves, gf

½

teaspoon

dried thyme, gf or 1 teaspoon minced fresh thyme

2

tablespoons

cornstarch, gf

2

tablespoons

brown rice flour, gf

3

tablespoons

water

1

cup

heavy cream

½

cup

half and half

salt and black pepper, to taste

fresh thyme and/or minced chives for topping
Instructions
Heat the olive oil and one tablespoon of butter in a stockpot, Dutch oven, or large 5 quart saucepan. Add the onion and celery and sauté over medium low heat until it starts to soften. Add the garlic and sauté, stirring, for a minute more. Remove to a plate.

Cook the bacon pieces over medium heat until browned, stirring often. Remove the bacon to a bowl and remove the bacon fat and discard, if desired.

Strain the clam juice from the canned clams, reserving the clams for later. Pour in the clam juice from the canned clams, the bottled clam juice, and the broth. Add the onion mixture back in. Next, add in the potatoes, remaining butter, bay leaf, thyme, a dash of salt, and a sprinkle of pepper.

Simmer for 20 minutes or until the potatoes are tender.

In a small bowl, dissolve the cornstarch and the brown rice flour in the water until combined.

Add the cornstarch mixture with one hand while stirring briskly with the other. Stir for a 3-4 minutes until it begins to thicken. Remove from burner, cover, and set aside until you wish to proceed.

When ready to proceed, heat the soup to a high simmer. Add the cream, half and half, and the reserved clams. Stir. Remove from Burner.

Stir and ladle into cups or bowls immediately. Top with thyme leaves, or minced chives or green onions. Serve with gluten free rolls or gluten free matzo crackers.
Notes
Clam chowder is always a good idea! We serve this cup style before the meal, as a restaurant would. It's rich and you don't need much, but it has such wonderful flavor! I have not tried to make this recipe dairy free, but I think it would work subbing out dairy free butter for the butter, and using half dairy free milk and half dairy free creamer for the cream and half and half in the recipe. Now I just need to perfect my Gluten Free Oyster Cracker recipe! But for now, using Yehuda Gluten Free Matzo-Style Squares for crackers, is a pretty good substitute.