Jump to Recipe
Print Recipe
In our house, roast chicken is a favorite meal! Corinne, our youngest daughter, would say this is still one of her favorite meals! Now, she makes it herself in her own kitchen for her and her husband.
The Pampered Chef Stone Bar Pan makes a wonderful gift for bridal showers or weddings, and we have gifted both of our daughter's with these and they use them all the time. These pans are so versatile and can be used to cook so many recipes, from one pan roast chicken, to deep dish pizza, to cookies, to a myriad of roasted vegetables or meats. And oven roasted potatoes made on this pan are one of my families favorites for breakfast or dinner!
This chicken dish is so simple and yet so satisfying, so comforting on a cool evening. You literally can't fail with this recipe! It always comes delicious, very moist, and very flavorful. The potatoes are crispy on the outside and soft in the inside.
For spices, I use all Schilling and Schilling McCormick spices because they are all gluten free. Or if you or your family are not sensitive to cross contamination, then simply use any spices you use in your kitchen.
Serve this dish with a vegetable or salad and your meal is complete. No need to check the chicken often, but removing some of the fat midway through cooking, will allow your potatoes to crisp up nicely.
While the dish is cooking, make your salad or vegetable and then you'll have plenty of time to relax or have a drink.
While your visiting Pampered Chef to maybe purchase one of these marvelous stone pans, check out some of their other fun cooking, baking and kitchen tools!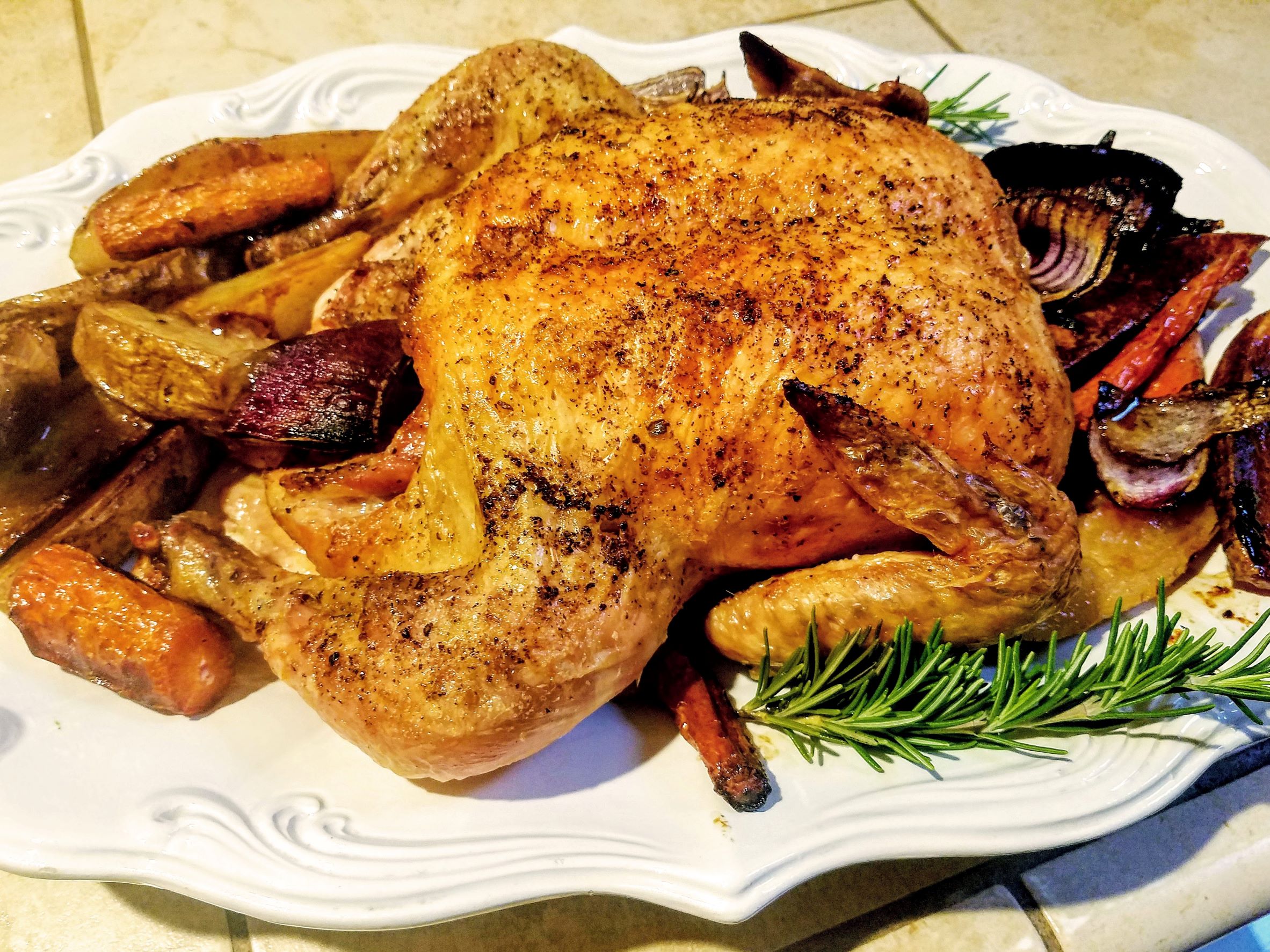 Corinne's Favorite Roast Chicken and Crispy Potatoes (Gluten Free)
Prep the chicken, potatoes, and vegetables and then roast in the oven. Dinner doesn't get much simpler than this family favorite! It's always perfectly cooked and get comments every time on how delicious it is!
Equipment
1 stone bar pan 14 3/4 x 10 1/2"

or other equivalent sized ceramic baking dish or baking sheet
Ingredients
1,

4-4 ½ lb.

whole chicken

1½

teaspoons

salt

½

teaspoon

fresh ground black pepper

⅛

teaspoon

garlic powder

gluten-free

⅜

teaspoon

dried oregano

gluten-free

3

large sprigs of

fresh rosemary

¼-½

lemon

2

large

russet potatoes

cut in half lengthwise, then each half in 4 or 5 pieces

2-3

carrots

cut into 3" pieces, washed and cut into 2" pieces

1

medium

onion

white or red, cut into quarters

Sprinkle of

salt

over the carrots and potatoes

Sprinkle of

pepper

over the carrots and potatoes
Instructions
Get your Pampered Chef Stone Bar Pan out. You can also use a 14 or 15" large cast iron or a large casserole dish.

Rinse the chicken with cool water and pat dry on the inside and outside, with several paper towels. Lay breast side up in the center of your stone bar pan or other baking dish.

Sprinkle salt, pepper, garlic powder and dried oregano on to the chicken to coat, reserving some of each for the inside of the chicken. 

Squeeze lemon quarter on chicken, and put the lemon when done into the cavity opening. 

Break the rosemary and put one piece into the cavity and the other pieces on the pan. 

Lay your potato pieces in the pan, being sure to lay each in a single layer so they get a nice crisp bottom. Then add the onion and carrot pieces in (some can sit on top of your potatoes).

Drizzle olive oil over the top of the chicken, then drizzle the rest over the potato chunks, carrots and onion chunks, and sprinkle additional salt and pepper over the vegetables.

Place the chicken pan on the center rack of your preheated oven and bake for 1 hour 20 minutes – 1 hour 45 minutes. If your chicken is over 4 ½ pounds it may need to cook another 15-20 minutes. **See note below.

Chicken is done when a rich golden brown and the leg pulls away easily, and clear liquid only comes from the leg joint when pierced with a knife. Check the temperature by inserting a thermometer into the thick part of the thigh. Reading should be 175-185° in the thigh joint or thickest part of thigh and 165° in the center of the breast.

Remove from oven. Let stand for 10 minutes before carving.

Remove pieces to a large platter to serve, place the potatoes and vegetables around the platter. Add a few more fresh herbs to decorate and it's ready to serve! Or you may want to present in on the table first, then carve it. This is such a delicious, easy meal it will soon be one of your favorites too! 

**Note: If the potatoes are not browning well, remove some of the liquid from the pan using a spoon or baster. Discard or save to make a gravy.