With the heat here yesterday, I needed a gluten-free no-bake dessert to make. We need dessert, right?!
Simple Mills Seed & Nut Flour Sweet Thins Honey Cinnamon Crackers
Some gluten free Simple Mills Seed & Nut Flour Sweet Thins Honey Cinnamon Crackers were the start to this idea! They're so yummy! I purchased them at Costco in Kona while on vacation, but I was happy to hear from a friend that they are also available at our local Costco! They also have them at Walmart and on Amazon if you can't find them anywhere else.
Made with watermelon seed flour and nut flours, they taste like a cinnamon graham cracker. They are also Grain Free, Corn Free, Gum Free, and Paleo-Friendly. If you can't find them, you can always use a gluten free graham cracker. I've had good success with Pamela's Gluten Free Graham Crackers. Another great brand is Schar Gluten Free Honey Graham Crackers.
Gluten free tart shells
Usually, my tarts would have a baked crust, often a pie crust type crust or a shortbread type of crust. However, this no-bake one turned out really great! If you prefer a baked tart crust, you can always use one of my other recipes and use this filling. Tarts are one of my favorite desserts to make. They always impress, even when they are as simple to prepare as this one.
One tart or several mini tarts?
I like to make tarts mini or small sized, so there aren't tons of left overs. They usually last for just about a day, before losing their texture. So, for this tart I made the recipe for a 7″ tart. You could totally use an 8″ as well. Just add more fruit to the top maybe. It would also work in mini tart pans, or even the cute little boxes I made some in. These worked great for freezing. This idea is also great if you want the tarts to last a little longer.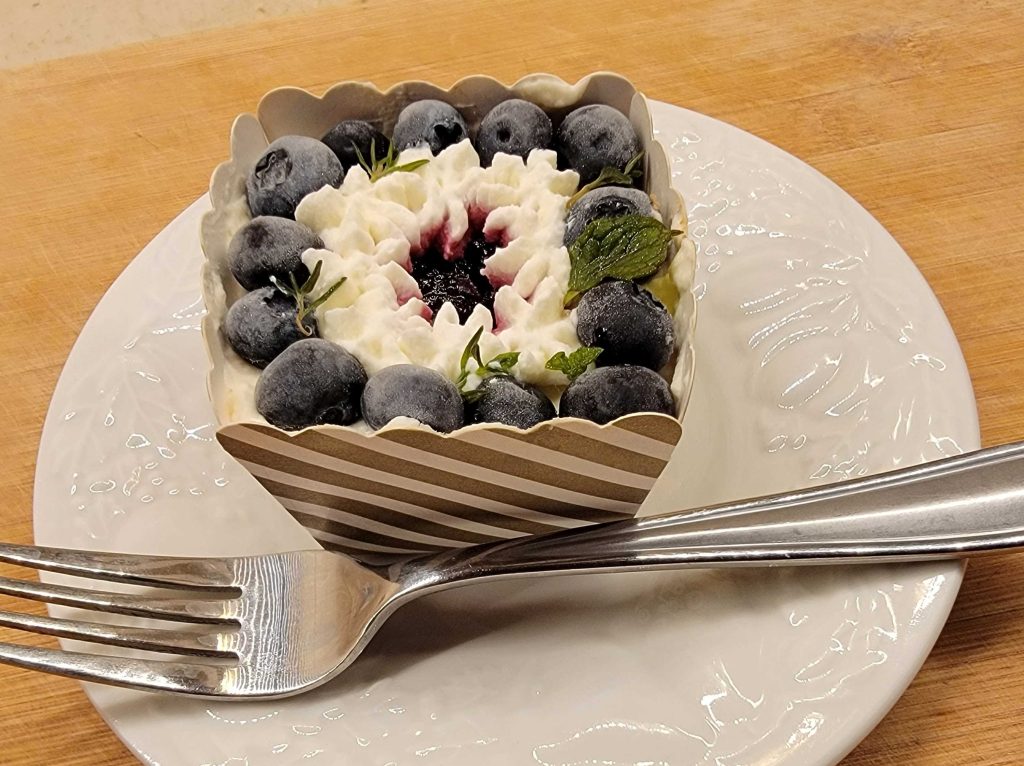 Would you like a slice or a mini sized individual? The minis freeze wonderfully and you can have a slightly colder (frozen for 1-2 hours) dessert.
Maybe try it both ways and see which you prefer. I loved the one from the freezer on the very hot day I had it!
What to top your tart with?
Top this tart with any fruit you like. That being said, I think berries compliment the lemon flavor well. You could go all out and decorate this with mixed berries, either scattered on top or possibly in a fun pattern of some sort. It is up to your preference and just how easy you want to keep the process.
You can also use fresh edible flowers, preferably organic, washed and dried well to decorate your tart. Herbs, or lemon slices too work well too.
When you freeze it slightly, it is a perfect treat for a hot day, too. 🌞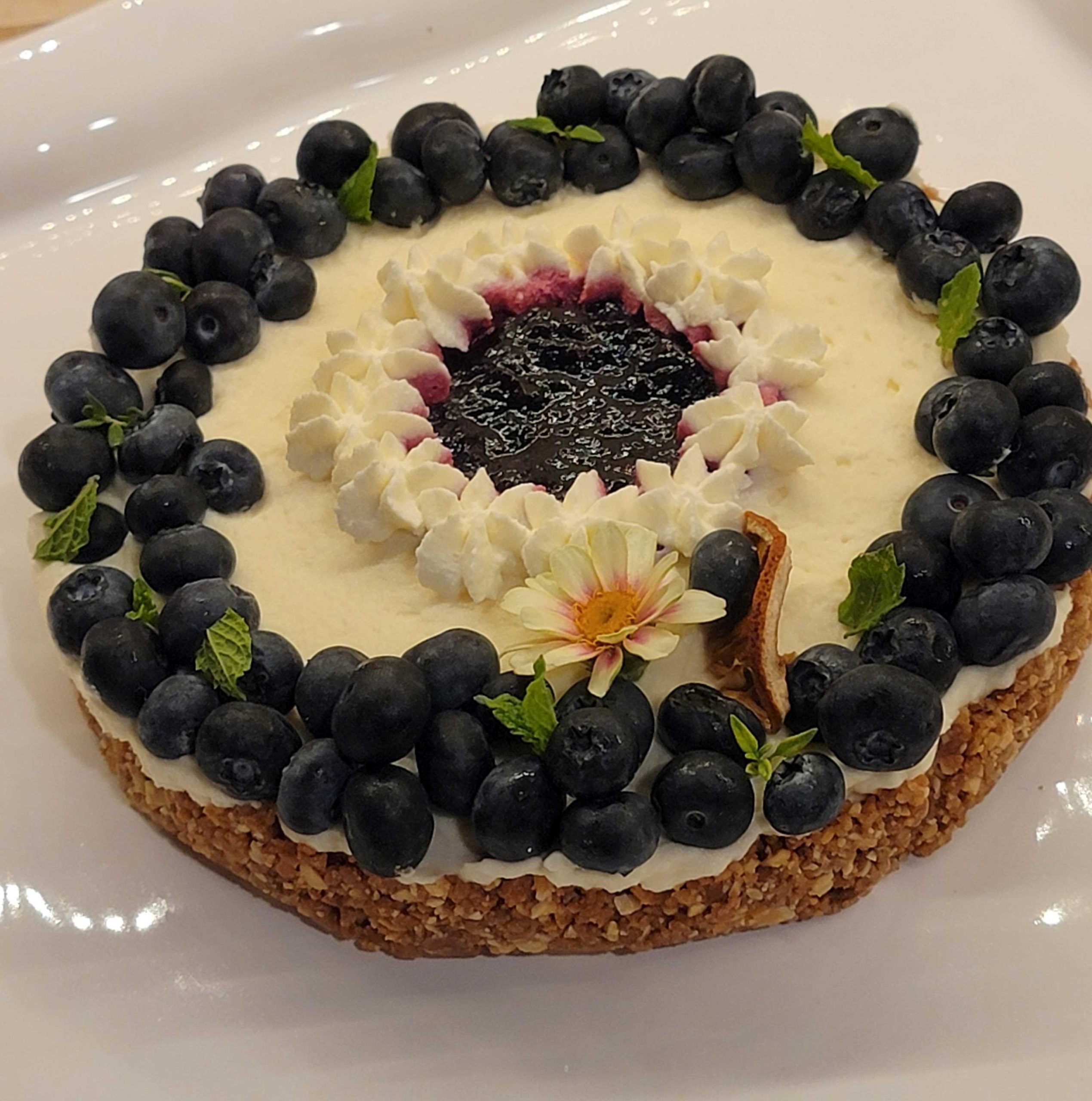 No-Bake Tart with Mascarpone and Lemon Curd (Gluten Free)
This No-Bake Tart with Mascarpone and Lemon Curd (Gluten Free) is similar to a cheesecake, but a bit lighter maybe. Also, it doesn't require baking! It only needs time to chill thoroughly.
Ingredients
Tart Crust
1⅛

cups

Simple Mills Sweet Thins, crushed or ground after measuring

or gluten free graham crackers

⅓

cup

blanched toasted almonds, crushed or ground after measuring

2½

tbsp

butter, melted
No-Bake Mascarpone and Lemon Curd Tart (Gluten Free)
8

oz.

Mascarpone cheese

6 ½

tbsp

powdered sugar

2

tbsp

homemade lemon curd, Bonne Maman Lemon Curd

or other gf lemon curd

¾

cup

plus 2 tbsp heavy cream

1

tbsp

powdered sugar

½-1

pint

fresh berries of your choice

rinsed and dried

edible flowers or herbs for decoration

rinsed and dried
Instructions
Tart Crust
In a bowl, combine the gluten free cracker crumbs, crushed almonds, and the melted butter. Stir to combine.

Press the crumb mixture into a parchment lined 7" tart shell or springform pan. Freeze for 30 minutes.
No-Bake Tart with Mascarpone and Lemon Curd (Gluten Free)
In a bowl of a stand mixer or in a bowl with a hand mixer, beat the mascarpone with the 6 ½ tablespoons of powdered sugar, until smooth.

Scrape the mixture into a medium bowl. Set aside. Clean and dry the mixing bowl and attachment.

Whip the heavy cream until lines begin to appear. Add the 1 tablespoon of powdered sugar and continue whipping until fluffy.

Fold the whipped cream into the cheese mixture, reserving 1/2 cup of whipped cream for piping on top of tart, if desired.

Spread the mascarpone/cream mixture over the tart shell. Decorate by piping stars of whipped cream. Add 1/2 pint washed and dried blueberries, blackberries, or raspberries, herbs, lemon slices, or washed and dried edible flowers.

Cover tart or mini tarts with cellophane. Chill for 3-4 hours in the refrigerator. Or freeze for 1-2 hours. Remove from freezer 30-45 minutes before enjoying. Remove springform bottom after freezing or chilling.
Notes
For another delicious topping, try a blueberry compote.
Recipe for Blueberry Compote
3/4 cup blueberries
1/4 cup water
1/2 Tbsp lemon juice
3/8 cup sugar
Combine the ingredients in a saucepan and simmer over medium low for 10-15 minutes. Cool and chill completely before topping the tart. Make a small indent in the center or a ring near the outside of the tart. Spoon the compote in. Finish decorating with fresh berries, piped whipped cream, and edible flowers and herbs. 
9) Spread the rest over the tart shell.
Decorate with 1/2 pint washed and dried blueberries, herbs, lemon slices, or flowers.
10) Freeze for 1-1 1/2 hours before slicing to serve. Makes 6-8 servings.