You can smell it baking as the aroma of warm spice and apple fills the air! This cake is similar to an applesauce spice cake, but the apple pieces bring a bit of texture and boldness. This cake is not heavily sweet, and the honey replacing some of the sugar, makes me feel like it's almost good for me! The topping, will possibly sink a little into the cake, but don't worry if this happens, as it will still taste wonderful just below the top of the cake also. This is a cake of comfort for me. I remember coming home from school and my mom having spice cake ready for a snack for us, still warm, so this holds lots of memories for me. It's delicious with a little dollop of whipped heavy cream or plain, right out of the oven or the next day. It is best enjoyed the first few days, so you might need to share with friends and they'll be happy you did :).
~Laura
Apple Spice Cake with Crumb Topping (Gluten Free)
Ingredients
Cake batter:
1 cup (120 grams) millet or brown rice flour (gf brand)
¼ cup (37 grams) Bob's All Purpose Gluten Free Flour Blend
½ cup (54 grams) almond meal (gf brand)
½ cup (54 grams) tapioca starch (also known as tapioca flour)
2 ½ teaspoons baking powder (gf brand)
¾ teaspoon baking soda
½ teaspoon salt
½ cup honey
½ cup brown sugar, packed
¼ cup organic cane sugar
1 cup of vegetable oil or canola oil (you can substitute ½ the amount of oil with avocado or extra light virgin olive oil)
3 large eggs
2 teaspoons vanilla (gf brand)
1 ¾ cups peeled, chopped Granny Smith or other tart apple
2 ½ teaspoons cinnamon (gf brand)
1 ¼ teaspoons nutmeg (gf brand)
1 teaspoon pumpkin pie spice (gf brand)
Crumb topping:
¼ cup brown sugar, packed
¼ cup pecans, chopped
¼ cup almond flour
½ teaspoon cinnamon (gf brand)
1½ tablespoons butter, cut in small pieces
Note: If you need this cake to be certified gluten free, please use gluten free flours, baking powder, honey, spices, vanilla, and sugars.
To prepare
Step 1 –
Preheat oven to 350 degrees. Grease a 8" square pan and set aside.
Step 2 –
Combine millet flour (or brown rice flour), Bob's All Purpose Gluten Flour, tapioca starch, baking powder, baking soda, salt, cinnamon, nutmeg and pumpkin pie spice in a medium size bowl.
Step 3 –
In another bowl or stand mixer bowl, add cane sugar, honey, brown sugar, oil. Combine on low speed for 30 seconds. Add the eggs and vanilla and mix on medium for three minutes more. Add the dry ingredients into the stand mixer bowl. Mix on medium until well combined.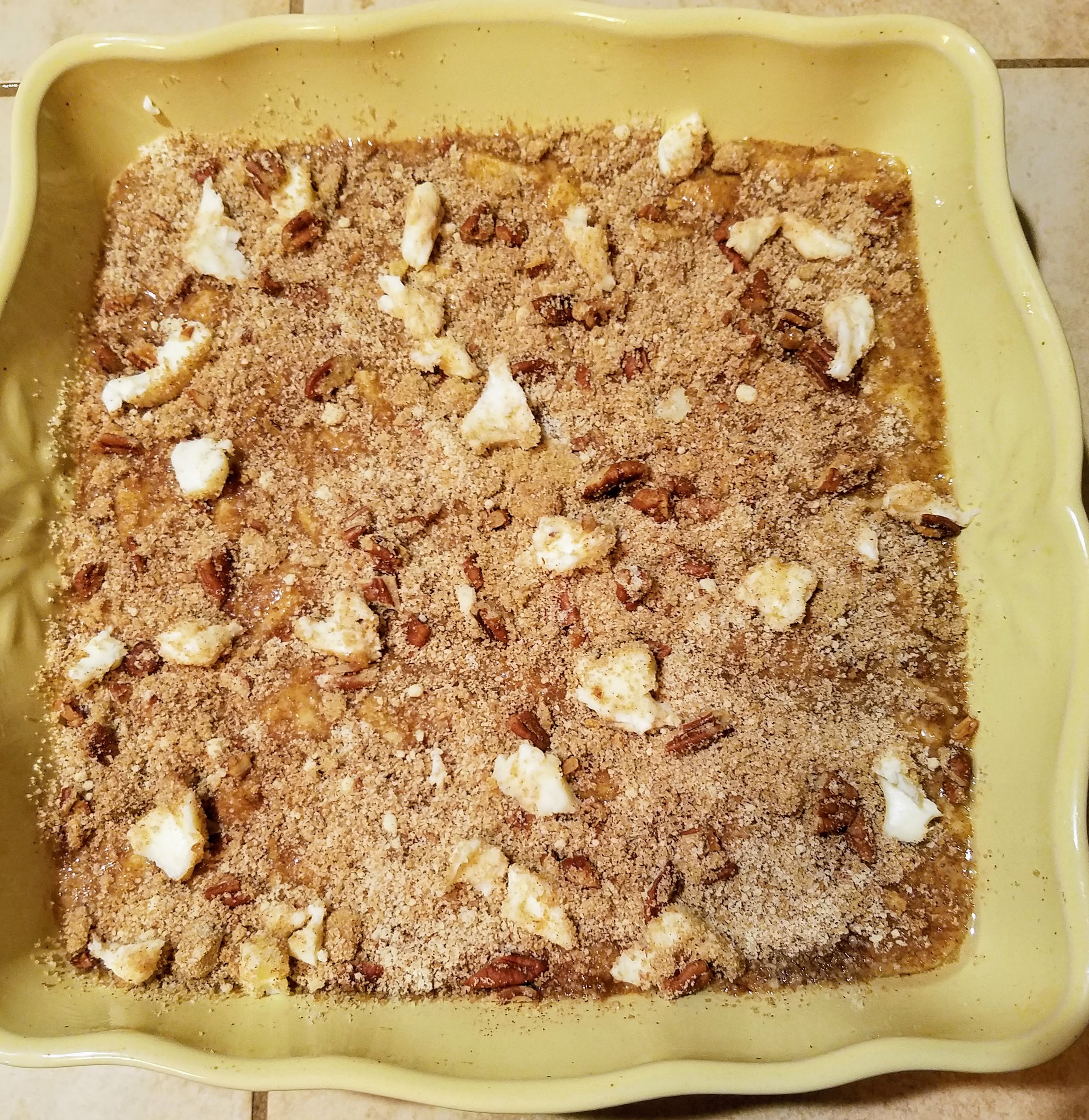 Step 4 –
Add the chopped apples and stir either by hand or in the mixer, with the setting on low speed for 20 seconds, or just until combined. Scrape the batter into the greased pan.
Step 5 –
To make the topping, in a small bowl, stir together the almond flour, brown sugar, chopped pecans, and ½ teaspoon of cinnamon.
Step 6 –
Sprinkle the topping gently on the top of the cake batter, topping evenly and then adding the butter pieces spread evenly across the cake top.
Step 7 –
Bake at 350 degrees for 40-45 minutes. Check at 38 or 40 minutes with a toothpick poked into the center. Continue baking until toothpick comes out clean.
Step 8 –
Slice a piece for you and a loved one to enjoy while warm!