Jump to Recipe
Print Recipe
Our go-to gluten free pizza dough recipe! We often do this when the grandkids are here because they love pizza and don't complain about eating on these nights😚.
I wanted to share this new gluten-free dough recipe. I was able to get my granddaughter to try this, and she had great praise for it! The crust was thicker and soft as I kept the diameter of the pie a bit smaller. She liked the texture! Woohoo! She actually said she liked the crust better than the purchased gluten dough we were using! In the words of Jane Austin, "High praise indeed"!
A little disclaimer
Disclaimer: Although my pizza doughs have a recipe to follow, they do require a little work on the dough maker's part. The dough is just not as straightforward as a wheat flour dough. It will react differently in different climates and humidity, so play with it a little! See what works for you. I roll our using cassava flour, which works well.
This recipe is also delicious for breadsticks
For this recipe, when I patted the first dough ball into the rectangular piece for breadsticks, I did not add any flour into the dough besides what I was using to flour the board. The breadsticks did not have as much topping on them and didn't have any sauce, just olive oil, dried herbs of basil and oregano, and a few types of grated cheeses, so they had less weight on top. The turned out delicious, even though they didn't rise quite as much.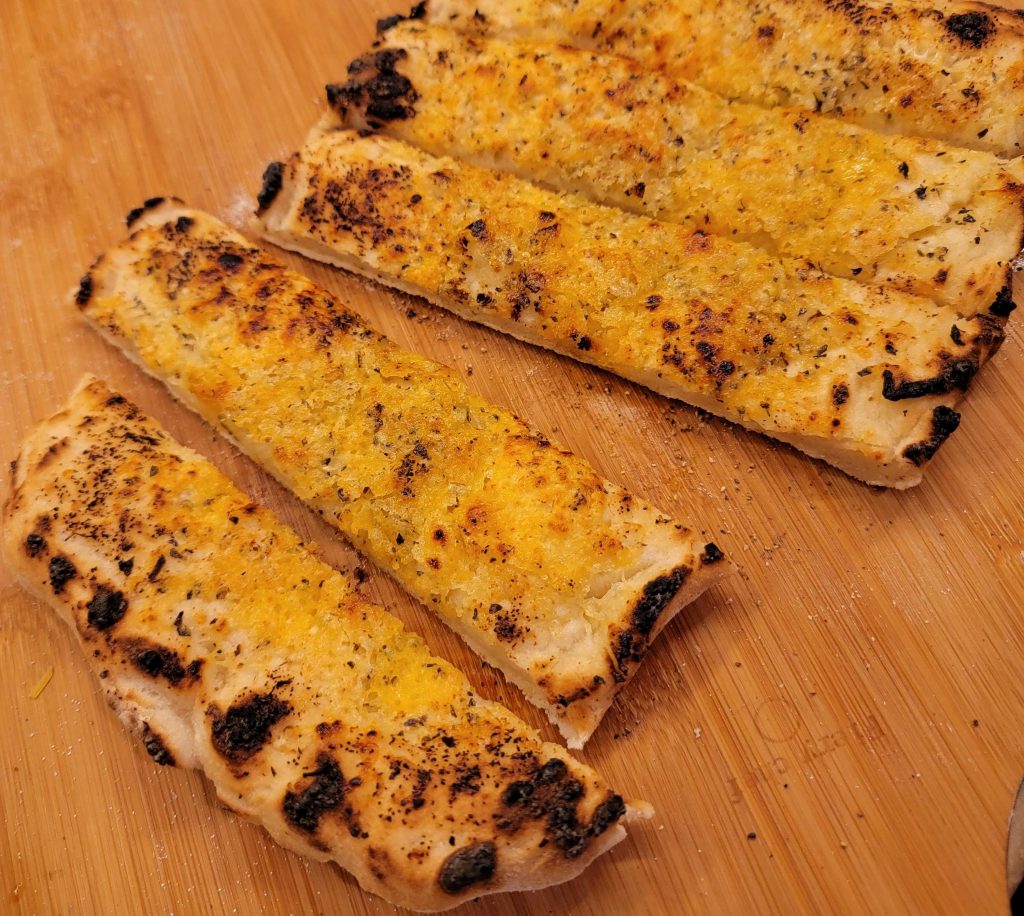 Dough ball #2 sat at room temperature longer and seemed softer, so I added a small amount of cassava flour into this ball before patting it into a round on a cassava floured board. It rose better!
Try our easy pizza sauce
In our family we like to make a pizza sauce with sauteed onion and garlic, tomato paste, a small amount of salt, basil, oregano, and water. It simmers for just a few minutes to develop the flavors. Then cool to just barely warm, before adding to your pizza dough. Check out the recipe for Best Easy Pizza Sauce.
I hope you enjoy this new gluten free pizza dough recipe ~
Laura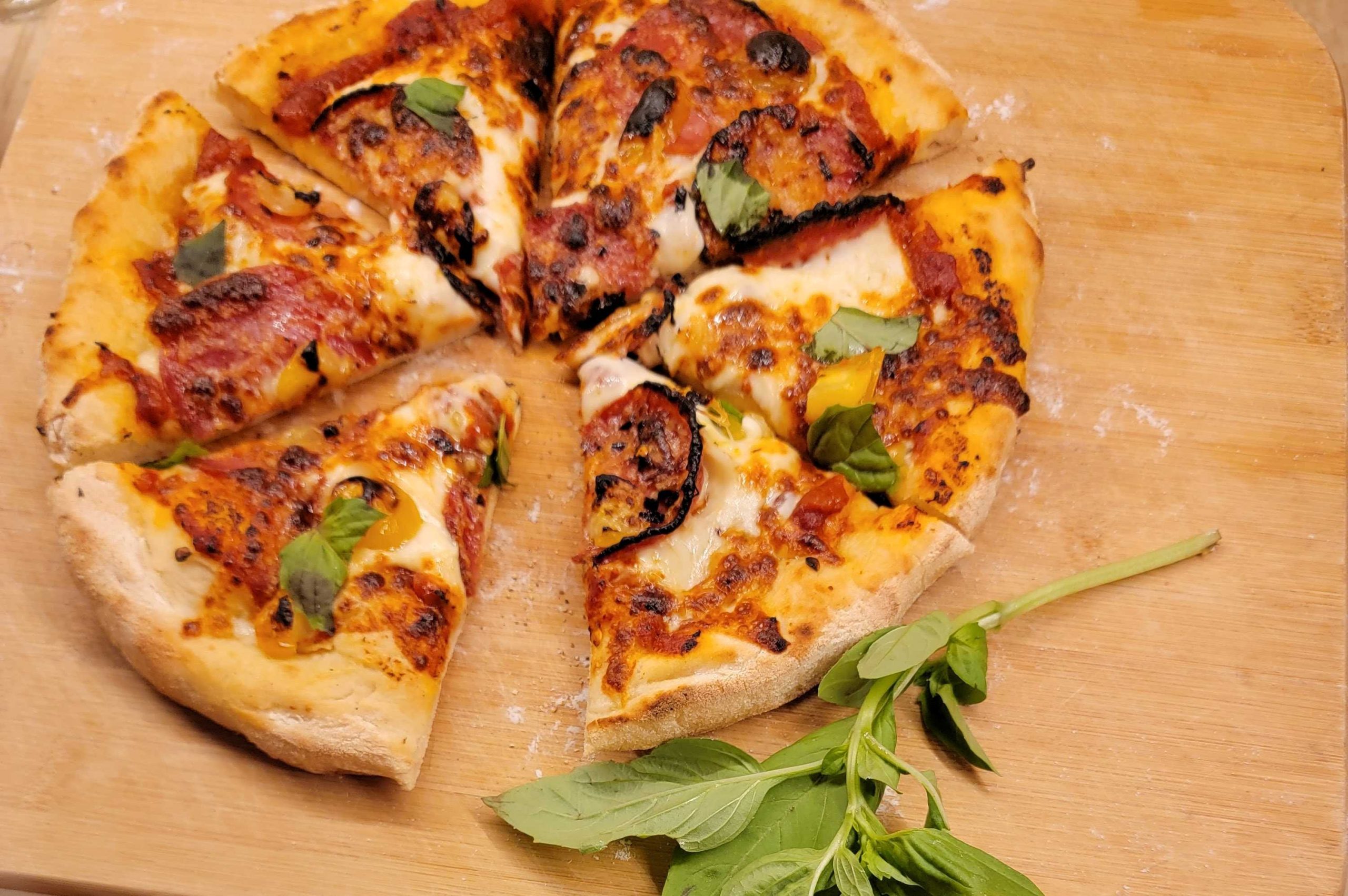 Pizza Dough No One Will Know is Gluten Free
This dough is not a stiff dough, but if you can pat out with just a little cassava flour, it will make two delicious crusted gluten free pizzas! Also, no one will know it's gluten free by the taste or texture.
Equipment
1 pizza oven

or pizza stone for oven cooking

1 Pizza Peel

cornmeal, gf

for dusting the peel
Ingredients
69 grams Bob's Red Mill Potato Starch, gf

69 grams Bob's Red Mill Millet Flour, gf-

69 grams Bob's Red Mill White Rice Flour, gf

69 grams Otto's Naturals Multi-Purpose Cassava Flour, gf

1 1/2 tablespoons Argo cornstarch, gf

or other gluten free brand

1 3/4 teaspoon Fleishmann's Bread Machine Instant Yeast, gf

1 1/2 teaspoons xanthan gum

1 1/2 teaspoons fine salt

225 grams filtered water (1 cup)

1/2 tablespoon olive oil
Instructions
Mix the flours, cornstarch, yeast, xanthan, and salt on medium low for 1 minute in the bowl of a stand mixer, using the paddle attachment.

Add the water and mix for 4 minutes on medium high. Add the olive and mix for 1 more minute.

Weigh the dough, scrape out into two equal pieces and set each on a 7" square of parchment. Form each dough piece into a ball with wet fingertips, by gently patting to smooth.

Drizzle EVOO over and rub lightly to coat. Set on a baking tray. Cover with cellophane. Seal in a large freezer bag (or cover with another layer of cellophane. Refrigerate for 5-6 hours.

Bring to room temperature 1-2 hours before you are ready to bake. Flour a board with cassava flour. Flatten to 9" by patting gently and making an edge on the outside of the dough.

Slide the dough onto a cornmeal dusted pizza peel. Drizzle with olive oil. Add a scant 1/4 cup of pizza sauce and spread across, leaving the edge without. Top lightly with cheese and toppings.

Bake at 650-700 to start in pizza oven. 2-4 min. Or if using a conventional oven to bake, set the oven to 550 or as high as it goes, with a pizza stone in the oven. Slide the pizza onto the stone once the oven comes to temperature. Bake at 550 13-16 min or until the crust bottom and top are golden brown.
Notes
A few pizza tips: 
never use a cold or hot pizza sauce on a dough.
for gluten free pizza~ do not add to many toppings. Think a bit lighter and your pizza dough will perform much better. 
add a drizzle of olive oil to the patted dough before adding sauce.
do not overwork the dough, adding more than just a tablespoon of cassava flour when patting the dough out (if it is too soft or sticky).
use cassava flour on your board to form the ball into a 9″ round. Dip your fingertips in cassava flour to keep the dough from sticking.