This salad is so delicious you won't even know you are eating healthy vegetables and fruits while you are enjoying it! It's sure to hit all your taste buds!
Roasting the squash and adding to the salad adds a savory note, while the blackberries and candied pecans, give it sweet notes. A smidge of vinaigrette and gorgonzola cheese finish it off.
You'll be getting lots of fruit and veggies in this salad
Anyway, you will get your fruits and veggies in, along with some dairy and protein. For me, this salad is perfect for a lunch or a small serving side dinner salad. Add additional mild vegetables, like cucumber for another texture or taste.
Can't find ingredients? Make substitutions in the ingredients!
Here in the Salinas and Watsonville, California growing areas we have access to fruits and vegetables I know some of you may not have. We are blessed to live next to Driscoll's Berries! They are a huge supplier for berries in our markets! From raspberries to strawberries to blackberries, and blueberries, they supply us with fresh and even an organic line of berries. Together with the berries grown in Southern California and Mexico, we have access to berries here year round. I know that's not true for some of you living in other areas.
You Pick Farms
There are also locals farms in the area to visit and pick yourself if you like. We often did this with our kids and now it's time to keep the tradition up with our grandkids. Picking pounds of berries at a time, while also eating quite a few, we would haul them home. Often tired, but not too tired to make and can batches of delicious jam or jelly.
Try a Bosc pear or a crisp apple thinly sliced
Try substituting Bosc pear thinly sliced, or a very crisp apple if you can't get ahold of berries. The varied texture to the roasted squash will be fantastic as well.
You could also substitute any nut you like of course. I happen to be in love with Sante nuts! I especially love the candied pecans and the spiced pecans, but literally every kind I have tried are delicious! So fresh and great looking too, and they are all gluten free. This happens to be great when stocking items for my gluten free kitchen.
What's your favorite cheese?
We love cheese here and usually have 5-6 or more kinds in the refrigerator. They are great for adding just a little flavor enhancing to recipes. In this recipe I think the gorgonzola works well. I'm not usually a huge fan of gorgonzola cheese, but it works great in this combination. However, other cheeses may work well in this salad also.
I'm a huge fan of using things up in the refrigerator and not wasting anything. You could also try substituting another sharp cheese. Maybe blue cheese, or asiago or parmesan cheese. I think all these would work well.
The flavors all come together wonderfully in this pretty salad. The color is also bright and fun! I happen to think a salad that is both colorful and flavorful is more fun to eat. Think of it as painting with food. Most of all have fun serving this beauty up to family and friends!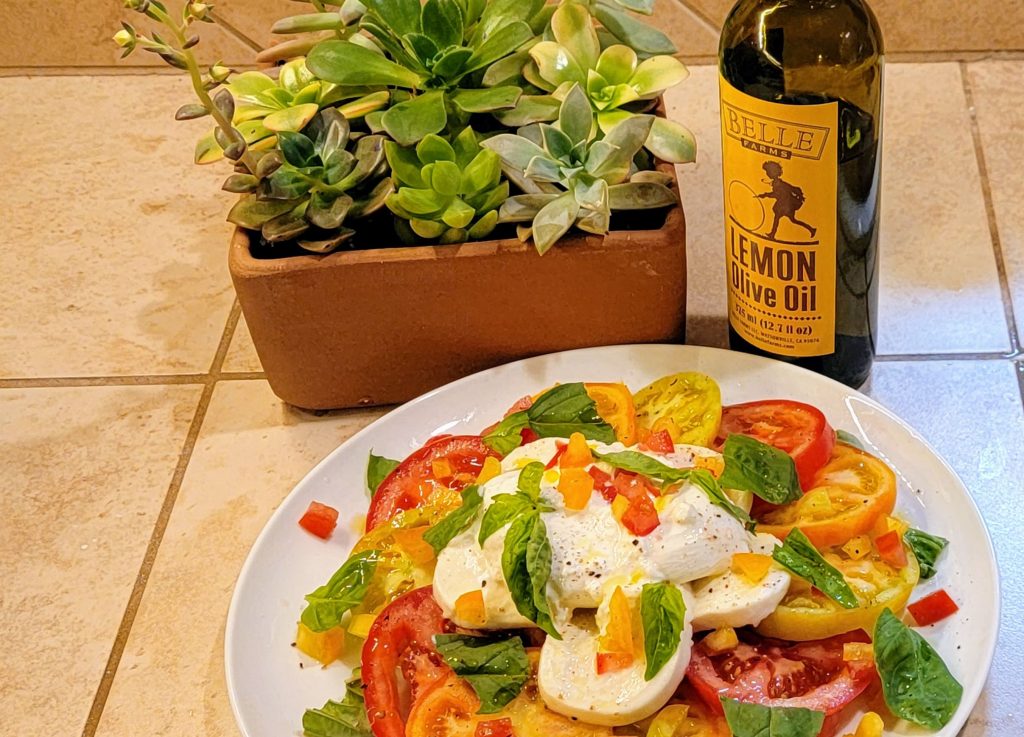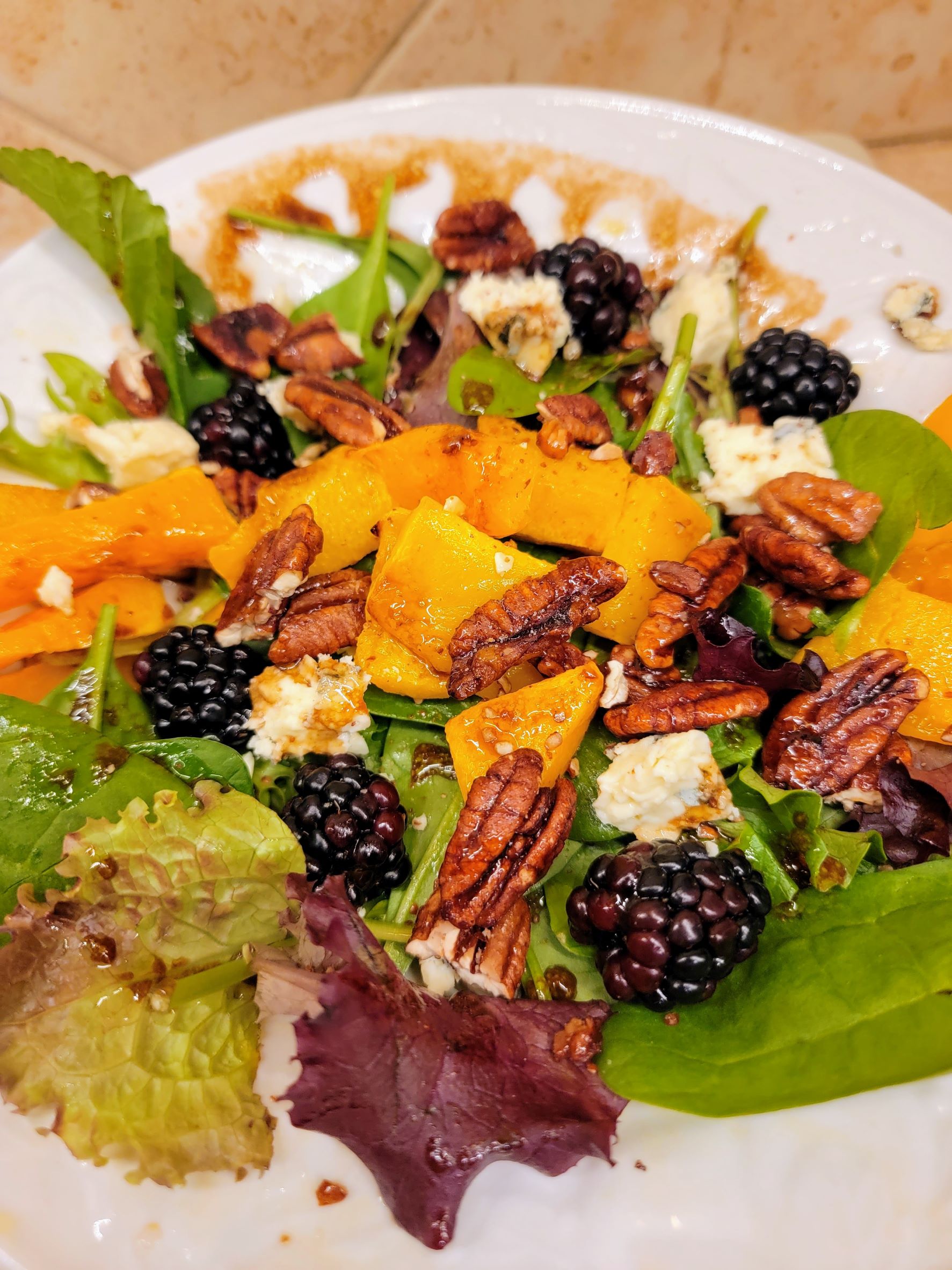 Roasted Butternut Squash, Blackberries, and Gorgonzola (Gluten Free)
This salad is sure to hit all your taste buds!
Equipment
1 baking sheet or baking stone pan
Ingredients
1

butternut squash, peeled and seeds removed, cut into 1/2'x1" cubes or 1/2" slices

or Delicata squash, cut into slices and seeds removed

2-3

tbsp

olive oil

3-4

oz.

lettuce mix

3

oz.

blackberries, rinsed and dried

⅛-¼

cup

Sante Candied pecans

or other gluten free candied pecans, raw, or roasted pecans

2

oz.

Gorgonzola cheese
Balsamic Vinaigrette
⅛

cup

balsamic vinegar

⅛

cup

avocado oil or olive oil

1

teaspoon

Dijon mustard

gf

1

teaspoon

honey

1

teaspoon

lemon juice

¼

teaspoon

salt

Sprinkle of pepper
Instructions
Preheat the oven to 425° F. Line a baking sheet or stone pan with parchment. Drizzle Butternut squash with olive oil and a sprinkle of salt.

Roast 30-40 minutes or until just starting to brown and soften. Remove to a bowl or plate to cool. 

Add the lettuce mix to a bowl or platter. Top with cooled roasted squash and blackberries. Scatter with crumbled gorgonzola cheese. Drizzle dress over and top with candied pecans.
Notes
If you prefer, you can also use Delicata squash in this recipe in place of the Butternut squash. For the Delicata squash, the skin can remain on. Just slice and remove the seeds, and place on the baking sheet. Drizzle with olive oil and roast until browned and soft, turning once. Remove to a plate to cool.