Sorry this recipe is coming to you late! Our family was up in the snow at Donner Lake, Truckee, California! ❄️☃️ Thank you for friends for blessing our family with this trip!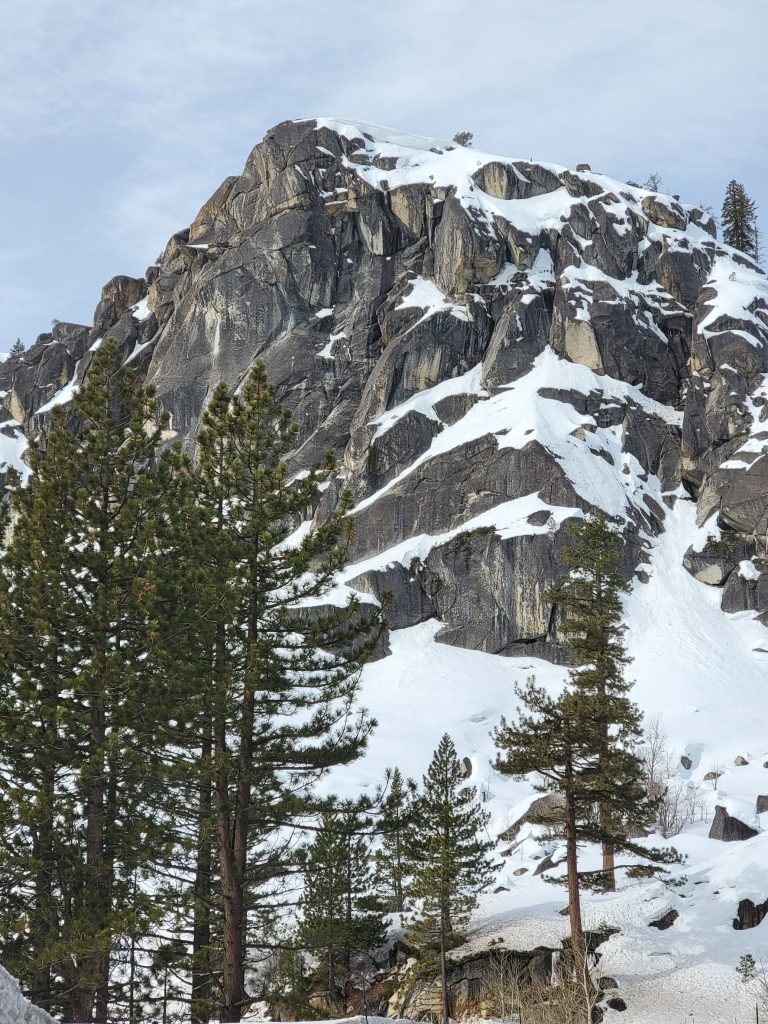 When we arrived home, we had no power or internet due to some massive wind storms. Then this morning, it snowed at our house, which only happens once every twenty years!
It didn't stick but it was still fun to see the large snowflakes falling! Tonight, we are supposed to get more!
Salmon is a favorite of mine
I love fish, and salmon is a favorite! I often get these skin on fillets at Trader Joe's or at times a larger piece at Costco and cut into smaller portions or feed our extended family. It's such a cost friendly "nicer" dinner entrée to serve. The two 6+ oz. pieces at Trader Joe's are just around $10 for the package, while you would spend $25-$40 per person for this dinner! You can see that having this dinner out would cost four times as much or more!
Safely make this at home if you need gluten free
Also, when you are severely intolerant to gluten or celiac, having this dish out sometimes will be a bit boring…. because usually they have to omit the lovely sauce. You might get a plain piece of fish. I've even been told I couldn't have butter on it ;). I guess it was contaminated!
Celiac or gluten sensitive also have to worry or ask about the surface the fish is going to be cooked on. Is it a clean pan or a surface where glutinous ingredients have been?
The sauce will most likely contain gluten in the form of soy sauce or another ingredient maybe if it is a firecracker sauce. Your server might say you can have it without the sauce, which means it will not have the amazing flavors here.
You definitely don't want to miss the sauce on this one! This salmon is marinated in the balsamic maple marinade, then pan seared for a few minutes before moving to a parchment lined baking sheet and into the oven. In the oven, it's basted a few times with the sauce. It yields a delicious piece of fish! And I happen to love the caramelization on the top.
If you are looking for a yummy firecracker salmon recipe, check out this one Firecracker Salmon Gluten Free.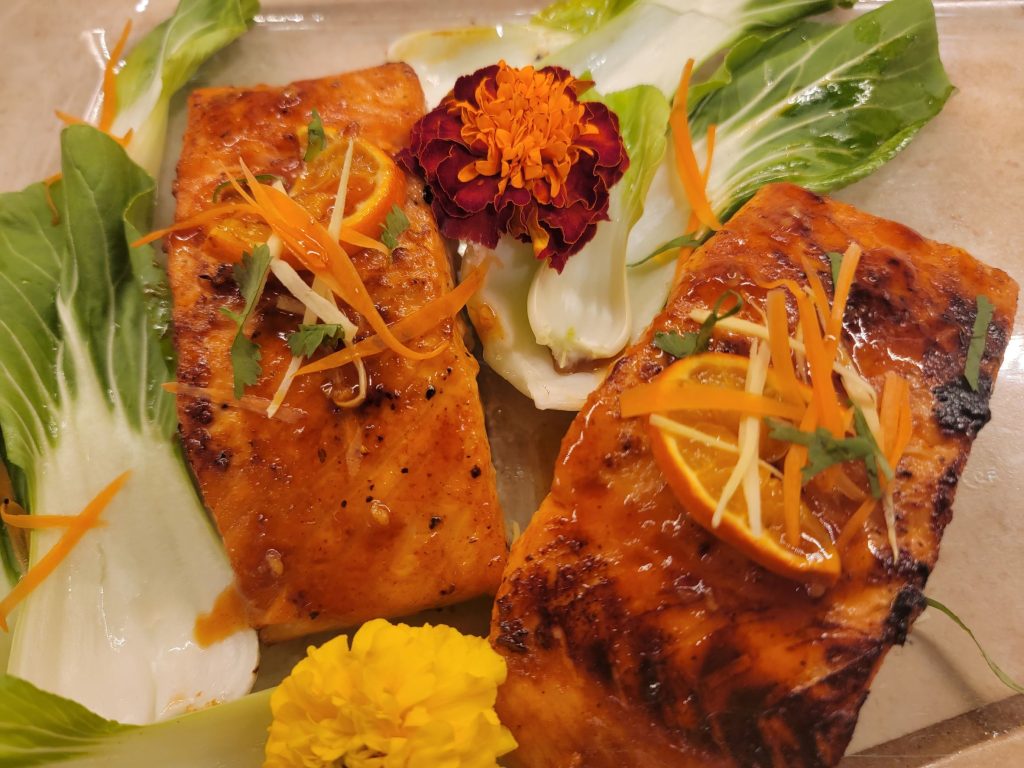 Use parchment for easily serving
You do want to use the parchment, because even with the skin on, it will become quite sugary and burn if you use the same pan you seared in.
The parchment allows the fish to be served easy and without sticking. Having the skin on the fish also helps. You could also make this with skinless fillets, but it may stick slightly.
So easy and so delicious!
This fish cooks up so fast and is so easy! You will need to marinate the fillets for an hour and a half, turning several times also. Then cooking the salmon is just a simple sear too brown the non-skin side and moving to the oven to finish their cooking.
I love both the color and the taste that the maple and balsamic gives this salmon!
Don't have fresh herbs on hand
If you are missing one of the fresh herbs you could substitute about half as much of a dried (gluten-free brand) herb. The herbs of course are free of gluten but could have cross-contamination in the processing or packaging. For this reason, I always stock my pantry with Schilling McCormick herbs and spices (and extracts), which are gluten-free.
Stock your favorite fresh herbs weekly or plant some in the spring
I also love to stock fresh herbs (at least a few of my favorites) to use all week long! Here, we eat a lot of Italian food, so I tend to stock flat leaf Italian parsley, thyme, and rosemary pretty much all the time. Then, if I am making something that needs a special herb, I'll pick that up as needed.
Growing my favorite fresh herbs is something else I love. Going out to my deck and grabbing whatever I need when I want it, is a simple pleasure.
Fresh herbs are great for adding color and a little different flavor than their dried counterparts, which tend to be stronger in flavor. I love decorating the serving dishes and plates with fresh herbs also. It kind of just brings the dish to life!
Caesar dressing added to the remaining marinade to glaze the fish
If you don't have Caesar dressing on hand, you can use mayonnaise for adding to the marinade to baste the fish during baking. If you don't have either of those, you can also just omit. The anchovy in the Caesar dressing will bring a zest to the marinade. If you don't know this trick, you can add it to pasta sauces or soups, usually in the form of anchovy paste.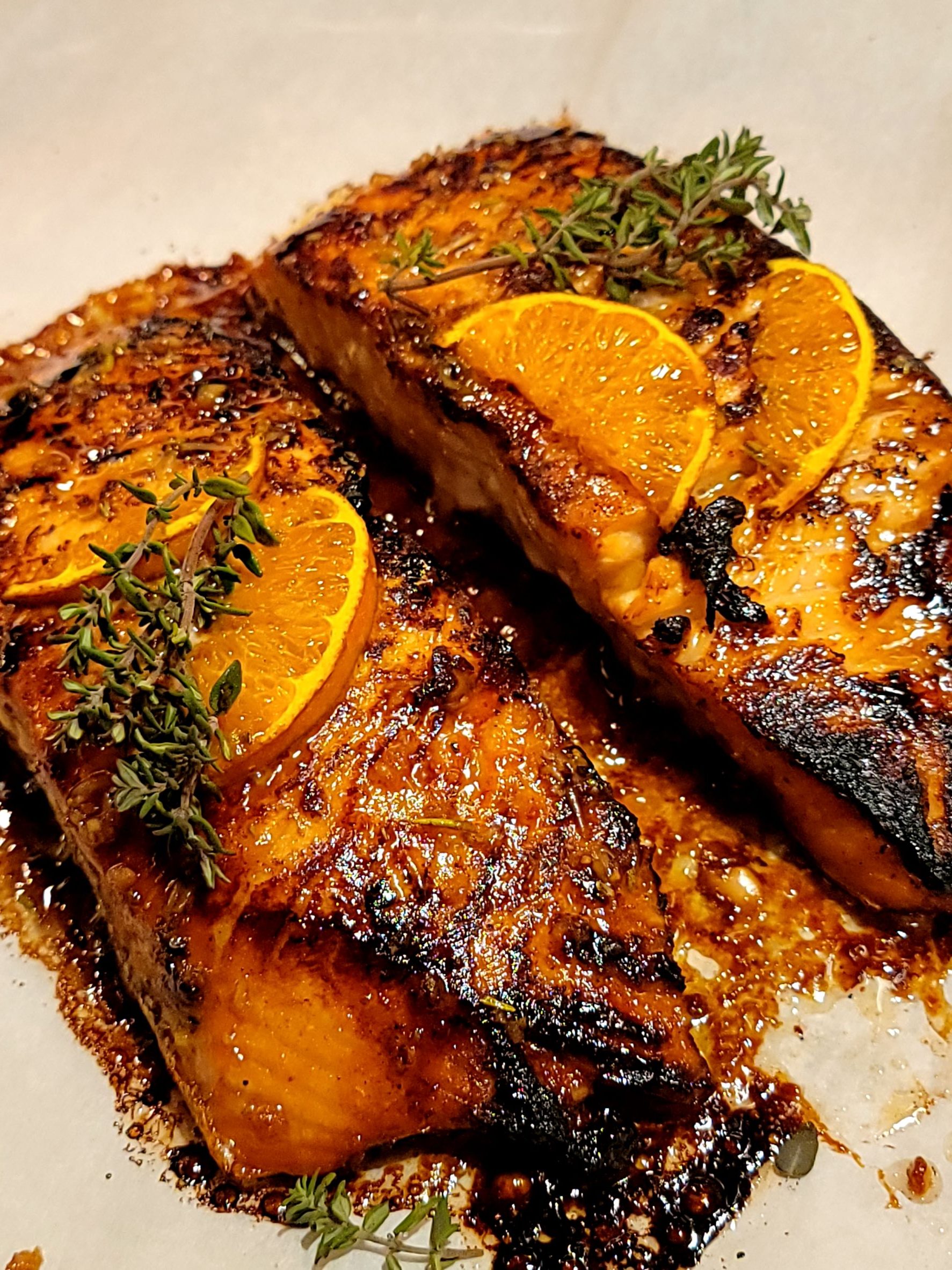 Caramelized Balsamic Maple Glazed Salmon (Gluten Free)
This slightly sweet and caramelized maple and balsamic salmon is the perfect "fancy" meal, with not much effort or cost.
Equipment
1 cast iron or skillet

1 Baking sheet

sheet of parchment
Ingredients
2-3

5-7 oz .

salmon fillets, skin on

⅛

cup

balsamic vinegar

⅛

cup

pure maple syrup

1

tbsp

tamari or gluten free soy sauce

or soy sauce if gluten free is not needed

2

large

cloves garlic, minced or crushed

1

tbsp

orange juice or lemon juice

1

teaspoon

minced rosemary

½

teaspoon

minced thyme

1

teaspoon

parsley, finely minced

1

teaspoon

olive oil

pinch of salt and pepper

1½

tbsp

caesar dressing or mayo

optional

1

cutie, orange or lemon

optional

sprigs of thyme for top

or minced chives
Instructions
Dry the salmon fillets, and lightly salt and pepper them.

In a small bowl, stir together the balsamic vinegar, maple syrup, tamari or gluten free soy sauce, garlic, lemon or orange juice, olive oil, rosemary, thyme, parsley, and salt and pepper.

Pour half of the marinade into a flat dish or pie pan, reserving the remaining marinade for the glaze. Add the salmon fillets to the dish turning several times to coat. Marinate for 1 ½ -2 hours in the refrigerator.

Remove from the refrigerator 45 minutes prior to cooking. Turn the fish pieces several times in the marinade again.

When ready to cook, preheat the oven to 450° F. Line a baking sheet with parchment paper. Heat a cast iron or skillet with 1 tbsp olive oil.

To the reserved marinade, add the Caesar dressing or mayo and stir. This will be used for basting the fish during baking.

When the skillet is very hot, shake off some of the marinade and place the fish flesh side down in the skillet. Turn the burner to about medium high heat. Sear for 2-3 minutes. The fish should be beginning to caramelize.

Carefully remove each piece to the parchment lined baking sheet, and place skin side down. Add a few orange slices to the top if desired.

Bake for 6-10 minutes or until the fish is the desired temperature using a instant thermometer. Baste the fish a couple of times during the baking with the reserved glaze/marinade.

To plate, add fresh thyme sprigs or minced chives to the top of each piece, and more orange slices to the plate.
Notes
The baking time will vary depending on the size of the fillets. I like to use an instant thermometer for this reason. Always check the temperature in the thickest part of the fish.
We prefer our salmon to cook to 135° F, although 145° F is the recommended temperature for salmon.