Campbell's Tomato Soup
I grew up not loving tomato soup. I don't know why. Maybe there was too much Campbell's Tomato Soup in our house. For many years, I would never touch the stuff.
Then, as an adult, I found some tomato bisques with some other flavors added in and I started to like them! Some of the Italian herbs added some flavor I liked. Also, roasting the tomatoes made these soups much more palatable for me. This soup comes to life with the sugared bacon added on top.
What is sugared bacon??!!
Sugared bacon is something my sister-in-law and brother-in-law showed us years ago. It's like heaven! You can serve this as an appetizer on skewers…but don't make too much because you'll have a difficult time stopping after eating a piece! They have spoiled us by bringing or making it for many a party or family gathering.
In this recipe, we just top the creamy soup with this bacon "candy". It's so yummy with hints of sugar and bacon, not in every bite, but in some bites.
Not only bacon "candy" but soft Brie cheese and sharp Asiago or Parmesan cheese make this soup spark with flavor and creaminess. Finally, add in a small amount of cream and fire roasted or sweet San Marzano tomatoes and it's the perfect precursor to a meal. Not too heavy, but gets your palate going.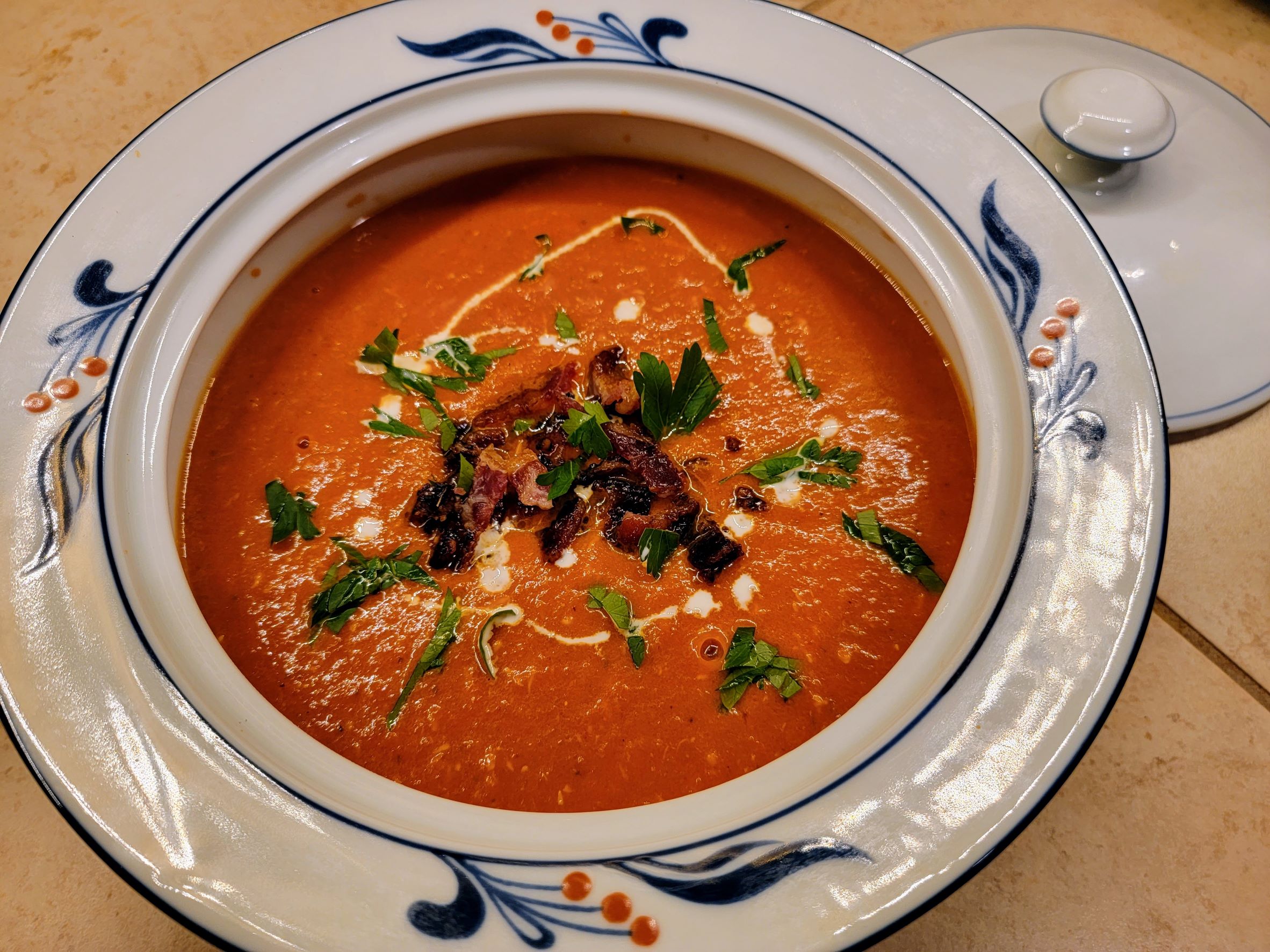 Tomato Bisque with Smoky and Sweet Flavors (Gluten Free)
Delicious sweet and smoky flavors in this tomato bisque!
Ingredients
2 tbsp

olive oil

2 tbsp

butter

unsalted

1

small onion

minced

4 cloves

garlic

minced or crushed

½ cup

dry white wine

2 tbsp

brandy

optional

2 tbsp

tomato paste

1- 28 oz. can

fire roasted stewed whole tomatoes

or San Marzano stewed tomatoes

1 cup

water

1 cup

vegetable

or chicken broth, gluten free

¾ teaspoon

smoked paprika

gluten free

¼-½ teaspoon

Aleppo pepper

gluten free

1 tbsp

minced flat leaf parsley

2 – 3 slices

regular or thick sliced bacon

gluten free

3-4 tbsp

light or dark brown sugar

1 tbsp

maple syrup

2 oz.

Brie cheese

or other soft cheese

¾ oz.

Asiago or parmesan cheese

grated fine

⅛ cup

heavy cream

plus ⅛ more for a creamy soup

Salt and pepper

to taste

Minced parsley and chives, plus 1-2 tbsp heavy cream to top
Instructions
In a 5 qt saucepan saute the onion with 1/4 teaspoon Kosher salt in the olive oil and butter until soft and translucent. Add the garlic and saute over low for another minute.

Add the wine and brandy to the saucepan. Allow the wine to simmer for a minute before  adding the tomato paste, tomatoes, water, broth, paprika, Aleppo pepper, parsley and basil. Simmer over medium low covered with the lid cracked for 30-35 minutes.

Coat the bacon strips with the brown sugar, pressing the sugar on to stick. On a parchment lined baking sheet or convection or toaster oven baking sheet, lay the bacon strips.

Cook in a 325 degree oven for 15-20 minutes until just starting to caramelize, crisp and is browned. Slice into thin strips and set aside.

Cool for 10 minutes. Puree the soup using an emulsion blender or Vitamix or other blender. Cover with a towel so it doesn't splatter.

After the soup is very smooth, add the maple syrup, brie or soft cheese, Asiago or parmesan cheese and heavy cream. Add up to another ⅛ cup of cream if a creamier soup is desired. Ladle into bowls and top with a swirl of cream, sliced bacon, parsley and chives.