Jump to Recipe
Print Recipe
This delicious saffron rice has a beautiful color with the saffron and a little turmeric. The little crunch from the toasted almonds gives it a little something extra. It pairs perfectly with any of your Mediterranean dishes, or just a simple oven roasted or grilled chicken. I made it for tonight's Grilled Chicken Gyros, which will have homemade gluten free flatbread to hold all the goodies. The rice is perfect as well next to a grilled or poached filet of fish (I like to do it on the grill, a "sealed in foil" type of poached salmon, steelhead or cod). This rice is so easy and paired with fish, dinner can be done in less than 20 minutes! For the fish, just lay a piece of foil down large enough to seal the top and ends. Add some herbs, lemon or orange slices or segments, olive oil or butter, and a little salt and pepper. For a little variation to the rice, try some chopped pistachios on top, and some parsley, dill, or cilantro. Or for an easy meal dish, add some rotisserie or left over chicken cut into pieces, together with some Kalamata olives or artichoke hearts into the rice.
~Laura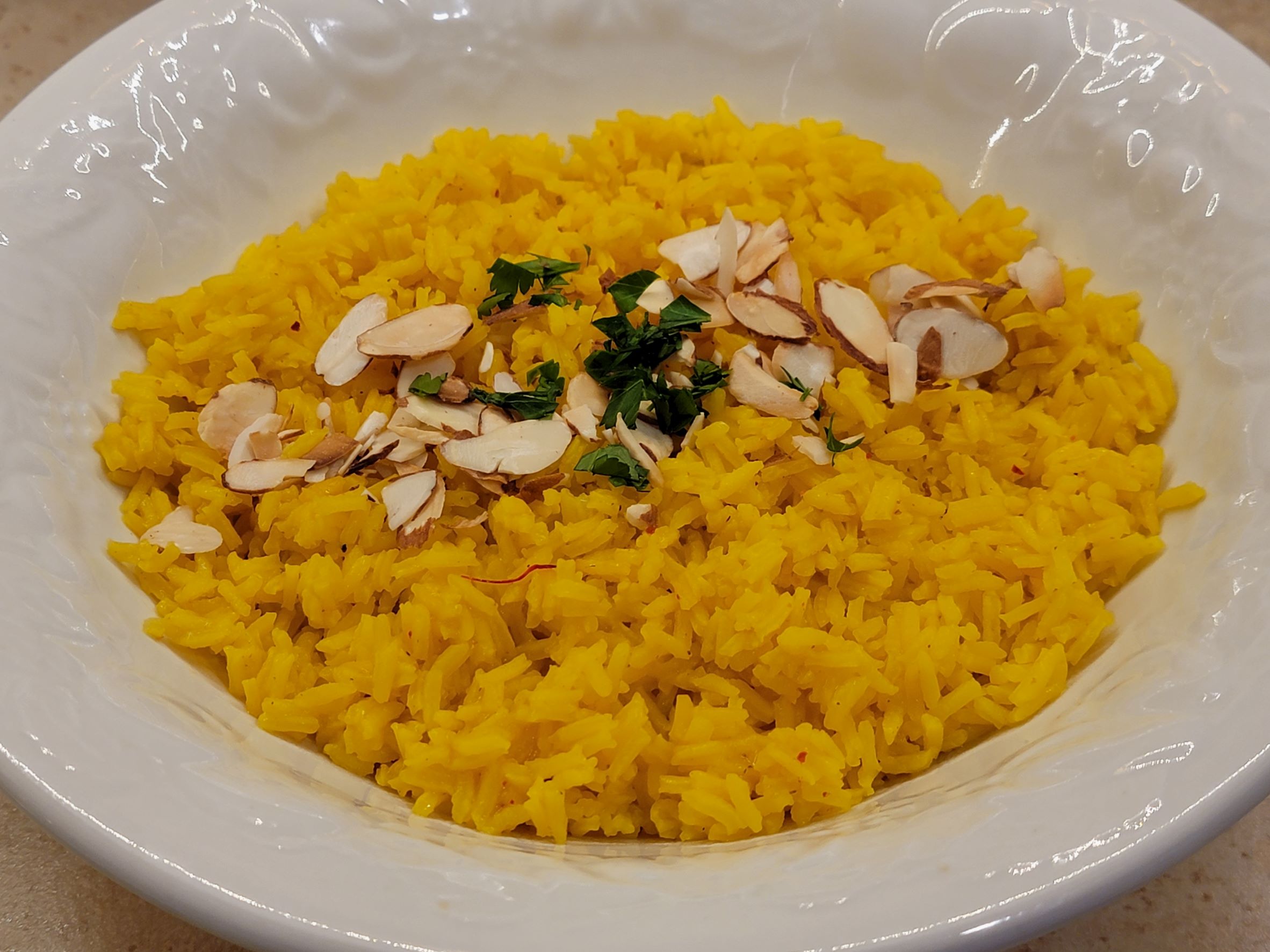 Saffron Rice (Gluten Free)
Saffron Rice is such a nice side dish for chicken, fish, lamb, or seafood. I love the little bit of crunch this one has on the top, and a little spark of heat, but just a tiny bit from the Aleppo pepper. You can definitely leave the Aleppo pepper out of the recipe as well.
Ingredients
1 1/2

tbsp

extra virgin olive oil

1 1/2

cups

Thai Jasmine or White Basmati Rice

3

cloves

garlic, minced

3

cups

chicken broth or vegetable broth, gf

1/4

tsp

turmeric, gf

1/2

tsp

saffron threads, gf

1/4

tsp

Aleppo pepper or crushed red pepper, gf

1 1/2

tsp

lemon juice

1/4

tsp

salt

2

tbsp

toasted almonds or pistachios for topping or stir in

1

tbsp

chopped flat leaf parsley, or cilantro for topping or stir in
Instructions
Heat the oil over high heat in a  4 or 5 qt. saucepan. 

Add the rice and brown slightly while stirring. Add the garlic and continue cooking for another minute. Pour in the broth, and add the turmeric, saffron threads, Aleppo pepper or crushed red pepper, lemon juice, and ¼ teaspoon salt.

Stir and bring to a boil, then reduce the heat to low temperature and simmer for 13-15 minutes more, depending on the rice that is used. No water should be standing at the bottom of the pot when the rice is pulled away with a rubber spatula or spoon. 

Remove from heat and leave covered for 5 minutes before moving to a bowl. Add nuts and herbs on top or stir in.