Oh, how I love dark chocolate mousse! But some days I don't want to bother with making it as it's a little more involved! This Mexican Chocolate Spiced Pot de Crème is similar in taste, with loads of dark chocolate flavors (and a little spice flavors). It's not as airy as a chocolate mousse and it doesn't have any whipped egg whites, but it's chocolatey and rich and decadent.
It's my easy "go-to" dessert. Make them in the morning, then cool, cover, and refrigerate. You will only need to add some decoration when it comes time to serve. The dessert is nearly complete!
Use small decorative glasses for showing off this yummy treat and for that something extra special element. I made this to be similar in flavor to a chocolate truffle I make, with hints of mocha, cinnamon and chili powder. Serve with a little port. Don't forget the whipped cream on top, maybe a few berries, chocolate shavings, or whatever else you like. These extras add taste, but also color and texture.
Enjoy!
~Laura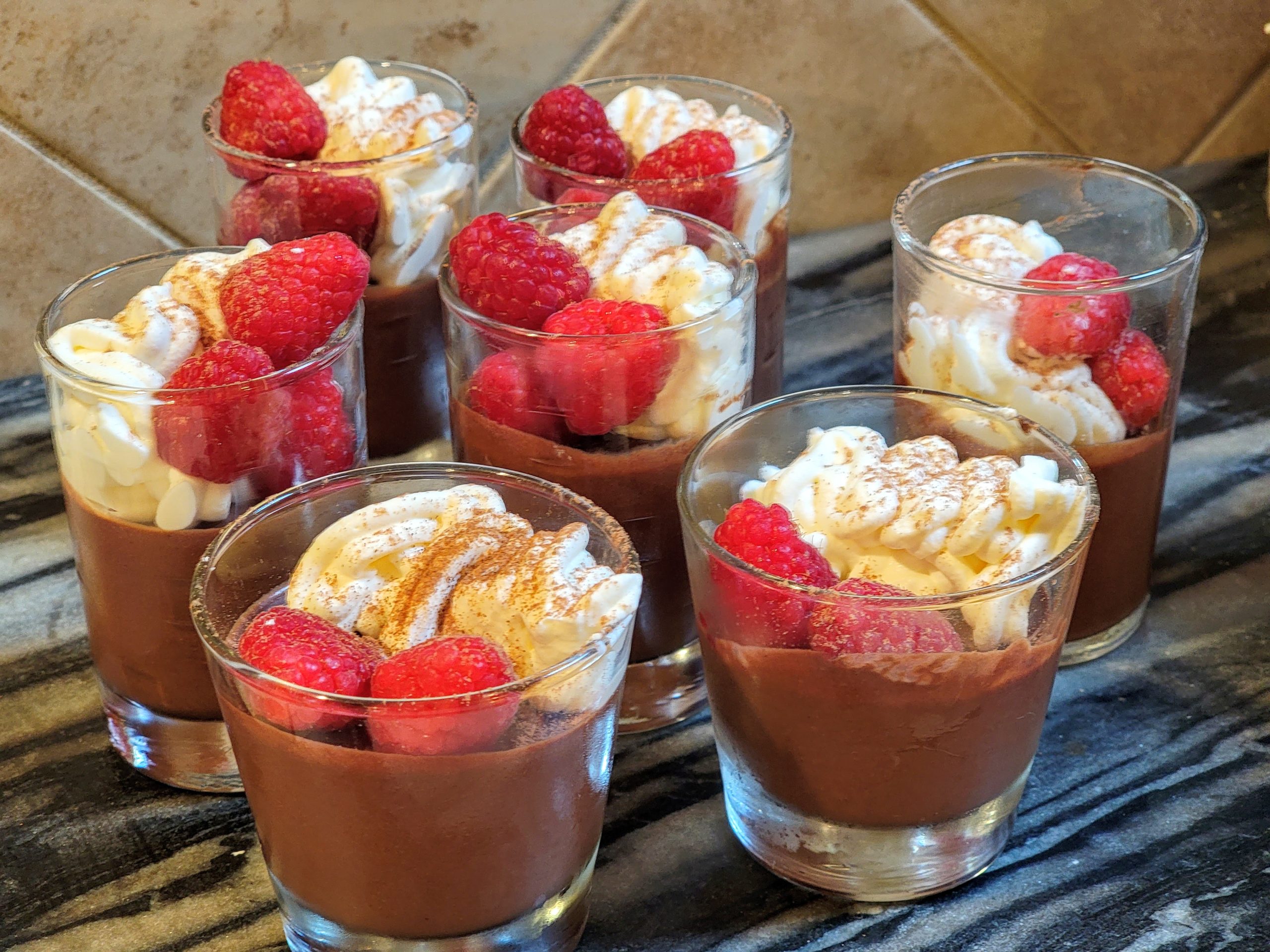 Mexican Chocolate Spiced Pot de Crème
Ingredients
1

cup

heavy cream

3/4

cup

whole milk

1/3

cup

brewed strong coffee, cooled

1

tbsp

cornstarch, gf

1/4

tsp

kosher salt

1/2

cup

organic cane sugar

4

large egg yolks

1

tbsp

pure maple syrup

5

oz

Guittard Extra Dark Baking Chips, or other gf brand

3

oz

Guittard Unsweetened Baking Chocolate, or other gf brand, broken or chopped into small pieces

1/4

tsp

ground cinnamon, gf

1/8

tsp

chili powder, gf

2

tbsp

Rum, gf

1

tsp

vanilla, gf

1

tbsp

butter
Instructions
In a small bowl, whisk the eggs yolks with the maple syrup. Set aside.

Whisk together in a medium saucepan the cream, whole milk, salt, and cane sugar. Dissolve the cornstarch in the coffee. Whisk into the milk/cream mixture.

Cook over low to medium low heat stirring constantly, until the mixture just comes to a boil. Set burner to low.

Add both kinds of chocolate, the cinnamon, and chili powder. Stir until the chocolate pieces have melted. Pour approximately 1/3 of the milk/cream mixture into the egg yolk, stirring continuously. Pour back into the saucepan and continue cooking over low heat for about 1 1/2 to 2 minutes and until the mixture begins to thicken and will coat the back of a wooden spoon. Do not let the cream come to a boil. Remove from the burner.

Add in the rum and the vanilla and stir completely. Add the butter and stir until melted. Pass the cream mixture through a sieve into a bowl. Spoon or pour into small glassware or ramekins. Cool on the counter. 

Make sweetened Whipped Cream and pipe or dollop on top. Add berries or chocolate shavings. Then cover with cellophane or move containers to a large Tupperware and move to the refrigerator.

Chill for a minimum of 4 hours. Best enjoyed when very chilled.